The Cryptocurrency's Tale: 20 Crypto Jokes
Though this week's events were fewer, they were important for the community nonetheless.
Litecoin went through its second halving, followed by no dramatic changes in the metrics, while Bitcoin shot over USD 12,000 just to drop below USD 11,500 later again. In the meantime, BITpoint resumed trading and gave more details on the hack; Binance will pay 25 BTC for help to identify its blackmailer, and the UN Security Council believes North Korea's crypto exchange raiders have amassed USD 2B so far.
In the crypto-regulatory-land, the US Federal Reserve is reportedly "seriously considering" developing a new and faster payments system for domestic use, while even the mainstream media hails BTC as safe haven amidst a massive financial markets turmoil. A congressional financial committee will debate a "tax fix" act on crypto tax in the US, while Indian authorities are reportedly grilling crypto holders with exhaustive questionnaires. Meanwhile, an American court ruled that Coinbase will be charged with negligence for allegedly botching the launch of BCH. However, local government stablecoins are booming in South Korea, where exchanges could be set to police their customers more thoroughly and people might be token-centivised to use city bikes.
In other news, we learned what MoneyGram is using XRP for; Mastercard posted three job ads for senior-level specialists, Animoca Brands has struck a deal that will see it take over Quidd, and a crypto YouTuber scammed a crypto scammer.
Enjoy your Saturday with this fine assortment of jokes.
__________
A disappearing act.
Accounts that were shilling altseason for the past month be like: pic.twitter.com/RQuYTBVk1z

— TEDDY 🌐 (@teddycleps) 2 August 2019
__
BTCitty dominance.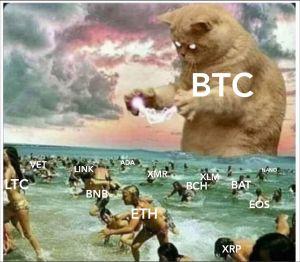 __
No bitcoin, no computer, no job... Oopsie!
When You Sold All Your #Crypto Too Early! 😁#Crypto #Bitcoin #cryptocurrency #BTC #LTC $Btc pic.twitter.com/f3CefANeMZ

— Łitecoin Bull (@litecoin_bull) 4 August 2019
__
A personal sleeping 'pill'.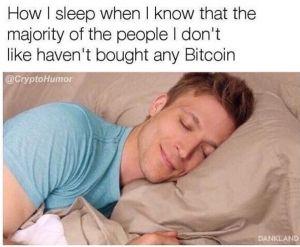 __
Have you tried turning it off, waiting for 10sec, and turning it back on again, Relevant Peter Schiff?
Having some trouble backing up my wallet to floppy disk. Anybody have the phone number for bitcoin's IT support desk? Siri wasn't much help.

— Relevant Peter Schiff (@RelevantPeter) 5 August 2019
__
Well, this was stressful. Funny. But stressful.
same old honey badger show pic.twitter.com/P32E6EPmZV

— CryptoChimp (@Cryptanzee) 7 August 2019
__
Grab 'em all!
#bitcoin #ethereum #eth #btc $btc $eth $trx $xrp $ada $ltc #litecoin #cryptocurrency #crypto #xrp #cryptomeme #cryptomemes #leaveATip pic.twitter.com/SOYKsMWu4m

— Breadyfreddy (@Breadyfreddy) August 4, 2019
__
Wooow! Look how many moneyz!
Counting those sweet alt gains. #saltseason #altseason #bitcoin pic.twitter.com/QpDaHlq0W0

— Kristin Low (@kristinlow) 8 August 2019
__
Torn bills can be replaced anyway. (NB: You can't tear Bitcoin down.)
__
A problem solver...?
Loading up on them alts... pic.twitter.com/C6DEDOpoxH

— Panama ₿ (@Panama_TJ) 6 August 2019
__
Real footage.
#Bitcoin pic.twitter.com/qvcwVdOhYZ

— Richard Heart (@RichardHeartWin) 6 August 2019
__
"Let's see... It's just BTC rising above USD 12K again, carry on. Oh, it's down again, carry on."
When you're on a police chase through orange county but you just got a price alert on Bitcoin: pic.twitter.com/RkXPIq1gpA

— prabhjeet🦎🔄🐊 (@jeetsidhu_) 5 August 2019
__
Looking for crypto kinda love.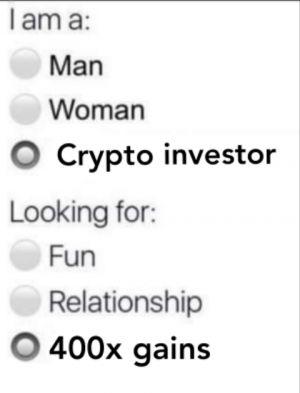 __
It's the only right way.
That's how I enter after a successful trade!#cryptotrading #memes #cryptomemes #cryptotraders #cryptoexchange #profits #investment #money #trading #bitcoin pic.twitter.com/enQVEvaZwz

— CabaretPerleBlanche (@PerleBlancheMtl) August 3, 2019
__
One has to trust the charts.
BTC big middle finger TA, can't make this up ;) lol#Bitcoin #cryptomeme #cryptocurrency #TA pic.twitter.com/CdVfNxzfIr

— Martin Max King (@Martin_MaxKing) August 6, 2019
__
A short film for your viewing pleasure.
When you and your Bitcoin friends work together to fight the FUD

— ₿rekkie von ₿itcoin☣️🍯🦡 (@CryptoBrekkie)
__
A safe haven they say...
__
Next alt season: visualisation.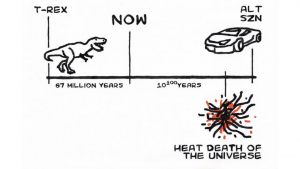 __
A thorough analysis.
#cryptocurrency #crypto #btc #ether #eth #ltc #xrp #trx #ethereum #trading #memes #comedy #altcoins #stocks #ripple #bitcoin #forex #funny #cryptomemes #cryptomeme #bitcoincash pic.twitter.com/VQyFAuvQld

— CryptoFunny (@crypto_funny) July 22, 2019
__
And for the end: a cryptosong playlist.