Surpassing, Outperforming, Flipping and 20 Crypto Jokes
After DOGE led April, we entered the month of May, and ethereum took over, surpassing the USD 3K level for the first time ever - making Vitalik a very rich boy. But DOGE wasn't far behind, flipping BTC and ETH on google trends for a bit, but then ETC outperformed ETH, but if history repeats itself, ETH may hit USD 19K. As Bitcoin started Taproot Speedy Trial, without locking it in the first epoch, Uniswap launched its third version. In the meantime, Galaxy Digital analysts said that 'the most honest shitcoin' DOGE will survive alongside BTC, Galaxy Digital is set to acquire BitGo in a USD 1.2bn deal, and the JPMorgan boss bashed BTC again as his firm is readying a BTC fund. Also, 40% of respondents in a MasterCard survey said they plan to use crypto within a year, while ConsenSys shared two DeFi trends to watch this quarter.
As the FATF makes the small crypto platforms an easy prey for the big players, the US taxman visited Kraken, the German regulator refused to budge in the Binance stock token dispute, South Korea's newly imposed regulations are reportedly a threat to the "big four" crypto exchanges, while a tax U-turn looks unlikely despite the outcry. Also in South Korea, a crypto exchange got raided on MLM fraud charges, with the firm's CEO placed in custody and USD 214m in assets frozen, and with most of the 40,000 victims said to be elderly citizens and housewives. The Miami Mayor blasted a New York draft bill seeking crypto mining moratorium, eBay is still considering crypto payments and is exploring NFTs, and Travala launched 'Concierge' as a new service for high-net-worth travellers. Meanwhile, CryptoPunks creators sold out their new NFT Meebits in hours, the owner of a 12sqm parking space is Spain was selling it for BTC 1, Ashton Kutcher invested in BTC against Mila Kunis' advice, and people came in droves to buy a joke 'SCAM' coin created by a TikToker.
And now - the week's best crypto jokes!
__________
Let's start with a fundamentally technical market analysis.
__
So, BTC dominance went for a dive this week, has it?
__
How about that Taproot thing this week?
__
SOURCES again.
__
Is there a life after a liquidation?
__
She should try DeFi food tokens too.
__
Guess which one survives at the end.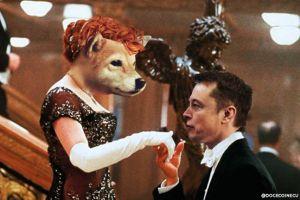 __
A 'find similarities' game.
__
Crypto geopolitics.
__
DOGE vs BTC

__
Doesn't get DOGE, he still gets his memes by pigeon. You get it? You get it?...
__
One side of the world.
__
Another side of the world.
__
Damn them and their erethurium lies.
__
Perpetum Sizifum.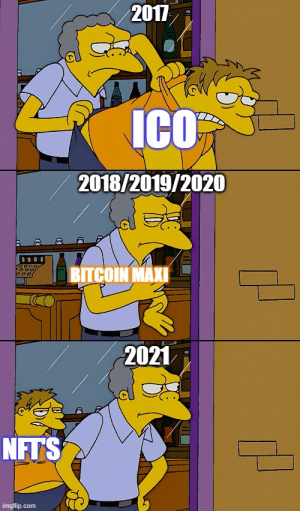 __
Difficult to kill them in the first place.
__
A tutorial for newcomers.
__
Look at those eyes! Look at 'em! How could you not listen about Bitcoin?
__
Let's project some projections on this projector.
__
And here's a documentary on stacking sats.
---