Shappela Set, CZ Accused, SBF Legaled, Do Kwon Wronged, King Kidnapped and 20 Crypto Jokes
This week in crypto, Bitcoin was set to close out its best quarter in exactly two years, Ethereum core developers announced the date for the long-awaited Shapella upgrade launch, Galaxy Digital lost a whopping $1 billion on its investment last year due to "depressed market conditions," and Coinbase was calling on developers to create a new and inflation-proof stablecoin for its own blockchain.
The CFTC accused Binance and CZ of knowingly offering unregistered crypto derivative products in the US, and the exchange saw $2.2 billion in outflows. Sam Bankman-Fried was accused of using the $10 million he had transferred to his father to cover his legal expenses, and he was facing a new indictment for bribery in addition to the existing 12 charges. While Terra CEO Do Kwon complained that his "rights" were being "violated", South Korean prosecutors looked to arrest Terra co-founder Daniel Shin after officers raided his company. Meanwhile, the Canadian self-proclaimed "crypto king," accused of defrauding investors out of millions, was allegedly kidnapped, tortured, and held for ransom.
In Hong Kong, officials planned to host a meeting between crypto companies and bankers, a new fund was set to raise $100 million to invest in crypto companies, and China's state-owned banks were offering services to local crypto companies in Hong Kong. In Japan, the central bank said that regulated stablecoins and a forthcoming CBDC can coexist, and Mitsubishi UFJ Financial Group and domestic blockchain players teamed up to launch a stablecoin interoperability pilot.
The EU lawmakers voted on new crypto regulations that could ban large crypto transfers from self-hosted wallets, the European Parliament approved new rules that aim to prevent crypto from being used for money laundering, Belarus said crypto firms could operate tax-free until 2025, the US regulators continued their crackdown on major companies in the crypto space, and Venezuelan crypto companies were ordered to shut down while the crypto regulatory agency was restructuring.
As all this was happening, a hacker stole $8.9 million worth of digital assets after exploiting a vulnerability in Safemoon, and North Korean hackers were renting cloud-based mining services to launder their stolen crypto funds. Then, Ticketmaster rolled out NFT-enabled ticket sales for fans, Gucci expanded its presence in the metaverse through a partnership with NFT issuer Yuga Labs, Amazon might have officially jumped on the NFT bandwagon, and Paris branches of Burger King were set to install crypto-powered machines that charge customers' phone batteries, while Disney pulled the plug on its metaverse division and eliminated the entire team of 50 people.
Jokes time! Bon appétit.
__________
GM, CT! What's up?
__
Perspective.
__
Can't lie to yourself.
__
Depends on which side you look at it.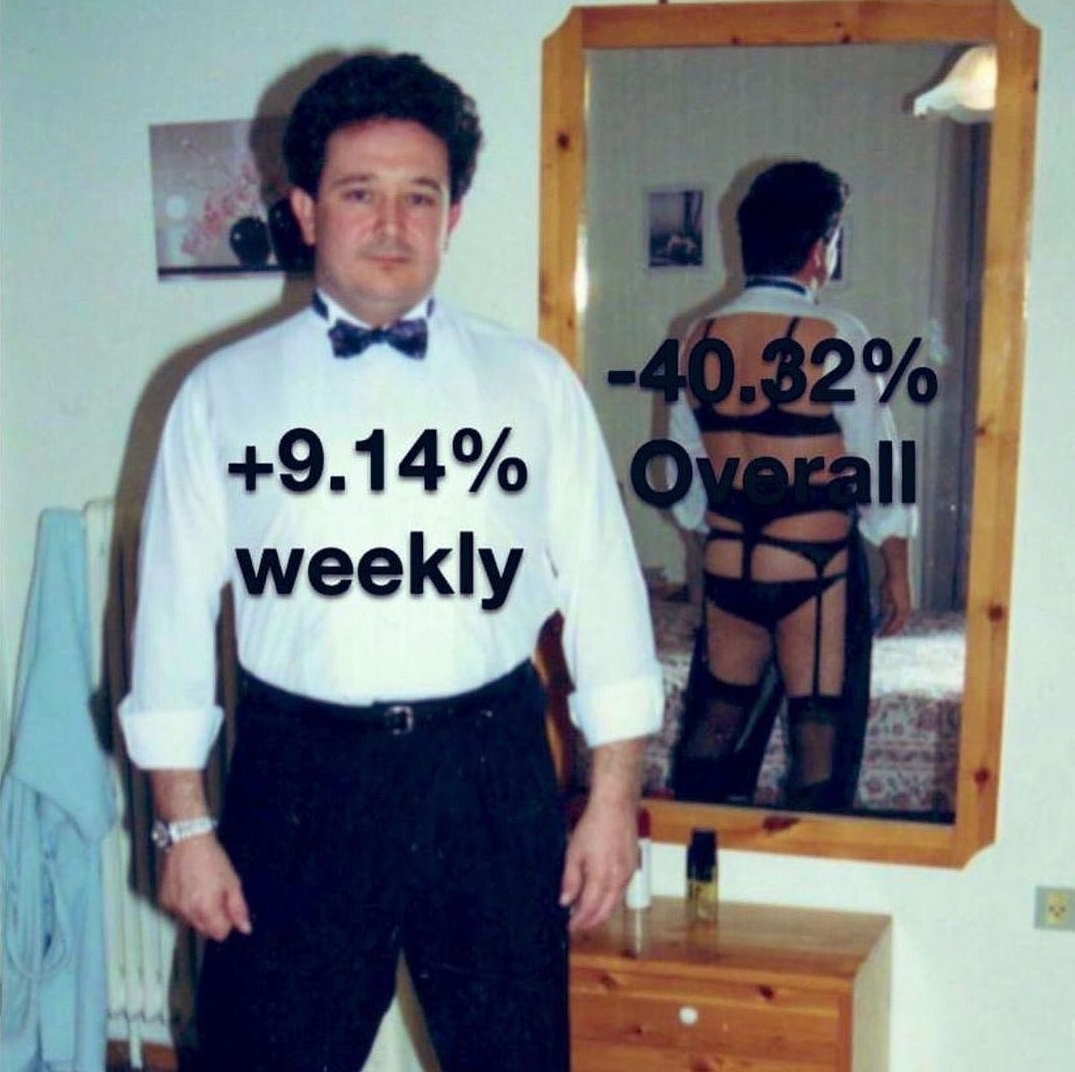 __
I tolded you.
__
Only one of these has a long-term reason to smile.
__
Crypto gives you time to focus on new hobbies.
__
Experts explain:
__
The financial adviser has spoken!
__
Simple..……..
__
A classic.
__
Popedrop.
__
Fun for the whole family.
__
And discuss.
__
Here's a suggestion.
__
A lesson to be learned.
__
Calm. Zen. Peace.
__
Just a day. Pick a day. Any day.
__
New rule.
__
And your weekend documentary, based on true events and little people mining coins in computers.
---