Red Numbers, Crypto Centres, Wrong Hands and 20 Crypto Jokes
Disclosure: Crypto is a high-risk asset class. This article is provided for informational purposes and does not constitute investment advice. By using this website, you agree to our terms and conditions. We may utilise affiliate links within our content, and receive commission.
This past week, the markets went red. Anyways.
Just before the start of the week, Bitcoin's largest upgrade in more than four years Taproot went live. Then CRO jumped following the news that Crypto.com had secured the naming rights for the famous Staples Center. While that was happening, Binance published a bill of rights for crypto users, and a "final and binding" Mt.Gox resolution was legally "confirmed" by the Japanese courts. The VanEck Bitcoin Strategy ETF had a slow start compared to its two earlier competitors, a survey said that only 1% of the super-rich South Koreans are willing to invest in crypto, a new DAO raised millions with a goal to acquire a rare print of the US Constitution – it failed, but silver linings abound, and retail condos in New York City were being sold for USD 29m exclusively in bitcoin. Meanwhile, an in-person tether swap turned into a bloody kidnap ordeal for a USD 3.1m-holding crypto trader.
In metaverse, KuCoin Labs launched a USD 100m fund to support metaverse-related projects and education on it, and SAND rallied as the Sandbox unveiled its upcoming metaverse event that includes earning rewards.
In India, lawmakers concluded that crypto sector's growth can't be stopped, but that cryptos must be regulated, PM Modi said if BTC gets into the wrong hands it can spoil the country's youth, while a report stated that India is set to define crypto as an asset but ban payments and ads. Argentinian government's new decree imposed a tax on credits and debts on crypto transactions, Israel's AML authority announced that new and tightened regulations would now apply to cryptoassets, the US President Joe Biden signed the controversial Infrastructure act into law, Russian lawmakers and regulators were pressing for crypto change but will likely have to contend against the anti-crypto Central Bank, and a top official was expelled from the Chinese Communist Party for allegedly "supporting" crypto mining in exchange for bribes and sex.
Let there be laughter.
__________
?
narrator: it wasn't

— Udi Wertheimer (@udiWertheimer) November 12, 2021
__
Let's check with CT: how was the week?
*BTC Drops down to levels not seen in 2 days.*

CT: pic.twitter.com/X62V9p5yru

— Daan Crypto Trades (@DaanCrypto) November 10, 2021
__
Everybody else, all good?
https://www.twitter.com/devchart/status/1460904206945161223
__
Yup, all good.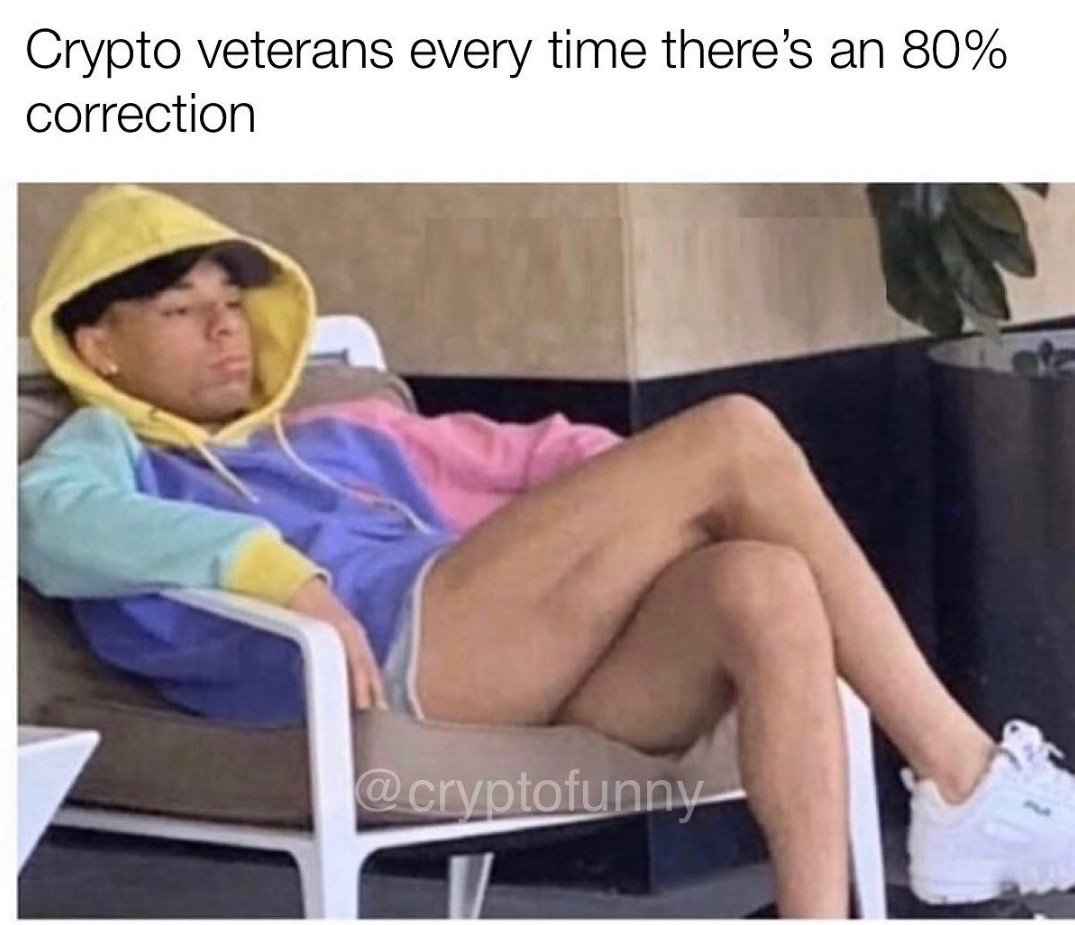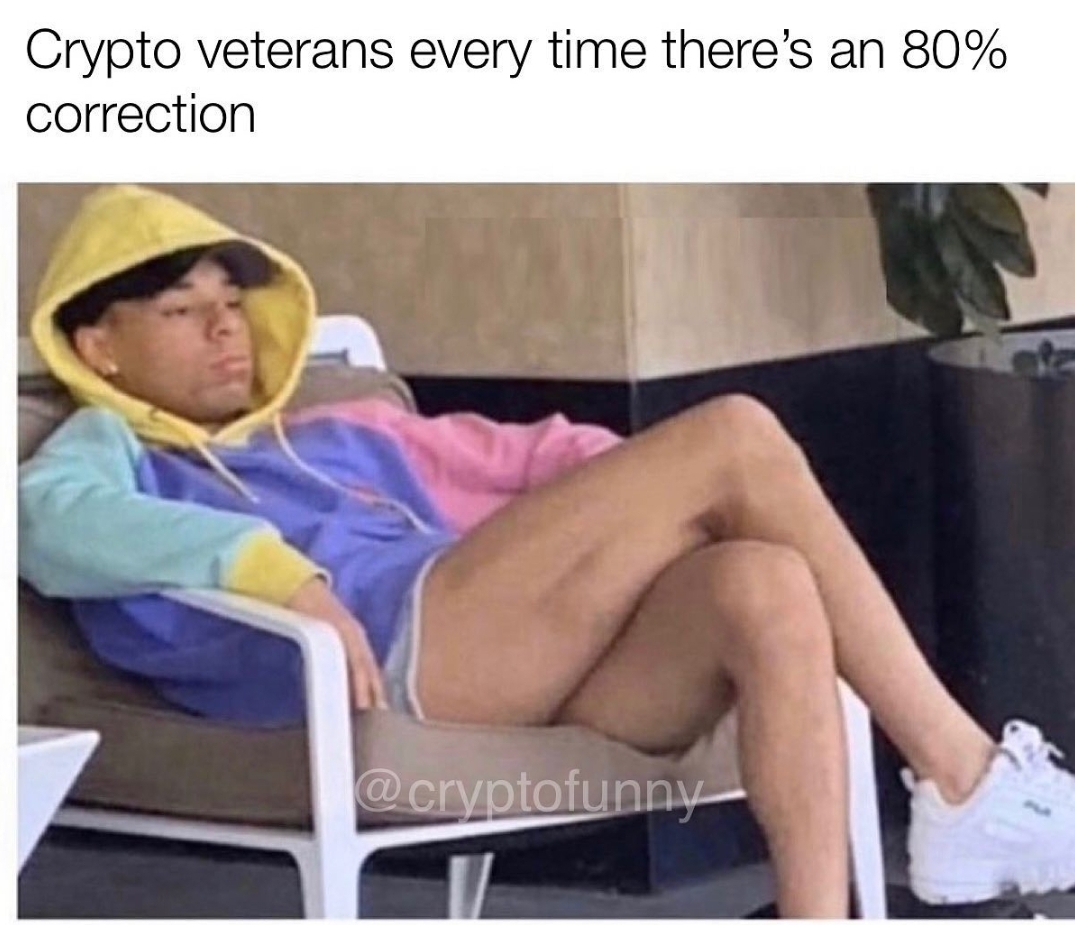 __
Hey, yeah! Is someone working on this? Who's the Bitcoin CEO?
Bitcoin really needs to fix this "going down" problem. Everytime the price goes up, it goes down right after

Mainstream adoption won't happen until this is fixed in my opinion

— John W. Rich (Wealthy) (@Cokedupoptions) November 10, 2021
__
Some say it's still dipping.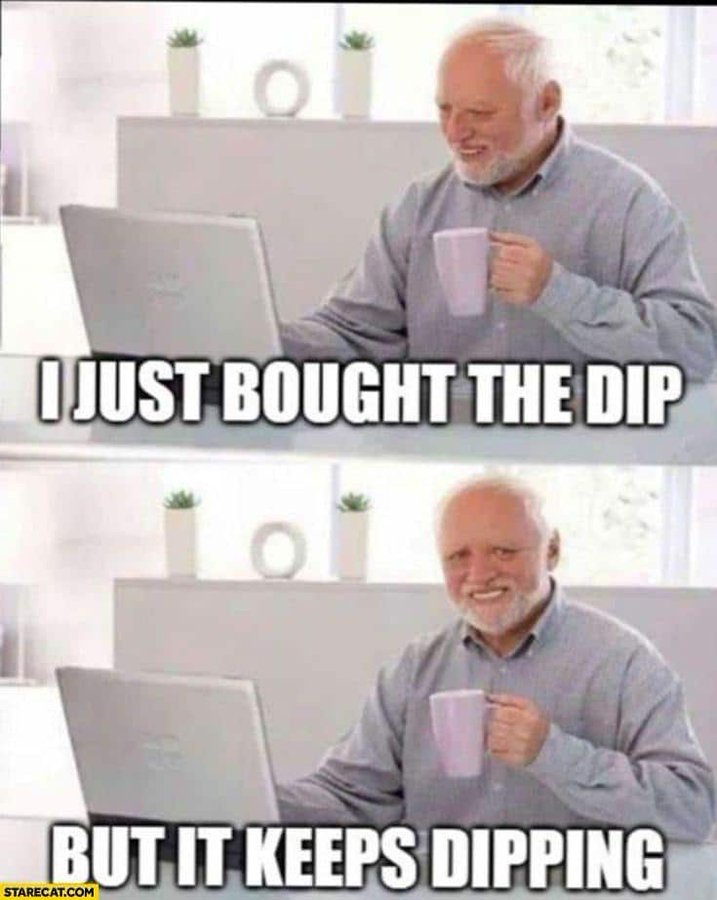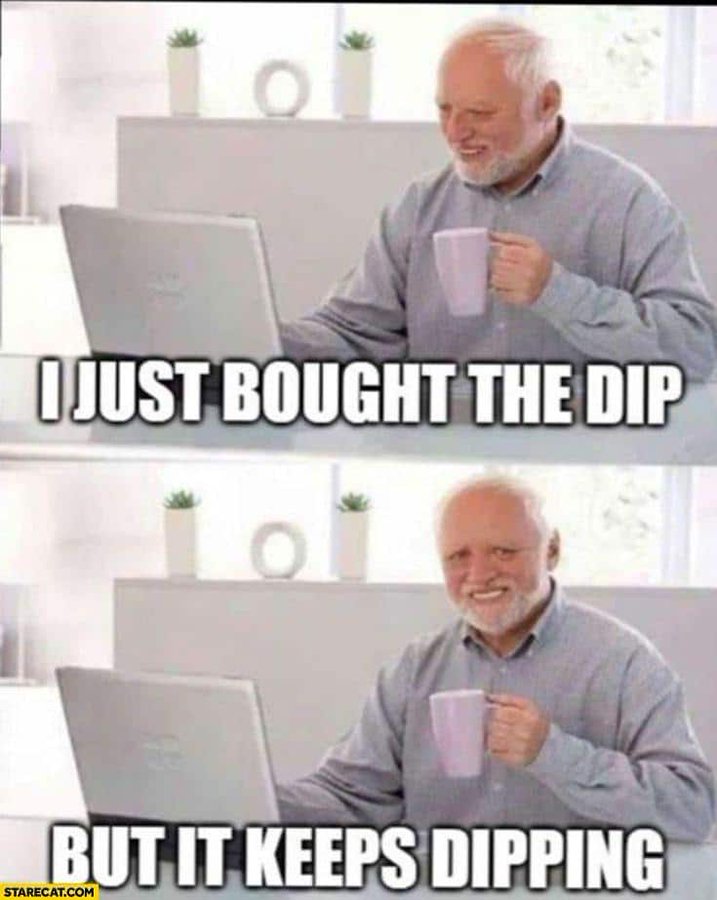 __
Crypto time.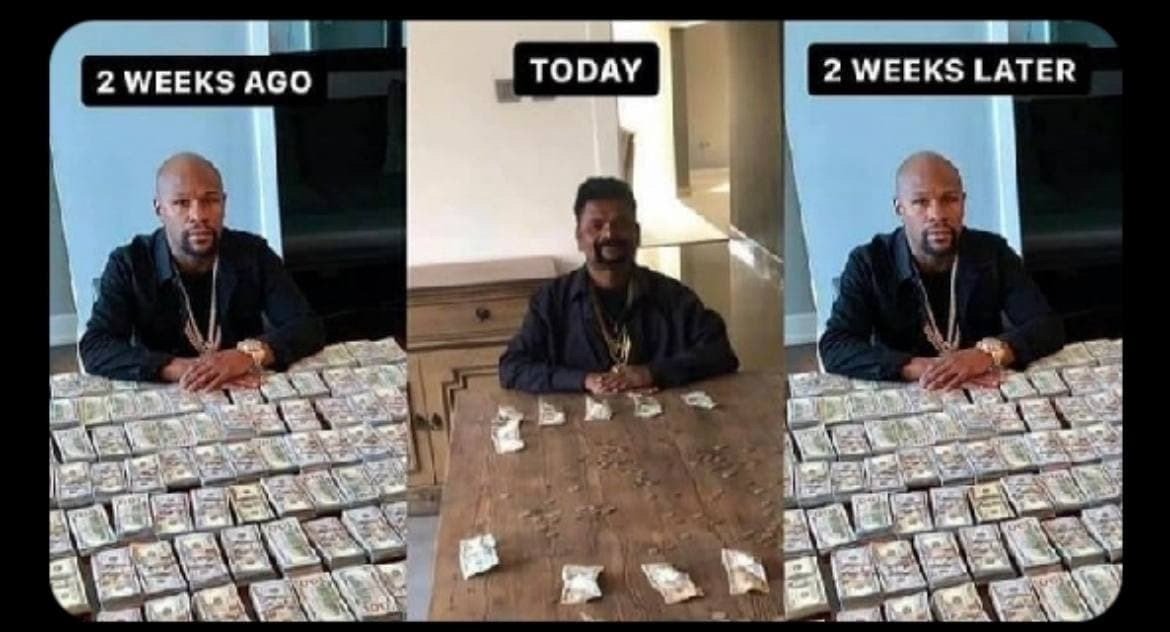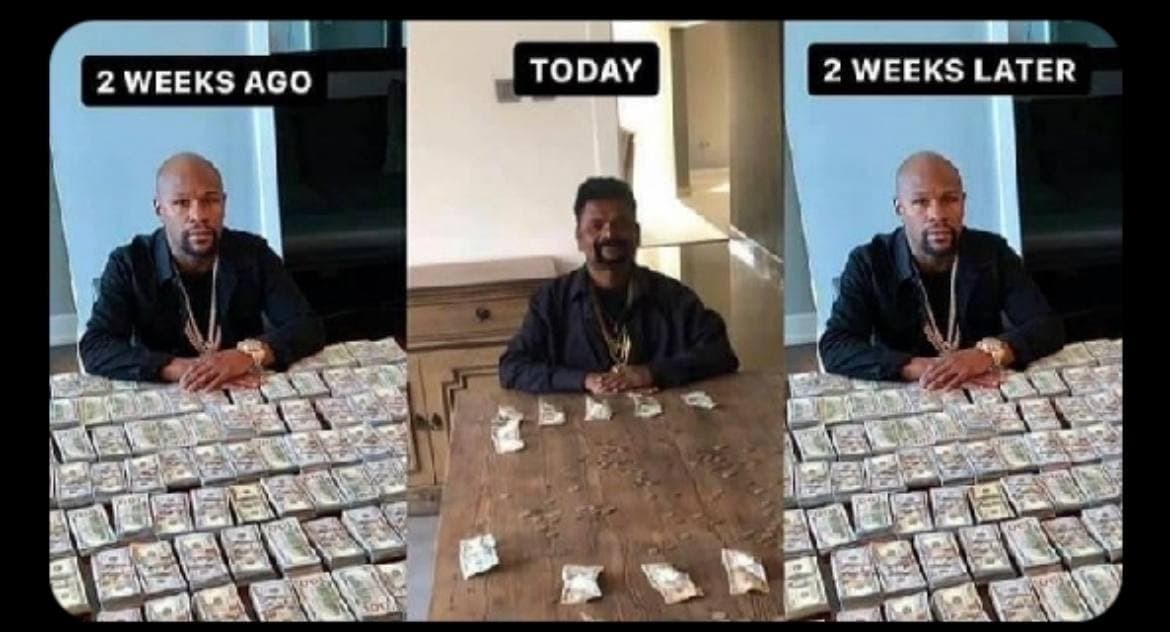 __
Shifting perspectives.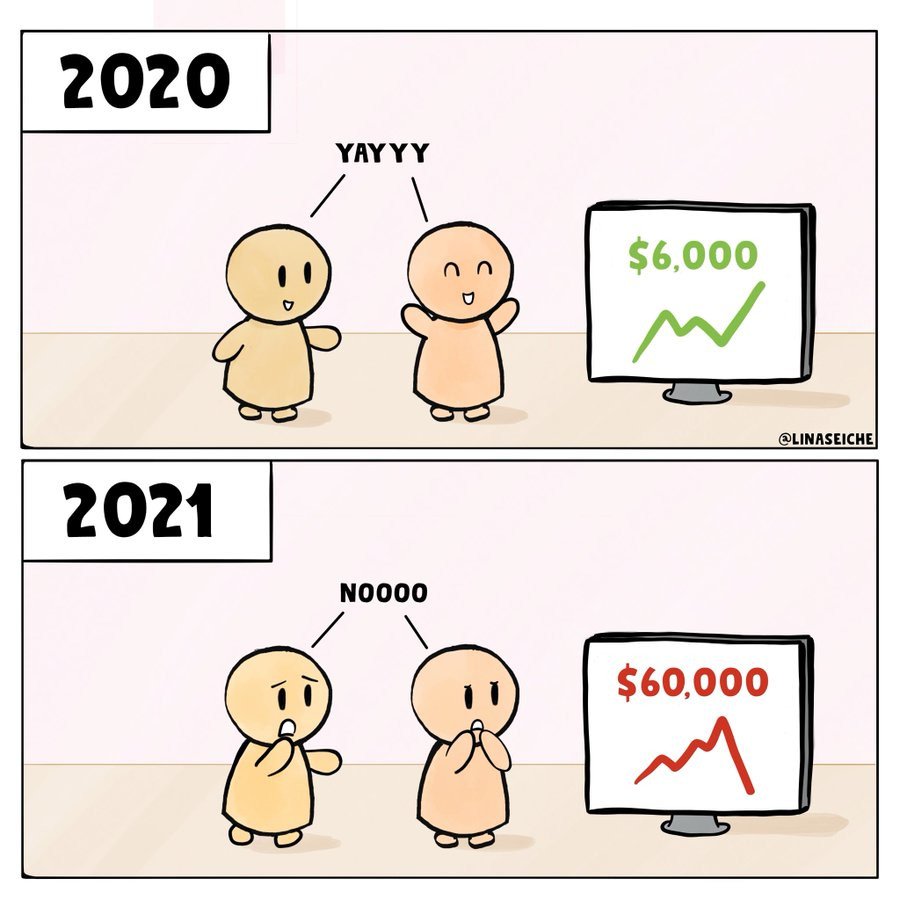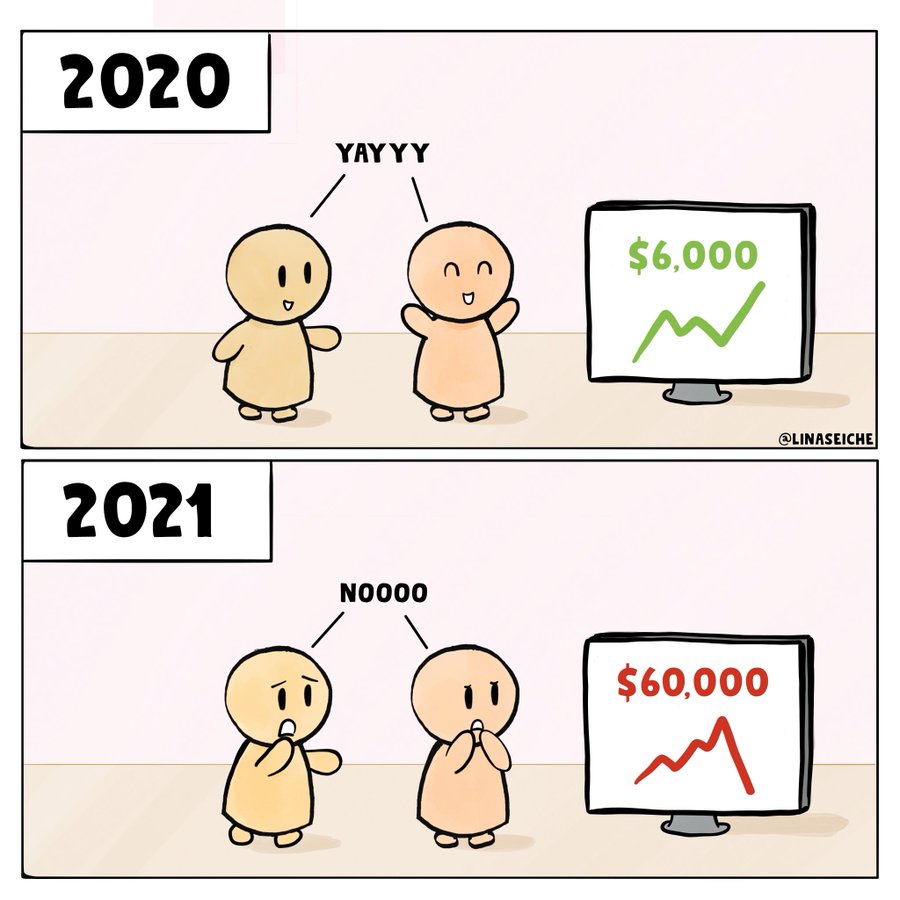 __
Personified.
https://www.twitter.com/PriapusIQ/status/1459887667366215684
__
Touché!
__
Now, let's explain this metaverse thing.
Metaverse https://t.co/gUygP4AIv8 pic.twitter.com/kqgqYeCtoq

— Fomocap (@fomocapdao) November 12, 2021
__
And off their lawns.
NFTs should be celebrated by boomers

It's the first sector that can help your kid with a masters in art finally move out the house

— Isaiah Jackson (@bitcoinzay) November 12, 2021
__
Such drama kings.
Americans: *making money*

The SEC: pic.twitter.com/zMS7gLT9xD

— Empty (@Fullbeerbottle) November 17, 2021
__
In just several simple stages.
https://www.twitter.com/NorthmanTrader/status/1409121359922446341
__
So there is nothing to worry about, it's actually good for your health.
The evolution of public inflation narratives pic.twitter.com/r7eEKMtQ0H

— Gabor Gurbacs (@gaborgurbacs) November 10, 2021
__
Then do some rug-pulling?
I realized this year that being a politician is a lot like being a CEO for a crypto project.

Just constantly make promises of what you're going to do, but never actually do it.

You can get by for an entire career by doing this.

— Jacob Canfield (@JacobCanfield) November 12, 2021
__
'Gonna gather all the millions for it.'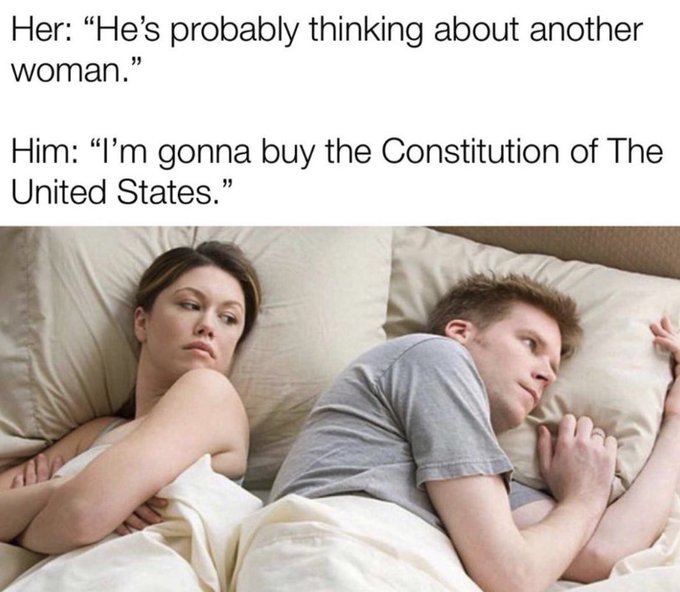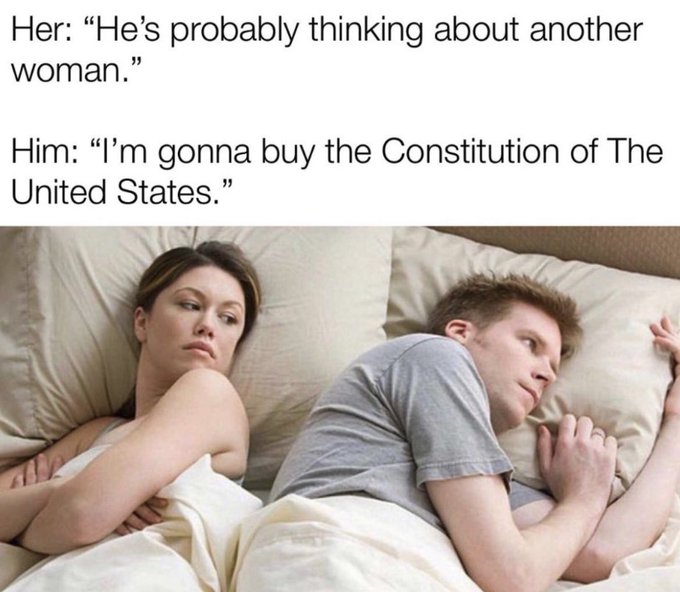 __
This one goes to our friends the miners out there.
Three miners walk into a bar. The bartender says, "whats this, ASIC joke?"

— Ben from the North (@BTCorphan) October 22, 2021
__
It's always a good day for educational ETH memes.
Seems like a good day for some $ETH memes. @EthereumMemes pic.twitter.com/lHUD7mXlNo

— Alucard.eth 🦇🔊 (@Alucard_eth) November 16, 2021
__
Don't worry, we'd never forget: your weekend crypto movie for the end.
https://www.twitter.com/naiiveclub/status/1461005356914466816
---