Real ETH Giveaways, Blackmaily ETH Fees, and 20 Crypto Jokes
This weak, we started a very REAL ETH giveaway. Speaking of ETH, two all-time high ETH transaction fees were paid, becoming more mysterious and blackmaily with the third. Meanwhile, Steve Hanke explained why private currency boards are better than central banks for a free society. While Maker soars, EOS developer Block.one prepares Voice for a July launch, and Tron 4.0 upgrade is announced for July. Optional Zcash and Dash features prompted debate on privacy and compliance, Kraken found increased volatility could push BTC over USD 10K, while stock market stole BTC's spotlight. Ethereum-based Tether is better distributed than other stablecoins, and altcoin season may be upon us.
There was also a report about continued efforts towards a crypto ban in India. Meanwhile, Chinese company launched a blockchain-powered lottery in Cambodia, Chinese tourist may be able to pay with digital yuan in South Korea, South Korea is coming closer to its own CBDC, and the police there busted a suspected USD 41.5M Ethereum crime ring. Japanese housing giant said it would launch a blockchain-powered home leasing platform, but Russia's Central Bank has lost none of its enthusiasm for blockchain either. Bitcoin spenders' baskets are twice the size of the conventional one, told us Beliani's CEO, while we looked into the rise and fall of Kaiying Network and how blockchain will help send people into space.
Jooookes!
__________
Works perfectly.
All this time I just assumed hodl meant "Hold On for Dear Life". from r/Bitcoin
__
Oh, how the times have changed...
__
That's a year to tell grandkids about.
__
Stop everything and don't look, for the love of god!
__
Crypto friends will always help you out!
__
The poetry of history.
__
Well, look, Social Factor... Important during a pandemic, I guess...
__
The most perfect hundred trillion dollar note that anyone has ever seen. The best.
__
For those who missed the priced in - not priced in debates.
__
Even he can't hold The Bitcoin Standard the wrong way.
__
No time like now.
When you're at work and you feel the urge to hear some Bitcoin content. from r/Bitcoin
__
...No.
Bitcoin Technical Analysis from r/Bitcoin
__
No worries, it'll go up again. It always goes up again.
Me, after the economy collapses and I get evicted, checking my bitcoin chart from r/Bitcoin
__
Though it will go down too. It's just what it does.
__
BTC classics are classics because they're always applicable.
__
Nice! Do we have a 'just hodl it' one?
With all the ups and downs going on, I decide to create some hodl art - inspired by the nike hodl. Thoughts? from r/Bitcoin
__
Many would agree that the answer is rather simple.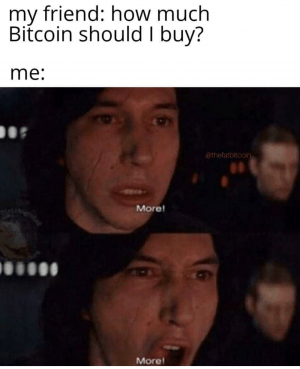 __
Strap up, people! Here's our trajectory. Not a problem at all.
To the moon! from r/Bitcoin
__
First rides.
__
A movie trailer you gotta see.
---