Reaching Highs, Buying Crypto, Making Partnerships and 20 Crypto Jokes
This crypto-week, we saw that Bitcoin and Ethereum networks hit a number of all-time highs, they both recovered most of their losses after Black Thursday, and the gap between their fees was narrowed. Anthony Pompliano said he's not a BTC maximalist but that BTC is our one shot to separate money from state. Ripple and SBI are looking to roll out XRP liquidity solution 'this year', LibertyX enabled Americans to buy BTC at 7-Eleven, CVS Pharmacy, and Rite Aid, and there were rumours that PayPal is planning to offer buying and selling of cryptocurrencies directly from both PayPal and the PayPal-owned mobile payment app Venmo.
Furthermore, Steve Hanke said that Bitcoin must be tied to a basket of commodities to be a currency, and several economists predicted bitcoin's demise, calling it a 'fiat'. The Italian Banking Association approved ten criteria for a CBDC, a South Korean government agency will develop software that will trace the movement of cryptocurrencies on the dark web, and Russians are offered a gift card incentive to use blockchain voting platform. Meanwhile, a judge said no to sanctions on Craig Wright and cleared case for a July trial.
And here is your weekly portion of jokes. Enjoy!
__________
Morning, CT! How have you been this week?
twitter every single time bullish news for $BTC comes out pic.twitter.com/eJsypaVXYN

— Luke Martin (@VentureCoinist) June 22, 2020
__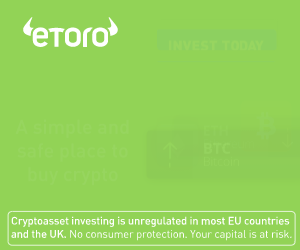 Yeah, that'll be painless.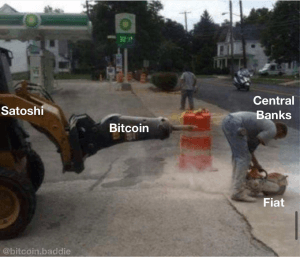 __
That's some dedication.
bitcoin maximalists rushing to make a bullish tweet every time there's a dump pic.twitter.com/nUQcrcCizn

— LilMoonLambo (@LilMoonLambo) June 24, 2020
__
"Have you heard of our financial saviour..."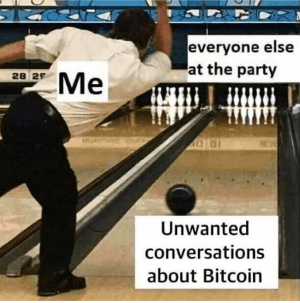 __
"Triple caution!"
Me telling my friends and family to buy Bitcoin... pic.twitter.com/NgTpr5bVgR

— Panama (@Panama_TJ) May 2, 2019
__
Seriously...Am I?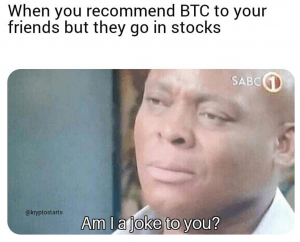 __
"That's it! Right there! That's what I'm talking about!"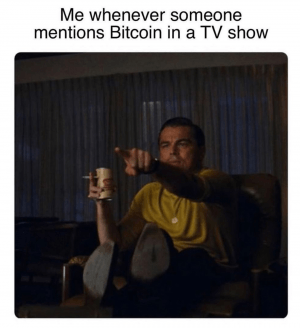 __
And this is when it's not "that's it, right there".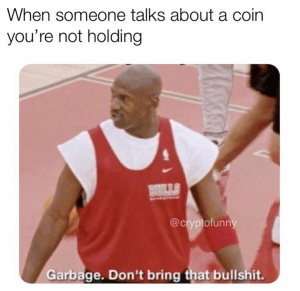 __
Oh, the joy for them to look forward to!
Stock market post covid recession pic.twitter.com/rrzsNULUA5

— CryptoChimp (@Cryptanzee) June 10, 2020
__
Got to be physically and mentally fit for this stuff.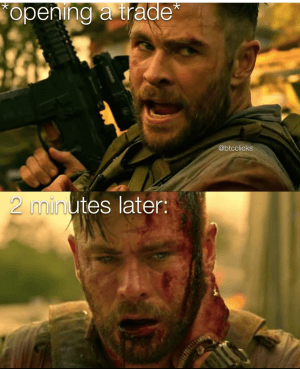 __
You see... It's a rough game.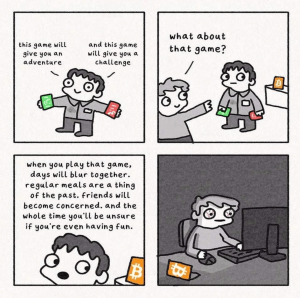 __
DeFi origin story?
(Vitalik speaking to the summer interns)

We're out of ways to get people to buy this shit, anyone have any new ideas?

"How about some kind of fucked up farmville for coins"

V - love it, what should we call it

"DEFI"

V - I love it whats that mean

"uh no idea"

V - I love it

— moon (@MoonOverlord) June 25, 2020
__
DeFi was a place to be at this week.
People missing out all these #DeFi stuff be like: pic.twitter.com/jHtX9kDcRR

— Blackbeard (@crypto_blkbeard) June 24, 2020
__
Heeere's some love!
__
*No comment with a comment attached.*
June 24, 2020
__
A crypto miracle.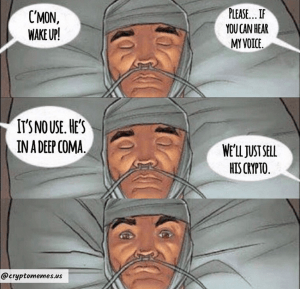 __
A natural talent.
The Swan took his first crack at TA just now.#nailedit pic.twitter.com/CSc9DjWYbN

— Swan 🦢 SwanBitcoin.com 🚀 (@SwanBitcoin) June 23, 2020
__
Here's a novel for you to look forward to.
Wow @jk_rowling's next book features Craig Wright pic.twitter.com/YZZVGFKl1F

— Udi Wertheimer (@udiWertheimer) June 17, 2020
__
Speaking of Wright:
Footage of CSW's hacker. pic.twitter.com/qxT1D2Xb0O

— WhalePanda (@WhalePanda) June 12, 2020
__
And here's your weekend documentary.
The history of farming. @sassal0x @RyanSAdams @econoar @compoundfinance #Ethereum #bitcoin #cryptocurrency #ETH pic.twitter.com/IuYPvxHCLF

— 1thousandx (@1thousandx) June 24, 2020