Rallying Quickly, Growing Fastly, Surging Highly and 20 Crypto Jokes
Disclosure: Crypto is a high-risk asset class. This article is provided for informational purposes and does not constitute investment advice. By using this website, you agree to our terms and conditions. We may utilise affiliate links within our content, and receive commission.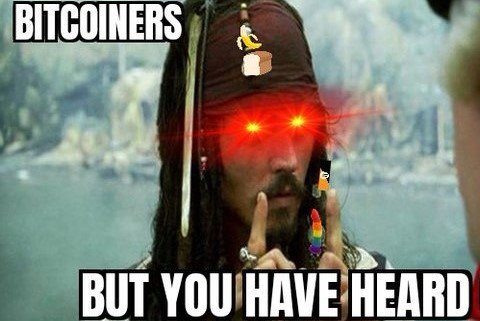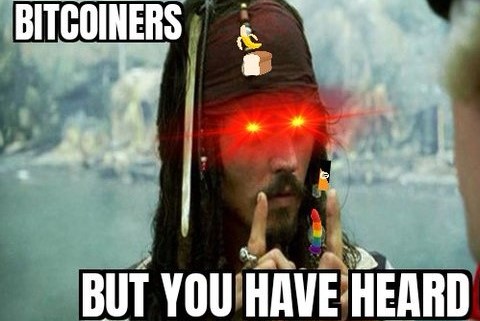 After the previous week ended with bitcoin becoming a more favored investment at the expense of ethereum once again, the gaming industry is spurring growth in the blockchain-powered dapp sector with DeFi and NFT losing ground, and a global investigation by ICIJ – dubbed the Pandora Papers – exposed how the world elite was using offshore structures and trusts in tax havens to conceal their wealth. Then, bitcoin broke the USD 55,000 resistance, returned to USD 1trn market capitalization, and decoupled from stocks, while Bitcoin Lightning Network is growing faster than public metrics show. Stellar rallied on the MoneyGram partnership announcement, AXS once again surged to an ATH after the team behind it announced a new DEX, and Shiba Inu soared on high volume, then neared the top 10 list. Meanwhile, deposits on the 'big four' South Korean exchanges were up 1,368%, CoinSwitch Kuber said it raised over USD 260m at a valuation of USD 1.9bn, and CoinShares invested in Swiss-based online bank FlowBank.
While crypto regulation is on the cards in Latin America, Chainalysis found that India's crypto market is more 'mature' than those of Vietnam and Pakistan. A leading Salvadoran engineering academic claimed that volcano-powered Bitcoin mining could be ruinous for the nation's economy, while President Bukele blasted critics as BTC price boomed; the US SEC Chairman ruled out the possibility of enacting a China-style crypto crackdown, the IMF suggested that economic leaders fight back against crypto by issuing their own CBDCs, the BIS said that the financial system is in 'an age of disruption', and the FBS warned that countries should work to prevent 'regulatory arbitrage' for stablecoins.
At least six XRP holders will get their day in court in the Ripple-SEC battle, while the regulator served up Circle with a subpoena. Unstoppable Domains and 30 of the world's crypto wallets formed the Wallet Alliance, Sino-Global will enter a Bitcoin mining machine joint-venture with Highsharp to work on the development of mining machine 'Thor', and the Cryptoverse with Busta Rhymes pointed out the flaws of centralization after Facebook went down for hours. North Korea is conducting spear-phishing activities on the crypto industry, and while Compound Finance faced more trouble when USD 65m in COMP was dripped into the contract plagued by a bug, the anonymous developer behind Evolved Apes disappeared with USD 2.9m in project funds.
And now, it's time to enjoy your jokes. Start, now!
__________
Heeey, CT! A sat for your thoughts.
https://www.twitter.com/CryptoCobain/status/1445550523063496707
__
Let's now check how this month is going in the Cryptoverse.
In the future nobody will know what the word October means bc it will have been replaced in common parlance with Uptober

— 朱溯 🐂 (@zhusu) October 1, 2021
__
So markets are doing good?
99% of this market imo https://t.co/fPJb6t4o7L pic.twitter.com/JaRflybVPG

— poordart (@poordart) October 5, 2021
__
Speaking of good… Looking gooood!


__
One user's reply to all analysts.
__
Or to quote them: "Crypto. No."
boomer telling you not to buy crypto pic.twitter.com/RFxOE0cDyv

— Matthew Graham (@mattyryze) October 6, 2021
__
Sad&Poor 500.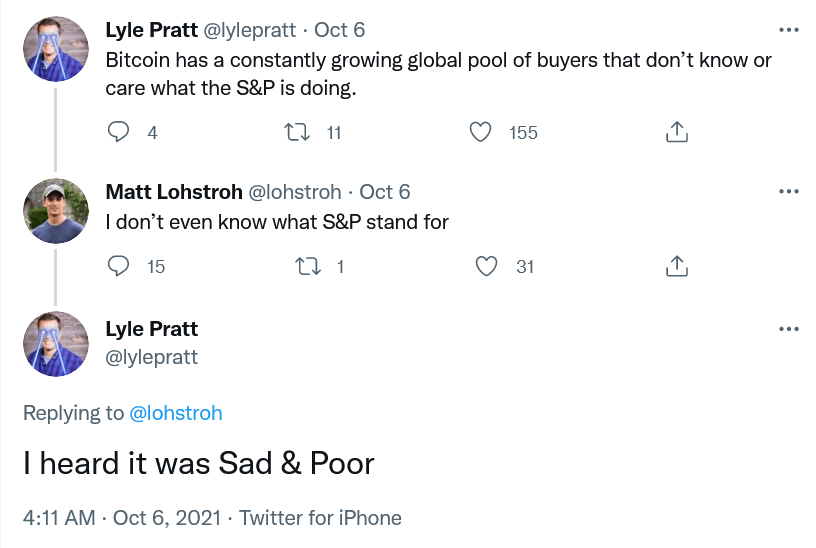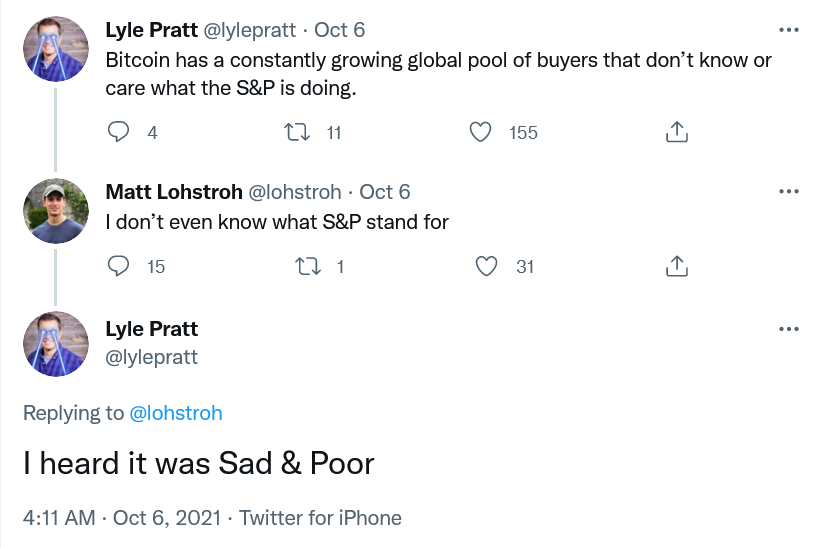 __
FinBro meets BitBro.
October 4, 2021
__
But there's somebody facing an even more baffling situation.
Academic quants checking out DeFi crypto Twitter https://t.co/dFNak7opga

— Sid Verma (@_SidVerma) October 5, 2021
__
Is it the 'come on, do something' situation all over again?
$BTC at $53K yesterday vs $BTC at $53K today pic.twitter.com/6PeRs0bbJ2

— Loma (@LomahCrypto) October 7, 2021
__
Let's see what BTC has to say about all of this.
https://www.twitter.com/thomashallgren/status/1445412978833051649
__
Advice for the newcomers.
https://www.twitter.com/NorthmanTrader/status/1445010136020443139
__
A lesson for everybody who need it.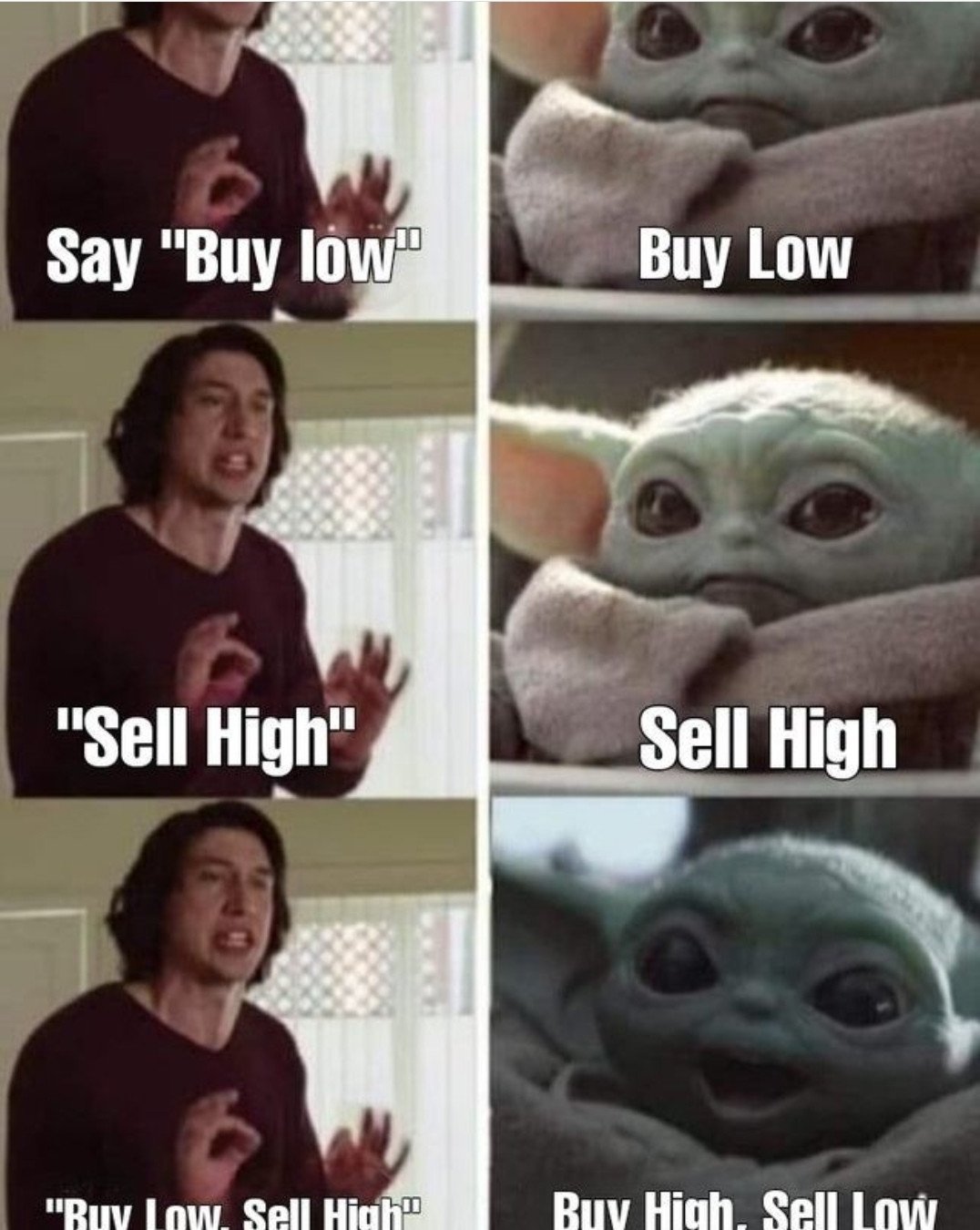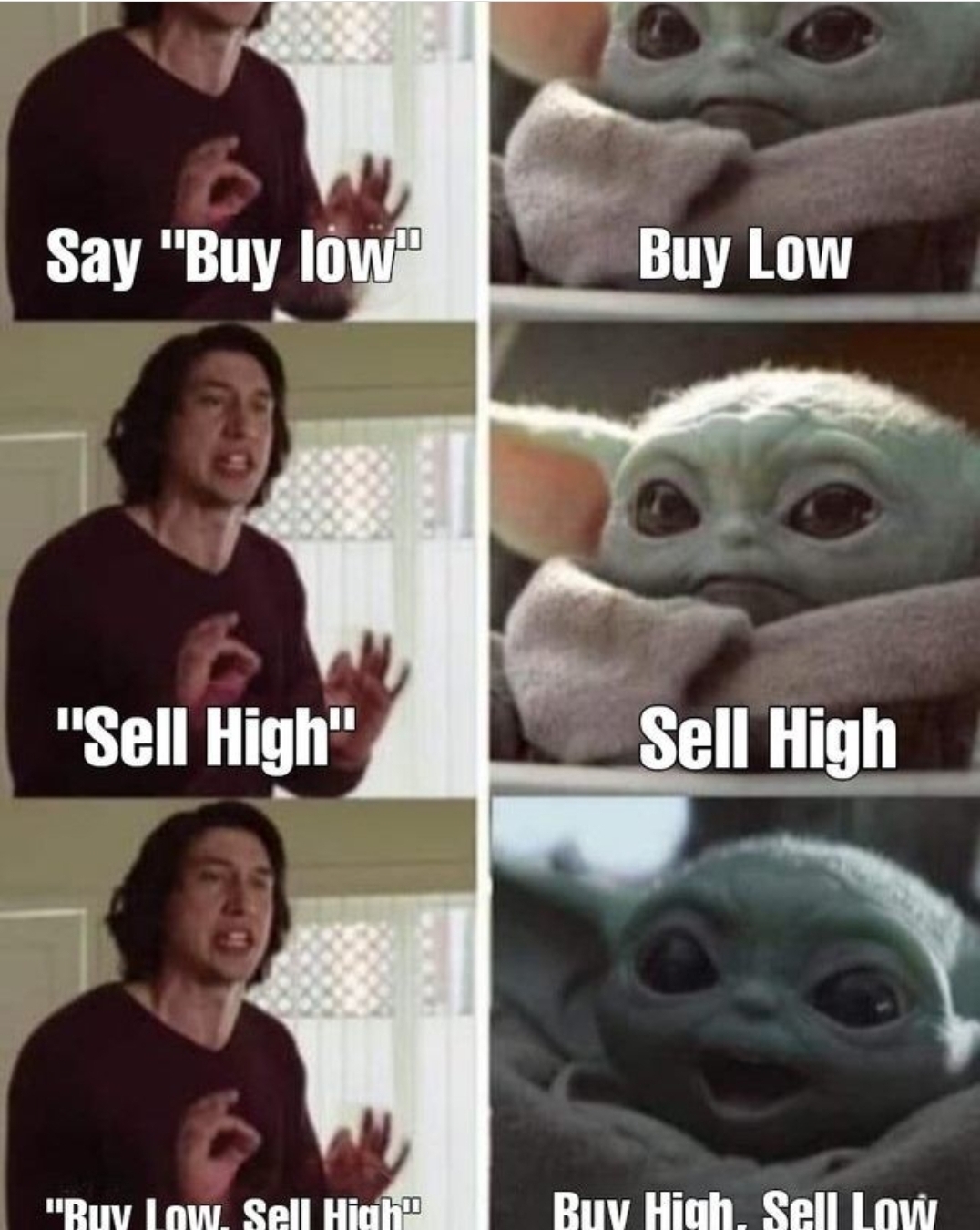 __
"You dumbass."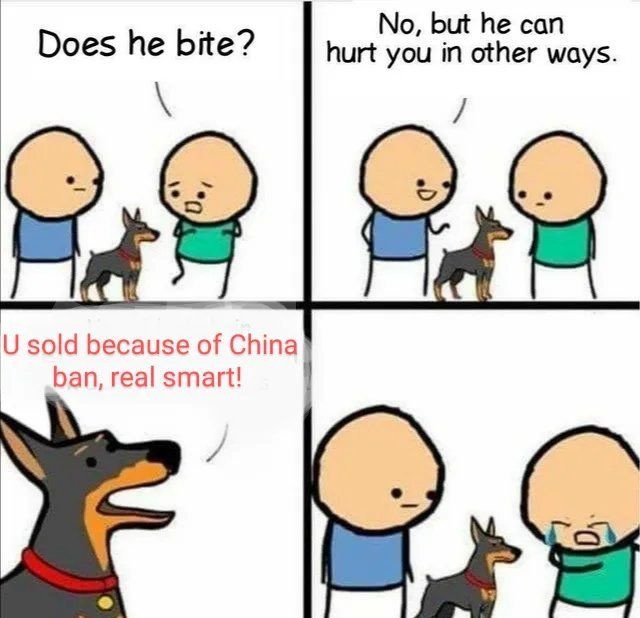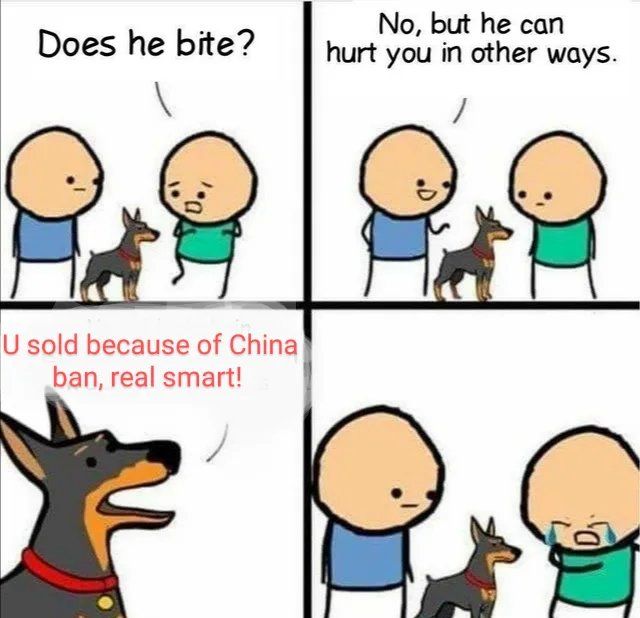 __
Extra truth.
September 21, 2021
__
Look at those moves, a veritable crypto shinobi – a cryptobi, if you will – right there.
#Satoshi defending his legacy.#CGNewYork pic.twitter.com/IgcfmiXq21

— Calvin Ayre (@CalvinAyre) October 6, 2021
__
They also send miners into the volcanoes.
El Salvador is a very dangerous country. People go there and lose their cold wallets in volcano accidents. Happened to me too.

— Olya (@olya_borderless) October 1, 2021
__
She always is!
What if she's right tho?

— scoopy – @muChiang Mai (@scupytrooples) September 22, 2021
__
And now! Crypto music time! First, a classic.
time to bring back a classicpic.twitter.com/o7P7c9Zwhx

— icebergy ❄️ (@icebergy_) October 6, 2021
__
Followed by 'Bitcoin is Freedom's Best Friend'.
Try not to get the last part stuck in your head 😏 #Bitcoin #BitcoinRouge pic.twitter.com/s0lZPaEtZR

— CARLA⚡️ (@carlabitcoin) September 30, 2021
---