Raging Bull Bitcoin Has a Crypto Plan for Canada and the World
While global crypto exchange Binance takes every chance to brag about how many products they've delivered, Canada and Bitcoin-only company, Bull Bitcoin seems to be equally busy with multiple new features in their pipeline.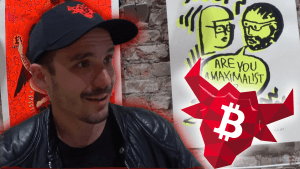 The company is a fixed rate Bitcoin exchange service which allows Canadians to buy, sell, spend bitcoins and pay their bills or send funds to a local bank account. The company claims they have a selection of more than 9.000 billers. This includes electricity, mobile and credit card bills, as well as city taxes and government taxes payments.
Bull Bitcoin recently joined the Liquid Network and is now preparing to launch Lightning Network (LN) payments, working on the dollar-cost averaging feature, hardware wallet integration, looking into partially signed bitcoin transactions, and is mulling a possibility to export their technology into other markets, among other things.
"The Lightning Network has been implemented in our backend for many months now, but we never turned it on for the users because we wanted to understand the liquidity challenges that come with it," Bull Bitcoin Co-founder and CEO, Francis Pouliot told Cryptonews.com in an interview at the Baltic Honeybadger conference in Riga, Latvia, in September.
He stressed that the LN payments out of their system should also be available this year.
"So when you buy bitcoin from us, you will be able to get bitcoin sent to your directly over the Lightning Network, which is a very cool feature," he said.
The next thing they're planning to offer to their clients is an investment strategy, known as automatic dollar-cost averaging. As reported by Cryptonews.com, most traders agree that trying to time the highs and lows of the market is extremely difficult and the better strategy to accumulate wealth with bitcoin is to use a dollar-cost averaging strategy, or to invest a fixed amount into bitcoin on a regular basis, regardless of the price action, which helps partially neutralize short-term volatility.
"So what that means is that we will basically purchase bitcoin for you on a fixed schedule basis, so that you don't have to decide when you're buying bitcoin, you can just say "I want to buy 10,000 dollars worth of bitcoin" and we will create a program where you're buying bitcoin every hour, or buying 100 dollars worth of BTC every day, or something of that nature, so that we can average out your costs," the CEO explained.
Export, trends, and narratives
And while the company does not plan to expand into other markets, they're considering exporting their in-house developed technology.
"We've really put a lot of energy, so what I think we could do is try to find other companies that have the same values and philosophy - Bitcoin maximalists, cypherpunks, people that have skin in the game<...>. We could help them use our technology stack in their own jurisdiction with their own business model," Pouliot said.
He declined to comment on the number of their users, revenues and whether they're considering bringing new investors to the company, only adding that Bull Bitcoin is a self-financed company.
"We don't have external investors, and the growth that we have is enough to pay for the growth of the business. For example, we hired 10 people over the last year and all of that was financed by new user volume that is generating us some revenue," the co-founder said.
Talking about trends they've noticed among their users, Pouliot said that "the most interesting trend that I've seen is that a lot of bitcoiners are paying the taxes."
"A lot of them have Bitcoin holdings and, for example, a lot of them invested in shitcoins," the CEO said, adding that many Canadians invested in the Ethereum initial coin offering (ICO) in 2014, which is still considered to be the most profitable ICO.
"So they have a lot of capital gains that they have to pay, so people have been using our services more and more to pay off the taxes," Pouliot said.
Meanwhile, he does not agree that the "Bitcoin is a store of value" narrative is the dominant one.
"A lot of people adopt this narrative that Bitcoin is a store of value not a means of payment because they are trying to make a point that the store of value is the use that we're focusing on. But Bitcoin is a fantastic payment system. I mean, I've been running a Bitcoin payments company for six years, I've been accepting Bitcoin payments for six years, never had a problem, never had a chargeback, the fees have been high only for two or three weeks during the whole history of Bitcoin," the CEO said.
_____
Watch the interview with Bull Bitcoin Co-founder and CEO Francis Pouliot, where he explains their business model in more detail, tells why they decided to make the company for Canada users only, what is their expansion philosophy, talks about their membership in the Liquid Federation, reveals which hardware wallets might be integrated in their exchange, why their users have started to use credit cards more actively, how has the Canada's crypto scene changed, and other things.
---