Pushy Turbulence, Pressuring Miners, Bright Future and 20 Crypto Jokes
Another eventful week is behind us. We reported that the number of addresses with 1 BTC is rising, while BTC is leaving exchanges, but merchants remain resilient; that the outlook for BTC development is generally positive, with key funding players revealed; that turbulences in the market could push crypto users to more centralized blockchain finance projects; that politicians were building a case for Bitcoin through limitations on cash and even democracy, and that BTC made a leap towards the mainstream. Miners are also pressing the BTC price, but analysts see a bright future. Meanwhile, the Maker Foundation will start transferring the governance power to the community in two years. Luno CEO told us that the crisis is good for BTC but to be careful of a recession, and the world's hyperinflation expert told us that there will be no hyperinflation.
Not done yet. FATF said that the U.S. is "largely compliant" with digital assets recommendations, Spain is set to send out 66,000 crypto tax warning letters, South Korean experts and lawyers remain uncertain as to whether the police can confiscate the cryptocurrency holdings of Telegram Nth room chief suspect, Gansu province said that all of its cities are now covered by its Blockchain Service Network platform, and we looked into whether CBDCs can help countries recover from the sharp recession caused by Covid-19 and lead to BTC. Binance acquired CoinMarketCap, NXC launched a new crypto subsidiary, and Revolut gave its regular users BTC sans keys.
Now, let's check out this week's set of jokes.
_________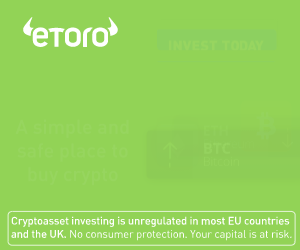 It's April, everyone! A new quarter has begun. How do you feel?
Markets:
Start of Q1 vs start of Q2 pic.twitter.com/WXNJrF05nL

— Sven Henrich (@NorthmanTrader) April 1, 2020
__
Let's see what productive discussions were led and valuable conclusions reached by crypto twitter about the current situation.
Bitcoin twitter. pic.twitter.com/UN8XVLP3Te

— Gigi ☯️ (@dergigi) March 4, 2020
__
Diversification, anyone?
*Logs into Binance* pic.twitter.com/JmyfsAUvlC

— Cryptochimp (@Cryptanzee) March 24, 2020
__
Oh, wow! That's so many...cents.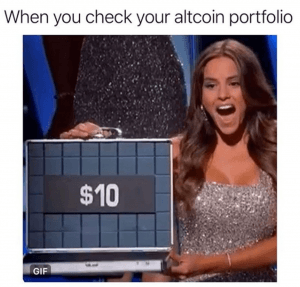 __
An excellent idea. But...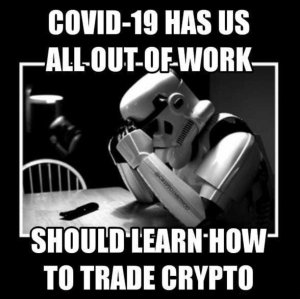 __
...but, this may also happen.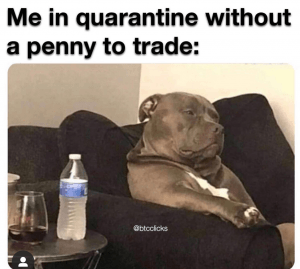 __
Some believe that disinfection works on seemingly unrelated levels simultaneously.
BTC maxi decontamination pic.twitter.com/8Uz30gIqTb

— The Crypto Monk ⛩ (@thecryptomonk) March 30, 2020
__
It's called 'strategy' and 'being crisis-ready.' Don't be jealous, Julian.
JUST IN: majority of crypto startups unaffected by COVID-19 because they had 0 revenue to begin with.

— Julian 🇬🇧 (@juliankoh) April 3, 2020
__
Let's talk Bitcoin now, shall we?
There is a Bee in the room! pic.twitter.com/oSTv11Ondn

— MIT Bitcoin Club (@MITBitcoinClub) March 8, 2020
__
Good. Good. Real good. It's good. All's good.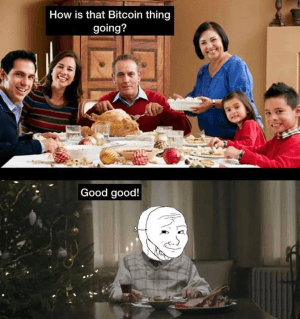 __
It's even better in dreams. Until it goes horribly, horribly wrong, that is.
Who else is having bitcoin dreams? pic.twitter.com/RiEzbSxDpX

— Tuur Demeester (@TuurDemeester) March 28, 2020
__
Good news, everyone!
if price go above 6500, it will likely touch 6501 #btc

— I am Nomad (@IamNomad) March 31, 2020
__
Here, this will help. It's scientifically proven.
Summoning circle, hope it works.
🕯
🕯 🕯
🕯 Bitcoin 🕯

🕯 to 20k 🕯

🕯 🕯
🕯 🕯
🕯

— BlockWorks Group (@BlockWorksGroup) March 23, 2020
__
And this one is historically proven.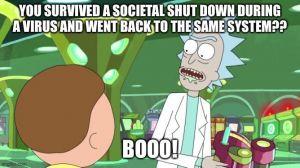 __
At one point it jumped so much that one toilet paper token was worth BTC 1.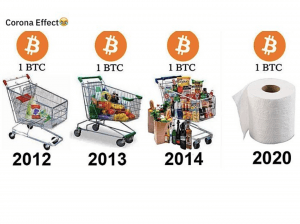 __
Look, I'm all for compromise and am willing to let you all try. I'll send you my address.
__
Yes, how very stimulating of them.
March 27, 2020
__
This is not financial advice.
Tremendous from r/CryptoCurrency
__
It's so painful.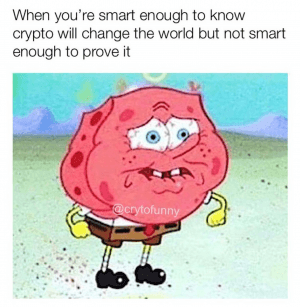 __
And now, let's all have a nice glass of wine and enjoy our weekend.