Number of Addresses with BTC 1 Rising, while Bitcoin is Leaving Exchanges
After a crypto market crash in March, the number of wallets with at least 1 bitcoin (BTC) has kept rising, reaching new all-time highs. At the same time, it seems that this coin is leaving exchanges.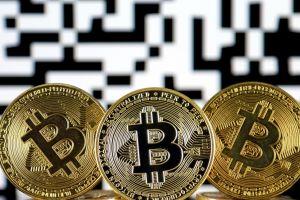 Crypto market researcher Glassnode said that on March 29, more than two weeks after the crash, the number of addresses with at least one whole coin reached yet another all-time high of 797,632. And this seems to be a relatively stable trend, as just one day before, it hit an all-time high as well, reaching 797,580. To put it in perspective, this is 52 more wallets in a day reaching that coveted wholecoiner status.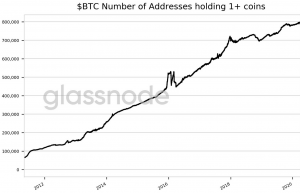 Furthermore, according to Glassnode, one month ago, on February 29 (when the BTC price was almost USD 8,700), this number was 790,438, giving us a rise of 7,142 addresses in a month. Looking at the previous two months, since the start of 2020, we notice the rise of:
January 29 - February 29: +5,689 addresses (price was c. USD 9,000-10,000);
December 29 - January 29: +3,543 addresses (price was c. USD 7,000-9,000).
With the lower price, we're seeing the largest rise in the number of wholecoinddresses in three months and this year so far. BTC is now (UTC 09:43) trading at USD 6,276, having gone up 2% in 24 hours and 8% in a week.
That's not all, as Glassnode reports that the number of addresses holding at least BTC 0.1 has reached an all-time high of 2,948,354 today, which is 1,182 more than yesterday. Additionally, the number of addresses holding 10,000 coins reached a six-month high on March 26, with 112, compared to 111 on October 2019. The highest number of these wallets, according to the researcher, was 126 in June 2016 and again in September and October 2018.
As a reminder, a bitcoin user can own multiple addresses.
Meanwhile, "despite the volatility, Bitcoin holders appear to be withdrawing their funds from exchanges," says Glassnode, adding that the outflow has been increasing daily since March 18. "According to our labels, BTC exchange balances are the lowest they've been in ~8 months."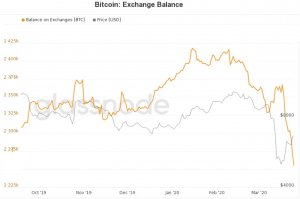 Blockchain and analytics specialist Chainalysis recently said that "Large increases in exchange inflows have proven to be a good indicator of increased volatility, so we recommend keeping an eye on the amount being transferred to exchanges."
People are speculating as to why holders would be withdrawing BTC from exchanges into their personal wallets. The suggested reasons include veterans buying more BTC, fear that the small exchanges may fail, fear of the pandemic and what effects it may have, stricter regulations and identifying processes, using it as a store of value, etc.
__
Learn more:
Panic in Bitcoin Market 'Dissipating,' Miners Returning
Japanese Investors Taking Advantage Of Bitcoin Sell-Off - Exchange
---