Of Crypto and Men: 20 Crypto Jokes
This was a week of opposites in the cryptoworld, maybe more so than usual. Everybody has taken a side in the crypto argument, only the Burning Sun scandal is indiscriminately all-encompassing and ever-growing.
As a Mexican exchange makes a last-minute plea to stop tough fintech regulations, FATF's preparing its upcoming regulations for virtual assets, G20's finance chiefs are fans of the draconian crypto trading measures, and it seems as if the governments are hell-bent on turning people to crypto. Unknowingly, of course. At least, certain people in India could only be "mildly", instead of harshly punished for having crypto. On the other side of this coin, Bakkt will finally start testing its Bitcoin features, Visa launched their international digital identity system based on blockchain architecture, and Coinbase Card is available in six more European countries, with even more to come. But that's not all. We saw McAfee strike again, this time with Magic, Coinbase and Circle are welcoming new USDC issuers, Twitter CEO hired the first member of its cryptocurrency-focused division, Telegram's new cryptocurrency will go on pre-sale, Facebook coin raised over USD 120 million, and Binance expansion into the U.S. left some questions unaswered. Finally, industry players have shared their knowledge with the cryptoverse, and we've learned that Coinmine plans to update its crypto-mining device, improving its efficiency and bringing new features, but we've also read that digital currencies may greatly benefit from Facebook's move into the blockchain 'n' crypto sphere. Kenetic's Jehan Chu agrees that semi-centralization is vital, and adds that the company will launch a new, pure equity, venture capital fund, and that Asia is the blockchain generation's home.
And now – the jokes.
__________________
Tabula rasa.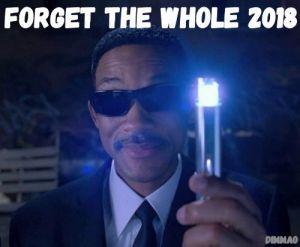 __
But it says this is the street!
Was here today. Place was full of blockchain devs searching for a use case... pic.twitter.com/0ZnLRXZpdf

— Alistair Milne (@alistairmilne) 11 June 2019
__
Yeah, but how much would it cost to air a commercial during Super Bowl - in Bitcoin? Google? Around 665 BTC for 30 seconds....
𝕋𝕙𝕖 𝕊𝕖𝕒𝕣𝕔𝕙 𝕗𝕠𝕣 𝕍𝕒𝕝𝕦𝕖
𝘢 𝘚𝘶𝘱𝘦𝘳 𝘉𝘰𝘸𝘭 𝘴𝘵𝘺𝘭𝘦 𝘤𝘰𝘮𝘮𝘦𝘳𝘤𝘪𝘢𝘭 𝘧𝘰𝘳 𝘉𝘪𝘵𝘤𝘰𝘪𝘯, 𝘴𝘦𝘵 𝘪𝘯 𝘢 𝘧𝘶𝘵𝘶𝘳𝘦 𝘰𝘧 𝘩𝘺𝘱𝘦𝘳𝘣𝘪𝘵𝘤𝘰𝘪𝘯𝘪𝘻𝘢𝘵𝘪𝘰𝘯

Made for @bitcoin2019conf's "Growth Hack,"

🙏 in collaboration with @mourning_noodle 🙏 pic.twitter.com/uo0EgkAWkt

— ₿rekkie von ₿itcoin ⚡️ (@CryptoBrekkie) 10 June 2019
__
One can only dream.
June 3, 2019
__
Yeaah....
Fml pic.twitter.com/eeGr9jWxvG

— MISSNATOSHI 👸🏻 (@missnatoshi) 10 June 2019
__
A nightmare scenario.
when ur bags finally mooning buT u losT ur privaTe keys.. pic.twitter.com/bCyuwTFCHc

— paTo.. 🌕 (@crypToBanger) 11 June 2019
__
A timeless meme.
__
Looking at it differently, it went down the other day... below 8,000... Just sayin'... I'll see myself out.
Instagram has 500 million daily active users.

Bitcoin never has 500 million daily active users. pic.twitter.com/uAIHNdkFvI

— 𝐉𝐨𝐬𝐡𝐮𝐚 𝐃𝐚𝐯𝐢𝐬 🐺🦊 (@karbonbased) 14 June 2019
Dad beats me
Bitcoin also beats me

— NAAAAAATEBAG ! (@NotNatebag) 14 June 2019
__
Whaaa?
#cryptomemes #bitcoin pic.twitter.com/AWYbHQgmM6

— CabaretPerleBlanche (@PerleBlancheMtl) May 29, 2019
__
Very dress, much fit, how doge, so wow!
much dress. very wow. from r/ThriftStoreHauls
__
It could be worse. Imagine Bitcoin partnering with SV.
Girlfriend's coworker was adamant that Bitcoin had "partnered with" Elastos.

I'd like to revise my estimate for mass adoption to the year 3026.

— 𝙼𝚊𝚝𝚝 ₿ (@MattoshiN) June 13, 2019
__
In defence of full anonymity and your crypto (beware of the SIM swappers!)
Stop using 2FA backed by a phone number. Full Stop. pic.twitter.com/py5zWQaaiG

— Shane Jonas (@shanejonas) May 26, 2019
__
Did he just confirm the post or burn the poster?
April 1, 2019
__
While we're at prospering...
The ultimate truth :)#bitcoin vs. #altcoins#cryptocurrency #cryptomeme pic.twitter.com/tARX1Pif4t

— Parham Lilian (@lilian_parham) June 3, 2019
__
Excellent! But what I'm wondering about is the August one.
Evolution.#bear #bull #crypto #cryptomemes #cryptomeme #meme #blockchain pic.twitter.com/mi4xjmCnYB

— Traders Profit Club (@tprofitclub) June 6, 2019
__
A veritable crypto-22 situation.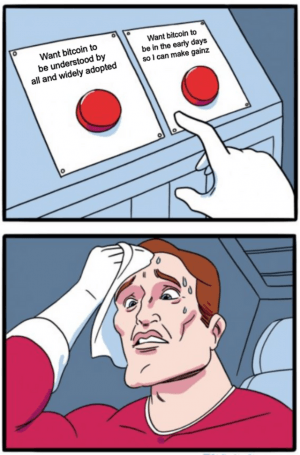 __
Planes might not go to the Moon, but they sure fly high.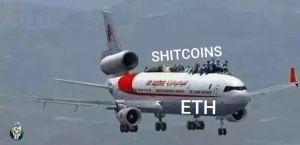 __
As is the only right thing to do, according to the rulebook, under section 9.0 "what to do when bitcoin hits a thousand milestone".
Each time bitcoin hits the next thousand $$ milestone pic.twitter.com/mkTdkpqYFm

— Ty Roberts (@TyRoberts) 4 June 2019
__
Ooh, you little, sneaky, teasing...
The biggest tease! from r/cryptocurrencymemes
__
One for your wall, so you can admire it the entire weekend. In color.
Last American non-KYC'd user of an altcoin exchange, colorized pic.twitter.com/WZkKr3i7jC

— Crypto X. Cronkite (@CryptoCronkite) 14 June 2019