Monex Group Hopes Bitcoin Giveaway Will Get 50k People Trading Crypto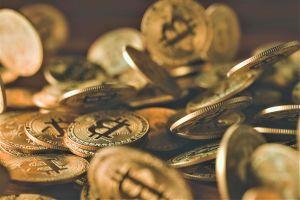 If the idea of conventional finance providers handing out cryptocurrencies to their shareholders sounds far-fetched to you, look no further than Japan, a country where securities companies and crypto giveaways go hand-in-hand.

Last month, Cryptonews.com reported that securities provider the Monex Group had taken the decision to hand out a small yet highly symbolic amount of bitcoin (BTC) to everyone who owns shares in the company – some 50,000 people in total.
It is an end-of-financial year benefit, and it is not the nation's first shareholder crypto payout. That accolade goes to another securities big-hitter and long-term Ripple partner, the SBI Group, which handed its Morningstar subsidiary shareholders mid-year XRP bonuses last year, following up with a larger end-of-FY2019 XRP payout.
But Monex's move is perhaps equally significant in that it will see shareholders receive the world's favorite token, bitcoin (BTC), a cryptocurrency it has no particular allegiance with.
Atsushi Demoto, Monex's head of investor relations (IR), tells Cryptonews.com that the company's decision to pick bitcoin was "simple." He says, "We believe BTC is the most popular cryptocurrency among our shareholders."
If Monex shareholders want to get their hands on the 500 yen (USD 4.52) bitcoin handout, they will need to have an existing BTC wallet at the group's Coincheck crypto exchange – or open a new account on the platform.
The IR chief adds,
"We want to help our 50,000 shareholders get interested in cryptocurrency trading. We hope that the benefits will help them make a start with cryptocurrency trading."
So what has the response been like so far?
Demoto explains,
"We have received positive feedback from our shareholders, and this offer has enabled Coincheck to acquire new users. The offer has definitely triggered an interest in cryptocurrency and digital finance among our shareholders."
Japan's newest crypto players
In many ways, Monex is something of a poster child for the type of company that is now making its presence felt in Japan's fast-growing cryptocurrencies and blockchain market.
While the first generation of Japanese crypto exchanges began life as smaller blockchain startups, Monex and the like are much bigger companies that took the crypto plunge relatively recently.
The company started out life in 1999 as a joint venture with music giant Sony, at a time when the securities market was undergoing radical change. Restrictions on brokerage commissions were being lifted and modern securities regulations were taking shape.
The Tokyo Stock Exchange's Mothers market (the "market of the high-growth and emerging stocks") launched in the same year. Securities had just gone hi-tech: At launch time, 38% of all Mothers-listed companies were IT companies.
In 2004, Monex made waves by merging with rival securities platform Nikko Beans, part of the Nikko Cordial securities group that is now wholly owned by Citigroup.
The new company traded under the name Monex Beans for some time, before eventually changing its name to the Monex Group.
In 2017, the company says that it underwent a "second founding," and it was here that cryptocurrencies entered the story.
Crypto businesses in the country were booming, and forward-thinking regulators in Tokyo had just introduced one of the first's crypto exchange licensing systems – whereby exchanges were required to register with the government's Financial Service Agency (FSA).
It is a regulatory model that scores of governments all over the world are now adopting.
The FSA application process is notoriously difficult, time-consuming and demanding. So a number of bigger companies sought to take a shortcut – via M&A deals that allow them to take over smaller platforms that have already gained FSA permits.
When the Coincheck exchange was hit by the biggest hack in crypto history, Monex did not hesitate. The company swooped in and took over – taking an express route into the game.
But Monex is not alone. Other big securities players flocked to crypto at roughly the same time. The SBI Group went a different route, establishing its own SBI VC Trade platform from scratch. Rakuten, an e-commerce giant with a powerful securities arm of its own, also took this tack.
But another conventional finance player, monitoring and information provider FISCO, took a similar approach to Monex, adding to its own crypto portfolio by buying up the Zaif crypto trading platform, also after a hack .
So what do Japanese securities companies and financial groups see in crypto, and why are they in such a rush to make their presence felt in this emerging market?
Demoto explains,
"Generally speaking, Japanese securities have a lot of experience and knowledge when it comes to trading stock, margin trading FX and investment trusts. They feel they can apply this same knowhow to cryptocurrency-related services. In the case of Monex, we are looking ahead to the future of financial services that utilize blockchain technology, including those that make use of cryptocurrency transactions."
However, last year still wasn't profitable for Coincheck. Despite continuously reducing fixed cost, the company recorded segment loss due to prolonged lower market trading volume, Monex Group said in their financial report.
Overseas operations
With Coincheck as a key foothold, Monex Group says it now wants to establish "a leading position in the cryptocurrency exchange business."
Demoto states,
"Coincheck is the core company of our group's cryptocurrency business. It will continue to provide a chance [for customers] to trade in new cryptocurrencies, and provide new services such as staking and OTC [over-the-counter] services, while minimizing cyber risks."
But Demoto says Monex's crypto exchange operations are just the start of the company's crypto journey. The company says it wants to "create new services beyond exchange services that make use of cryptocurrencies."
More recently, the company has also spoken about diversifying its blockchain business scope, with blockchain-powered healthcare information management business avenues already a target.
And overseas expansion efforts are also afoot. In 2011, the company acquired American equities, options and forex trading platform TradeStation. The latter has recently opened a crypto brokerage subsidiary named TradeStation Crypto, with a view to bringing in American and global crypto users who want to trade in bitcoin, litecoin (LTC), ethereum (ETH), bitcoin cash (BCH) and XRP.
"We continue to seek to expand our crypto business globally," says Demoto.
If companies like Monex keep upping their stakes in crypto game, perhaps bitcoin shareholder handouts will become commonplace in Japan – a country where cryptocurrencies have already begun to take their place in the financial mainstream.
Monex Group revenue portfolio and projections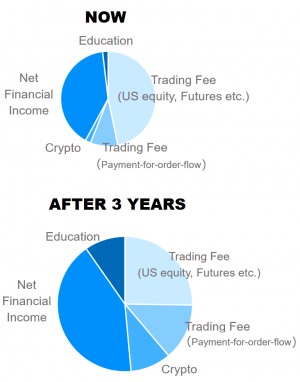 ---