Missed Bottoms, Tanking Exchanges, Hamstering Mongooses and 20 Crypto Jokes
Disclosure: Crypto is a high-risk asset class. This article is provided for informational purposes and does not constitute investment advice. By using this website, you agree to our terms and conditions. We may utilise affiliate links within our content, and receive commission.
The crypto market saw another sharp correction exactly a week ago, with Nayib Bukele missing the "f***ing bottom", after which BTC showed "overwhelming" institutionalization following a "significant deleveraging event" as the week began, and BTC and ETH corrected lower mid-week. Meanwhile, bittorrent surged following the news of the BitTorrent Chain mainnet launch, and EOS slushed gains as the EOS community voted to stop token vesting to Block.one. Vitalik Buterin discussed a "plausible roadmap" for obtaining a scalable blockchain but said it will probably take years before it "plays out", and Chainalysis found that only 1 in 4 NFTs bought during minting result in profit, while BSC and Animoca Brands unveiled a USD 200m investment program to finance early-stage blockchain-based gaming startups.
Pantera's CEO said that investing in crypto is a "fantastic hedge" against a bond market that will get destroyed when the US Fed stops its asset purchases, South Korea's presidential candidate called crypto "a means of trading and investment", and while nearly 90% of surveyed Aussie crypto owners have profited from trading or broke even in 2021, Grayscale's survey found a rising interest in BTC as the company pushes for the first bitcoin spot-based ETF in the US. Visa is launching crypto advisory services to help clients understand various segments of the crypto industry, Jack Dorsey's Spiral unveiled their Bitcoin Lightning Development Kit, and Ledger announced a crypto debit card, support for NFTs, and partnership with Coinbase and FTX.
Coinbase is gearing towards a trading fees compression, dYdX was down for nine hours due to a major outage that hit Amazon's cloud-service network which sparked a decentralization debate, the myCryptoWallet exchanged tanked following a wave of complaints by users and allegations of missing funds, and the hacked BitMart said it intended to compensate affected users and resume its operations. Meanwhile, the USD 100m jury verdict in the Craig Wright court case brought even more confusion.
Six crypto CEOs testified about threshold issues and Bitcoin mining among other topics, with the 'Brad Sherman meme coin ecosystem' growing as Hamster pumped and Mongoose joined the party, while the CIA Director admitted that the agency has "a number of different projects focused on cryptocurrency" in progress, and a US court hinted that the IRS may have violated a Coinbase user's privacy rights in a tax audit. Indian crypto violators could reportedly face prison time under a new proposal, Russia is set to create a crypto working group, the Japanese financial regulator is eyeing stablecoin and wallet provider regulations in 2022, and the Chinese Communist Party official who was expelled from the party for allegedly supporting crypto miners has been arrested. BIS said that multiple settlement platforms could emerge in the future with multiple assets and currencies, while it said that DeFi could play "an important role" in the traditional financial system, it also pushed for increased regulation.
Laughing time!
__________
Hey CT, how was the week?
https://www.twitter.com/CryptoCobain/status/1468574461649686529
__
Waaait a minute!
__
'Admins? CEO? Anybody?'
https://www.twitter.com/Pentosh1/status/1466497894312292353
__
They persevere.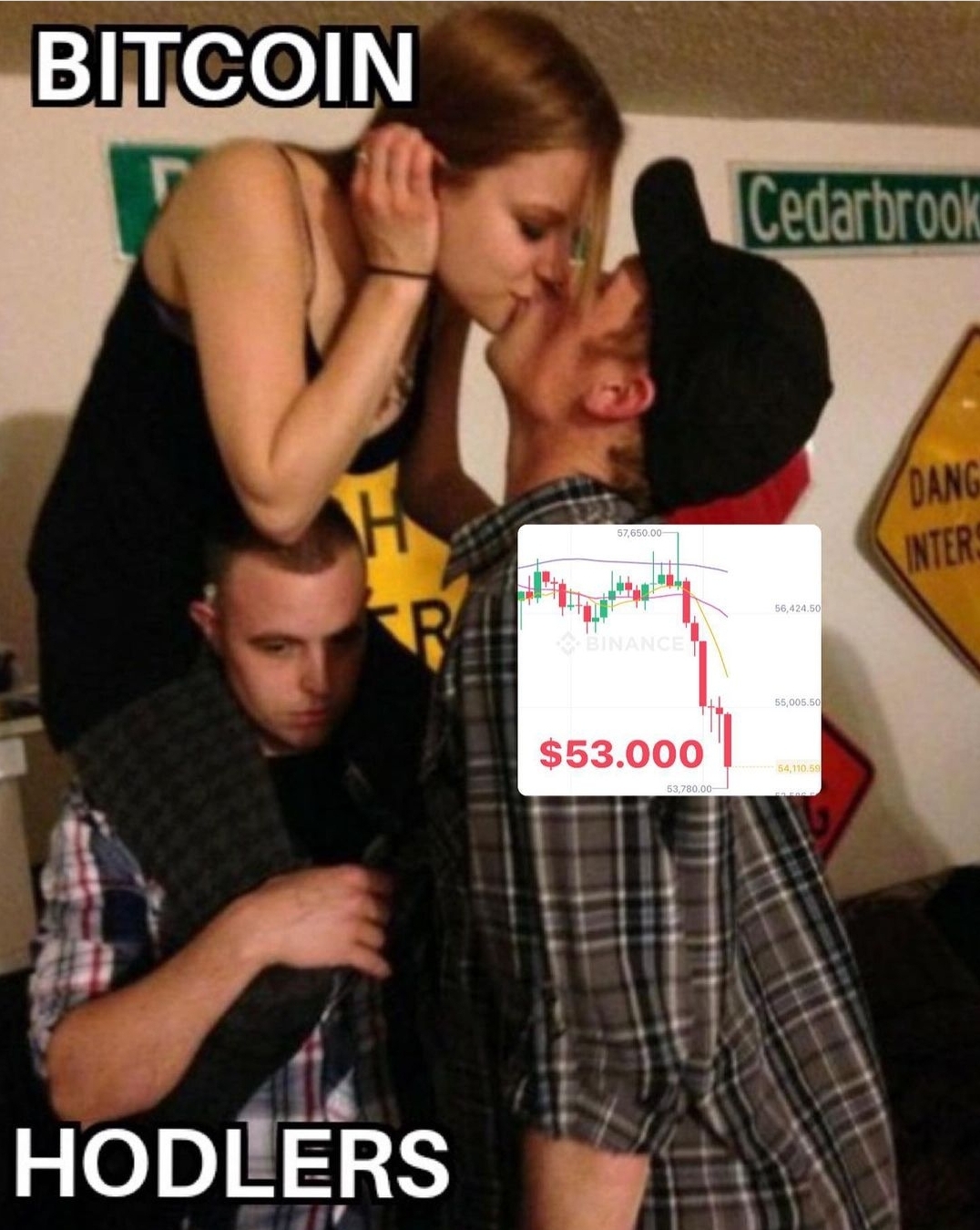 __
Finally!
Finally found a use case for Cardano 🥳 pic.twitter.com/eARlED1feG

— VivekVentures.eth 🦇🔊 (@VivekVentures) December 10, 2021
__
What retirement?
BUY BITCOIN pic.twitter.com/ISpfZxVjdu

— P (@phjlljp) December 10, 2021
__
Heeeere's dippity dip dip!
While we're in the dippity dip dip, devs keep building pic.twitter.com/CShvCQ6iha

— Mira Christanto (@asiahodl) December 6, 2021
__
And all was good.
December 4, 2021
__
But seriously tho…
Serious questions tho. pic.twitter.com/Q2UMkLdhXK

— xamanap (@xamanap) December 8, 2021
__
We're not, but bubbles are in us (right, Pepsi?).
https://www.twitter.com/tbr90/status/1469101109264453635
__
Here's a helpful chart for you, the Dorsey version.
Here's another one pic.twitter.com/ITvbCBr4iC

— Trung Phan (@TrungTPhan) December 8, 2021
__
The science has spoken!
Volatility is a feature, not a bug.
Proven by science. pic.twitter.com/GAluNcasdr

— Aen (@aentan) December 6, 2021
__
Symphony No. 9 in D Minor.
December 8, 2021
__
Phew. 😌
We good guys
Chairwoman is already familiar with the typical P&D charts in crypto pic.twitter.com/xBkMnNzpP7

— Ed_NL (@Crypto_Ed_NL) December 8, 2021
__
'Goddammit, CIA! Can't a person have some metafun in private around here, please!'
https://www.twitter.com/CryptoCobain/status/1468040363998945284
__
'Just you wait… This time next year, I'll be a thousandaire.'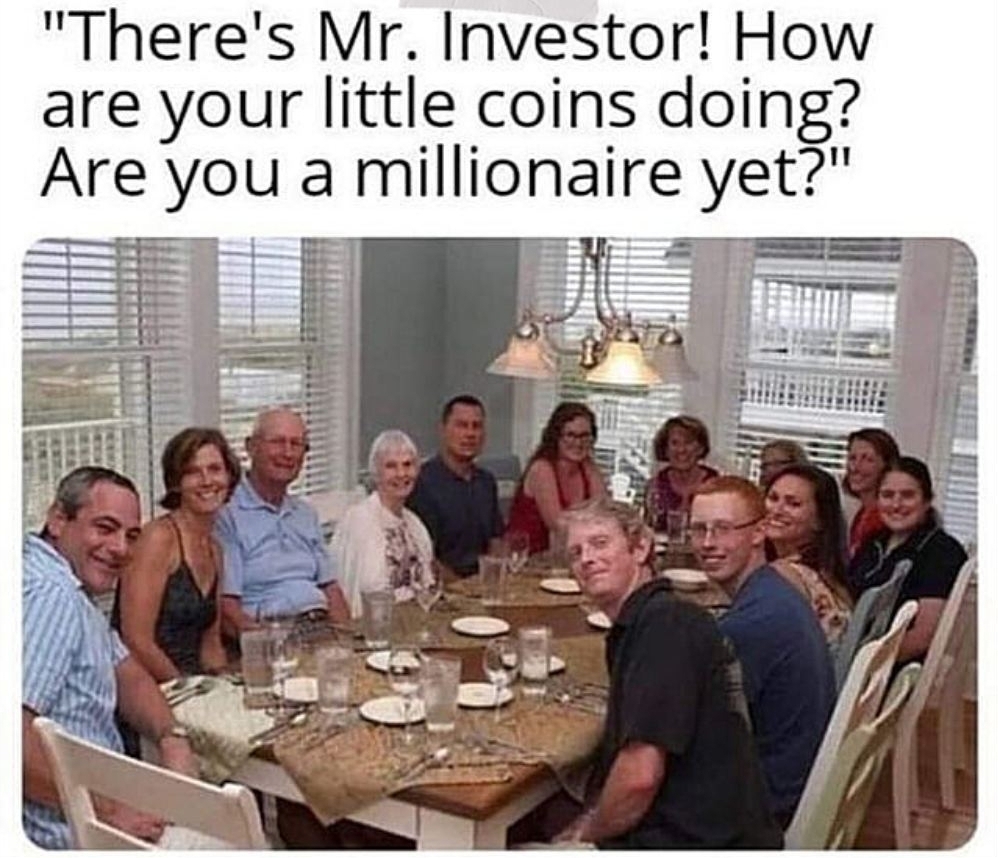 __
They don't want to be enlightened, the ingrates.
Pretty much pic.twitter.com/Ji9S1Eh1fq

— Sean Harris 🏀 (@BigSeanHarris) December 6, 2021
__
'Okay, mes, this one is vital, let's figure it out.'
December 8, 2021
__
And let's end this one with a cheerful crypto prediction.
All IN
pic.twitter.com/CUIiGZf4p4

— Elja (@Eljaboom) December 8, 2021
__

No! The master of the endgame, Vitalik, will save us all!
VITALIK VS. CRAIG W & SCAMMERS pic.twitter.com/CN58HGYg1W

— Pas (@passytee) December 10, 2021
---