McDonald's Jobs, Fed's Triggers, ETH Changes, Diem Sales and 20 Crypto Jokes
Disclosure: Crypto is a high-risk asset class. This article is provided for informational purposes and does not constitute investment advice. By using this website, you agree to our terms and conditions. We may utilise affiliate links within our content, and receive commission.
Another week is behind us, and here's a summary of what happened. With the markets down and CT looking for jobs in the fast-food industry, McDonald's happily trolled crypto twitter. Major cryptoassets, BTC and ETH included, continued to fall for a while as market participants braced for a Fed meeting, and they dropped along with stocks as the Fed confirmed tapering. But they all went up as traders started digesting the Fed statement. Before dropping again soon after, and then moving up once more. Then fantom soared as its daily transaction count briefly exceeded Ethereum's. XRP went up with the market as Ripple announced a buyout, while 'romantically involved' USD 3.8m XRP thieves were sent to prison for 7 years. Ethereum.org shifted from using 'ETH 1' and 'ETH 2' to 'execution layer' and 'consensus layer' instead, Genesi DAC which is led by Vitalik Buterin's mother Natalia Ameline picked Tristan Metaverse as its first investment, and Etherscan launched a "wallet-to-wallet" instant messaging service Blockscan Chat. Michael Saylor said that BTC is the digital property and ETH digital security. Solana experienced high network congestion once again due to bots spamming the network, and reports came out that OpenSea was under attack, but the platform denied that they experienced an exploit or a bug. Meanwhile, Donald Trump's son threatened the TrumpCoin founders with legal recourse.
Meta unveiled its plans to build a powerful AI supercomputer that will be used for metaverse building, Coinbase showed a preview of its NFT platform, while Reddit started testing NFT profile pics, and Buterin discussed non-transferable NFTs. Meanwhile, the Diem Association was reportedly attempting to sell its assets to return capital to its investors, and Silvergate may be aiming to buy it. KuCoin expanded its euro operations by integrating the SEPA support, FTX US raised USD 400m which brought its valuation to USD 8bn, and Uniswap's Hayden Adams said JPMorgan Chase closed his banking accounts with "no notice or explanation". Another headache came for crypto miners as three Central Asian countries were hit by a power blackout, while analysts see slower Bitcoin hashrate growth in 2022 amid the market correction.
The manifestos of South Korea's main presidential candidates have been released as NFTs and Statistics Korea made a crypto move. Vladimir Putin talked up the country's crypto capabilities as tensions on the Ukrainian border heighten, a top Russian MP urged the country to ban crypto but legalize mining and issue a gold-backed stablecoin, and more top MPs dismissed the central bank's calls for a crypto ban. Romania and Latvia are thinking about changes to crypto regulations and taxes, an Indonesian regulator reminded market participants that financial services companies are not allowed to offer and facilitate sales of cryptoassets, Chinese government-run firms and local governments started to explore metaverse-related innovations, the IMF warned El Salvador to water down its BTC law – but the cryptoverse laughed it off, the IRS said it's up against mountains of crypto and NFT frauds, and the US community was on alert as a draft law threatened to give the Treasury sweeping powers over crypto. Let's laugh at some jokes now!
__________
Morning, CT! How did your week start?
January 5, 2022
__
Taking things well, it seems.
my #bitcoin stacking vibe ,while the market is red or green, be like:https://t.co/lBB66dBTm6

— Yellow.🍌🍞 (@ICOffenderII) January 25, 2022
__
All good now? Got a plan?
January 21, 2022
__
Crypto discount time.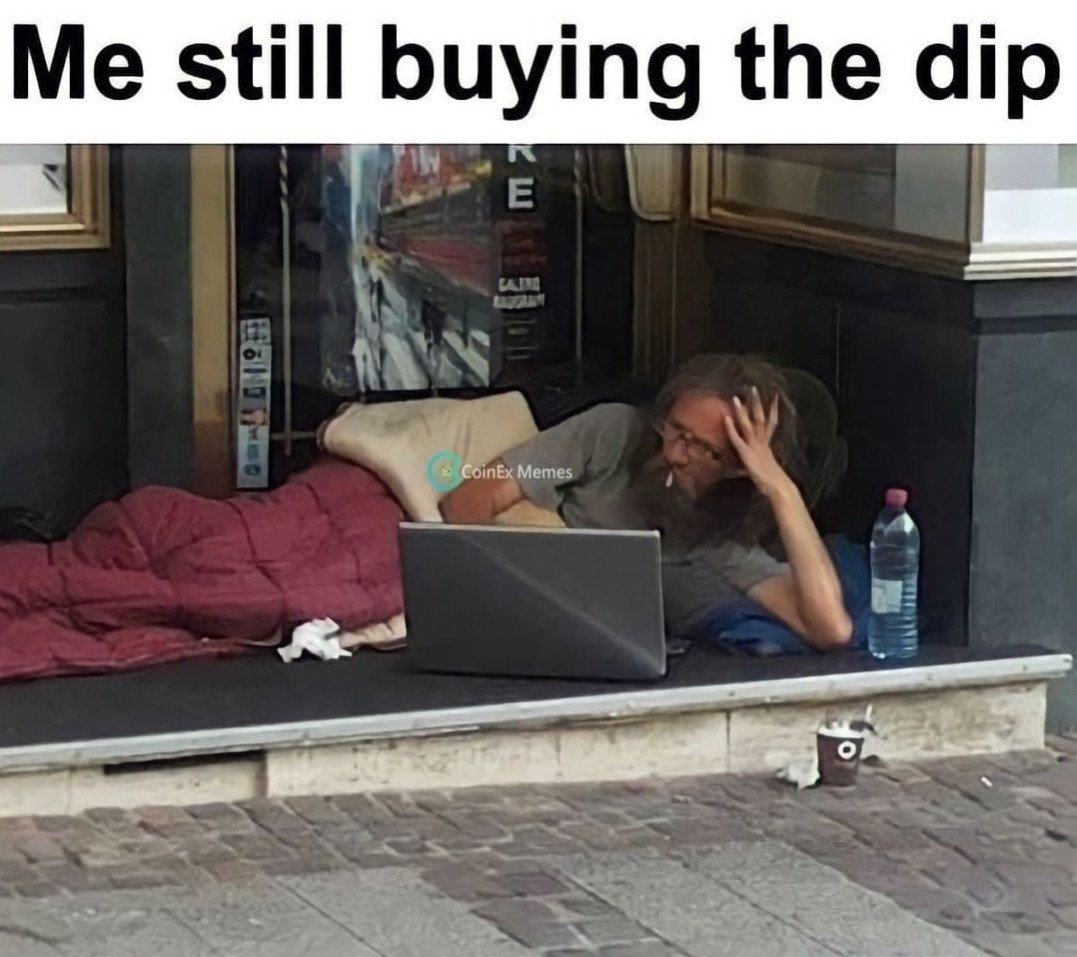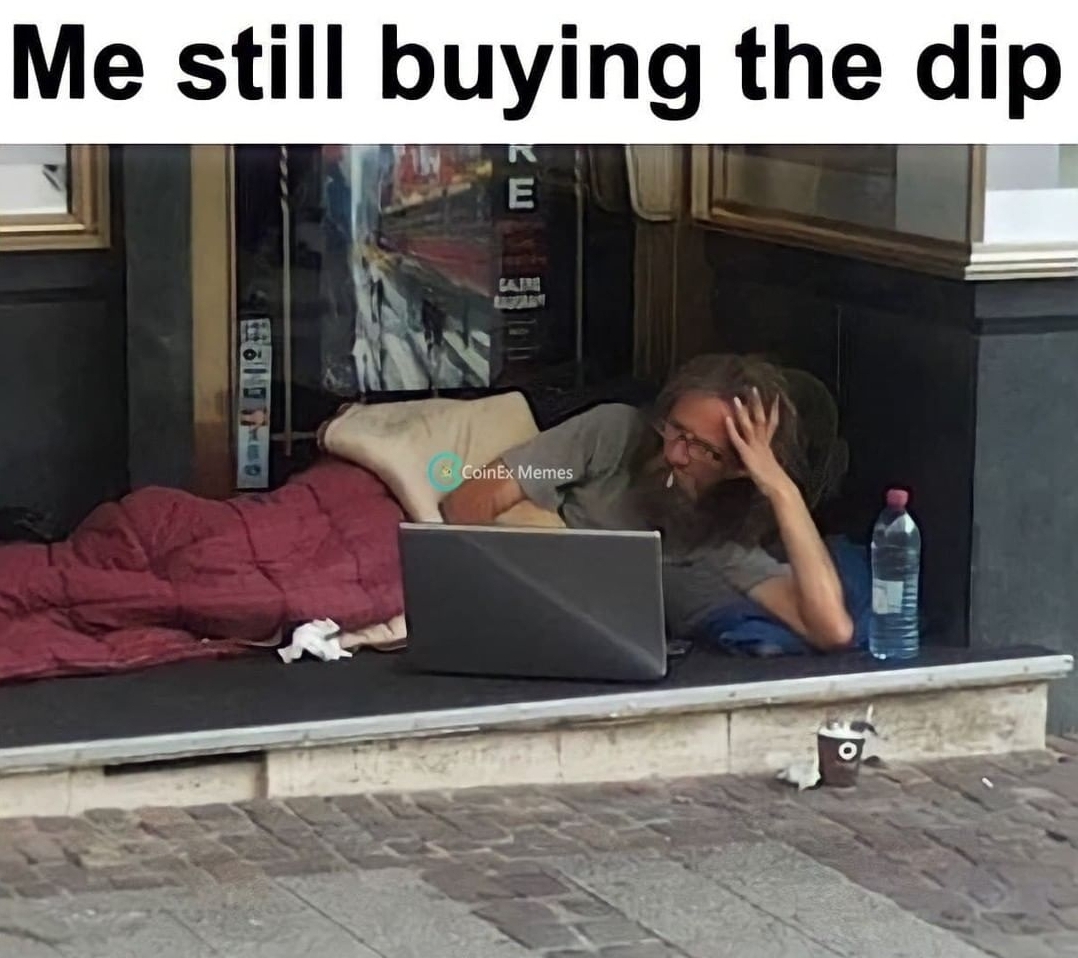 __
It's a balancing act.
Being a bitcoiner in a a nutshell pic.twitter.com/axF8t3tu5T

— X_cyborg (@X_cyborg1) January 25, 2022
__
Spooky stories.
January 26, 2022
__
Who wants to be a former millionaire?
You are probably not going to be future billionaires, but some of you are definitely going to be former millionaires 🤛🏻😎

— Šimon Svatoš (@SimonSvatos1) January 24, 2022
__
Precise.
https://www.twitter.com/shishi21m/status/1484320237637935112
__
Bukeleling.
January 21, 2022
__
No fighting, guys! We're all the same to burgers.
January 24, 2022
__
Provided without comment.
The Federal Reserve Recap with Jerome Powell pic.twitter.com/GviLyRDb1R

— Kyla Scanlon (@kylascan) January 27, 2022
__
7th time's a charm.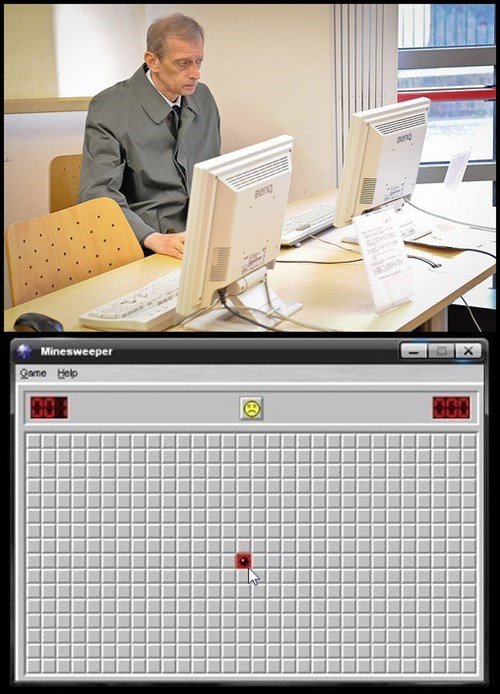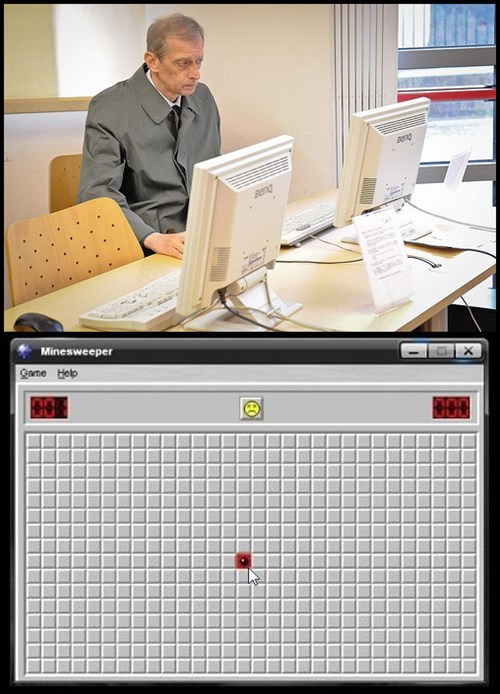 __
IMHO IMF NGMI.
https://www.twitter.com/naiiveclub/status/1486235990998274048
__
Yeah, but the second one has slides.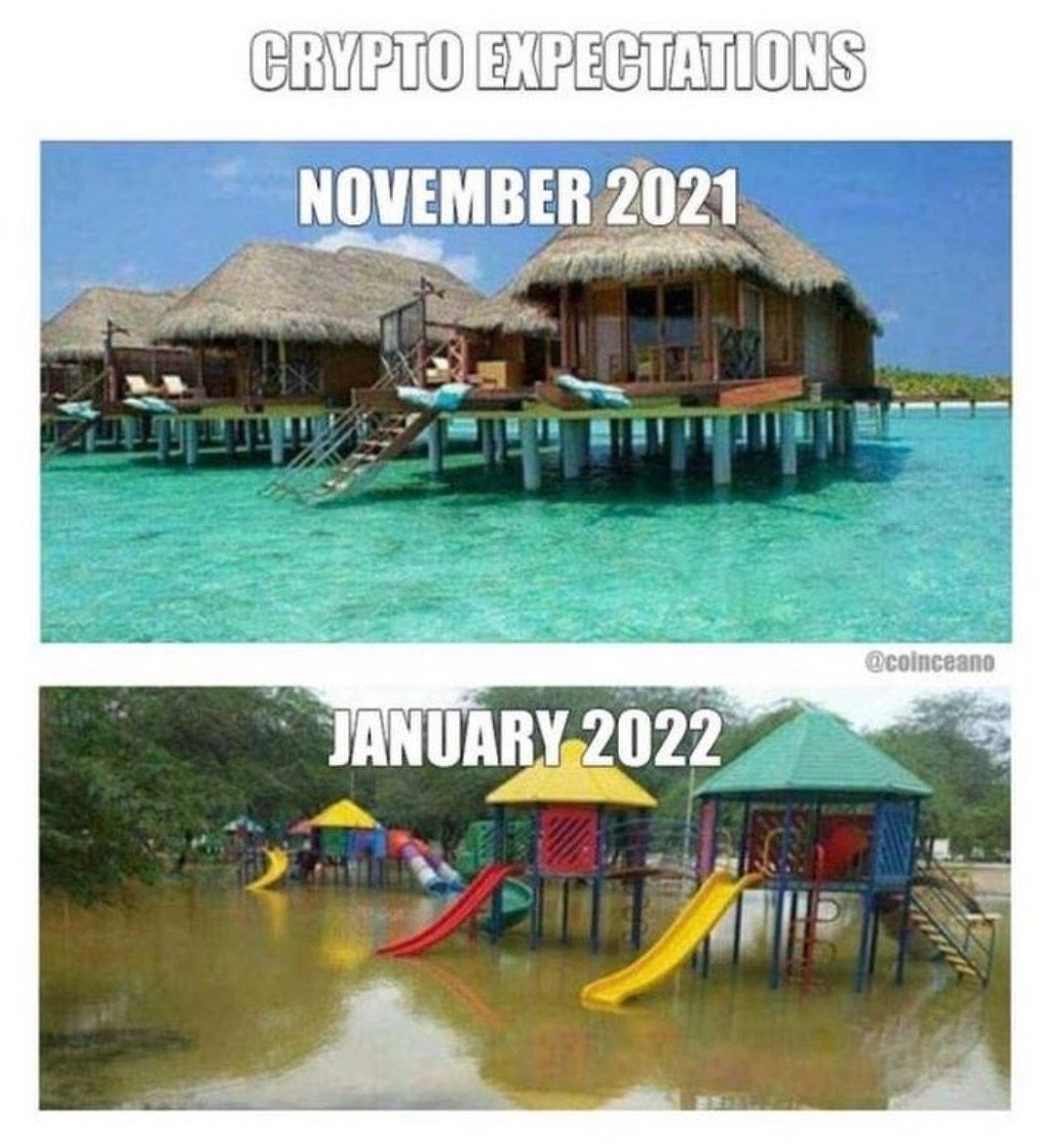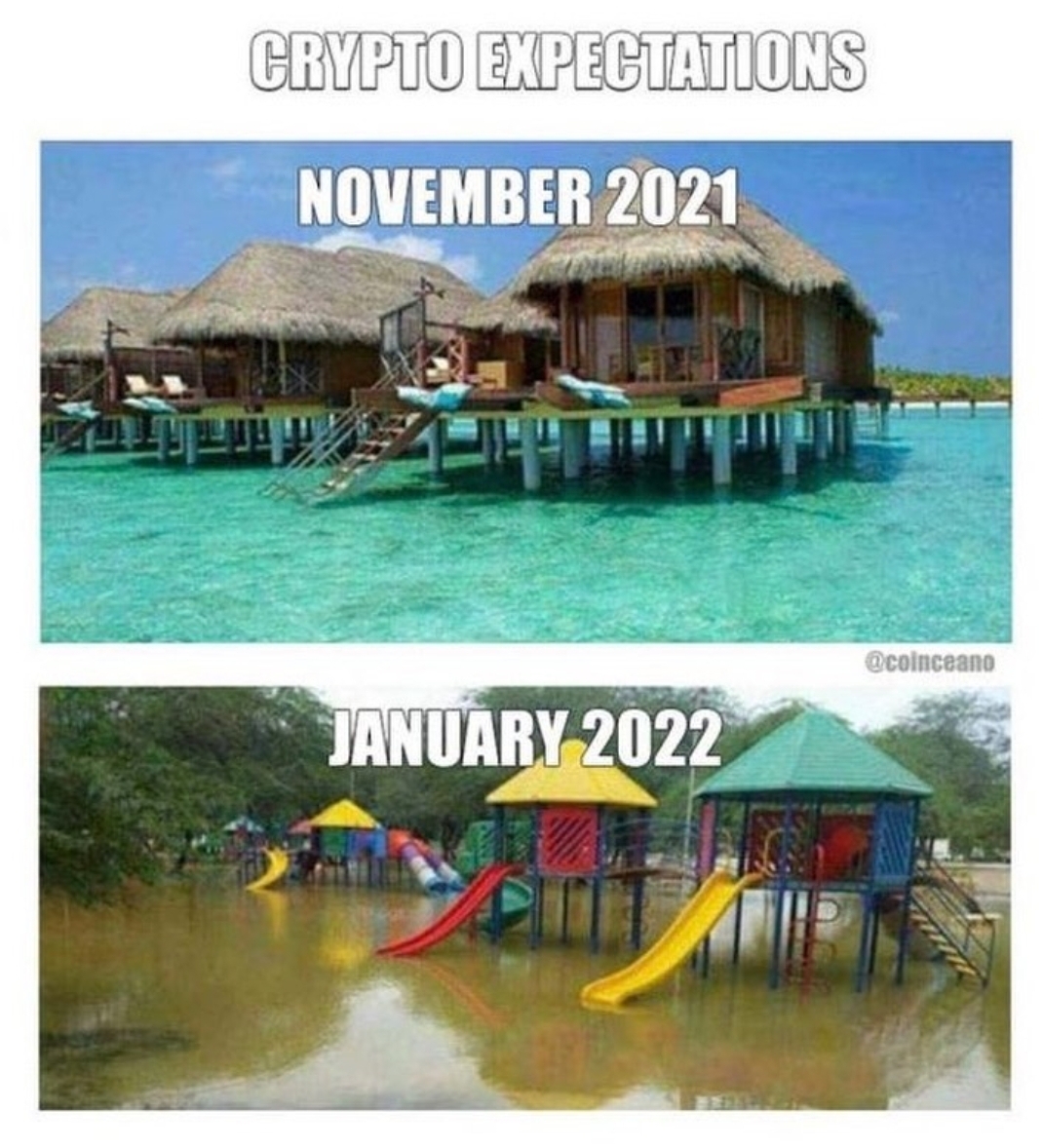 __
An expert analysis.
https://www.twitter.com/buccocapital/status/1486118460040044546
__
A hedge is a hedge. Right? Guys?
inflation hedge, expectation vs reality: pic.twitter.com/x9LBnTmU8m

— Rob (@rob_mose) January 25, 2022
__
"Oh no, oh no, oh no no no no no!"
oh no pic.twitter.com/AIhPL8tcUO

— Edward Snowden (@Snowden) January 24, 2022
__
Let's check on the stockers learning to be saters.
Me watching stock market participants learn how to trade while my crypto holdings continue to giganuke pic.twitter.com/apRDiMLWb0

— Angelo฿TC (@AngeloBTC) January 21, 2022
__
Here's a nonromantic thriller for you.
Bond. Treasury Bond. #Bitcoin pic.twitter.com/duKzuh4Kzo

— CARLA⚡️ (@carlabitcoin) January 21, 2022
__
And a documentary on the crypto market events this January.
https://www.twitter.com/naiiveclub/status/1485864646313910272
---