Lots of Soaring, Some Record Breaking, NFTing and 20 Crypto Jokes
Disclosure: Crypto is a high-risk asset class. This article is provided for informational purposes and does not constitute investment advice. By using this website, you agree to our terms and conditions. We may utilise affiliate links within our content, and receive commission.
Another fun crypto week is behind us. Let's summarize what happened. Bitcoin hit another ATH, as inflation figures in the USA reached its highest level in 30 years and the value of paper money hit an all-time low against hard assets. Analysts said that the current bitcoin rally looks healthy and with less leverage than on previous occasions, altcoins eclipsed combined bitcoin and ethereum transaction volumes on Coinbase, DOGE surged then dropped following an update, the Ethereum Name Service governance token soared on the first day of trading, Ethereum competitor Kadena too was soaring on its DeFi and NFT gaming news. Bitcoin's Taproot was set to finally be activated this week, as was an upgrade for Ethereum's L2 scaling solution Optimism. Meanwhile, Robinhood claims it has some 1.6m people on the waitlist for their crypto wallet, Discord seems to be working on a link to Ethereum, and Twitter is launching Twitter Crypto. Also, sadly, an American entrepreneur was tortured by a gang trying to steal his bitcoin.
While 72% of game developers surveyed by Stratis said they're interested in using blockchain and NFT's, and AMC mulled launching its own cryptocurrency and partnering with Hollywood studios to release NFTs, Activate Consulting predicted that NFTs would become mainstream by 2022, as well as a positive market for altcoins in the year ahead. And while in South Korea the top financial regulator said NFTs are not cryptoassets, in the UK Christie's sold a Beeple piece for USD 28.9m.
The Russian Ministry of Economic Development expressed a willingness to legalize BTC and crypto mining but the central bank said nope, while a major Swedish power company defended Bitcoin mining as regulators were proposing ban. In South Korea, the main presidential candidates said they were in favor of delaying or amending the crypto tax, the police revealed that the man who had attempted arson at the Upbit customer service center had made a disastrous cryptoasset investment, and Seoul will become the first local government there to launch a metaverse public service platform.
News time over, jokes time may commence!
__________
Heey, CT! What's up?
November 7, 2021
__
Let's check on the markets too. What's up?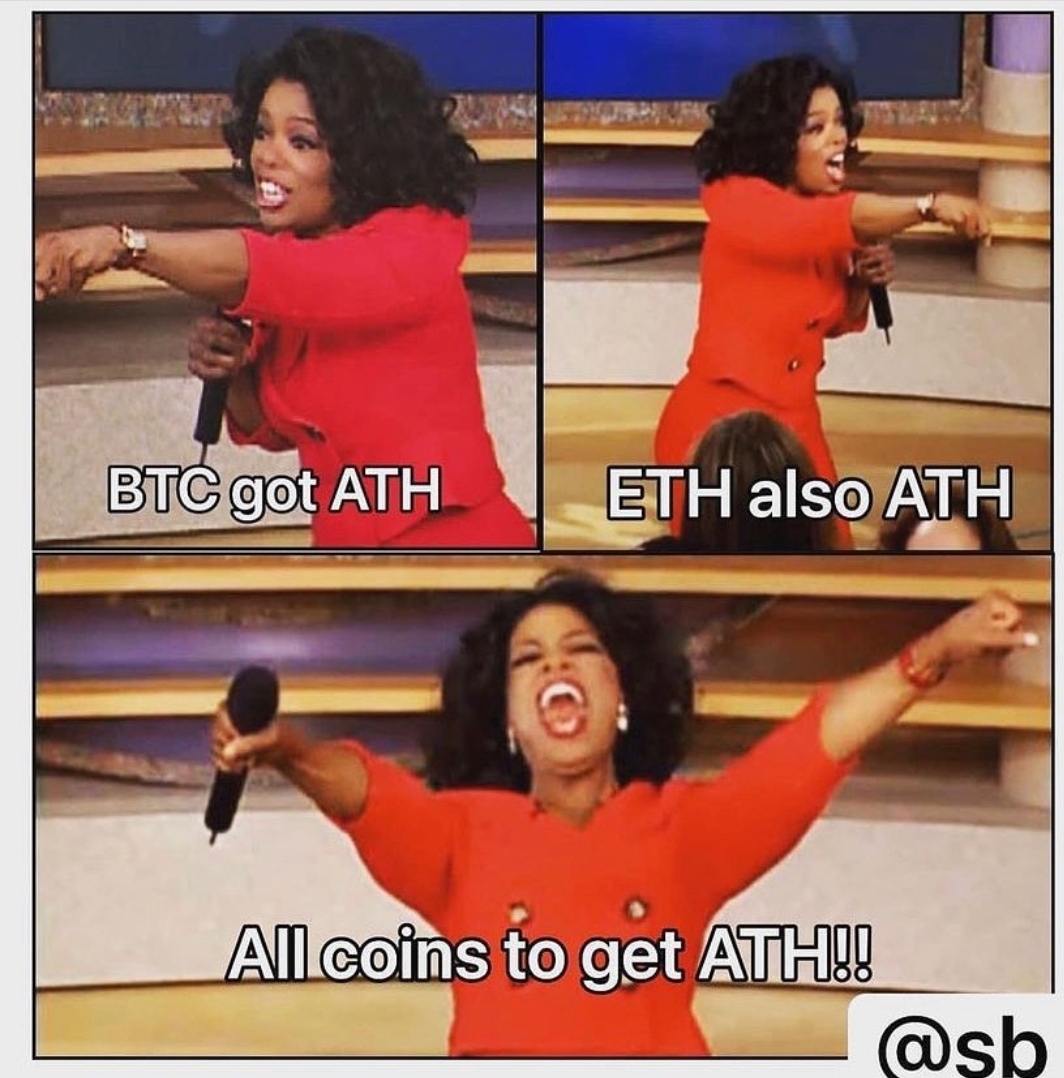 __
And here's an analysis of BTC performance in relation to gold.
bitcoin > gold#bitcoin pic.twitter.com/MDt3xM5CvX

— Neil Jacobs (@NeilJacobs) October 31, 2021
__
And this is how the mainstream media sees BTC performance.
#bitcoin media guide. pic.twitter.com/RNbw7GvxSi

— Craig Warmke (@craigwarmke) January 14, 2021
__
That's the face!
https://www.twitter.com/DegenSpartan/status/1457616159231004674
__
The 21 million number is all around us.
I love bitcoiners and their priorities pic.twitter.com/bpKO7hyxoV

— Lina Seiche (@LinaSeiche) November 9, 2021
__
This one's on the maxis' expense.
Maxi's waiting for #Bitcoin to rekt alts… 😂 pic.twitter.com/47KacwzNjQ

— Jacob Canfield (@JacobCanfield) November 5, 2021
__
Kidneys are capped.
https://www.twitter.com/devchart/status/1456289697450414082
__
For those still wondering what the difference is.
Proof of Stake vs Proof of Work pic.twitter.com/q2wcafJ5jW

— Dennis Parker (@Xentagz) November 7, 2021
__
NFT-to-real-world translation.
November 8, 2021
__
Island bois hard fork.
https://www.twitter.com/Adouble212/status/1458220118761168897
__
Waaaait….
https://www.twitter.com/XT1LG/status/1456405505266667521
__
Parody or not? Discuss. 'Bitcoin helps lower divorce rates'. Discuss.
How bitcoin can lower divorce rates pic.twitter.com/UbfplCUMP1

— Brian Harrington (@BrainHarrington) November 9, 2021
__
It's unenoughstressable.
https://www.twitter.com/CryptoCobain/status/1458324465830486017
__
?
Leveraged longs liquidated .. and go! pic.twitter.com/AKZQGP1LYH

— PlanB (@100trillionUSD) November 10, 2021
__
Shitcoin buyers.
Opt out of the game/race/voting/drama/cycle with #Bitcoin. pic.twitter.com/Rr8pziQQSE

— fool (@bitcoinfool) November 5, 2021
__
Shitcoin hodlers.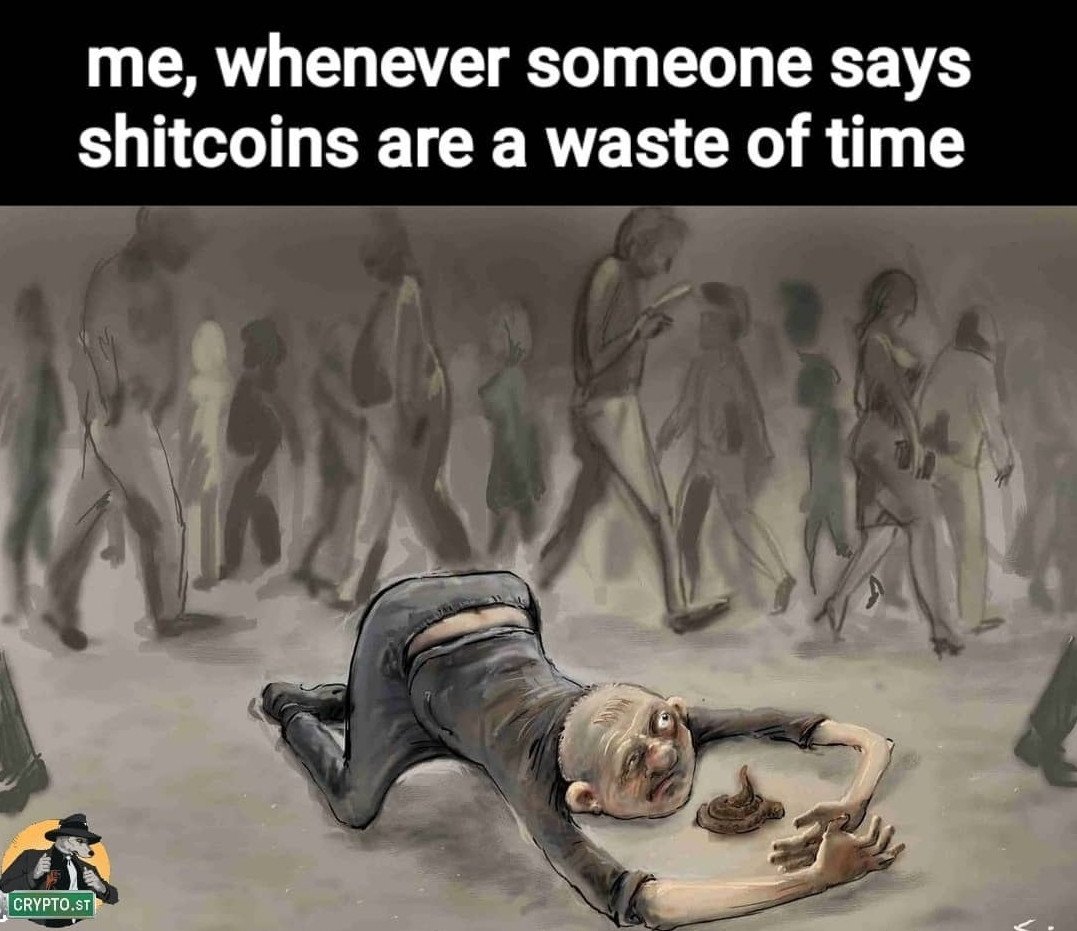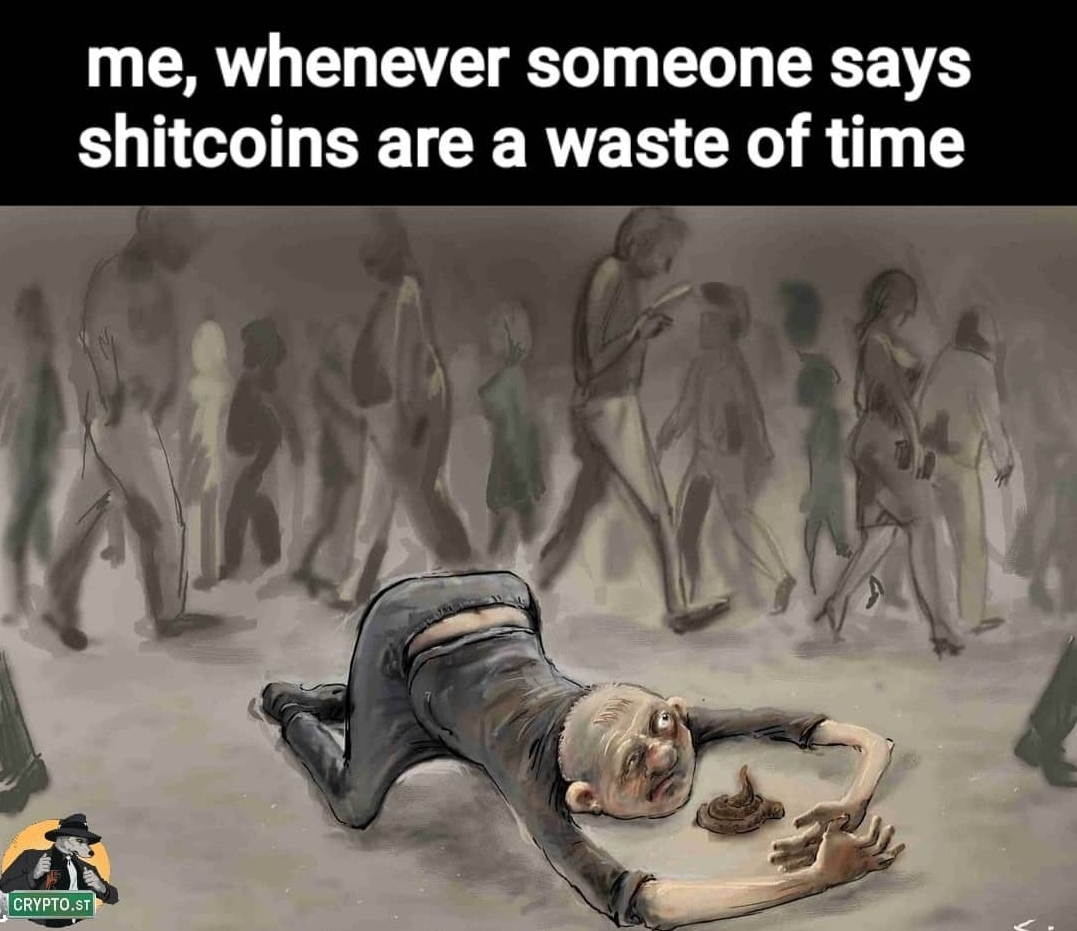 __
That's one strong pointer finger.
Tim Cook and Apple destroying crypto fudders be like…https://t.co/ioToPsCA47

— xamanap (@xamanap) November 9, 2021
__
And there's no way to fix it!
November 11, 2021
__
And here's a 2-in-1er: a cryptomentary in combination with your weekend crypto song.
Pump It Up #Bitcoin pic.twitter.com/oO3RcHKdPT

— Chairman (@WSBChairman) November 8, 2021
---