Kraken is Working on 'Major Change' in User Experience - Dan Held
Improving user experience is one of the main focus areas at Kraken this year and the popular, U.S.-headquartered cryptocurrency exchange plans "major change" in the next 2-6 months, Dan Held, Director of Business Development of the company, told Cryptonews.com.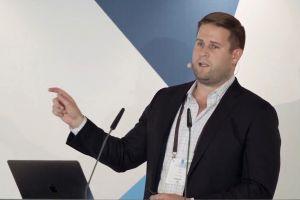 "User experience is where we struggled in the past, and I think that's something that we've recognized. We were really, really actively working to solve that. So, we're excited for what we have coming out - I can't tell you exactly what we're working on, but it's gonna be a major change," Held said during an interview at the Baltic Honeybadger conference in Riga, Latvia, in September.
The Director did not specify what new products the company might launch only adding that "it's around user experience, <...> around different types of financial instruments, or different trading pairs that people will be looking for."
Also, besides expanding their reach by entering new countries, adding new digital assets, Kraken is focusing on bringing liquidity into a specific trading pair: "That's our bread and butter as an exchange - but being the most liquid for certain pair is how we're strategically thinking through it."
As for competition, their main competitors are "different depending on the geography." In either case, according to Held, "we see ourselves as pretty well-positioned in the U.S. and in Europe."
Talking of the Binance.US's debut in the U.S., the Director said that Kraken has "a pretty competitive offering" and "it'll be interesting to see what happens."
Dan Held joined Kraken this past summer after the exchange acquired Interchange, a company co-founded by Held. Interchange, which offers professional-grade accounting and portfolio reconciliation tools for digital asset markets, now operates as a separate product at Kraken.
__
Watch the interview with Dan Held:
---