Here's What Everyone Missed in The Dorsey, Musk, and Wood Bitcoin Talk
Disclosure: Crypto is a high-risk asset class. This article is provided for informational purposes and does not constitute investment advice. By using this website, you agree to our terms and conditions. We may utilise affiliate links within our content, and receive commission.
On Wednesday, a highly-anticipated conversation regarding Bitcoin (BTC) between Ark Invest CEO Cathie Wood, SpaceX and Tesla CEO Elon Musk, and Square and Twitter CEO Jack Dorsey took place online as part of The B Word initiative. While most have focused on the newsworthy aspects of the talk, such as the fact that SpaceX holds bitcoin on their balance sheet or that Tesla is likely to accept BTC again in the near future and that the company is not selling their BTC, there are a number of other key takeaways to look at when it comes to the fundamental aspects of Bitcoin as a revolutionary technology that has the potential to change the world for the better.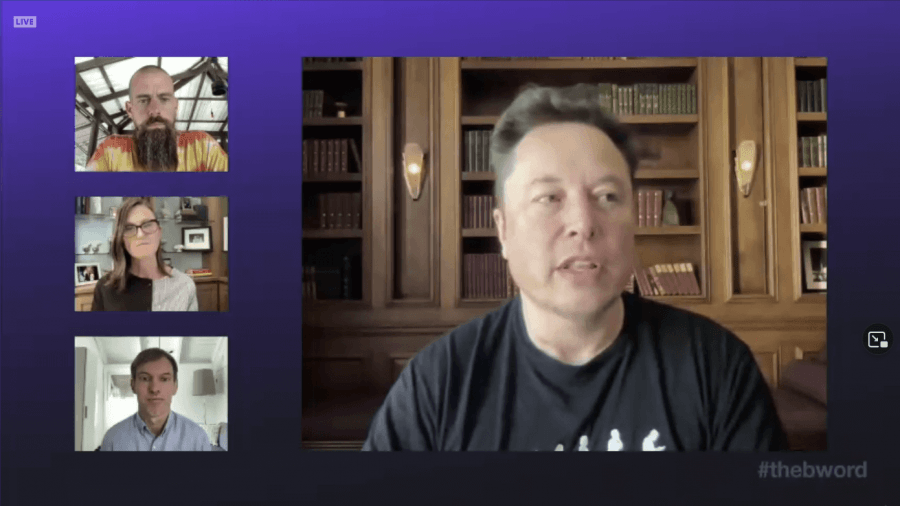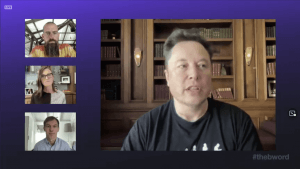 Social media was rather excited about Musk disclosing that he personally owns both ethereum (ETH) and dogecoin (DOGE) (but also owns a much greater amount of BTC), but for me, the key takeaway was the notable cypherpunk philosophy that underpinned various statements made during the panel discussion, which was also moderated by Square Crypto's Steve Lee.
Musk: Bitcoin empowers the individual
For Musk, money is an information system, primarily for labor allocation, and there are a number of issues with the various database systems that are currently used around the world today. Specifically, Musk sees serious issues when it comes to the speed and security of these outdated systems.
"[The credit card system] is like handing your username and password to a stranger in a restaurant if you buy a meal," noted Musk.
In his view, Bitcoin has the potential to offer improvements in the areas of throughput, fraud prevention, government interference, and other error-prone areas of the current financial system. "Bitcoin is solving for having no throat to choke," added Musk.
With that in mind, the CEO of Tesla sees Bitcoin and cryptocurrency more generally as something that fits into a wider vision of doing things that benefit people and create a better future for the world.
"It can have an empowering effect for individuals and increase the power of the individual relative to government," Musk said.
"And really, government is just a corporation in the limit. Sometimes some people are like against corporations but [in favor of] government. It's like: Guys, the government is just a corporation in the limit. It's the biggest corporation of all, and it's got a monopoly on violence. So, if you don't like corporations, you should really hate government."
Musk said he has been thinking deeply about money since his X.com days (a precursor to PayPal), and he sees Bitcoin as a candidate for creating a better standard of living for everyone around the world and providing more power to the individual. The Tesla CEO also discussed the importance of non-custodial wallets over leaving funds on exchanges, as the latter misses the point of why Bitcoin was created in the first place. In terms of empowering his own companies, Musk made it clear that holding BTC is definitely more attractive than holding cash in some European bank accounts due to the negative interest rate policies that have been adopted on the continent and is affecting Tesla directly.
Dorsey: Bitcoin changes everything
For Dorsey, BTC is a potential native currency for the internet that could eventually change the world. The Twitter CEO was explicit about the influence the cypherpunks have had on his thinking.
"[Bitcoin] is deeply principled," said Dorsey. "It's weird as hell. It's always evolving. And it just reminded me of the internet when I was a kid. I encountered alt.cypherpunks when I was fairly young. This was a topic of discussion for years. I didn't touch it until 2008 when we started Square."
Echoing some of what Musk had said, Dorsey shared that he encountered a "predatory" and "obtuse" financial system when he originally started Square. In his view, Bitcoin provides an opportunity to build something completely new from the ground up rather than trying to build around the existing system.
"[The traditional financial systems] just are not relevant to today, and they're certainly not relevant to the future, especially when you consider the entire world and countries like Nigeria, Ghana, or India and [their] interconnection with countries like the United States, Canada, and all over Europe," explained Dorsey.
The Square CEO also offered specific examples of the kinds of issues he sees with the legacy financial system, such as the problems a woman in Ethiopia faced when she was first trying to build out the local equivalent of the ride-sharing app Lyft.
"She still has to take paper, fiat cash from her passengers and pay all of her drivers in the same way because there's no monetary system that she can utilize," said Dorsey. "There's nothing digital."
Dorsey also covered the high costs of transferring money between African nations, with the 10% to 30% costs of transfers made from Ghana to Nigeria as a specific example. Additionally, Dorsey claims the advertising-based profit model that social media platforms like Facebook, Twitter, and YouTube are built around today would not exist if Bitcoin had been invented prior to the development of these platforms.
It's clear that, at least for Dorsey, Bitcoin is much more than an investment, and it's something special and unique that those who use it should help protect and develop.
"Having sound money that is separate from the state is the idea," said Dorsey.
"My hope is that it creates world peace or helps create world peace," Dorsey added later in the discussion. "Elon said it earlier, we have all of these monopolies on violence and the individual doesn't have power . . . It may sound a little bit ridiculous, but you fix that foundational level and everything above it improves in such a dramatic way. It's going to be long term, but my hope is definitely peace."
These comments from Dorsey will sound extremely familiar to anyone who has heard the "fix the money, fix the world" meme around Bitcoin.
Wood: Bitcoin is the best money for ESG
Wood talked about the ability for Bitcoin to change the world in the context of the movement found within many traditional institutions regarding how companies impact various social causes, which is commonly referred to as ESG (environment, social, and governance).
The potential environmental impact of Bitcoin's use of proof-of-work was heavily discussed throughout the event, with the general consensus being that it would make sense for Bitcoin to eventually be mostly-powered by renewable sources of energy. And again, Musk indicated that Tesla is likely to start accepting Bitcoin payments again in the near future due to his perception that Bitcoin's negative environmental impact has decreased in the past few months.
To this point, Wood stated, "I really do believe that Bitcoin will be much more environmentally friendly, certainly than traditional gold mining or the traditional financial services sector. In many ways, it already is, and it's just going to get better that way."
While Wood indicated that many institutions think of things like diversity and pay equity when it comes to the social impact of various companies, she also pointed out that she thinks about this aspect of ESG a bit differently when it comes to disruptive technologies like Bitcoin. Much like Dorsey, Wood pointed to statistics related to the reduction of friction in global payments, such as the heavy reliance on remittances in places like Tonga and El Salvador, as a social responsibility aspect of the Bitcoin phenomenon. Wood also pointed to the 4.3 billion people living under authoritarian regimes and 1.3 billion people living under double-digit or greater levels of inflation as other areas where Bitcoin can enable economic empowerment. Wood also pointed to the work of Alex Gladstein of the Human Rights Foundation for those who seek more information on this topic.
"Saving them from the destruction of their purchasing power certainly is a noble social goal," added Wood. "We expand social to be much more than the traditional ESG community."
In terms of governance, Wood pointed to the openness and transparency of the entire ecosystem around Bitcoin. "It's completely transparent, unlike the opaqueness of financial systems and the toll takers in the traditional financial world," said Wood.
The CEO of Ark Invest also shared how she became more familiar with the transparency of Bitcoin through conversations with various contributors to Bitcoin Core.
"In terms of talking to them about economics, economic theory, [and] failed monetary regimes historically, they know economic history, many of them, better than anyone I've ever met," Wood said of the Bitcoin development community.
"So, that gives me a great degree of confidence that they do believe they're on a noble mission. They could be getting paid a lot more than they're being paid right now if they worked at Google or Facebook or some of these other areas, but they've chosen this sense of purpose for a noble goal . . . It gives me a great deal of comfort as I think about the governance of the ecosystem, much more so than I think we would find in other financial ecosystems."
It is notable that Wood spent time to share her understanding of the Bitcoin development community, as that brings us back to a direct connection to the core ethos of "cypherpunks write code" that underpinned much of Wednesday's discussion.
_____
Learn more:
– EU Regulation May Harm Small Crypto Players, Stablecoin Users, And Elon Musk
– 9 Tweets By Elon Musk and 9 Bitcoin Reactions
– Bitcoin Shows Resilience Amid Global Political Pushback
– Surprise! An ESG-Conscious Giant Increases Indirect Exposure to Bitcoin
---