Game of Exchanges: Self-regulation as Self-defense
Korea Blockchain Association released a list of mandatory measures for its members. In most cases, exchanges didn't stick to previous promises.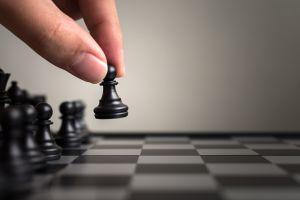 The South Korean government's decision earlier this year to put the brakes on a proposed crypto-crackdown has completely shaken up the industry. After a spate of crypto mania that gripped the entire country late last year came a crash – with many blaming the government's anti-crypto stance. Public outcry followed, and the government eventually backed down.
However, since then, the ruling administration has found bigger fish to fry: such as brokering peace talks between North Korea and the United States, a major online opinion-rigging scandal, rising air pollution and a rapidly falling birthrate. The cryptocurrency industry has been left, for want of a better term, to fend for itself.
Despite some good early-year momentum, the country's exchange platforms have endured a torrid past few months. Market leader Bithumb's disastrous attempt to list Popchain – a token detractors claim is a "monopoly" – led to national outcry.
Meanwhile, criminal investigations into Bithumb's biggest rival, Upbit, are ongoing, while a prosecution inquest into financial irregularities at exchanges has already seen the CEOs of two other platforms arrested on fraud and embezzlement charges.
Significant Move?
Numerous calls for exchange-specific government regulations have so far gone unanswered, so the industry has decided to act.
The self-regulatory Korea Blockchain Association (KBA), the country's biggest association of exchange platforms, last week released a list of measures it wants members to take if they wish to remain part of the organization.
If passed, the proposals will require exchanges to completely separate investors' funds from their other holdings. Many exchanges have thus far used shared wallets to process corporate, bank-related and other transactions – a major cause of controversy and confusion in the past.
The self-imposed regulations would also require exchanges to keep at least 70% of their cryptocurrency holdings in wallets that are kept completely apart from their own networks.
Perhaps most significantly, however, the terms of the proposal would force all South Korean member exchanges to allow independent auditors to conduct annual checks on their assets, financial management systems and other operations – and hand over the results to the association for inspection.
Per media outlet iNews24, Kim Hyun-ki, the secretary-general of the KBA, said, "I expect that self-regulation will play a key role in resolving exchanges' problems. Customers will soon be able to invest in a much safer environment."
Long-term Impact
Blockchain technology consultant Mira Kim told Cryptonews.com:
"I'm not sure how this will go. We've already had one wave of attempted self-regulation, when exchanges promised they would stop adding new tokens and would start adhering to the government's real-name trading guidelines. But they didn't stick to those, in most cases."
"I hope this time around, things can be different, but I suppose only time will tell. Exchanges really need to act together, but they have not really shown signs of doing that so far," Kim added.
Indeed, a number of exchanges appear to believe they need to take proactive measures of their own to boost their public image. Korbit's recent decision to de-list five cryptocurrencies appears to preempt the sort of situation currently taking place to the East, in Japan, where the financial regulator is asking exchanges to de-list "anonymous" tokens such as Monero.
Several analysts have suggested that South Korea's own financial regulator, the Financial Supervisory Service (FSS) may one day play the same sort of role as Japan's regulator. The FSS, some say, may one day issue operating permits for exchanges, commission audits and perform spot-checks on companies that fail to meet security standards and comply with anti-money-laundering measures.
Bithumb, meanwhile is on a charm offensive of its own. This week, the exchange claimed it would ensure its security complies with government guidelines for financial institutions, blocked trading from 11 countries (including North Korea) in a bid to fight money-laundering – and says it will also restrict anonymous trading, meeting government banking guidelines.
Kim opined, "Exchanges acting alone like this is quite possibly a sign of the industry looking to plan for a future where regulation is a lot tighter."
The KBA, meanwhile, also says it will "review" cryptocurrency listing policies in the wake of the Popchain affair.
However, many will be skeptical of such announcements – exchanges are still adding new altcoin listings at a rate of knots, despite a pledge from exchanges last year to suspend the listing of new tokens. It may be worth noting that Korbit's decision to remove five coins was followed – just two days later – by news of yet another new altcoin listing.
---