From Eels to Eyeglasses – Exploring Japan's Crypto Pay Revolution
Pro-tech legislation has persuaded big retailers to join the crypto revolution. Now you can find even a crypto-keen vegan ramen eatery.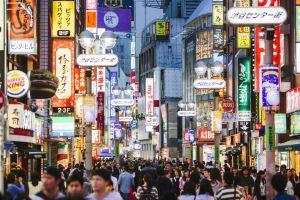 Although many Japanese are happy to propagate Western stereotypes that cast the country as a futuristic, neon-lit tech wonderland, bustling with IT-proficient techno-nerds, the secrets of Japan's tech success are actually grounded in the unglamorous world of government policy.
In the postwar period, successive governments targeted growth industries in niche tech sectors. As well as actively fostering what have since become Japan's tech conglomerates, the government has sought to create and fine-tune pro-tech legislation.
So, when the government last year took its biggest step yet toward ensuring a cryptocurrency-compatible future, amending its banking law and introducing the Virtual Currency Act, the move represented the continuation of a policy that dates back to the late 1940s.
Many smaller Japanese retailers had been accepting Bitcoin and altcoins for years beforehand, but last year's legislation has persuaded some of the country's biggest retailers to join the revolution.
Electric Dreams
The decision by electronics chain BIC Camera to allow crypto pay at all of its stores, and those of its affiliates, was arguably the biggest leap yet for crypto pay in Japan.
The initial decision came just three months after the government's crypto legislation. And BIC seems genuinely taken aback by its customers' thirst for crypto pay. The retailer had chosen to run pilots at stores that have a lot of Chinese customers – but was stunned to find that most of its crypto-paying customers are in fact Japanese.
Not to be outdone is BIC rival and fellow electronics vendor Yamada Denki, which said it would begin accepting bitcoin and other cryptocurrencies at two Tokyo flagships beginning January 27 this year, before beginning a nationwide rollout.
In fact, it is getting hard to find electronics retailers in Japan that do not take crypto. Gaming specialist Ark PC not only accepts Monacoin – it even gave away free limited edition Monacoin-themed memorabilia to customers settling their bills in the manga-motif currency earlier this year.
Other major franchises now accepting crypto payment include the likes of optician Megane Super and nationwide branches of the Tomiyoshi Music School.
If the likes of tech giant Fujitsu and commerce mammoth UFJ Mitsubishi have their way, crypto pay could become the norm in Japanese retail. The former is working on a pilot scheme with Japan's biggest convenience store brand, FamilyMart, which incorporates blockchain-verified payments and QR code usage, basically paving the way for unmanned crypto pay.
UFJ Mitsubishi, meanwhile, has issued its own digital MUFG coin currency – as well as an automated convenience store in which employees can spend their MUFG coin tokens.
'Mom-and-Pop' Movement
Mainstream acceptance may be on its way, but crypto pay is still very much a grassroots movement in Japan. Businesses Americans call 'mom and pop' outfits exhibit the most willingness to accept cryptocurrencies.
Early last month, a popular Japanese travel site reported that the owner of a traditional eel restaurant in the Saitama Prefecture claims to be the first business-owner in the country to have accepted a Ripple (XRP) payment.
Most of these mom and pop establishments are passionate about their decisions to accept crypto – they will gladly talk your ear off about the subject, and their "Bitcoin Accepted Here" signs adorn their shop windows like badges of honor.
Take a walk around Japan's most happening urban food and nightlife areas and you will find plenty of businesses advertising their acceptance of Bitcoin and altcoins. In Osaka, for example, you will have no trouble finding crypto-friendly eateries and bars – as well as a novel new crypto theme bar whose waiters are all named after cryptocurrencies.
There is a crypto-keen vegan ramen eatery in historic Kyoto, and a 40-year-old Chinese restaurant in provincial Gunma Prefecture that serves free sodas to customers paying in crypto. An Italian restaurant in Utsunomiya is so keen on crypto pay, it will even set you up with a free Bitcoin wallet.
If you live in the Yamagata Prefecture, you can pay crypto for that ubiquitous Japanese staple – rice – with farmers in the region prepared to trade Bitcoin for sacks of produce. A scalp-care center in Hokkaido even claims to provide balding folk with a full head of hair in exchange for a fistful of crypto.
And just as is the case in nearby South Korea, beauticians represent another set of small Japanese businesses eager to get in on crypto pay. A recent deal with an exchange bitFlyer saw Shonan Beauty Clinic chain, Japan's largest network of cosmetic surgery, dermatology, acupuncture and dentistry clinics, agree to accept crypto pay using the exchange's platforms.
Crypto still has a long way to go in Japan, and the Mt Gox affair and the Coincheck hack have cast long shadows. But if you are looking for inventive – and often quirky – ways to spend your hard-earned tokens, Japan can provide plenty.
---