Existing Permissions, Heated Regulators, Useless Thinking and 20 Crypto Jokes
Disclosure: Crypto is a high-risk asset class. This article is provided for informational purposes and does not constitute investment advice. By using this website, you agree to our terms and conditions. We may utilise affiliate links within our content, and receive commission.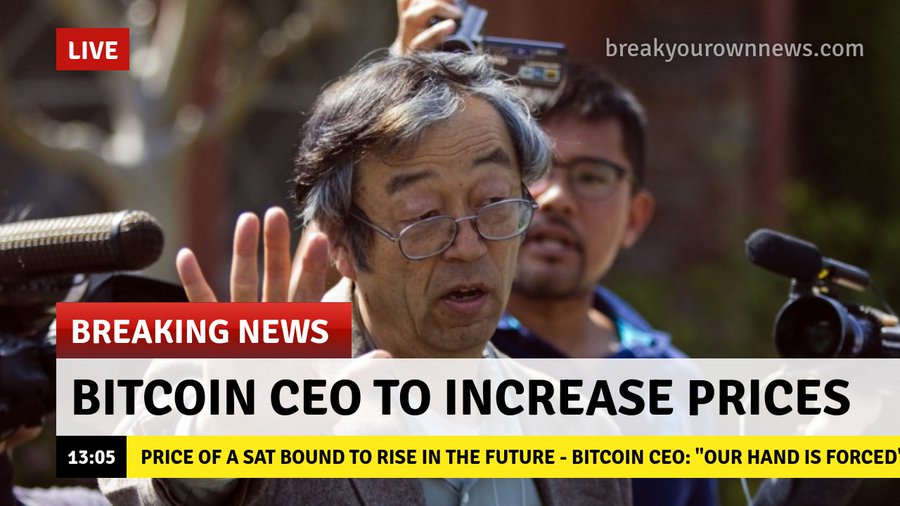 This cryptoweek, Vladimir Putin declared that bitcoin has the "right to exist". So there you go, no worries, BTC will not vanish from existence. Also, JPMorgan boss Jamie Dimon reiterated that he thinks BTC is useless… Anyways, with the rise of crypto prices came a jump in the crypto market sentiment, derivatives traders were more active again with open interest in BTC futures going up significantly, and as BTC entered the spotlight, Ethereum took a break. Speaking of Ethereum, half a million dollars was paid for a failed transaction. Yikes! Polkadot rallied too as the team said that parachains can be deployed. Bitfury is said to be valued 'in billions' of pounds as IPO rumors reemerge, a new funding round could bring Consensys' value to USD 3bn, Binance dedicated USD 1bn towards growing the ecosystem of its BSC, FTX US launched its new NFT marketplace, 1.5% of Coinbase existing user number joined their NFT marketplace waitlist in just a day, and some critics described TikTok's planned NFT rollout as a flop. As this was happening, Stripe is looking to hire a team of engineers for its crypto operations, while the online voting period for the Mt. Gox creditors to approve or reject the proposed civil rehabilitation plan ended.
Meanwhile, experts were disagreeing on the prospects of a bitcoin ETF in 2021 as the deadline nears, and 'well-informed' SEC commissioners disagreed on the crypto regulation while the SEC's current approach is 'harmful'. Also, the IMF said that a peak in inflation is expected during the final months of this year, but that central banks should not tighten monetary policy yet. In South Korea, USD 1.8m remained unaccounted for two weeks post-shutdown, a regulator said that DeFi and NFT regulations are coming, and lawmakers are inundating parliament with crypto tax delay bills. Following China's crackdown on BTC mining earlier this year, the US became the largest Bitcoin mining hub, and while Moscow will not follow Beijing's regulatory move, it may banish exchanges overseas – while the real Chinese crypto crackdown is set to begin. Some citizens are resorting to "identity theft" in a bid to obtain USD 30 worth of BTC through Chivo, and 45% of respondents in a survey said they plan to use crypto payments when making non-cash transactions within the next 2 years.
Are you ready to laugh now? Ready, get set, go!
__________
First things first – hi, CT!
Bear-witness

— Nha Zee (@NhaZee4) October 11, 2021
__
Next, it's only proper for us to revisit the BTC-ETH dynamics.
I will never tire of bitcoiners pointing out ETH isn't good money because its supply is too easy to change followed by ethereans saying but wait no it's great now look what we just changed it to

— Stephen Cole (@sthenc) October 8, 2021
__
Wyd?
you been busy collecting nft royalties with your gf, this old man walks in slaps her ass and confiscate your fav nft projects, wyd pic.twitter.com/XP1KOAS4Eq

— CryptoChimp (@Cryptanzee) October 13, 2021
__
Back to ETH. 'On chain', you get it? On? Chain? Let me explain…
NFTs on the Ethereum Block Chain. Best way to flex is on chain. Bringing the Metaverse to the Realverse 🌐x💎 pic.twitter.com/w4u9MALJy2

— Gambit 💎 (@Gambitvvs) October 9, 2021
__
Now, a special look at Ethereum's future through the eyes of Bitcoiners.
#Ethereum's PoS pic.twitter.com/JG80VP9Iko

— bitcoin idiot⚡️ (@btcidiot) October 13, 2021
__
'Where do we put the beacon?'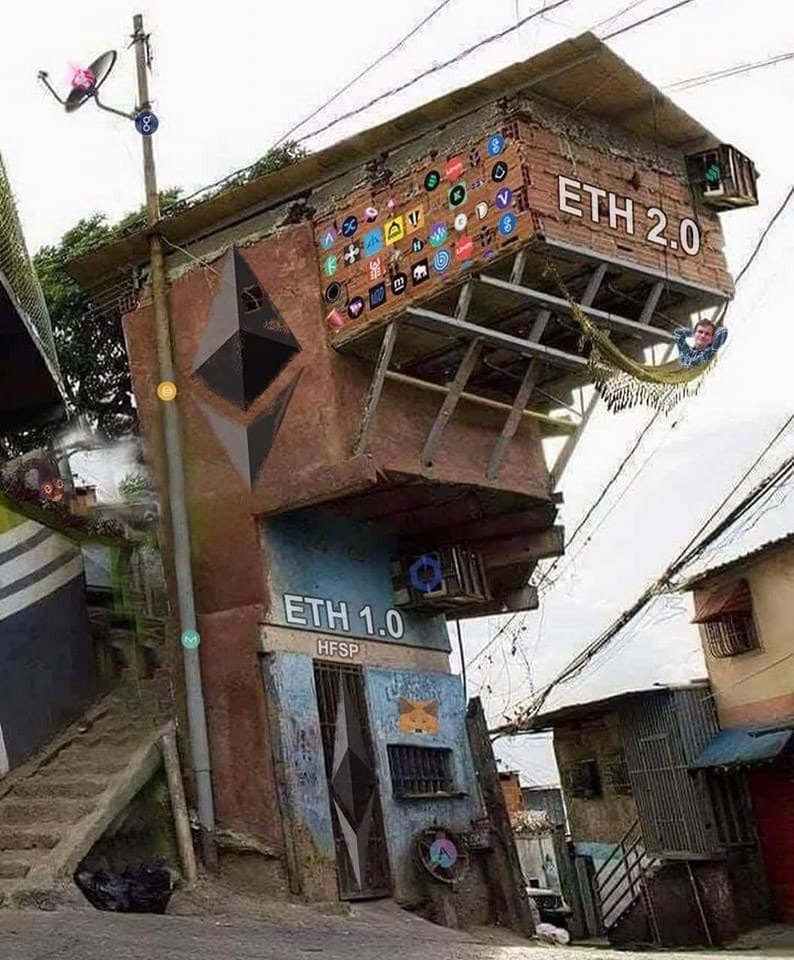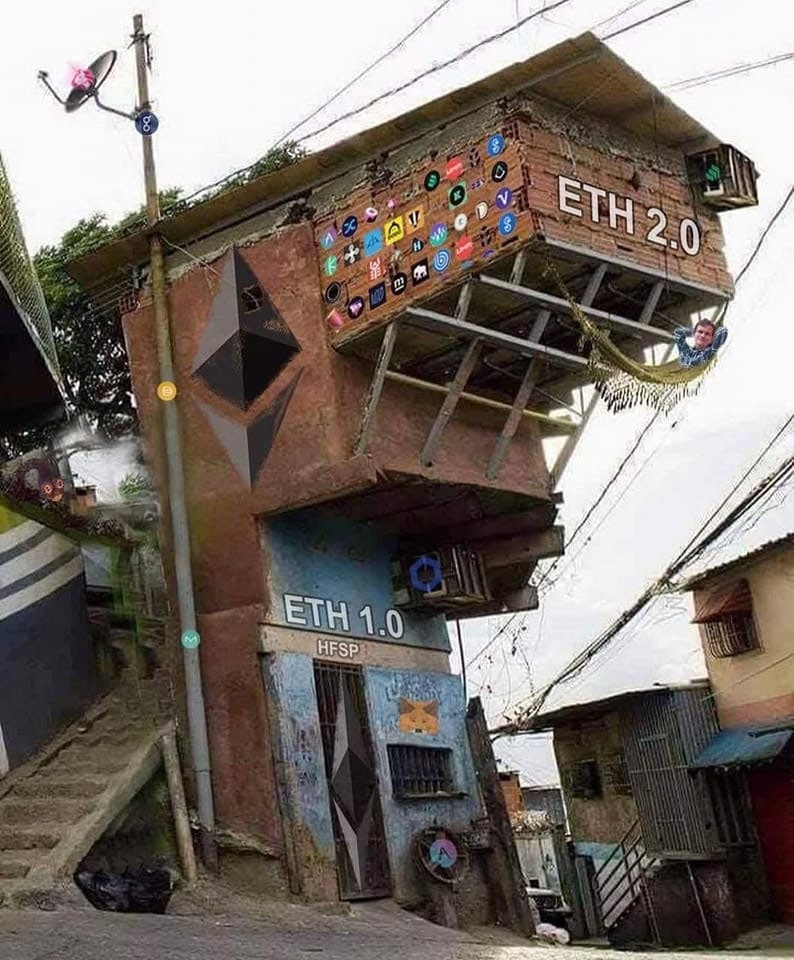 __
Let's now see how BTC market has been doing.
#Bitcoin market psychology 😂

https://t.co/KkSPv6zGs4

— Bitcoin Archive (@BTC_Archive) October 13, 2021
__
The price of oil and electricity is up, so BTC CEO had no choice really.
"Because of inflation, we are forced to sell our sats at higher prices than usual" the #Bitcoin CEO said in an interview on Friday. pic.twitter.com/sP9fC1Ph6Q

— Gigi ⚡🧡 dergigi.com/nostr (@dergigi) October 10, 2021
__
Time for an analyst's opinion on future BTC's price. This one seems a bit stretched, but still.
Once bitcoin crosses the $56,500 mark, one coin will be worth over $56,500.

(dusting off my old TA skills, getting ready for this week)

— andrew wertheim 🪐 (@awertheim) October 11, 2021
__
Time for an analyst.
Peter, I'm still digesting Bitcoin's recent "chair with ottoman" bottom. Not sure my system can handle the introduction of the "two-man podium" on ETH in such close proximity.

— Kevin B (@KevinB_PT) October 11, 2021
__
They're called candles and they tell you what kind of a day you'll have.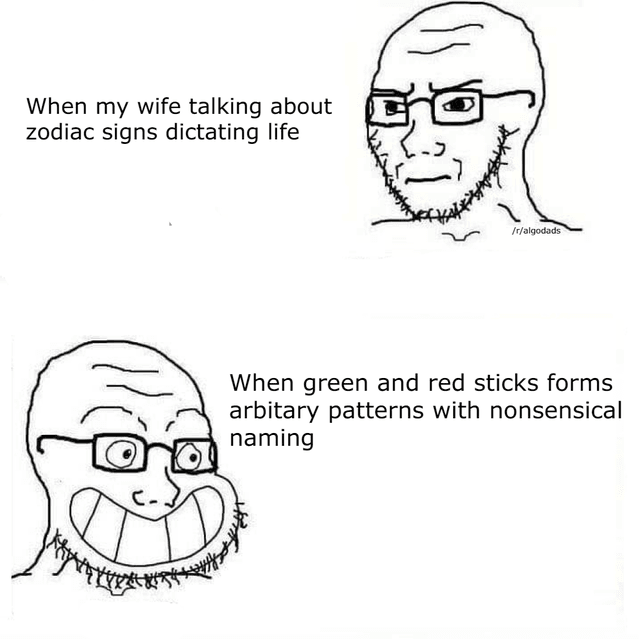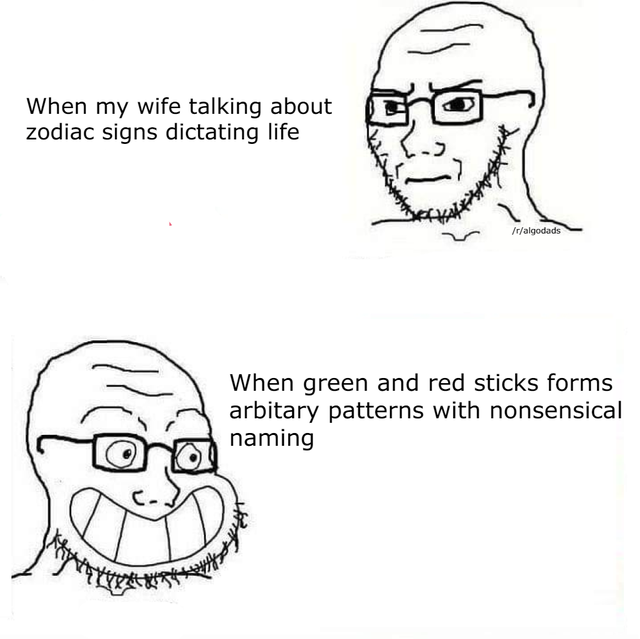 __
Horror!
imagine going on a first date and that's the first thing they say immediately after getting their first drink

no bigger nightmare exists

— Udi Wertheimer (@udiWertheimer) October 14, 2021
__
OK, this looks like a better conversation. A proper dialogue.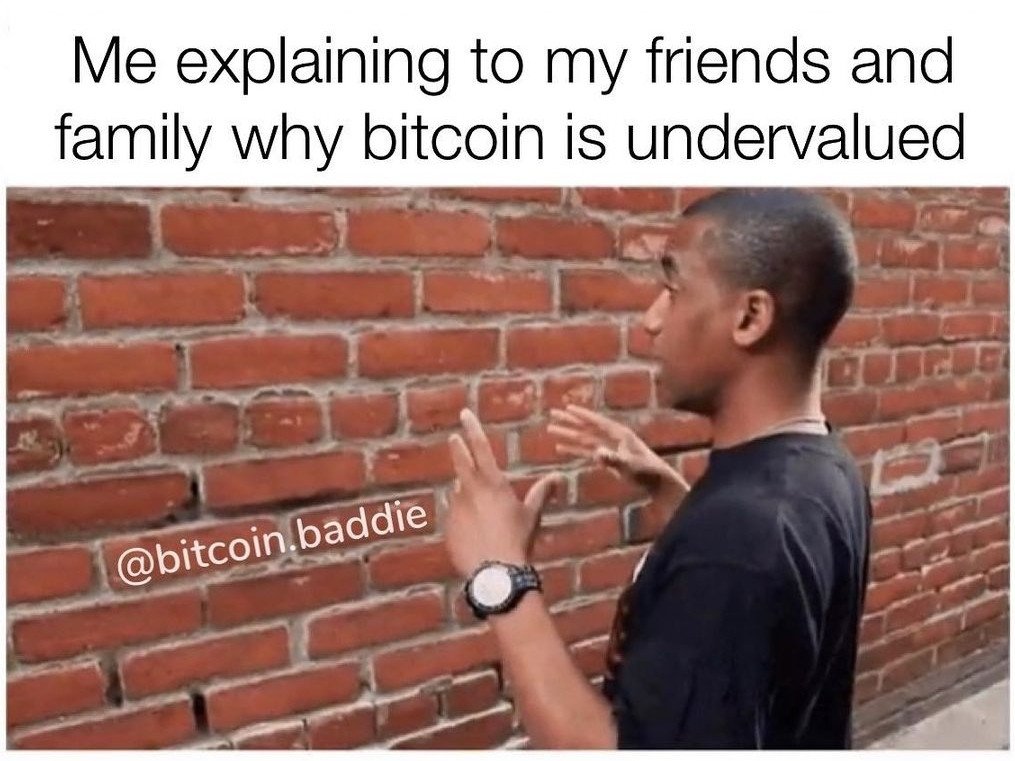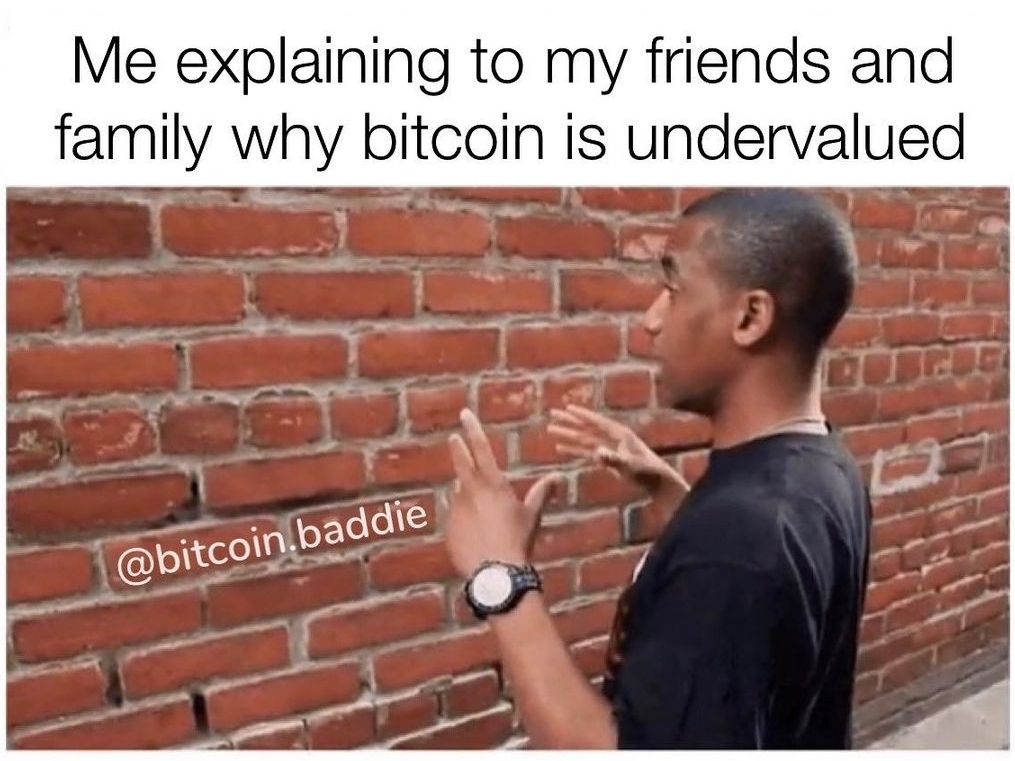 __
One must share the knowledge.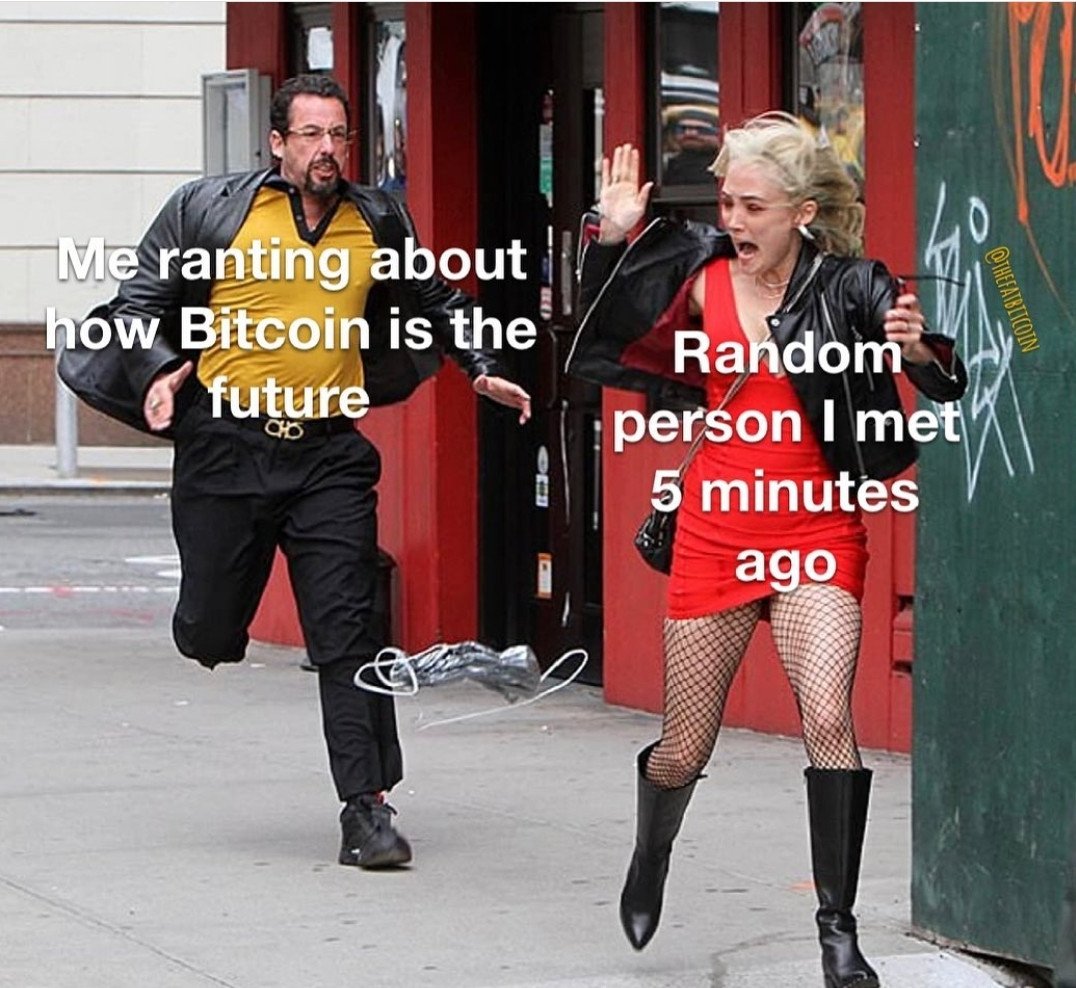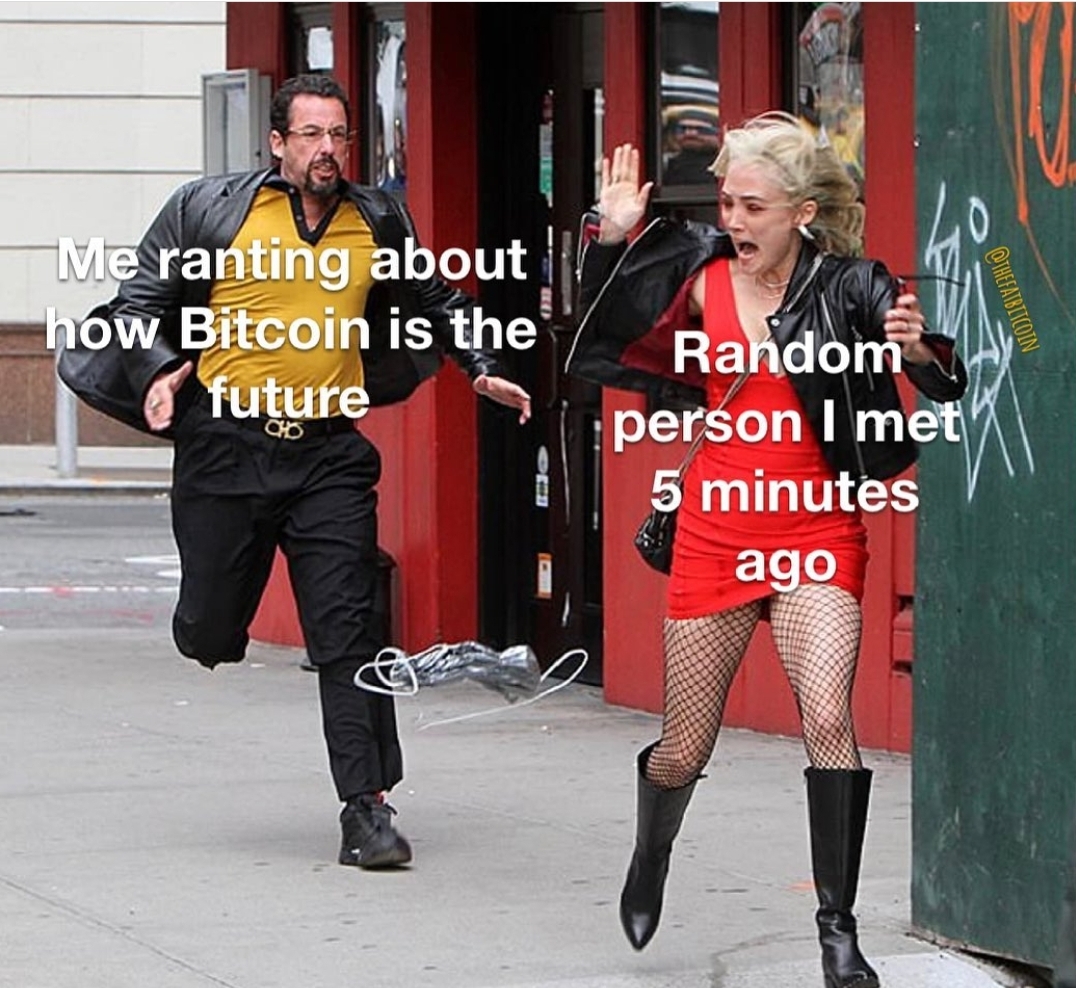 __
Imagine all the rugs he could be pulling now…
https://www.twitter.com/fomosaurus/status/1446336139678388224
__
Exponential growth over less than three decades.
October 10, 2021
__
?
Buying the last load of #COMP 😆✌️💪 pic.twitter.com/gp3G5W6sR8

— Arman (@ArmanKhanWazir) October 4, 2021
__
Terrified flying Bears.
Death to all Bears#Bitcoin pic.twitter.com/YiPtOq76UF

— ⛏Crypto Chris Walken🥃 (@cryptochrisw) October 11, 2021
__
Where there are bears, there are bulls. It's just physics.
__
And now a Sci-Fi movie, which is also a documentary on bitcoin seen through the prism of interstellar sayloring.
https://www.twitter.com/Nakadai_mon/status/1446446555268108298
---