Digi-Yuan Confirmations, Royal Screw-Ups and 20 Crypto Jokes
Another eventful crypto week. Let's take a look at what happened. So, China's central bank officially confirmed that digital yuan testing is coming soon, and there are reports that McDonald's, Starbucks, and Subway may take part in its testing. Uniswap and Lendf.Me were attacked using a known vulnerability, with the latter losing over USD 25M. But a day later, the attacker returned all the stolen money as they screwed up royally. BTC mining difficulty went up again and may even reach a new all-time high before the halving. Meanwhile, researchers were hard at work, saying that the crypto market is "returning to rational" levels, stablecoins don't inflate crypto markets, and new Libra could help crypto adoption, while some analysts were painting a bullish picture for bitcoin, with lower bond yields and a weak stock market.
We also saw Ripple sue YouTube for allegedly failing to fight scams, and K-pop and charity kingpin denied crypto scam reports. While Kraken CLO believes that in a couple of years it'll be the courts not the U.S. Congress making crypto laws, the Dutch National Bank says CBDCs could learn from Bitcoin, but rejects decentralization, and Chinese blockchain-powered trade pilot claims to enjoy international success. A Japanese analyst says traditional investors will come flocking to crypto, and another Japanese SBI-backed crypto exchange is set to begin trading. Meanwhile, Dharma launched a feature for sending DAI payments to Twitter handles, and internet users may have uncovered 1999 forum messages from a young Satoshi Nakamoto.
Time for our favourite part of the weekend - crypto jokes.
__________
Once again, gooood morning, Crypto Twitter! What've you been up to?
__
But, that's a major topic in CT! It's c. 63.491% of all conversation!
__
Burn!
__
It's like, like, waaay up!
__
Ah, well, there you go! The proof is in the drawing.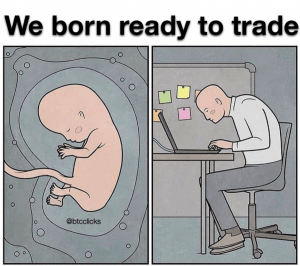 __
Well done. Now gimme some.
__
Think in advance. Juuust in case.
__
Poor kids, must've been traumatised.
__
How the pandemic affected the crypto industry, you ask?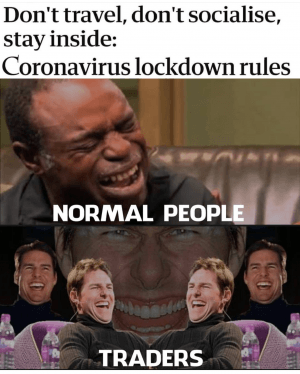 __
Speaking of traders, they know full well: at any one point it's either 'buy' and 'bye'.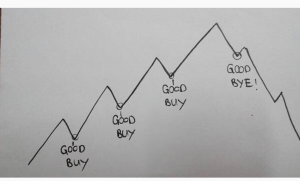 __
Me too.
__
It's Finance 101. What else are you gonna believe if not the expertise of random cartoon characters?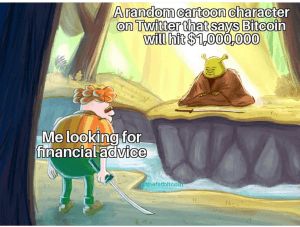 __
Nothing better than a good, accurate advice combined with an inspirational, factual quote!
__
You see. Advice-receiver.
__
And here you go, an advice-giver.
__
This stock-to-rainbow model ends the Battle Royale.
__
And while we're at rainbows...
__
It's all about misdirection in exchanges and magic.
__
How likely is this post-pandemic situation? Discuss.
This community in 6 months. from r/Bitcoin
__
And the crowd was like "let there be sound money," and behold, there was adoption.
Rare historical photo "Crowd introduced to Sound Money" 1929 from r/Bitcoin
---