Dethronement, Maintenance, Breakup and 20 Crypto Jokes
This week saw BTC rally above USD 8K, while altcoins dropped, and BitPay CCO said that BTC will surpass USD 20K, but with a surprise. While more altcoins are expected to be integrated by mining pools, the ousted co-founder of Bitmain made a legal move to dethrone Jihan Wu. Telegram confirmed that its TON Wallet won't be integrated with their messenger service, the head of Blockchain and Distributed Ledger Technology at the WEF said that the collaboration in the blockchain industry will intensify, Japan's Finance Minister warned the country's bankers of potential problems caused by China's forthcoming digital yuan, Russian Prime Minister said that digital asset token regulation at a legislative level must be introduced, and a US strike on Iran test the BTC as a safe have narrative. WisdomTree Investments with Abu Dhabi Investment Office and other investors invested in Securrency, aiming to integrate blockchain into the ETF ecosystem, and BTC ETF may be approved in the US in 2021, bringing many benefits.
Meanwhile, the ICO project that closed its blockchain finalized its token buyback, COSS locked the funds of 200,000 customers during 3-4 week of 'maintenance', Kraken said it was hit with 710 information requests from global law enforcement agencies in 2019, Huobi Japan struck a partnership with Japan Net Bank, and Coinbase CEO Brian Armstrong shared his 11 predictions for the decade. We discussed the role that Bitcoin will play in the "retail apocalypse" and how well Bitcoin performed as a PR project. Meanwhile, John McAfee broke up with BTC, saying his USD 1 million-per-BTC was just a ruse. There were interesting wallet solutions and many companies hoping to shine at blockchain-focused CES; we looked into how much South Korean crypto exchanges pay their employees and into how many coins died in 2019, while vintage sardines became the talk of the Cryptoverse.
You've had tough crypto weak, here are your relaxing crypto jokes.
__________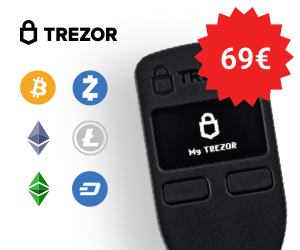 First, let's see what we're talking about here and how not to get tricked.
Someone shilling you the "next bitcoin". pic.twitter.com/RWsxLXTP3L

— Rhythm (@Rhythmtrader) 2 January 2020
__
Now choose one. Don't worry, this is a scientifically proven method.
Tap to see what you should trade today. pic.twitter.com/AxTTxYlB0T

— dj Thistle / Coin Street News (@DJThistle01) January 7, 2020
__
Accomplishing a rare several-layered mistake.
when you buy the Bitcoin pump anticipating it's a safe haven trade...and then WW3 is cancelled:

pic.twitter.com/znwCXvlatp

— Luke Martin (@VentureCoinist) January 9, 2020
__
I see nothing suspicious.
I got this from BrainyQuote, can anyone verify its authenticity?

Seems fake pic.twitter.com/fBjR9L9PuL

— Pierre Rochard (@pierre_rochard) 28 December 2019
__
Pfft, that's not how I look like at all. I always have some chips around and/or over me, organically salted with my tears.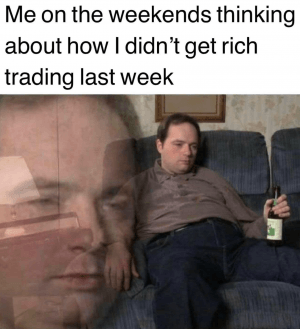 __
Oh, look, a veteran hodler in the wild.
5 January 2020
__
One's all it takes.
30 December 2019
__
It's an emotional topic.
Ethereum memes are bad. So I made them a good meme.

Please Bitcoiners, during this holiday season do what you can and help those less fortunate. pic.twitter.com/PjlAUPImTl

— Anthony Lusardi 🍕🥯 (@pyskell) 30 December 2019
__
Hmm, I wondered where they've all gone to.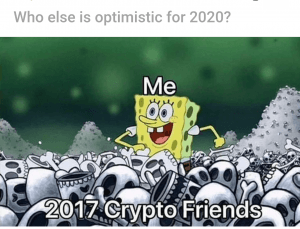 __
According to cryptology, the environment doesn't suit it, so it's waiting for crypto spring to jump.
Footage of that last attempt at an 8000 USD bitcoin breakout pic.twitter.com/L0WvzGj1hF

— Matthew Graham (@mg0314a) January 10, 2020
__
Almost there!
Me going to cash out when we finally have altseason in 2070pic.twitter.com/03NKdGAHNt

— ⛏Crypto Chris Walken🥃 (@cryptochrisw) 5 January 2020
__
Take a look at them alts.
How most altcoins are 👀 pic.twitter.com/eoIk6BdkvG

— encryπtω (@ICOffender) 7 January 2020
__
Be your own Peter: Your keys to heaven, your savior.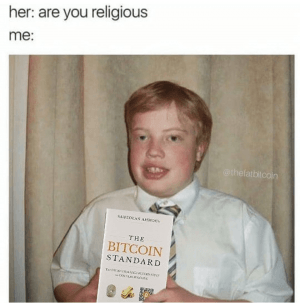 __
For all the hodlers among us.
__
No toilet breaks, please. Or we can all go together.
When your paid group leader leaves you alone with your trade for 5 minutes. pic.twitter.com/Z6MqNcGIGm

— ₿lackbeard (@crypto_blkbeard) 6 January 2020
__
Here's a lesson in trading.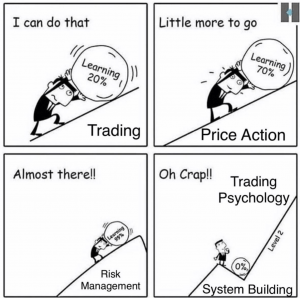 __
It's a state of constant pre-heart attack.
Them bears feeling like... pic.twitter.com/1MBQZUx1cL

— Panama Crypto (@Panama_TJ) 7 January 2020
__
To all in the Cryptoverse: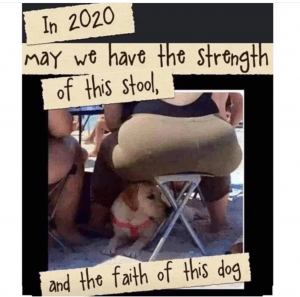 __
Let's all mark our calendars, people, the countdown is on!
The year 15020 is gonna be lit for BTC. https://t.co/Q8O878Eikn

— Ari Paul ⛓️ (@AriDavidPaul) January 3, 2020
__
This was a week of Orthodox Christmas, and here's a crypto holiday song to celebrate it.