DeFi Has Had a Strong 2021, Driven By New Trends & Paradigms
DeFi apps, platforms on non-Ethereum blockchains showed strong growth. Key DeFi trends include lending, gaming and gamification, staking, yield farming, and NFTs. "Ethereum has always been the dominant network but this is really changing in 2021."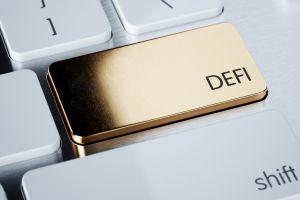 The decentralized finance (DeFi) sector had a massive 2020, and while non-fungible tokens (NFTs) and the crypto bull market may have overshadowed it so far in 2021, its performance this year has been at least as strong.
Total value locked (TVL) into Ethereum (ETH)-based DeFi platforms hit a peak of USD 86bn on May 12 (per DeFi Pulse data), while TVL for DeFi services on Binance Smart Chain (BSC) rose to USD 53bn two days earlier, highlighting the wild growth the sector experienced during the first half of the year.
Given that the wider crypto market has accelerated its downturn since May 12, TVL has unsurprisingly declined from all-time highs over the past month, yet they still remain significantly higher than where they were six or 12 months ago. At the same time, new platforms and services are being rolled out with growing frequency, with emerging startups and firms looking to capitalize on robust demand for decentralized financial services.
Analysts focused on the sector told Cryptonews.com that there are several key DeFi trends to keep an eye on at the moment, including not only lending, but also gaming and gamification, staking, yield farming, and NFTs. At the same time, we're likely to see Ethereum's former dominance of the sector continue to decline, with DeFi becoming more multichain than ever before.
Growth on Ethereum DeFi, growth away from Ethereum
"I'm very impressed by the growth in the DeFi sector, and I think this is only the beginning," said Arcane Research's Bendik Norheim Schei.
DeFi did certainly expand with impressive rapidity from the beginning of the year to early May, with Ethereum-based DeFi growing its TVL by just over 400%. And while the sector has obviously taken a knock as a result of the current bearish climate, Norheim Schei expects it to continue growing strongly once the market more broadly recovers.
"I expect DeFi tokens to perform well when the bullish sentiment returns, as they were lagging a bit during the last months of the uptrend this spring," he told Cryptonews.com.
However, the story of 2021 isn't simply that Ethereum-based DeFi continued growing, but that DeFi apps and platforms on other blockchains also showed enviable growth.
"In 2021 the emergence of a multichain paradigm has certainly arrived. By discounting Polygon and Binance Smart Chain from this equation we are missing a key chunk of information," said DappRadar's Ian Kane, noting that BSC has generated over USD 25bn TVL in the last 90 days alone.
As reported, one of the main drivers of expansion on other chains (aside from the wider bull market) was record-high Ethereum transaction fees.
"In Q1 2021, high Ethereum gas prices continued to be an issue for all verticals as multiple DeFi, NFT, and game dapps announced their expansion to other chains. The dominant narrative in the sector remained the emergence of the multichain paradigm," Kane said.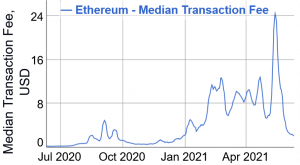 He noted that, while Ethereum remains the biggest platform for DeFi, DeFi on Binance Smart Chain and Polygon has expanded more rapidly, even surpassing Ethereum in daily transactions and other metrics.
"The BSC DeFi ecosystem TVL grew 30 times during the [first three months of 2021]. One of the most prominent layer 2 solutions, Polygon faced significant growth in Q1 2021. Daily unique active wallets grew by 496% from 500 to 4,800 quarter-on-quarter. Transaction volumes also followed the trend with a growth of 288% reaching USD 0.5 billion in Q1 2020," he said.
Games, NFTs, Staking, Farming, and More
For Kane, DeFi's growth in 2021 is largely a result of the fact that it provides "a tangible and very real use case for crypto," in the sense of offering services that people/the market actually want.
Such services are still dominated largely by lending, with Aave (AAVE), Maker (MKR), and Compound (COMP) — all lending-focused platforms — comprising the top Ethereum-based platforms (according to DeFi Pulse).
"I think lending will continue to dominate and grow fast. This is a very young market, and I expect massive growth in 2021 as well," said Bendik Norheim Schei.
That said, 2021 has witnessed and is witnessing the rise of other sub-sectors within DeFi. One of the newest relates to the gamification of crypto.
"We also see the emergence of more and more gamified DeFi opportunities. Platforms such as the Wax-based Alien Worlds have captured audiences' imagination by offering a gamified way to mine their native token TLM [Trilium]," said Ian Kane.
Related to this is the growing convergence between DeFi, on the one hand, and NFTs and gaming, on the other.
"The really interesting area for the coming months will be the further integration of DeFi with both gaming and NFTs. For the games sector, we are seeing the emergence of real online economies in platforms such as Decentraland where land is becoming more expensive than in the real world," said Kane, who predicts that the play-to-earn model witnessed with some games may become larger in the coming months.
As far as NFTs are concerned, Kane suggests that the DeFi market may help by offering a means for NFT holders to capitalize on non-fungible assets that wouldn't otherwise be able to sell or exploit.
"Leveraging these assets to release real equity is becoming reality as DeFi mechanics enter the space. Imagine using a CryptoPunk as a guarantor on a property, for example," he said.
As reported, NFTs might be soon used as collateral on Aave.
Other big currents within DeFi are and will be staking and yield farming, which have seen exponential growth on newer chains.
"We are seeing huge growth in platforms offering staking and yield farming opportunities on both Binance Smart Chain and Polygon this year. Arguably, most of these platforms are very similar and just have a slightly different offer or brand (e.g. PantherSwap, JaguarSwap)," Kane said.
And with the emergence of newer chains as rivals to Ethereum, we'll also increasingly witness DeFi platforms designed to be compatible with multiple chains.
"We also see the emergence of more multi-chain DeFi platforms like Paraswap that allow users to flip between different networks easily to make transactions," Kane noted.
'Regular' people and future growth
Kane also stated that DeFi has succeeded this year in attracting more than just crypto diehards.
"This improved user experience and an overall increase in awareness about what DeFi can offer has also spurred interest and investment by 'regular' people," he said.
This bodes well for DeFi's future, although its recent strong growth may not be sustainable for long.
"Let's see what happens, but the crazy fee levels during peak DeFi hype is not sustainable in the long run for this space to work efficiently," said Bendik Norheim Schei.
For Kane, DeFi is likely to continue growing healthily in the longer term future, although we may not see Ethereum enjoying such a privileged position.
"Ethereum has always been the dominant network but this is really changing in 2021 and does not seem to be slowing down. Arguably, that has been driven by market conditions and the fact other platforms have had a very large window of opportunity now to catch up, build communities and offer the same services — but in many cases cheaper for the user," he concluded.
____
Learn more:
- Ethereum Needs to Try Harder To Keep Its Dominance in a Multichain Future
- How Bitcoin and DeFi are Completely Different Phenomena
- Ethereum Developers On Why They Don't See Cardano & Binance Chain As Rivals
- DeFi 'Genie Is Out' and Is Set For Growth in 2021
- DeFi Spectacular Returns Unsustainable In Long-Term - Research
- Another Two Binance Smart Chain Projects Suffer Flash Loan Attacks
- DeFi On Bitcoin To Grow In The Shadow Of Ethereum
- The DeFi Sector Is Breaking The Law - It's Time to Act
- Why DeFi Isn't Always As Decentralized As You Might Think
- Decentralized Exchanges Set To Accelerate in 2021
---