Crypto Twist: 20 Crypto Jokes
Never a dull week in the cryptoverse. In Bitcoin news, we saw it lighter by another USD 1K, then another, dropping below USD 10,000, only to jump back to the USD 11K zone in ten hours. Many nerves were lost, and a lot of hair too. On the further unexpected but positive side of the news, DOGE skyrocketed after the announcement that it'll be listed on Binance. Good boy, Doge.
Meanwhile, South Korean companies are investing in blockchain titles, while Samsung, LG and SK are set to begin their summer blockchain war for the Leader title. Also, while a number of Russian companies can't wait to launch their own tokens, we see Cuba studying crypto's ability to help its economy amid US-led sanctions, but another regulatory battle is coming cryptoworld's way. In Japan, there will like be no obstacles for Libra as it's not deemed a crypto, a parliamentarian aims to bring about a cryptocurrency tax reform, and the Japan Virtual Currency Exchange Association lost its head, so to say. In the meantime, the crypto derivatives market is heating up as Binance and BitMEX prepare to launch new products, former Ripple exec is appointed as CEO of Binance.US, and Cryptopia's liquidator finally regained access to the customer database. Telegram's token Gram jumped 201% even before public sale, and Donald Trump joined ECB, IMF, China, Italy and others in unintentionally building a case for Bitcoin. The week brought us two more important firsts: a blockchain-powered shipment from South Korea to the Netherlands was successfully completed, and the first crypto hedge fund won the UK authorities' approval.
And now – enjoy the jokes of the week.
___________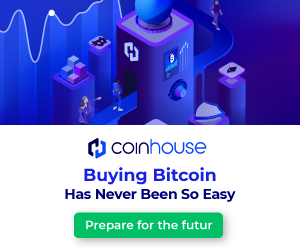 So Doge. Very Binance. Much wow.
My buy order for $DOGE hit a few days ago at .00000026. Today, @binance announced it will list #Dogecoin pic.twitter.com/p0elb8IrOh

— CoinDoggie⚡️ (@SunsetZen1) July 5, 2019
__
A tearjerker.
__
You just wanted to share a few basics, I mean...
__
But really... just to tell you a few things about Bitcoin... Hello?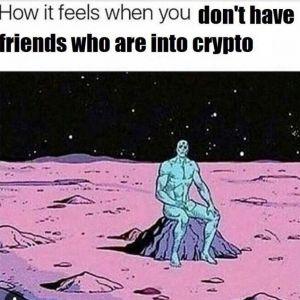 __
I mean...what could've you possibly said? You were just stating the facts, right?
Bitcoiners Friday night at cocktail party: pic.twitter.com/YQNeVJ71QA

— Bitcoinjeopardy (@bitcoinjeopardy) June 24, 2019
__
Wakey-wakey!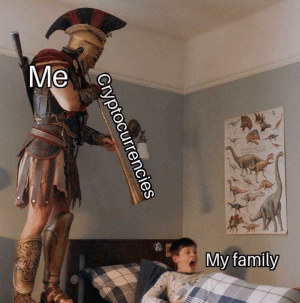 __
Blasphemy!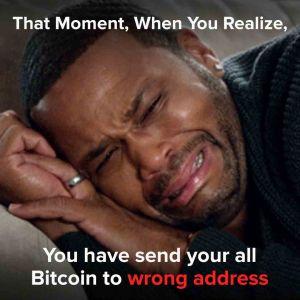 __
Technically.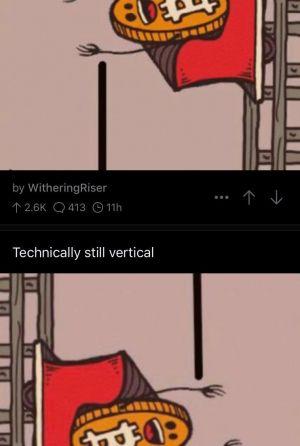 __
Many have been injured in the past few days.
Any clue what this sign at my friend's apartment means? from r/Bitcoin
__
You alright? Fell hard?
$BTC pic.twitter.com/OvtfJEG8vZ

— ⛏Crypto Christopher Walken🥃 (@cryptochrisw) June 26, 2019
__
When you need to move to a higher building.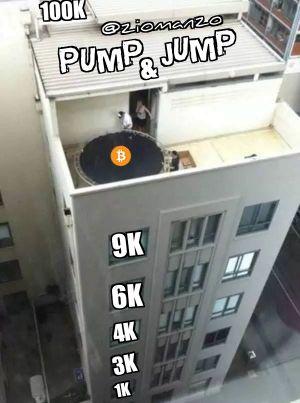 __
The inevitable dip... Run for cover!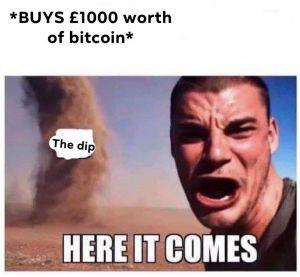 __
The day after the dip. Even Beavis's eyebrows turned into straight lines.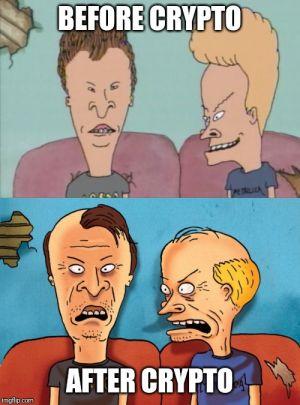 __
She's intriguing...in a number of ways...
New Girl in the Block 😂😂😂😂#crypto #cryptocurrency@Eljaboom @edogg82 @RibsFanboy @APompliano @gogoy710 @CoinerTilt @BitcoinDood pic.twitter.com/37D9sBjEni

— Shahila🌹 (@Shahilacom) 3 July 2019
__
When you have to verify several times a day.
How I feel about bitcoin on a daily basis. pic.twitter.com/NnqLDI8304

— Neil Woodfine (@nwoodfine) June 20, 2019
__
When you can hear the tires screeching.
June 26, 2019
__
The wisest of advice. We just need a hodl proponent in between.
Recycling some of @BlockchainTalkz #cryptomemes

An ancient investment advice. pic.twitter.com/fiPM1wsy4i

— Jana Petkanic (@JeanneDeBit) June 17, 2019
__
Wut?
When someone says crypto isn't an investment pic.twitter.com/iXCQ46wCpx

— Ty Roberts (@TyRoberts) June 4, 2019
__
As almost every week, let's have us some music from the Crypto genre. First up: a crypto ballad.
Waiting for BTC to moon like.. pic.twitter.com/WWXU9iS9t4

— ₿rekkie von ₿itcoin ⚡️ (@CryptoBrekkie) 1 July 2019
__
And for the end, one for the alts.
I'm gonna ride my alts down to all-time lows,
I'm gonna buy til I can't no more 🤠 pic.twitter.com/GHibhPA3J5

— lil bubble x 📉 (@TheCryptoBubble) 1 July 2019