Crypto in 2019: Top Trends Among Exchanges
Disclosure: Crypto is a high-risk asset class. This article is provided for informational purposes and does not constitute investment advice. By using this website, you agree to our terms and conditions. We may utilise affiliate links within our content, and receive commission.
Decentralized exchanges, institutional involvement, and security token exchanges are among top trends in the crypto exchange business this year. The entrance of large players may contribute to a killing off of many of the smaller exchanges.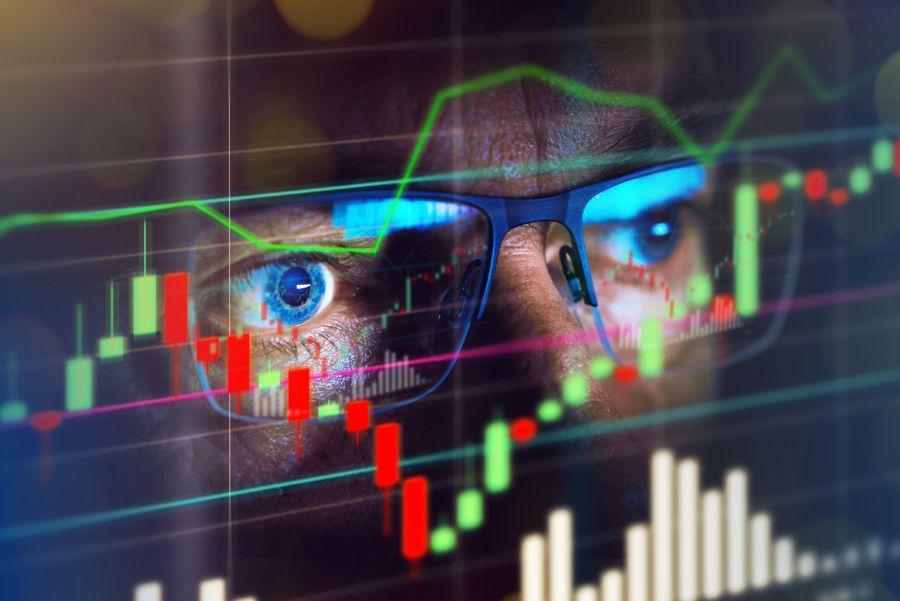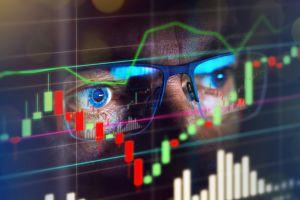 Crypto is changing. No, Bitcoin and Ethereum may not being 'going to the Moon', as was hoped for at the beginning of 2018, but the wider industry is evolving in ways that will put it on a more secure footing as it steps into 2019.
This is particularly apparent in the area of crypto-exchanges. In 2019, new decentralized crypto-exchanges (DEXs) will come online, as will exchanges focused on security tokens. Added to this, big organisations from outside the crypto industry – Nasdaq, Intercontinental Exchange, and Yahoo! Japan – aims to launch their own crypto-trading platforms, pushing cryptocurrencies closer to the mainstream.
Decentralized exchanges
Up until now, the vast majority of crypto-exchanges have been centralized, meaning that they're run by companies that initiate trades on their servers and have custody of their customers' cryptocurrency.
Not only does such centralization go against the ethos of Bitcoin and other cryptocurrencies, but having a centralized exchange is risky from a cybersecurity standpoint (with 2018's hacks of Zaif, Bithumb and Coincheck bearing witness to this). Such exchanges provide a 'single point of failure', which is why the emergence of decentralized exchanges this year could be a game-changer for the crypto industry.
Most notably, Binance is due to launch its own decentralized exchange this year, which will run on its own blockchain, dubbed Binance Chain (also due this year). While full details aren't available, the DEX will let users trade crypto pairs via quasi-instant transactions (of one second), will let them hold their own funds of crypto (using private keys), and will have a "simple UX," (user experience) according to Binance CEO Changpeng Zhao.
In addition to Binance, decentralized exchanges might also be coming this year from Huobi, BHEX, One Root Network (in conjunction with Bithumb), and DEXON (an offshoot of the Cobinhood exchange). Meanwhile, Coinbase acquired the P2P exchange Paradex in May, signalling that it too is preparing for a possible shift towards decentralized trading.
And for some analysts, this move towards DEXs will arrive as part of a broader change in crypto markets.
"There is significant interest in developing new cryptocurrency exchanges to allow for trades of the more than 2,000 cryptocurrencies and nearly 16,000 markets," Troy Norcross – an analyst with Blockchain Rookies – tells Cryptonews.com. "Some of the most interesting of these new exchanges utilise blockchain as part of their design and are decentralised exchanges."
Institutional involvement
Commenting on how crypto-exchanges will obviously face an initially difficult start to 2019 (as a result of the bear market), Romal Almazo – a cryptocurrency analyst with Capco, a global business and technology consultancy – informs Cryptonews.com that some of the bigger platforms will attempt to weather the storm by diversifying towards big money.
"For the stronger exchanges such as Binance and Coinbase they will survive but their strategy will likely shift focus towards a more mature, institutional offering," he says. "They will most likely focus in 2019 on trying to capture the opaque OTC [over the counter] market – a market which is already rumoured to be much larger than the exchange market in terms of volumes."
On top of established exchanges trying to attract bigger customers, there will be a number of 'traditional' financial institutions that will lead their own crypto-platforms. For one, Nasdaq will be launching its own Bitcoin futures market in the first half of the year, while Intercontinental Exchange (owners of the New York Stock Exchange), SIX (owners of the Swiss stock exchange), and Yahoo! Japan are also set to launch trading platforms in 2019.
Top 10 exchanges by reported volume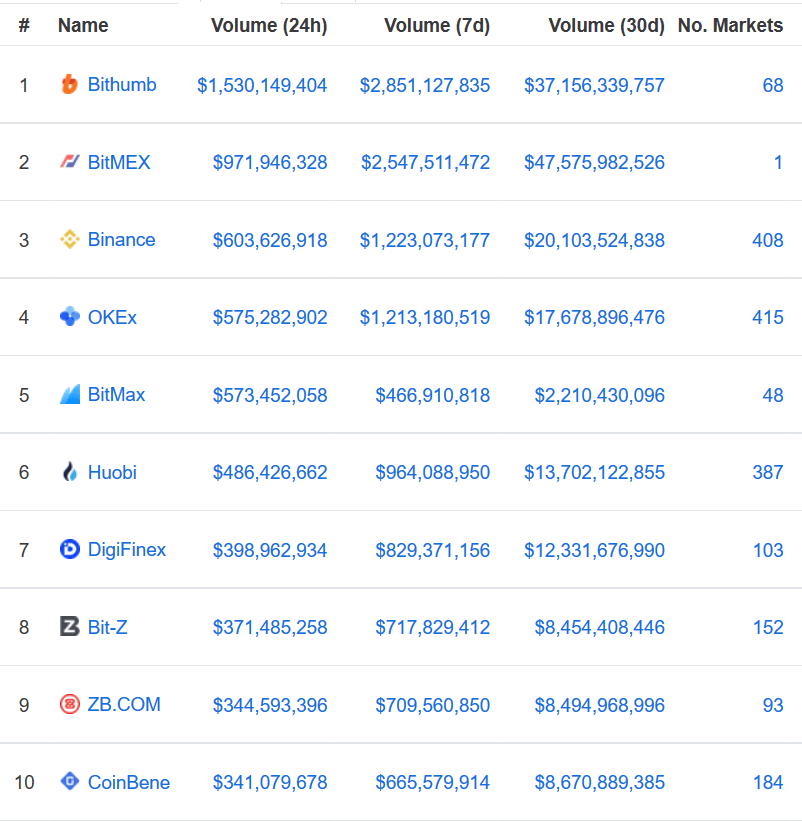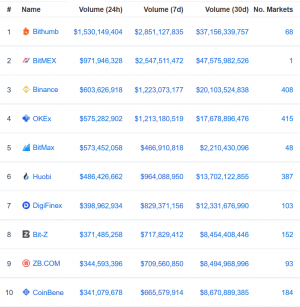 _____
Top 10 exchanges by adjusted volume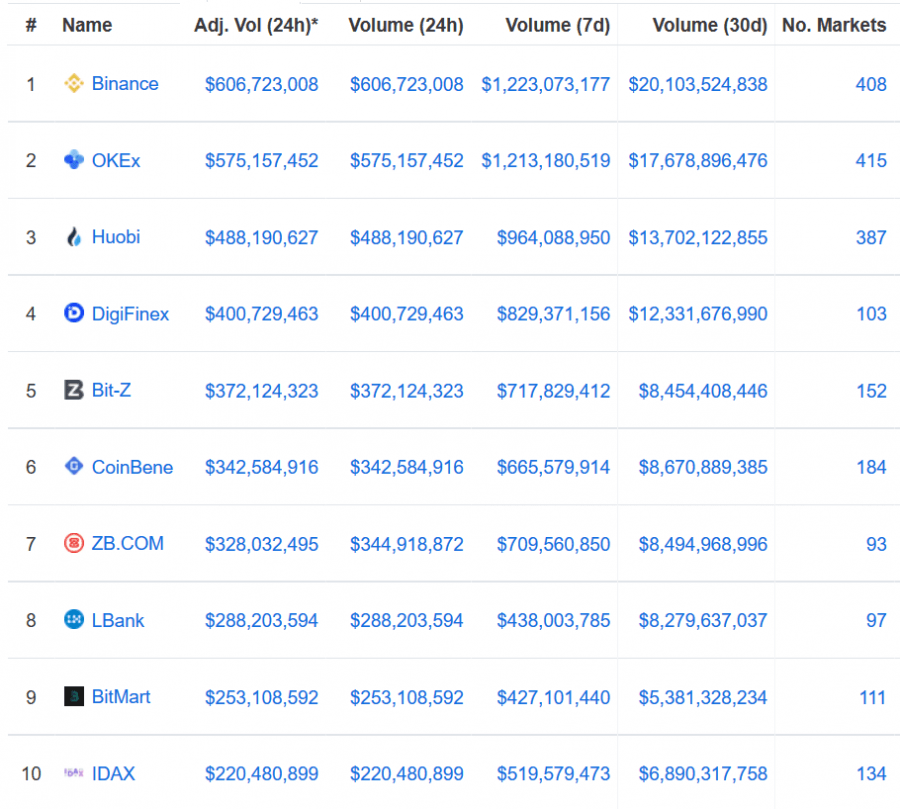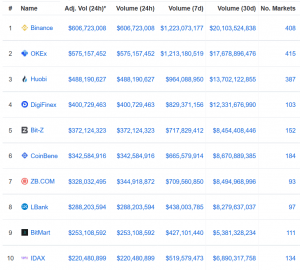 Such entrances of large players may be good news for crypto's reputation, but – in conjunction with the disappearance of less valuable coins – it may contribute to a killing off of many of the smaller exchanges that currently make up the industry.
"The coins/cryptocurrencies which remain will be the serious protocol based coins such as bitcoin, ether, EOS etc. and for those I'm not convinced that there will be enough demand to support multiple exchanges," says Troy Norcross.
"In other words – I see many of the 160+ exchanges going away when the long tail of coins goes away. And any new player trying to get into the market who is not already launched has completely missed the window."
Security token exchanges
2018 was the year that security tokens became fashionable, yet 2019 might be the year of security token exchanges, which will either come in the form of standalone exchanges or as new parts of existing platforms.
As Romal Almazo explains, "we will see the emergence of Security Token Offerings (STO) and the death of Initial Coin Offerings (ICOs) [in 2019 and the years beyond]."
"Traditional crypto exchanges will eventually be superseded by Security Token Exchanges which will provide a legitimate and regulated form of fundraising for blockchain projects. There are already a large number of these types of exchanges in development. Expect to see anywhere between 10-20 to go-live by the end of 2019," Almazo says.
As an indication that security token exchanges are already on their way, it's worth pointing out that Binance signed a memorandum of understanding with the Malta Stock Exchange in September to launch a trading platform for security tokens.
Similarly, Templum,the Gibraltar Stock Exchange, the SIX Swiss Exchange, and SharesPost also have plans to launch some kind of platform for security tokens in 2019, while Coinbase (again) acquired Venovate Marketplace Inc, Keystone Capital Corp, and Digital Wealth LLC in 2018, all with the aim of trading security tokens this year.
---