Crypto in 2019: Main Trends in Token Sales
The ICO market is set to increasingly resemble traditional stock markets and IPOs. Another trend that's likely to solidify in 2019 is the increasing role private equity will have. "Think long term and don't jump on every ICO or STO."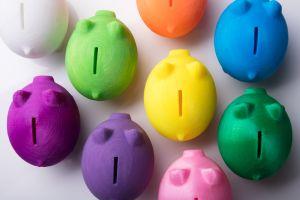 Despite the apparent bear market that gripped crypto for much of the year, 2018 set new records for token sales and ICOs (initial coin offerings.) According to the latest figures from Autonomous Research, a total of USD 12.1 billion was raised by initial coin offerings in the 11 months to November, while token sales as a whole (including private sales and venture capital) totalled USD 23.3 billion over the same period.
However, given the recent volatility and bearish sentiment, the new year is set to change how the ICO market is structured, with private token sales set to make up an increasing share of this market, with stablecoins and security tokens gaining in prominence, and with individual investors increasingly forced to pay more attention to the long-term prospects of new projects.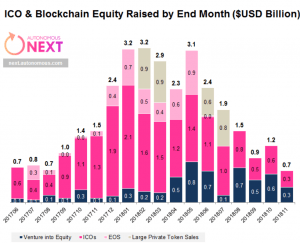 Stablecoins and security tokens
"2019 will be the year of the stablecoin," says Sydney Ifergan, an ICO advisor and expert with ICObench, an ICO rating platform. "Today, the volatility of crypto market is hurting investors and crypto holders," he adds, indicating that people will increasingly look to projects and coins that promise to retain their prices.
Indeed, there are a number of interesting stablecoins set to have token sales in 2019, and one of them Ifergan highlights in particular is DiamCoin, which will be part of Hello Diamonds' (Bitcoin Cash-based) blockchain and which will be pegged 100% to the value of diamonds.
"In fact," he tells Cryptonews.com, "their token is designed by a Nobel Prize-winning economist [Sir Christopher Pissarides]," whose work in economics revolves around the relationship between macroeconomic growth and political policies.
Other interesting stablecoins set for release this year include offerings from Alprockz, Emparta, The Joy, and eToro (and not to mention Pablo Escobar's estate). Meanwhile, Facebook is rumoured to be planning its own stable virtual currency, underlining just how in-vogue such coins are at the moment.
One other big development for ICOs in 2019 will be security tokens, with a number of security-token exchanges set to launch this year that aim to capitalize on what was already a trend in late 2018. These include Templum, SharesPost, the SIX Swiss Exchange, and the Malta Stock Exchange (in partnership with Binance), while security token offerings (STOs) are being planned in 2019 by Leonovus, HYGH, MinedBlock, Orbis, and SocialRemit (among many others).
'Reverse ICOs' and private sales
One less publicized development for 2019 is that the ICO market is set to increasingly resemble traditional stock markets and IPOs (initial public offerings).
For example, LDJ Capital founder David Drake tells Cryptonews.com that his investment company is now focusing more on what he (and others) refer to as 'reverse ICOs.' As he explains, a reverse ICO "relates to operating companies with a revenue history already spanning a few years if not decades, who are looking to use tokenization to do their offering."
William Mougayar – an entrepreneur, investor, blockchain researcher, and advisor – says much the same thing, pointing out that most startups will now have to be at least semi-established before launching their token sales.
"The days of getting funded based on a white paper with little code written are gone," he writes via email. "The public cannot fund dreams anymore, because the chances of success are slim when you invest that early."
In concert with this move towards reverse ICOs, one other trend that's likely to solidify in 2019 is the increasing role private equity will have. According to Autonomous Research, private venture capital made up only 7.5% of all money raised by new blockchain startups in the first quarter of 2018, while in the second and third quarters it made up 25.6% and 30.2%.
This trend is likely to continue into 2019, at least if individual investors continue steering clear of ICOs. "Absolutely," agrees David Drake, "because the retail-consumer buying of tokens online was decimated in 2018 and it will not return until security tokens and oversight with active governance has been implemented in the ecosystem, emulating the efficiencies and transparencies of Wall Street."
What to do?
In the face of this shift to a reliance on venture capital and pre-sales, there's not much small individual investors can do, short of being rich enough to invest in venture capital trusts or to become an accredited investor able to invest directly in promising startups.
However, ICOs open to the general public will still remain prevalent in 2019, even if private sales might make up an increasing share of token sales. And as such, there are a number of things investors should bear in mind when looking at new ICOs or STOs, so as to maximize their chances of having a positive return on investment.
"Don't invest to be profitable instantly," advises Sydney Ifergan, "think long term and lastly don't jump on every ICO or STO. Take your time to evaluate it by checking the project, its monetization, its roadmap, and its team."
William Mougayar concurs, advising would-be investors to do their research and to also diversify their portfolios. "Avoid the white paper and beautiful websites. Ask if other professional investors with a track record have also put money into it, and who are they? Truth is that investing in ICOs is more risky than traditional angel investing where the percentage of success is very small already. Therefore, an individual investor would need to invest in a portfolio approach in order to maximize their chances of returns."
---