Bitcoin Inflowing, Ethereum Merging, Terra Do Kwoning, SHIBless Future and 20 Crypto Jokes
Disclosure: Crypto is a high-risk asset class. This article is provided for informational purposes and does not constitute investment advice. By using this website, you agree to our terms and conditions. We may utilise affiliate links within our content, and receive commission.

Good Saturday! This past week in crypto: record inflows into bitcoin were seen as 'safety'-seeking investors buy the dip and ethereum outflows double, the crypto and stocks 'decoupling' prediction flopped, Chain's XCN token pumped and quickly dumped, and DEI got depegged for days. Meanwhile, Ethereum is leading in Web3 but multiple winners are still possible, while a survey claimed that SHIB would be worthless by 2030. Also, Vitalik Buterin said that he wants a more Bitcoin-like Ethereum with a focus on long-term stability, and Ethereum's Ropsten testnet is set to 'merge' next month and The Merge is now expected in August. Meanwhile, Elon Musk is apparently aiming to renegotiate his bid to take over Twitter, and Discord servers of multiple NFT and crypto projects, including Axie Infinity, were compromised.
In the Terra saga: Do Kwon appears to have dissolved two domestic arms of his company as early as late April, South Korean financial regulators began the Terra probes while politicians called for Kwon to face a parliamentary hearing, and the legal storm continued brewing with numerous investors readying complaints. The Luna Foundation said that nearly the entire bitcoin stack was spent but promised compensation to UST users, major Terra backers kept a low profile, but then broke their silence on the same day, while the big players in the crypto industry did not seem supportive of Do Kwon's proposal for saving Terra, and though Do Kwon's new revival plan fought for support as trust challenge remained, the plan became 'final' and was put to vote. That all said, LUNA buying in South Korea skyrocketed. This has all put spotlight on tether as well after USD 9bn was redeemed.
In the exchange developments: Sam Bankman-Fried was accused of misleading the public as he omitted important facts while bashing Bitcoin, after which he hinted that FTX may implement Bitcoin Lightning Network payments, CoinCorner launched an NFC-enabled bitcoin card powered by Lightning Network, Coinbase and BitMEX are deploying new features to lure more customers, Coinbase is backing the development of the "first-ever" enterprise-grade liquid staking protocol, while its also slowing down hiring among the market downturn and lower financial results, and Russians based abroad say they can't withdraw funds from Binance.
In adoption and regulation news: three South Korean banks earned USD 31.2m from their crypto exchange partnership deals in 2021, trademark applications suggest that Meta may launch a crypto platform Meta Pay, and Japan's Yabu teamed up with entertainment industry behemoth Yoshimoto Kogyo on a metaverse project. Meanwhile, 44 nations met in El Salvador to, among other things, discuss Bitcoin, said the President, and China's global Bitcoin hashrate share reportedly leaps up from zero to over 21%.
Let us proceed to laughing. You may commence.
__________
Hey, CT! All good?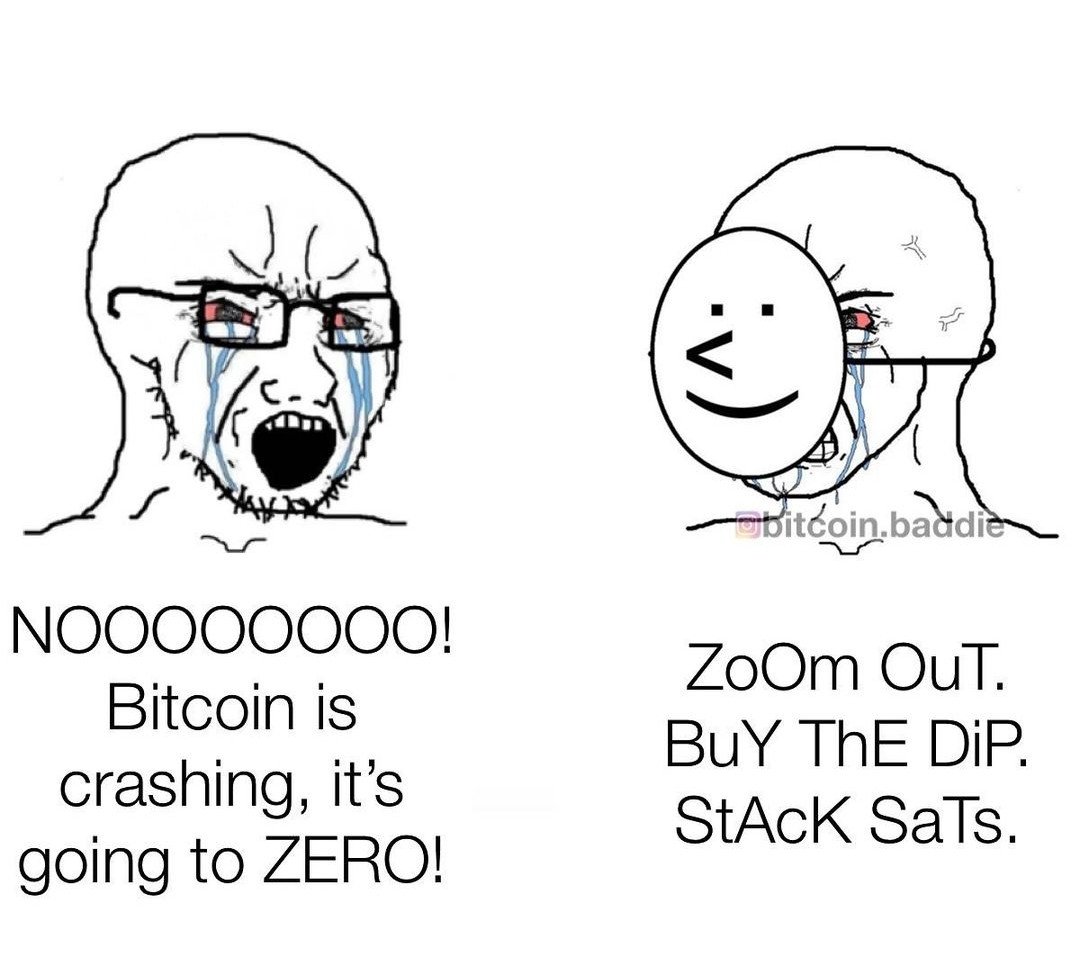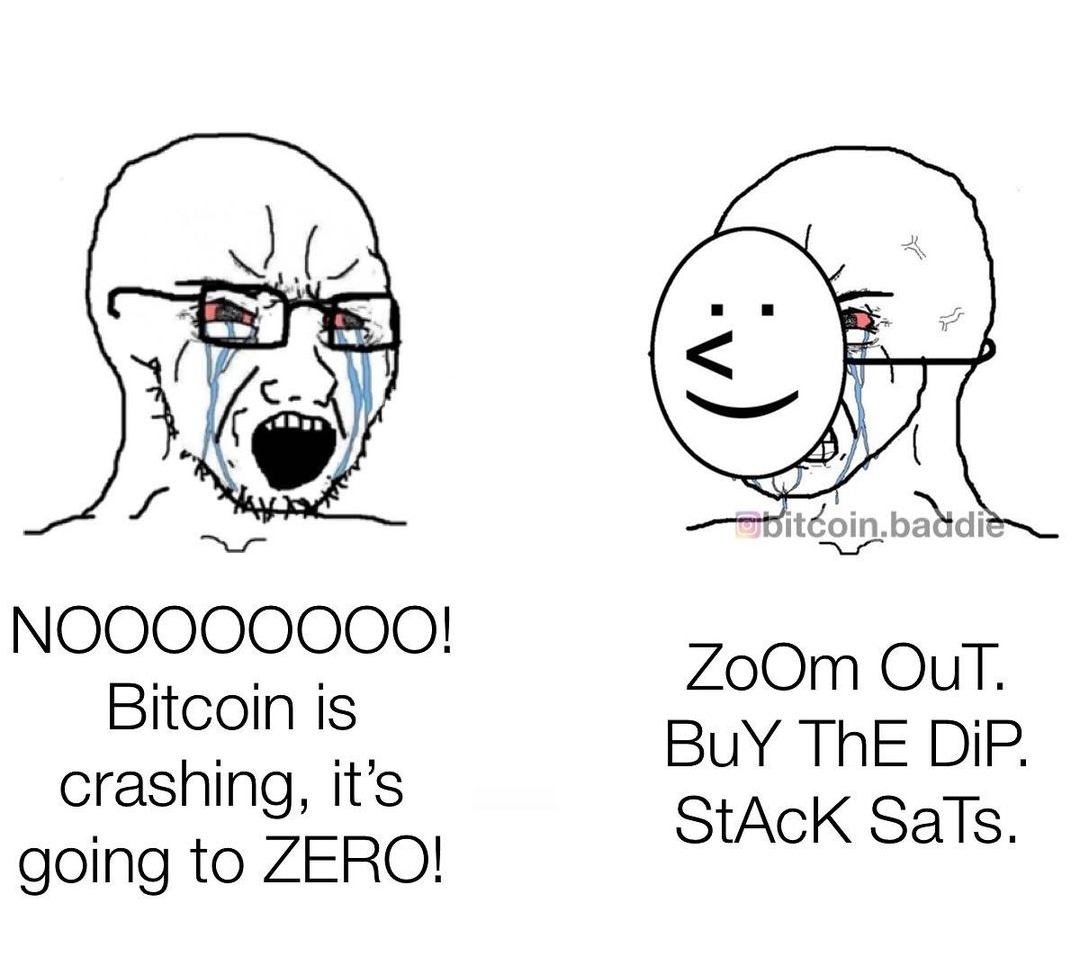 __
A shitcoin for your thoughts.
Is this the mother butthole that all shitcoins come from? pic.twitter.com/2Ib9515eJV

— Love Is Bitcoin 🧡💊 (@LoveIsBitcoin21) May 17, 2022
__
Yes, let's check on them too. All good?
https://www.twitter.com/coldpizza_xyz/status/1523773872184901632
__
Sooo, a good year so far, all in all.
https://www.twitter.com/TraderSkew/status/1524702141541236737
__
The effect of the markets.
Everyone is already decoupled from their net worths because they listened to tweets like this one all year lol

— gainzy (@gainzy222) May 16, 2022
__
Market-meme coupling.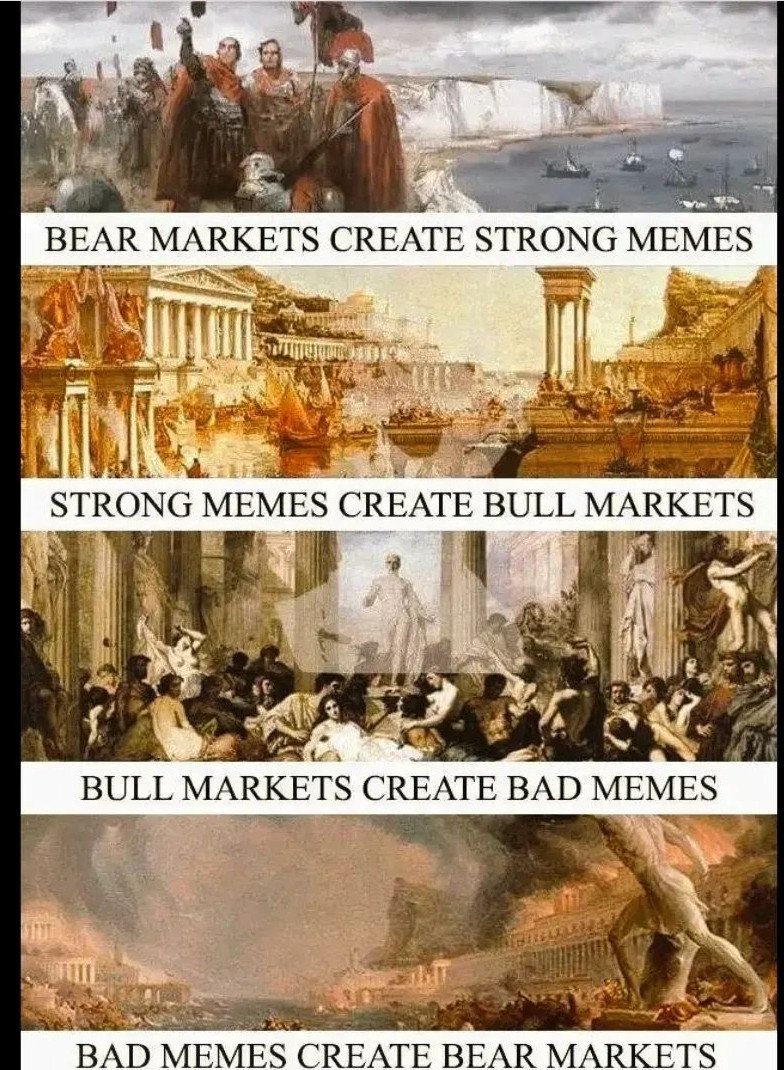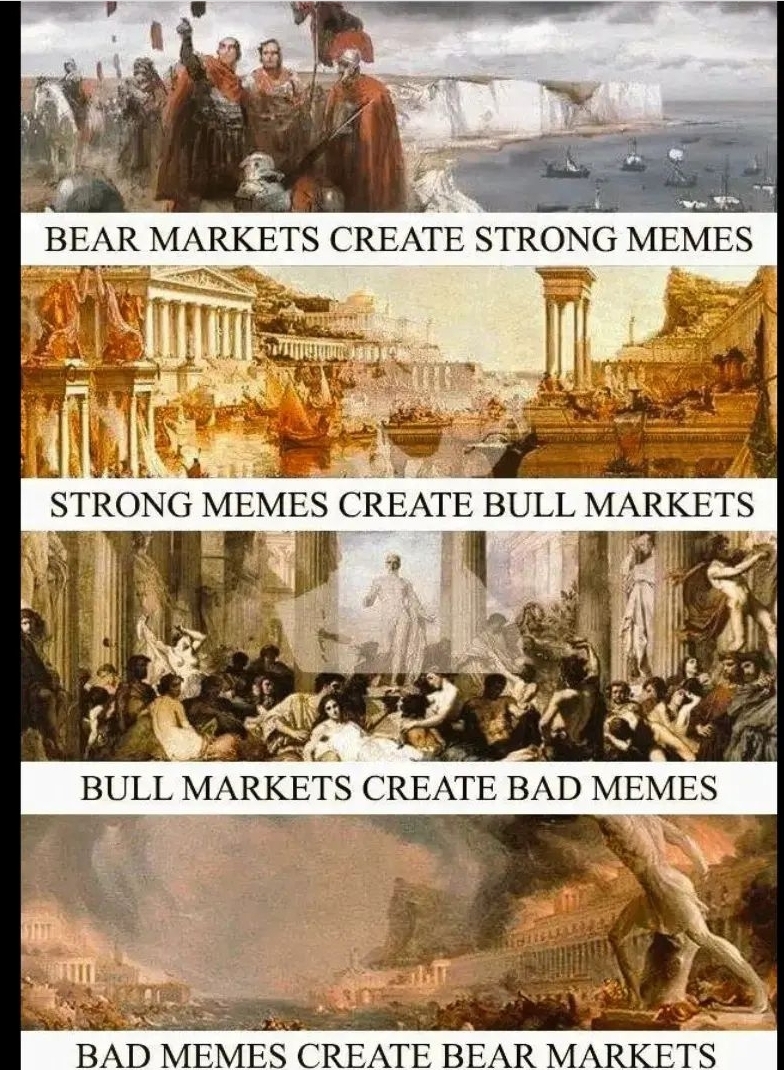 __
Quid pro fake money.
I will bail out your fake money with my fake money, backed by the government of Grenada. WAGMI https://t.co/eKZue28SMk

— New Money Review (@newmoneyreview) May 12, 2022
__
Print me the money!!!!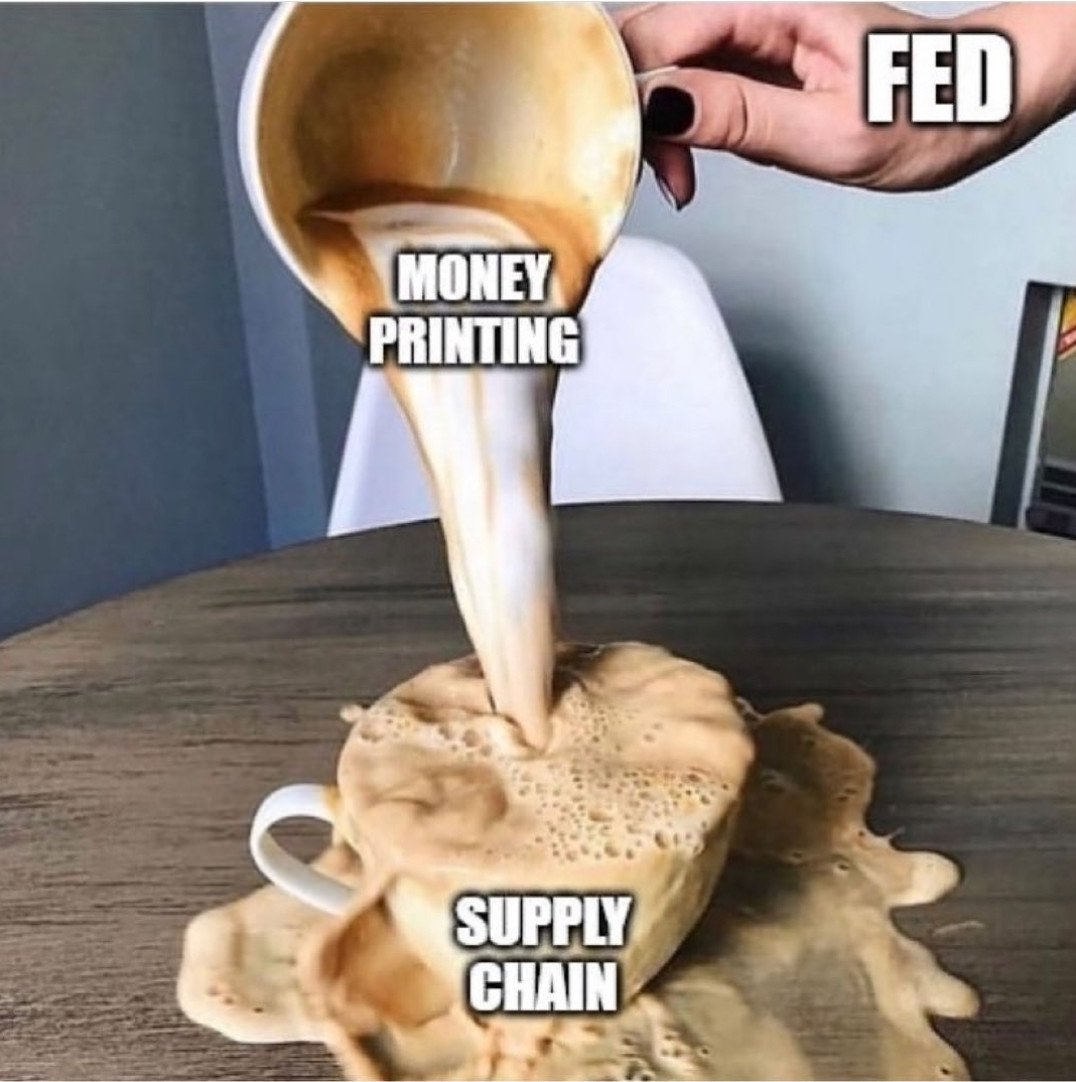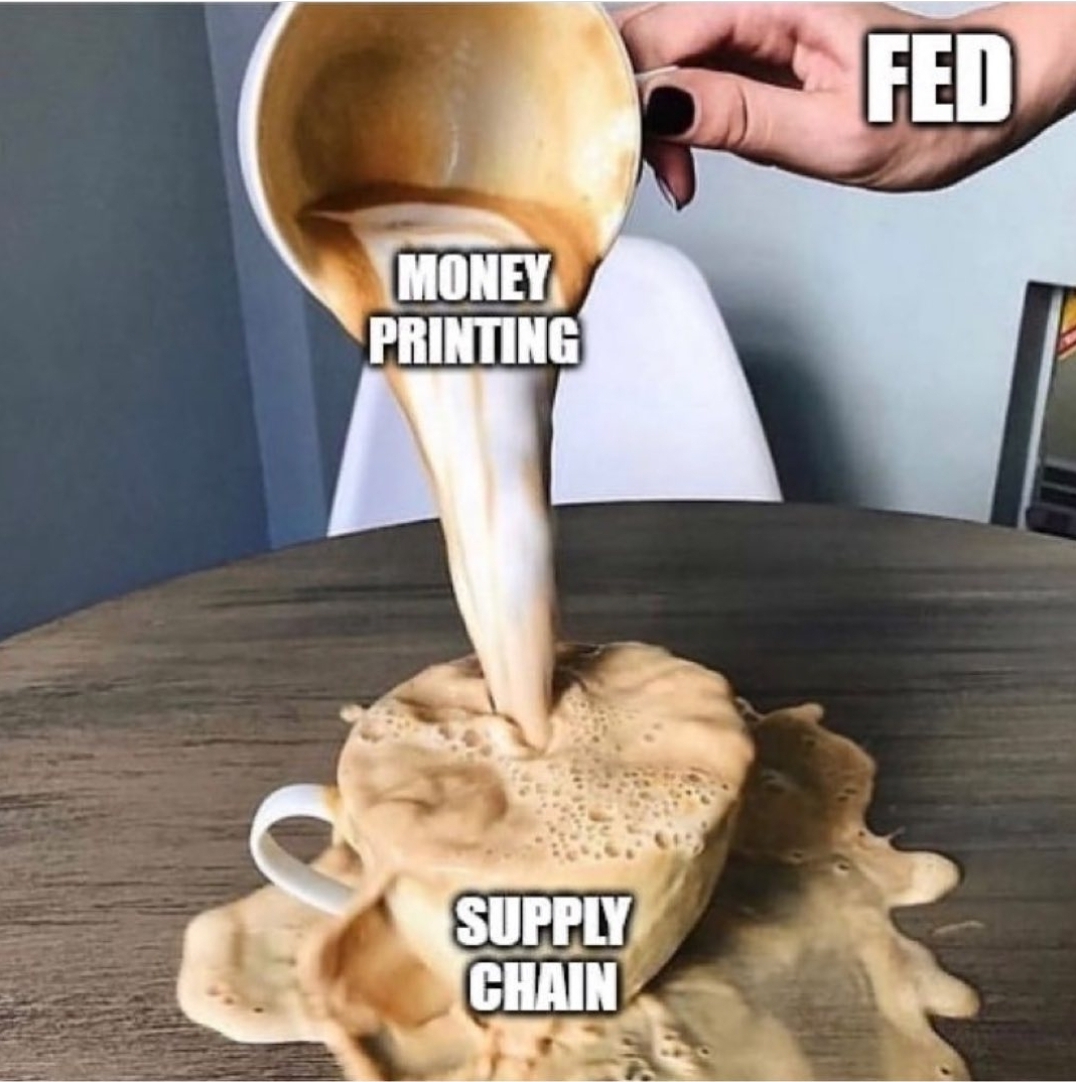 __
Elon comment of the week.
*MUSK SAYS INFLATION HAS RESULTED FROM GOVT PRINTING MONEY

big if true

— Katie Greifeld 🎃 (@kgreifeld) May 16, 2022
__
Take a seat, won't be long now.
May 13, 2022
__
Oh, look, the bro's got more seats now.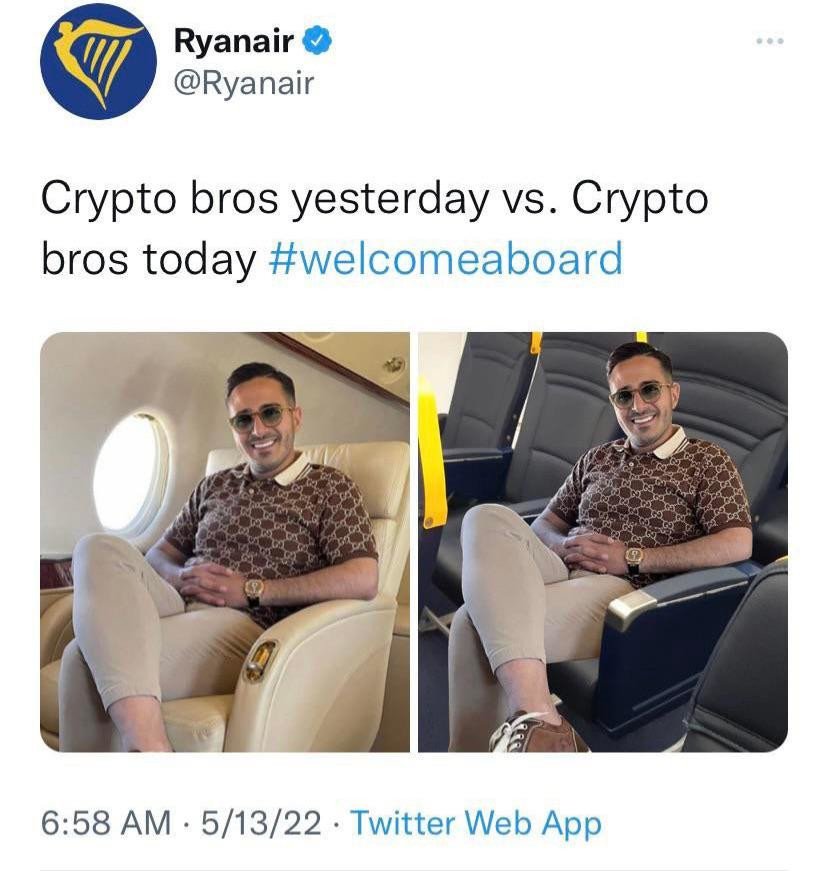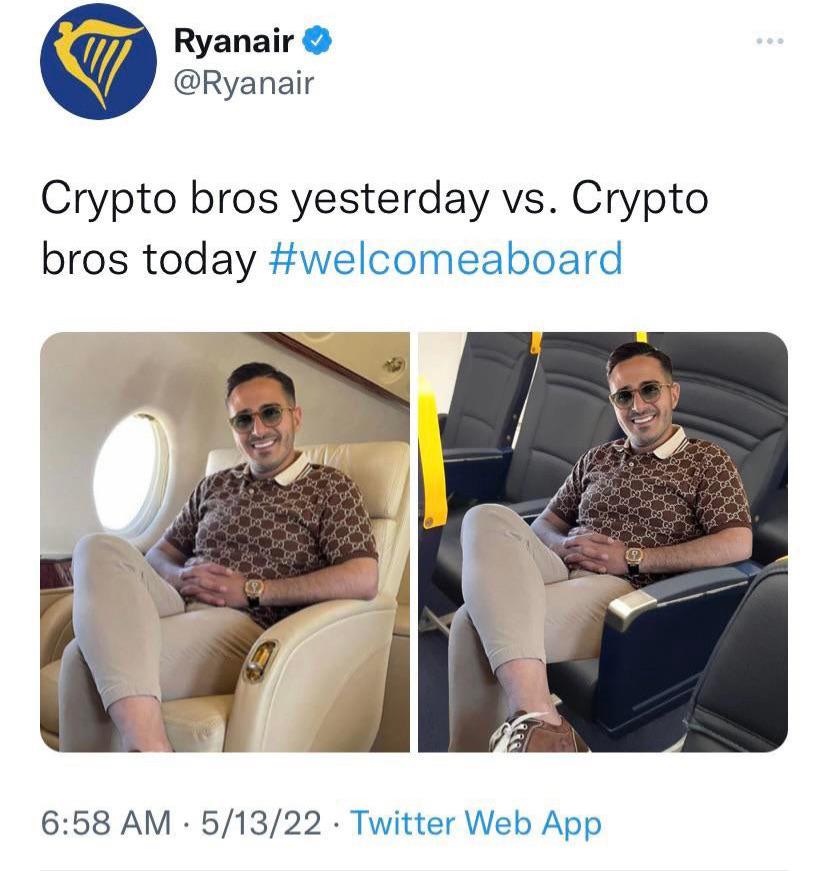 __
Hey, anybody got Bitcoin CEO's Twitter handle?
https://www.twitter.com/DegenSpartan/status/1523497258876305408
__
Might as well be us.
__
Translation for the beginners.
hodl is just pray to earn 🙏

— karim helmy 𓊝 (@karimhelpme) May 18, 2022
__
Just remember this:
Your first crash is always the hardest pic.twitter.com/Si59kgN8a5

— Charlie Shrem (@CharlieShrem) May 11, 2022
__
About that BTC tho…
The Internet: Did you take the BTC?
Do Kwan: I didn't sell any Luna or UST
TI: What about the BTC?
DK: We are a family
TI: What about the BTC?
DK: This hurts us all
TI: What about the BTC?
DK: Let me announce the rescue scam
TI: What about the BTC?
DK: Here is the rescue scam

— Steve Jones (he/him) (@mosesjones) May 17, 2022
__
O.u.ch.
Current situation Holder #Luna / $Ust 😒 #Rekt #Ust #Lunatics #Crypto #Newbies pic.twitter.com/bKftq4qQ2Q

— Aιҽsβiʈ (SHA 256) 🦇🎧🌊 (@Alesbit1) May 11, 2022
__
A song about them crypto boys.
i don't care about ur crypto, boy
not at all not even 1 bit, coin pic.twitter.com/qG2w1IYUr3

— Spencer Noon 🕛✨🔍 (@spencernoon) May 13, 2022
__
Here's a short explanation of market cycles.
ready for new cycle? pic.twitter.com/YkJUhpDtLI

— Fomocap (@fomocapdao) May 12, 2022
__
And a Bitcoin documentary for your weekend viewing pleasure.
#Bitcoin 🦀 https://t.co/8E4As7kHYX

— naiive (@naiivememe) May 15, 2022
---