Bitcoin & Ethereum Divers, FTX's Knights and Credits, Confident Kwon, ONE Big Hack, and 20 Crypto Jokes
Before the week even began, Bitcoin went for a dive below USD 20,000 and ethereum broke USD 1,000, so analysts started digging into data to identify the next steps in the market and searching for answers. The bitcoin stock-to-flow model and its proponents came under fire again as the model's failure becomes obvious, ONE dropped as Harmony got hacked for USD 99m, and another Elon Musk-fueled DOGE rally ended with a dump, while Elliptic said DOGE is used in the 'most serious crimes', but SNX went up as Synthetix saw a surge in trading volume. In the midst of crypto winter, Tether launched a GBP-pegged stablecoin, GBPT. Meanwhile, following a strong May, blockchain games saw a drop in trading volume and the number of users. While a Nobel prize winner donated over USD 103m for Ukrainian child refugees, Ukraine sold a CryptoPunk for ETH 90. Speaking of which, CryptoPunks became the top NFT collection while a Christie's NFT expert said he will 'steward' the project, and Meta is working on a wallet for the metaverse as the company is expanding its NFTs test.
While crypto exchanges started backing away from sports spending, and Coinbase Pro faced users who are not happy with the service's discontinuation, concerned about fees, Sam Bankman-Fried argued that the US Fed is to blame for the ongoing downturn but that large companies have a responsibility to step in, BlockFi secured USD 250M credit line from his FTX exchange, and Voyager Digital secured a credit line from FTX's parent company Alameda. Celsius stressed its focus on its work with 'regulators and officials' while limiting communication with its clients, and CEL soared as a Celsius shareholder proposed a recovery plan and Celsius paid Compound. In the meantime, Terra's Do Kwon said that he is not a fraudster and has 'great confidence' in Terra 2.0, Babel Finance said it would repay 'some debts' and 'ease its short-term liquidity pressure', while Bancor paused its impermanent loss protection mechanism due to 'hostile market conditions'. As all this was happening, Nexo was eyeing possibilities to acquire troubled companies. Vitalik Buterin said he is 'definitely' worried about centralization risks following The Merge but urged people against 'overly catastrophizing', Solana-based Solend passed a proposal to overturn a previously approved proposal following a community backlash, and then proposed a third proposal to reduce the borrowing limit to USD 50m.
A South Korean court exonerated a bitcoiner who had received BTC 200 by mistake, SK said that crypto-related crime is set to rise in the country, and as Terraform officials got banned from leaving South Korea, Do Kwon 'may apply for Singaporean citizenship'. In China, the digital yuan spending was on the rise despite the COVID-induced slump, and in Russia, the Ministry of Finance says there's no place for crypto in oil trading. El Salvador teamed up with Canadian Astro Babies to launch a new coin called the Salvadoran Crypto Initiative (SCI), Spanish government wants crypto holders to report their transactions and holdings from 2023, and as central banks admitted they had failed to keep inflation under control, they claimed that they are the main source of trust in the monetary system, while in the middle of a looming Euro Zone economic downturn, the ECB's President worries about crypto and DeFi. On the other hand, the SEC's Hester Peirce said that crypto's lack of 'bailout mechanism' is a strength, as FTX CEO was pronounced a 'white knight'.
And now, a very special section comprising a specially selected joke ensemble.
__________
Gooood morning, crypto twitter! Whazzup?
__
Let's hear from a local analyst.
__
And we'll turn to a resident financial adviser with a perfect track record.
__
In all fairness, BTC whales are not what they used to be several months ago either.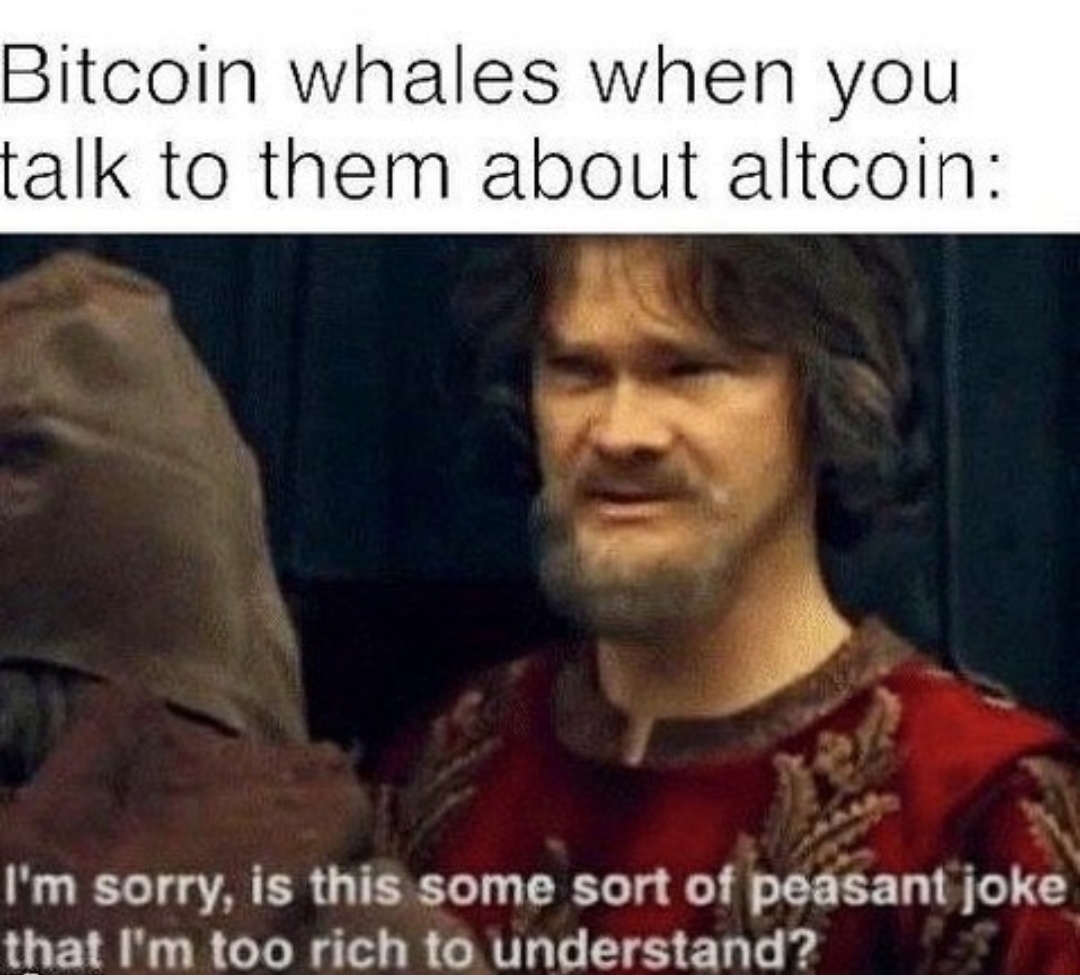 __
BTC maximalists are trying to be nice. Really trying. But the world won't let them.
__
Bitcoin at USD 20K before.
Bitcoin at USD 20K now.
__
ETH is not having a picnic either.
__
I can hear the dial-up sound. It's haunting me.
__
And it died, as did the Internet, and never ever recovered!
__
Every single Satoshi-damned time.
__
Look at it go!
__
Here you go – solving real, glaring issues.
__
Tommy feels like his life's been sucked out of him, slowly, on a straw.
And Sarah understands.
__
What are you trying to say?
__
The man's got a bulletproof plan.
__
Wait…you've got rice and crackers?
__
Just think of the next week...could go either way.
__
Dracula style.
__
Come on, Hollywood! Look at this: pure gold. And true. You could get three arrows... I mean, three Oscars for this.
__
And here is your long-awaited, never-coming Hollywood action movie: 2 Fast 2 Fungible.
---