Battling Wall Street, Sheriff of Nottingham, High Doge and 20 Crypto Jokes
What a crazy week! And vastly entertaining! As the Wallstreetbets story intensified, pushing the price of GME up, the market got a new entrant, a a 'wrapped' GameStop token, and then DOGE soared right into top 10! Then Robinhood halted buying of the first and trading of the second, saying they weren't directed to do so by anybody, while the angered retail investors called it the Sheriff of Nottingham in disguise and started looking for a new home, setting their eye on Coinbase who's getting ready for a direct listing. Meanwhile, the market appeared to be on much healthier footing following the leveraged unwind, Ray Dalio sent an even stronger signal that Bridgewater Associates is eyeing BTC, and Elon Musk added BTC to his profile on Twitter. XRP dropped despite positive reports, and a lawsuit against Ripple over USD 50 emerged. Chainalysis said ETH reached ATH because of demand to use it as collateral in DeFi, while bitcoin reached its own because of demand from new, large investors. As Marathon Patent Group bought BTC 4,812 for USD 150m, Visa said it wants to work with exchanges and wallets on handling crypto and 'digital gold' BTC.
And there's more. As the Chinese Central Bank Governor signalled that the USD 37bn Ant Group IPO may still happen, the Central Bank of Bahrain issued a license to a new crypto exchange to offer Sharia-compliant crypto services. Lawyers took aim at Russia's crypto legislation, Bitonic took Central Bank's KYC requirements to court, while in Davos, the banks were warned that they risk falling behind to digital finance networks and providers, and the Governor of the Bank of England said that crypto and stablecoins are yet to "land" on the design and governance models required for "a lasting" digital economy. There are suggestions that Chamath Palihapitiya stands a chance of becoming the Governor of California, JCB will be working on a crypto-related pilot, and a new Bill Gates-backed app featuring AI, Big Data, and blockchain technology rolled out in South Korea. And while all this has been happening, Craig Wright's attempts to stop the publishing of the Bitcoin whitepaper actually helped Bitcoin, while MrBeast wants to send BTC to the literal Moon.
And here is your weekly selection of jokes.
__________
Hey, Crypto Twitter! What's up?
January 29, 2021
__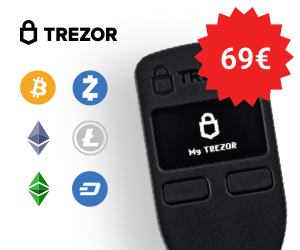 While he's at BTC...
I got this... @elonmusk want another job title?

— Fibonacci's Ghost (@Super_DaveO) January 27, 2021
__
The week in one tweet.
January 28, 2021
__
'I'm sure I left them somewhere around here...'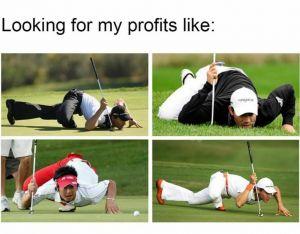 __
'Where's that damn The Dip (DDP)?!'
Everybody says "Buy the Dip" but can't find "The Dip" coin at any Exchange. Help me. from r/CryptoCurrency
__
This was A Dip (ADP).
"I bought the dip" from r/CryptoCurrency
__
Dips affecting family dynamics.
Hodl on, mommy! Don't sell it all!! It's gonna pass! from r/CryptoCurrency
__
Look at that BTC wave go!
LIVE FOOTAGE: EAST COAST WAKING UP TO #BITCOIN PRICE ACTION pic.twitter.com/9tXujfpuaI

— Udi Wertheimer (@udiWertheimer) January 29, 2021
__
The (dis)advantages of time zones.
Me waiting for US Chads to wake up and send $BTC and $ETH into price discovery pic.twitter.com/uXzLuJJ48Q

— Loma (@LomahCrypto) January 29, 2021
__
'And behold, you became a hodler.'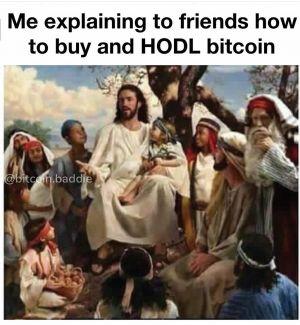 __
But be sure to add the standard disclaimer.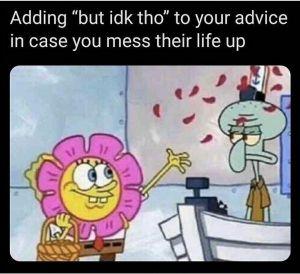 __
Getting dressed every morning.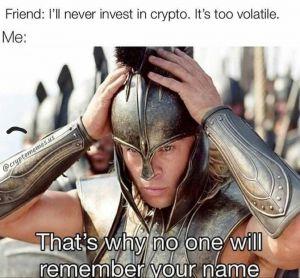 __
An economist before and after bitcoin.
#Bitcoin pic.twitter.com/uyHkqCxKT0

— Bitko Yinowsky (@[email protected]) (@BitkoYinowsky) January 28, 2021
__
Up to 40K in a decade. Hodlers deserve a haughty pose or two.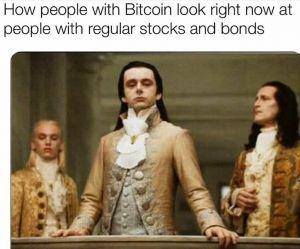 __
Amateurs. Rich people doors only.
Most of them post a Huracán that has poor people doors

— Kenneth Carson (@Carsonated) January 19, 2021
__
It's not easy being a shitcoin.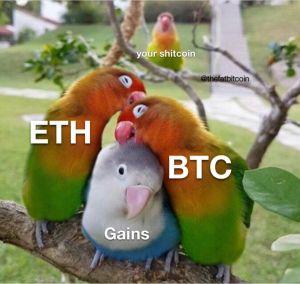 __
There we go.
I'm not totally useless! from r/CryptoCurrency
__
XRP has it rough these days.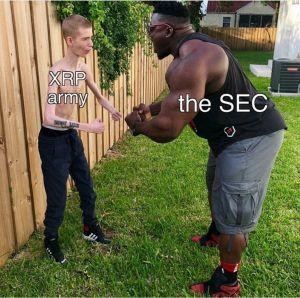 __
And suddenly, it was independence time.
My dad after I told him that I sold my $LINK pic.twitter.com/75vNNMA1Yl

— Blackbea🅡d (@crypto_blkbeard) January 18, 2021
__
A crypto disaster movie, director's cut, with commentary.
You're really underestimating how bad things could get

— Alex Gladstein (@gladstein) January 19, 2021