Bans, Exiles, Breakthroughs and 20 Crypto Jokes
Just because it was a holiday week doesn't mean that there were no crypto news. The head of the People's Bank of China's digital currency research institute confirmed that a "digital form of the yuan" is on its way, but said it's different from BTC or stablecoins as it's not for speculation. Meltem Demirors, chief strategy officer at CoinShares, said that the upcoming BTC halving will be different from previous halvings due to increased BTC market "directionality." But Coin Metrics said that we simply don't have enough historical data yet to make any predictions about halvings.
Before Binance announced its investment in FTX, both platforms registered the biggest gains in the crypto derivatives market in November. Meanwhile, the ICE-backed Bitcoin futures trading platform Bakkt got two insiders as the new leaders. In Japan, the police appear to be close to a breakthrough in the ongoing investigation of the biggest hack in crypto history - several men have became suspects as possible hackers of the Coincheck crypto exchange in January 2018. Meanwhile, Chinese regulators warn that crypto crackdown is still effective.
Japanese e-commerce giant Rakuten said it will allow customers to exchange their loyalty points for three leading cryptocurrencies. And while Vision Hill offered a framework for crypto investing in 2020, Tron came out with a new game that wants you to play with it so it could keep existing, though some people found it a Ponzi. Finally, the week saw YouTube restricting or deleting some crypto-related videos, forcing them to hide, but then admitting its mistake, after which creators started coming back from self-exile.
Merry Christmas and New Crypto Year to all!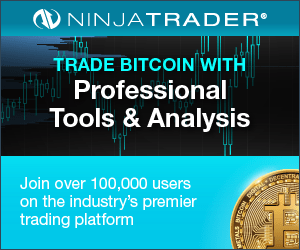 _________
Let's take a look back at 2019.
2019 summary. pic.twitter.com/yFrAAGMMTz

— Panama Crypto (@Panama_TJ) December 24, 2019
__
Some in the Cryptoworld had an interesting start this year.
Ethereum competitors launching mainnets be like pic.twitter.com/BngEZPdKe1

— Matthew Graham (@mg0314a) December 15, 2019
__
And some were disheartened, contemplating drastic measures.
*gets KO within 1 round, serious brain damage, buys HEX and BitConnect afterwards*

— YORK780 (@YORK780) December 18, 2019
__
Many decided some cleaning was in order.
ICO founders making sure their white papers have no misspellings. pic.twitter.com/LRzByAgSWr

— Libra Parody (@LibraReserve) December 15, 2019
__
We went deep into the self-sustaining economy we've been looking for. BTW, who's on top of this?
An in-depth look at crypto tokenomics pic.twitter.com/NeVzRoMH3x

— Bit-Gelt Rabbi [Happy Chanukah!] (@thebitcoinrabbi) December 22, 2019
__
And we fought against the Man.
Youtube delivering massive blow to Bitcoin by deleting some crypto-related videos pic.twitter.com/IuN5gGaQUx

— hodlonaut🌮⚡🔑 (@hodlonaut) December 26, 2019
__
There were many sweet experiences…that turned out to be bitter.
justin rewarding an investor pic.twitter.com/KK6tjK7Tz8

— mikeo Ⓥ (@MikeOreskovic) December 23, 2019
__
And some bizarre experiences as well.
I saw a family eating Christmas dinner today.
Not talking about Bitcoin.
Not talking about blockchain.
Not talking about XRP.
They just sat there.
Eating dinner.
Without shilling bags.
Like psychopaths.

— Rob "Crypto Bobby" Paone (@crypto_bobby) December 26, 2019
__
While many stupid questions were asked indeed. Indeed.
😂😂😂 what will you do in this situation? #cryptomemes #memes #bitcoinmemes #bitcoin #gains #crypto #us #trumpmemes #trump #president #funny #laugh #coin pic.twitter.com/MwQetvy0dQ

— GAINS Associates (@GainsAssociates) December 16, 2019
__
People grew apart for some reason.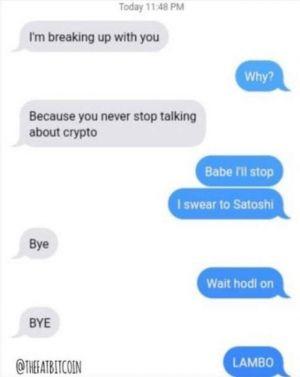 __
But we kept our smiles on no matter what.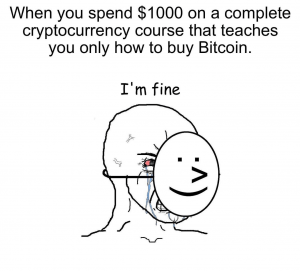 __
CryptoTwitter taught us when to take credit and when to place blame, while remaining unperturbed by the crypto roller-coaster.
Summary of the majority of CT$BTC rockets up: "I'm the best trader in the world, Period!$BTC dumps: "It's manipulation dude, this isn't real trading"

Remember:

TA based Directional Bias = Good
Bias based on your gut or heart = Bad pic.twitter.com/J9uS4U1oBg

— Mr. Anderson (@TrueCrypto28) December 16, 2019
__
And we decided which of the choices in front of us is right.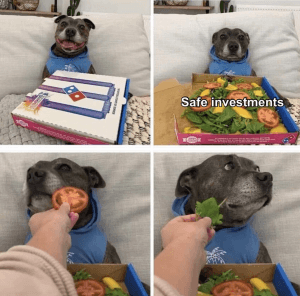 __
So our children wouldn't ask us embarrassing questions one day.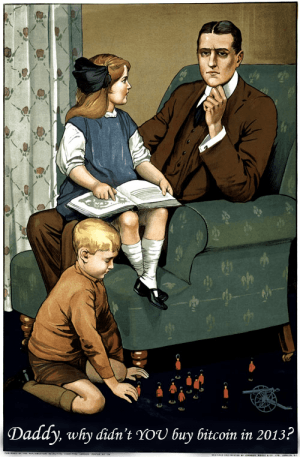 __
Now we all have our trees decorated.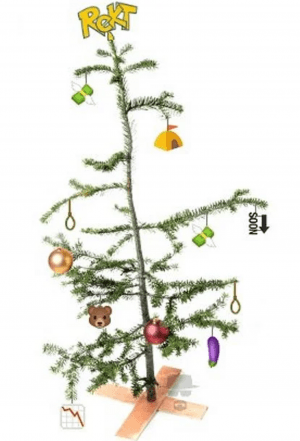 __
All of you in the Cryptoland, make sure to make a crypto wish for Santa to fulfil.
#cryptocomedy #cryptomemes pic.twitter.com/XFCWGzzm3O

— Crypto Inferno (@CryptoInferno_) December 23, 2019
__
Choose wisely.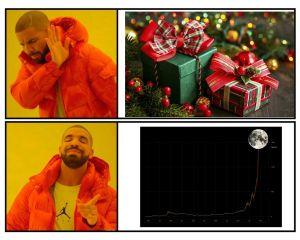 __
Ask Santa for a financial advice while you're at it.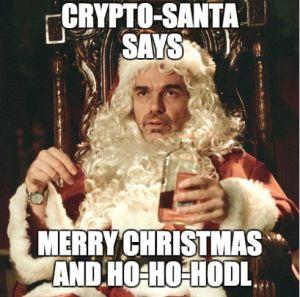 __
Let's start with the singing portion of the holiday!
My fav Christmas tradition, singing WhalePanda's lyrics.
This year with subtitles, if somebody doesn't get my clearly perfect English. pic.twitter.com/KPpP6FBH7J

— MIR (@mir_btc) December 24, 2019
__
And one more Christmas crypto song for the end.
Oh, and a Crypto Bonus! Lucky you!