Margex
Margex is a cryptocurrency derivatives trading platform offering up to 100x leverage. Launched in 2020, it is quickly establishing itself as a trustworthy operator doing everything in its power to offer a professional trading environment that is still simple enough, even for newcomers. Their referral program is one of the most generous in the industry, which—along with competitively low fees — makes them a strong contender for the very top of all derivatives trading platforms.
General info
| | |
| --- | --- |
| Web address: | Margex |
| Support contact: | Link |
| Main location: | Seychelles |
| Daily volume: | 0.0 BTC |
| Mobile app available: | No |
| Is decentralized: | No |
| | |
| --- | --- |
| Parent Company: | Margex Trading Solutions Ltd. |
| Transfer types: | Debit Card, Crypto Transfer, |
| Supported fiat: | - |
| Supported pairs: | 6 |
| Has token: | - |
| Fees: | Medium (Compare rates) |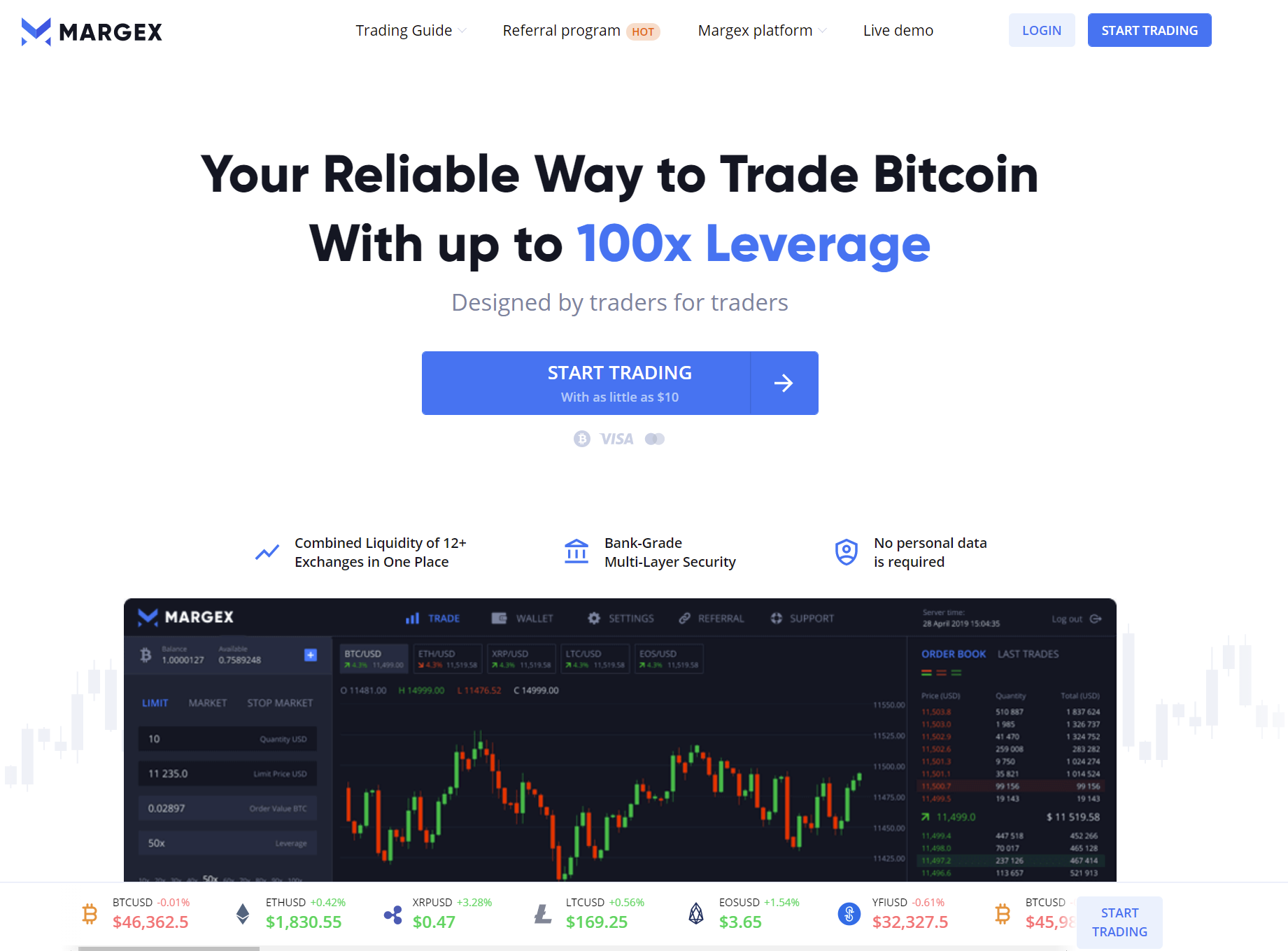 Margex Review: Key Features
Margex is a cryptocurrency derivatives trading platform, meaning they offer only derivatives of the underlying assets and not the assets themselves. Some of their most notable aspects include:
Up to 100x leverage. For traders who know their way around a market, this offers the chance to potentially increase their profits a hundredfold. However, in case the trade goes awry, it can also incur a loss of up to a hundred times the initial amount.
Referral program. While most platforms that offer such a program to their customers have tiered rewards and requirements, Margex gives you a flat 40% of all trading commissions made by the people who were referred here by you. While trading commissions are not very high to begin with, it can still be a decent source of passive income—and you get it without actually working for it.
Proprietary software against price manipulations. Users can rest assured that no unfair liquidations nor price manipulations are happening at Margex, meaning they're not getting cheated out of their profits.
High levels of security. 100% of their funds are stored in cold wallets—many platforms keep 98% or 99% of their funds safe, but not necessarily all of them—which means withdrawals are only processed once per day. Additionally, the platform has several levels of security that are regularly audited.
Limited offer of trading pairs. There are only six trading pairs, which may be considered a drawback by many, but this is because the platform opts for assets that have high liquidity and are not subject to price manipulations. This also lets users trade with assets they already know and trust.
No Know-Your-Customer procedures. Not only are these procedures tedious, but they are also very invasive. Margex does not require you to disclose your personal information when creating an account—providing an email address and depositing to the platform is enough.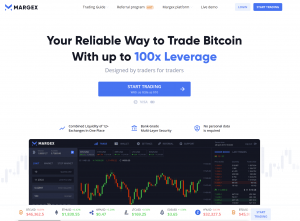 Margex History and Background
Margex is a cryptocurrency leverage trading platform hailing from Seychelles and founded in 2020. The team behind the project is anonymous. Margex is available to residents of most countries—exceptions include the United States of America, the Republic of Seychelles, Bermuda, Cuba, Crimea, Sevastopol, Iran, Syria, North Korea, Sudan, and Afghanistan.
The platform itself is unregulated, as they're incorporated in the Seychelles, where no license or regulation for bitcoin-based trading is required. Thanks to this, Margex can afford to be very privacy-oriented, which means it does not require KYC. There are also no account tiers; in other words, all traders are subject to the same conditions, making for a fair and level playing ground for everyone.

Margex Fees Overview
Compared to most trading platforms, fees on Margex are relatively low: the maker fees will set you back by 0.019% for each trade, while taker fees are 0.06%. The real difference between all the trading pairs, when it comes to fees, emerges in the form of funding rates where each fee, ranging from 0.012% to 0.110%, is charged every eight hours. The funding fees are charged on every opened long and short position according to the following table:
| Pair | Funding/Long | Funding/Short |
| --- | --- | --- |
| BTC/USD | 0.035% | 0.012% |
| ETH/USD | 0.078% | 0.080% |
| EOS/USD | 0.033% | 0.035% |
| LTC/USD | 0.100% | 0.110% |
| XRP/USD | 0.070% | 0.075% |
| YFI/USD | 0.038% | 0.040% |
Of course, if the position is closed before the funding cut-off time, then it will not be charged a funding fee at all.
Margex Design and Usability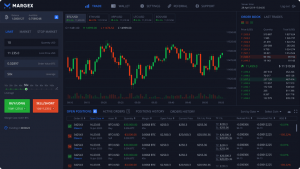 Using Margex is relatively straightforward: to register your account, you need to provide a valid email address, set a secure password, and confirm that you're not a resident of any of the countries that are on their restricted list. You'll need to confirm your email address through a link they send you, and you're free to start depositing.
Once you've deposited the desired amount, all you need to do is click on the Trade tab on the exchange, and you're ready to go. As far as leveraged trading exchanges go, Margex does not complicate matters too much with unnecessary graphs and information, but they also do not omit anything that's important for staying abreast of new changes, relevant historical data, and your own positions and their history. It is very easy to navigate, but the trading itself can be challenging enough even for trading veterans, which is what most are looking for, and Margex delivers.
Up to 100x leverage trading is their forte. They also offer perpetual futures with the same maximum leverage, profit orders, and stop-loss orders. The margin design is Isolated, which means that in case of a loss, you can only lose the funds associated with that position—allowing you to open multiple positions on the same trading pair with different leverage if you want.
Another one of their advantages is a very generous referral program in which anyone can participate. Simply share your referral link with your friends and you get a whopping 40% of the trading commissions paid by them. Even better, in case you have a large following, you can get in touch with the exchange to figure out how they can help you grow your base. The details of this offer are not disclosed on the website.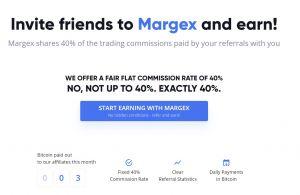 Margex does not offer a mobile app. In case of issues with the browser-based exchange, however, their dedicated support team is available 24/7 through live chat and email and can help users navigate any and all issues they might have.
Margex Exchange Security
As the first line of defense, Margex offers a unique MP Shield AI-based system that they developed themselves, which serves to protect against price manipulations and unfair liquidations. As for price volatility that is outside of their scope, Margex evades this problem by simply not listing assets that have low liquidity or that are potentially affected by manipulations. The platform itself consists of several security layers that are independently audited on a regular basis. All withdrawals are processed only once per day by their treasury department.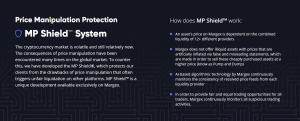 Margex keeps 100% of their funds in a multisig cold wallet. They also have real-time monitoring and alerts for all asset movements, as well as an access segregation system in case of any in-house malicious activity. There is also no worry that the system will not be able to handle an increase in activity thanks to an elastic server infrastructure designed for this very possibility.
Users can protect their accounts by enabling two-factor authentication through Google Authenticator. All of their account data is encrypted, and all activity is reported to their email address so that they're aware in case something suspicious happens.
Deposit and Withdrawal Methods
Direct offers and withdrawals at Margex are available only with Bitcoin (BTC). Users can also deposit using a credit card through the third-party provider Changelly. When depositing, users can either copy the BTC address into the wallet they're depositing from or scan the included QR code. BTC deposits require only one block confirmation, which makes it a little faster than most other exchanges.
As for withdrawals, this is also possible only with BTC. You will need to provide your withdrawal address, your 2FA code, and the amount you're withdrawing (along with a miner's fee). As all withdrawals are processed once per day for security reasons, at 13 UTC, it may take a little bit until the funds are in your wallet.
Margex Review: Conclusion
Overall, Margex is an excellent choice for a cryptocurrency derivatives trading platform with great leverage, especially for traders that are privacy-oriented, prefer low fees, and an offer of tried-and-true trading pairs. Along with their referral program, high security standards, and a very intuitive UI, both newcomers and veterans in the derivatives trading sphere are likely to find their forever home here.