'World's First' Physical Crypto Banking Branch Opened in India + More News
Get your daily, bite-sized digest of cryptoasset and blockchain-related news – investigating the stories flying under the radar of today's crypto news.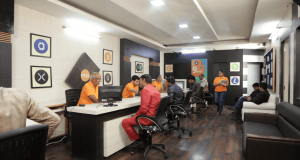 Adoption news
Unicas, a joint venture between online crypto banking platform Cashaa and United Multistate Credit Co-op Society, has launched what they described as the "world's first physical crypto banking branch" in Jaipur, India. Per the announcement, Unicas is initially opening its services online and through 14 branches across NCR, Rajasthan, and Gujarat by January 2021, and plans to rapidly expand to 100 branches by the end of 2022. The company will be providing banking services for both fiat and crypto assets, and users will be able to deposit and withdraw through a savings account the way they operate with traditional banks, they said.
Business news
SolidBlock's real estate-based security tokens will be listed on the INX securities trading platform, announced the two companies. This will enable INX security token platform investors to access exclusive real estate previously off-limits to the general public, said the press release. Each listed token class will be backed by either a single property or a collection of properties from SolidBlock's portfolio of real estate assets, including London, England (market value up to USD 26m); Phuket, Thailand (market value USD 12m); and New Haven, USA (market value USD 5m).
Exchanges news
An analysis of internal pay data at Coinbase showed that women and black employees were underpaid, and that disparities were much larger than those in the tech industry. As reported by The New York Times. Women at Coinbase were paid an average of USD 13,000, or 8%, less than men at comparable jobs and ranks within the company, according to an analysis of the figures, which included pay details for most of Coinbase's roughly 830 employees at the end of 2018. The 16 salaried Black employees were paid USD 11,500, or 7%, less than all other employees in similar jobs.
The Cape Town High Court granted a provisional liquidation order against a South African Bitcoin trading company Mirror Trading International following two urgent applications last week brought by clients who were unable to access their funds. The operation is said to have received about 9.45bn rand (USD 644m), Business Day reported. The company's Chief Executive Officer Cornelius Johannes Steynberg is believed to have left South Africa and is probably in Brazil, reported Bloomberg, citing a letter to clients.
Stablecoins news
The Japanese web company and crypto exchange operator GMO Internet is preparing to launch a yen-pegged stablecoin, per Nikkei. Named the GYEN, the token is slated for issuance in January 2021 and will be the first major stablecoin to peg to the Japanese national fiat currency. Rival Asian stablecoin offerings have pegged 1:1 with either the USD or the euro. A number of banks are although thought to be preparing yen-pegged digital assets, although none have so far committed to timeframes.
Security news
The South Korean security firm Uppsala Security is set to extend the scope of its anti money-laundering (AML) services for Samsung's Blockchain Wallet for smartphones. Per media outlet Hanguk Kyungjae, Uppsala said that its AML solution will be applied not only to smartphone and crypto wallet users in South Korea and Singapore, as its currently the case, but will this month be expanded to 19 other countries, including the USA, Brazil and Canada, numerous European nations, Asian nations such as the Philippines and Australia.
Blockchain news
Russia's Sberbank and the domestic blockchain operator Waves Enterprise claim they have successfully integrated their respective blockchain platforms. Per a press release issued by the bank, a number of smart contracts have been successfully issued on the Sberbank network in a pilot, making use of the Hyperledger Fabric blockchain network, a breakthrough that the bank said will allow other blockchain networks to "gain access to digital assets released" on the Sberbank platform.
South Korea's government-run Korea Internet & Security Agency (KISA) said that it has become the first public institution in the country to introduce a blockchain-powered mobile employee ID system, reported the Segye Ilbo. The solution makes use of distributed identification (DID) technology, and will store issuance and access history information on what the KISA called a tamper-free, secure blockchain platform. All personal data used in the authentication process is encrypted and stored on staff members' smartphones, the company added.
---