Why Loom Price is Surging 170% Higher Today – Can This Crypto Sustain Rally?
Disclosure: Crypto is a high-risk asset class. This article is provided for informational purposes and does not constitute investment advice. By using this website, you agree to our terms and conditions. We may utilise affiliate links within our content, and receive commission.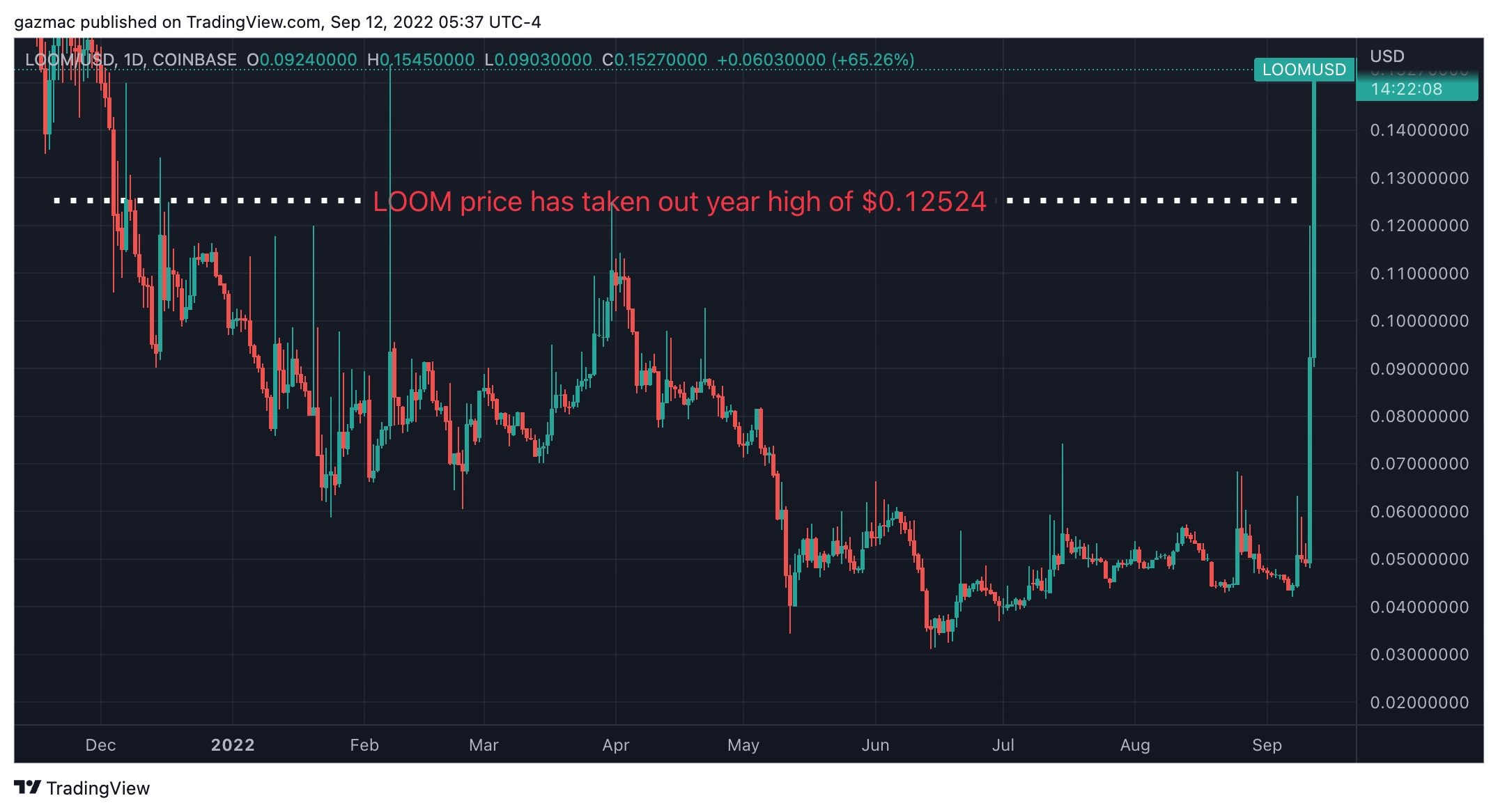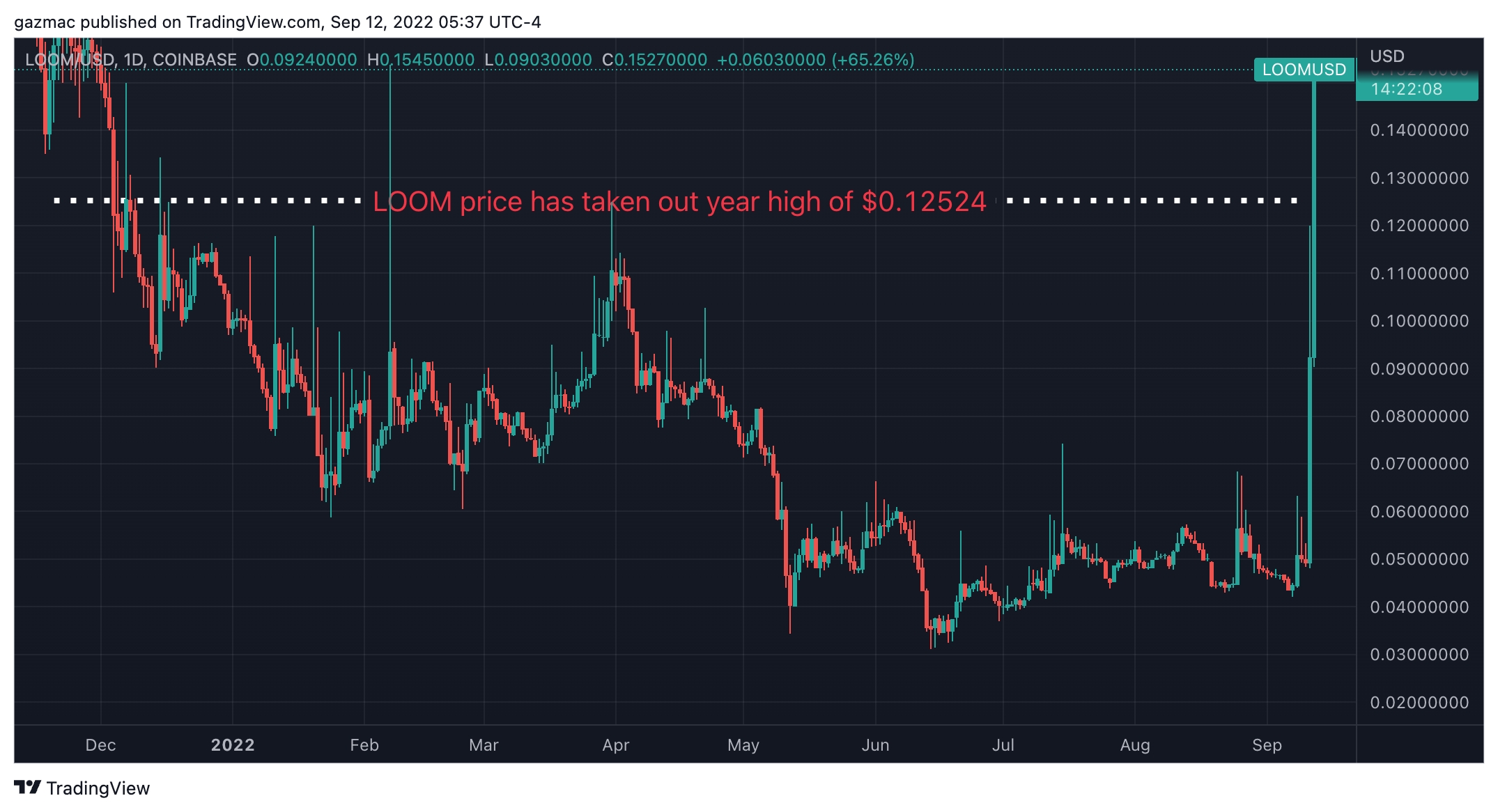 Loom price is up a gigantic 171% today as the Layer 2 platform threatens to go parabolic.
The Loom Network token is currently priced at $0.137 and has taken t out the year's previous high at $0.12524.
Loom supporters have been quick to point out that is currently the no.1 trending coin on top exchange Binance:
$LOOM

Shared on TELEGRAM

2.5x done in 8 hours!

Now we have binance #1top gainer as well pic.twitter.com/Dv8kfOlDGN

— Crypto Pump Master (@CryptoShillz06) September 11, 2022
Sustaining the rally could be easier than market participants might think at first glance. 
Admittedly similar flash rallies of tokens can sometimes disappear as quickly as they materialise. But with the rest of the crypto universe turning green, helped by bitcoin trading above $22k, the green 1-day candle could consolidate, if not climb higher still.
LOOM is trading 79% below its all-time high. On a 3-month view the price has returned 281%.
Loom Network had its roots in gaming but has increasingly focused on enterprise.
Among the sectors it has been most active in securing business are the public sector, healthcare and data management, with its blockchain-as-a-system.
What's behind the LOOM price pump?
Underlying today's price take-off is the expectation of the Ethereum Merge being successfully completed with no major hitches. 
Last week Vitalik Buterin, the founder of Ethereum, said the transition to proof of stake (PoS) was on track to complete between the 12th and 17th of September
Loom, along with other Layer 2 solutions will continue to be value-adds for developers looking to run their dApps on Ethereum by utilising its security but pushing tasks require high throughput onto sidechains.
The Loom network's  main chain is called the Basechain and it makes use of delegated Proof-of-Stake (DPoS) for transaction verification, which makes it super efficient.
Loom's multichain is attractive to devs
But it is the interoperability of its chain that particularly appeals to dev, as it make it relatively easy to work across Bitcoin, Ethereum, Binance Smart Chain and Tron.
LOOM token comes in BEP20 and ERC20 flavors, both of which can be staked.
The project has strong venture capital backing coming out of Singapore and includes  MW Partners among early investors. 
Other VCs who have taken an interest include RocketFuel (US) and China-based Nirvana Capital.
The network is relatively centralised, as are all dPoS blockchains, with around 21 validators and rewards are paid out from a pre-minted token pool.
Ethereum Merge will lift all boats – a fillip for Layer 2 Solutions
Although the Ethereum Merge is moving the network onto PoS, the benefits of that will not be seen in terms of transaction throughput and lower fees until next year when sharding is introduced.
Besides, even after sharding arrives, there will still be space for Layer 2 because there will always be demand for more bandwidth as improvements become fully exploited by devs, which in turn leads to dApps that need even more throughput capacity.
Loom is well placed to be one of the Etheruem Merge winners as the upgrades to the premier smart contract platform spur on developments of sidechains and other Later 2 solutions and interoperability demand.
If you are on the look out for other coins bubbling under that look ready to explode, Tamadoge is one on our radar. 
The ERC20 Tamadoge token provides access to a P2E games ecosystem that will plug into the metaverse – it can bought in presale now, but is selling out fast.
---