Why the Bitcoin Price is Dumping and Could it Get Worse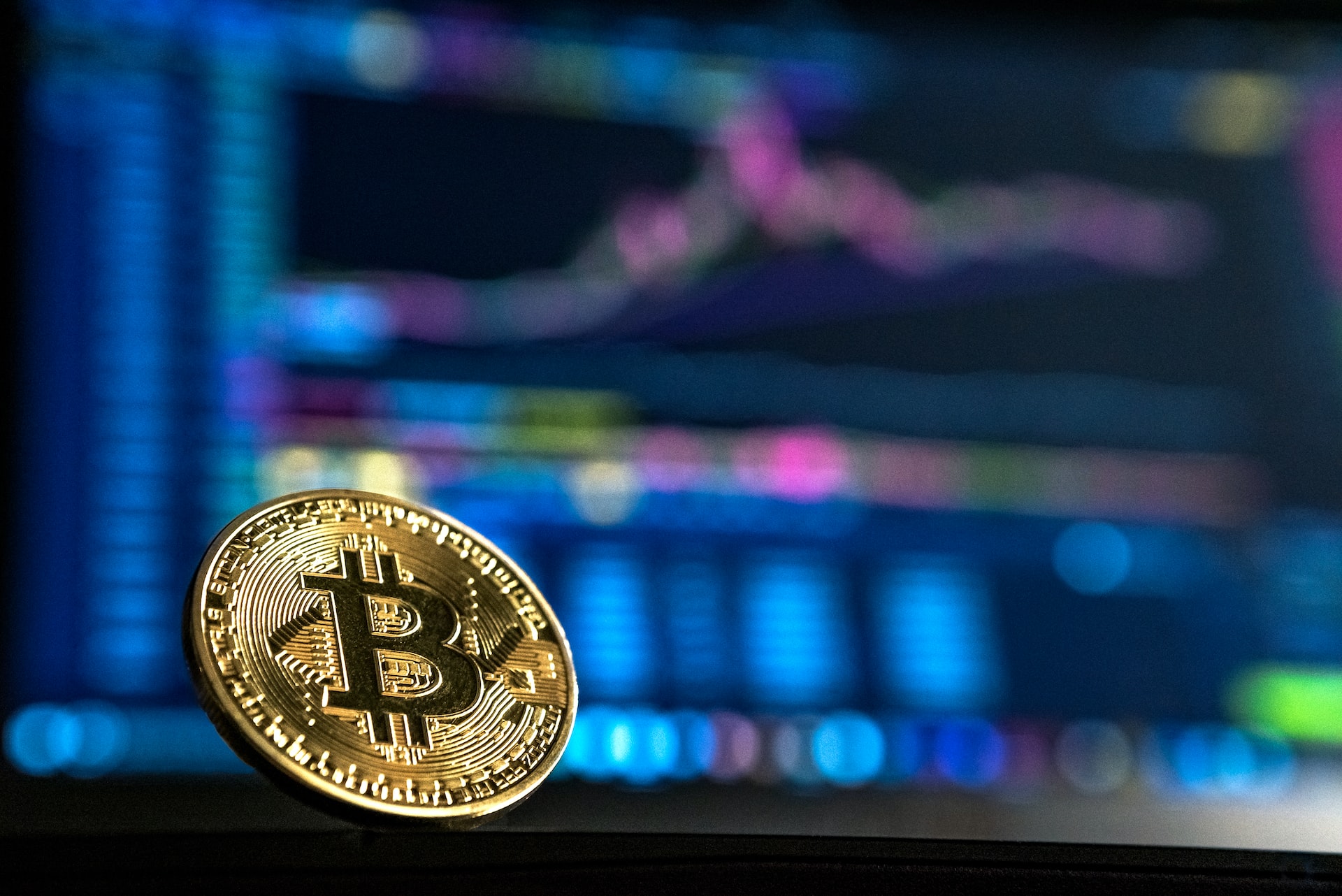 Bitcoin's price has risen by 1.5% in the past 24 hours, but has fallen by 4% in the last seven days. At $19,321, this represents a hefty 10.5% correction in the past 30 days, and given the expectation that the Federal Reserve -- and other central banks -- will continue raising interest rates, the original cryptocurrency likely has more pain in store.
With inflation high and the ongoing Ukraine-Russia war likely to continue pressuring oil and food prices upwards, this macroeconomic picture isn't likely to improve in the immediate future. However, some countries have posted data which have showed a slowing inflation rate, while Ukraine has made progress in recent weeks in recapturing parts of its territory previously occupied by Russian forces.
Bitcoin Price Continues to Slide
Most months so far in 2022 have brought declines for bitcoin, and so far, September is no exception. BTC is down by 55% over the year date, and despite a mini-surge to $22,500 in the run-up to the Merge, it has since fallen by 14%.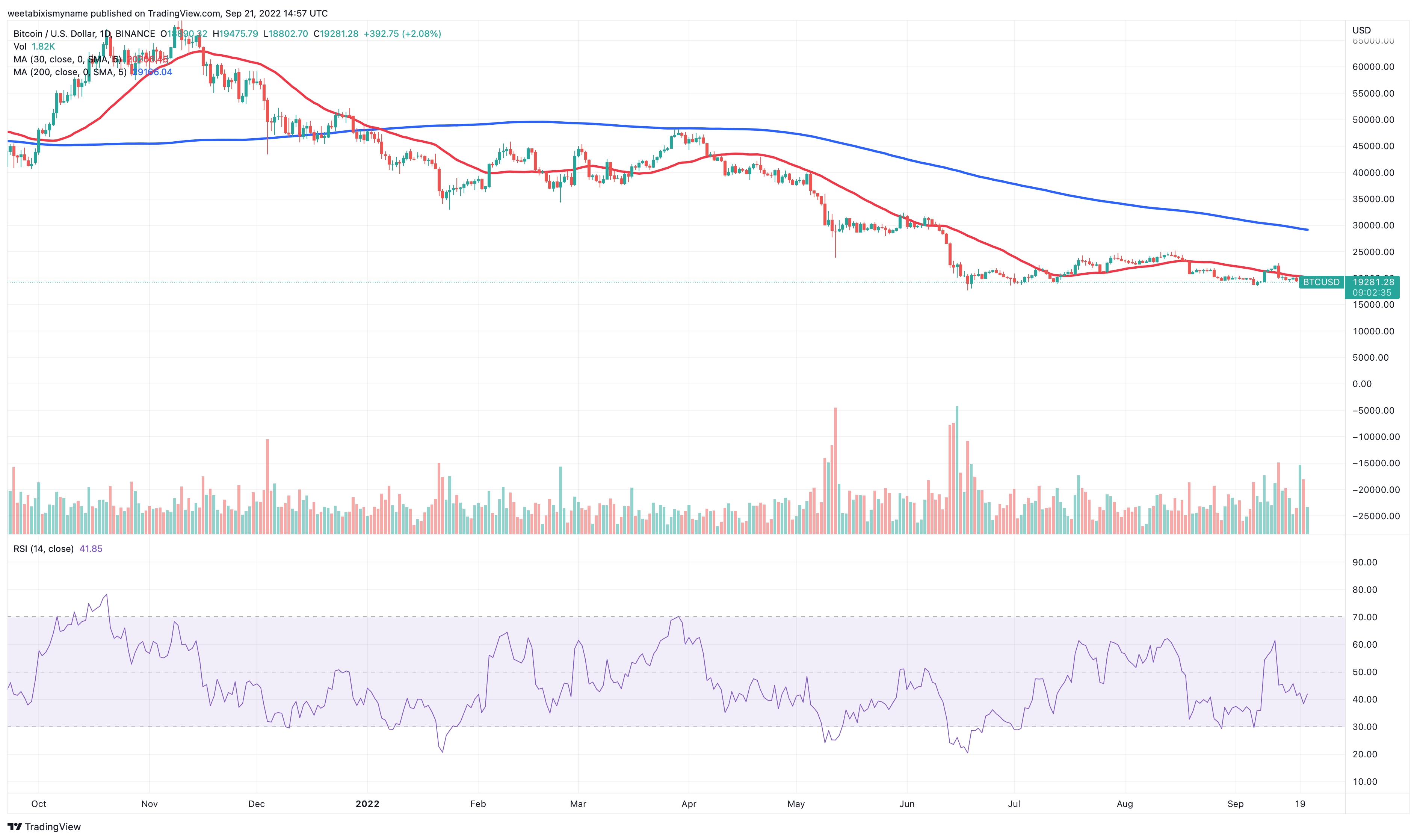 BTC's indicators show that it remains on a down cycle. In purely technical terms, it should rise again pretty soon, especially when it remains 72% down from its all-time high of $69,044.
Of course, indicators alone don't guarantee anything, and the economic situation still remains fairly negative. The Federal Reserve is due to announce its latest policy decision concerning rates today at 2 p.m. EDT (1800 GMT), and reports suggest that it will life its base rate by another 0.75%, taking the rate up to the 3%-3.25% range.
Tellingly, a 0.75% rise would take interest rates to their highest level since 2008, at the height of the financial crisis. And with inflation at 8.3% in the US and 9.1% in the EU, rates are likely to remain high for a while yet, putting prolonged pressure on bitcoin's price.
Glimmers of Hope
There isn't likely to be a substantial recovery until at least early 2023, but there are some signs that the economy may have reached peak inflation and interest rates.
For one, inflation rates have begun to stop rising and/or reverse in some countries. In the UK, inflation fell by 0.2% between July and August, although it still remained high at 9.9%.
Oil prices have also dipped a little in recent weeks since reaching highs in the immediate aftermath of Russia's incursion into Ukraine, although again they remain elevated. It's also a similar story with food prices, even if they also have some falling left to do.
Both oil and food are linked to the war in Ukraine, and while no immediate end to this conflict is in sight, it's worth noting that Ukrainian forces have reclaimed considerable stretches of land in recent weeks. This morning, Russian President Vladimir Putin responded to setbacks by imposing partial conscription, but while boost his forces may prolong the conflict further, the move could also be read as a sign of desparation.
Regardless of the timing, nothing has changed fundamentally for Bitcoin since the start of 2022. It has attracted growing interest from banks and financial institutions, with trillion-dollar asset manager BlackRock launching its own private bitcoin spot fund in August.
As such, it's still in a position to rally again when conditions are more favorable. But for now, it could dip a little more if the Fed goes through with its expected rate hike in a few hours.
---