Why 5 Months Old GoT and VeganCoin News Swept the Cryptoverse Now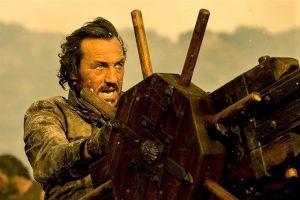 (A spoiler-free article.)
On Tuesday, the cryptoverse was abuzz over the "news" that Game of Thrones, a popular TV series that has recently ended, actor and a lifelong animal rights and environmental advocate, Jerome Flynn, joined a blockchain-based vegan initiative VeganNation. Some crypto media outlets were referring to a press release provided to them, however, the news about the partnership was announced in December 2018.
So what was the reason behind this attempt to get more attention? The answer might be simple - Israel-based VeganNation launched pre-sale of its VeganCoin, an utility token, in the end of April and it is still ongoing. According to their website, the soft cap of the token sale is USD 10 million, and the hard cap is USD 60 million. The company did not specify, when will the token sale end. However, in a blog post in December 2018, the same post that announced the partnership with Flynn, VeganNation said their partners "raised more than USD 7 million for the official currency issue". According to their "Green Paper," the crowdsale was initially planned for September 2018.
In either case, the news about Flynn joining the crypto project is circulating both in mainstream and crypto-focused media.
For example, the actor talked about his joining the advisory board of the vegan initiative in an interview with Daily Mail, where he discussed his goal to utilize his fame for promotion of the vegan lifestyle through digital currency, thus economically empowering cruelty-free businesses, and maybe even redeeming his GoT character Ser Bronn.
The goal of VeganNation is to support vegan businesses and trade through the use of its own cryptocurrency. According to the company, Flynn has joined the initiative, "creating an international vegan economy based on a virtual currency, the VeganCoin." In that same blog post, Flynn was quoted as saying: "Vegan Nation is the basis of an international vegan economy that makes vegan lives simpler, more economically and better for the Earth and the soul of each of us. VeganCoin will allow many more to become vegans and thereby contribute to our ecological footprint."
Flynn has been involved in projects and activism campaigns such as Farms Not Factories, Survival International, and White Lions in South Africa. He told Daily Mail: "I've not come across anything like Vegan Nation before. It's trying to unite vegans and it's a wonderful idea with so much potential. And it's just starting as well, to develop a global economy, with a vegan infrastructure and economy at the heart of it, is amazing."
Interestingly, back in 2017, quite a few celebrities stood behind crypto and in support of it by endorsing or investing in it, such as globally popular Gwyneth Paltrow, Jamie Foxx, Floyd Mayweather, Paris Hilton, and Wu Tang Clan's Ghostface Killah.
---