Who's Metakovan, The Buyer of USD 69M Beeple's NFT
MetaKovan is the pseudonymous buyer of a non-fungible token (NFT) piece valued at nearly USD 70m - but some claim to know his identity, and that there is a conflict of interest present given the existing business association with the artist, while others are unsure if the buyer was buying artwork or clout.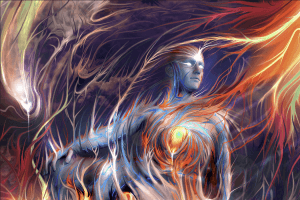 On March 12, it was officially announced that MetaKovan, the founder of NFT fund Metapurse, bought artist Beeple's NFT piece 'Everyday: The First 5000 Days' for the record-breaking ethereum (ETH) 42,329 (USD 69.4m at the time and around USD 75m today). "Around 22 million viewers tuned in to Christies.com for the final moments of bidding," said the press release.
Yet, not much is known about the bid war winner, MetaKovan. He's quoted as saying that this NFT is "going to be pretty hard to beat," that it's "the most valuable piece of art for this generation" and is worth a USD 1bn, and that "the only thing you can't hack digitally is time."
Per the information provided by the announcement on Metapurse, it's an NFT production studio, as well as the world's "largest NFT fund," financed by MetaKovan and operated jointly with Twobadour. Besides the latest Beeple's piece, the fund also contains the complete set of the 20 first-edition Beeple Everydays: The 2020 Collection, bought in a December 2020 auction for USD 2.2m. Other pieces include Urbit Galaxy, F1 DeltaTime III, First Supper, and virtual estates in Cryptovoxels and Decentraland (MANA).
Both Metakovan's Twitter account and the Nifty Gateway marketplace account show his participation in NFT auctions. Savage$77, for example, is MetaKovan's sold out collection that includes footage from his computer during the December 11 Beeple auction.
However, per independent reporter Amy Castor, MetaKovan may be crypto entrepreneur Vignesh Sundaresan, based on his voice in interviews and provided "origin stories." In the recent Good Time Show interview, MetaKovan said he got into crypto in 2013, lived in Canada for a while, and moved to Singapore in 2017 as crypto regulations in North America were "very unclear," which Castor says is Sundaresan's story as well.
The latter, she said, is the co-founder of Canadian bitcoin (BTC) ATM company BitAccess, as well as founder of Singapore-based Lendroid Foundation, consulting firm Portkey Technologies, and defunct Canadian crypto exchange Coins-e which was accused by some users as being a potential scam.
"This is about pumping [Metapurse's token] B20," claims Castor, "so holders and Metapurse can benefit when they go to sell the token—i.e., get more ETH, buy more NFTs, rinse, repeat."
B20's total supply is 10m, and Metapurse owns 59% of it. At the same time, Beeple owns 2% of all the tokens, which Castor suggested could be a cause for a conflict of interest.
"At the end of the day, this is a straight-up initial coin offering-style index fund to speculate on NFTs, with a twist: MetaKovan owns most of the tokens—and he has an existing business relationship with the artist," Castor argued.
Per the author, Sundaresan asked for the post to be taken down as it contains "several factual inaccuracies" but he reportedly did not point them out.
Cryptonews.com contacted Sundaresan and Beeple for comment.
Per CoinGecko, at 14:46 UTC, B20 is trading at almost USD 14, having dropped 12% in a day. Two spikes are obvious this month: March 10 to USD 28.45, and March 13 (post-auction) to USD 26.15. The price is up by 1,594% in a month.
B20 price chart: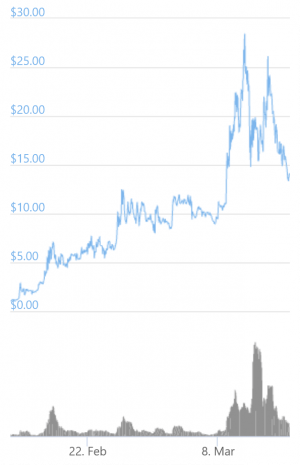 As reported, Beeple's artwork was auctioned at famous British auction house Christie's, thus becoming the most expensive NFT ever sold, after works by Jeff Koons and David Hockney, thus positioning the author among the top three most valuable living artists. Christie's is also the first major auction house to offer a unique NFT minted exclusively for it and to accept cryptocurrency for it.
Initially, it seemed that Tron (TRX)'s Justin Sun won the bidding war that had erupted in the last twenty minutes of the auction, but it was soon clarified that he had been outbid at the last minute by MetaKovan. Sun, however, alleged that an error on the Christie's system had stopped him from submitting a USD 70m bid.
According to Bloomberg, prior to the sale, Christie's Noah Davis said that "there have been a handful of really dogged, really serious clients pursuing it, and they are mostly people who are very steeped in crypto."
That said, there were some questions over what exactly did all these people bid for. Eric Wall, the Chief Investment Officer of the crypto hedge fund outfit Arcane Assets, for example, asked: "What if the bidders in the beeple auction weren't bidding for the NFT but bidding to win the "most expensive NFT auction"." Others argued that the bidders may have been after both.
___
Learn more:
- Hack Sunday: NFT Theft Follows a Personal Token Attack
- Second-Hand NFT Market for NBA Top Shot Packs Appears on eBay
- Consider These Legal Questions Before Spending Millions on NFTs
- NFT Overtakes Litecoin, Bitcoin Cash, and XRP on Google
- Grimes and Paris Hilton Go Full NFT – But Some Warn of Trouble Ahead
- Check These 4 Make-Your-Own-NFT Platforms
- Non-Fungible 2021: Prepare Your NFTs For DeFi, Staking, and Sharing
---