Which Coin Will Overtake Bitcoin Cash?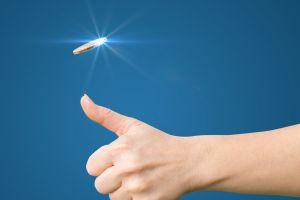 An interesting question surfaced this week on social network Reddit: "What will be the first crypto to do the flippening on BCH?" The poster says "this achievement is one of the most important milestones we currently have in crypto," so they wonder which coin will overtake the position that Bitcoin Cash currently holds.
The term "the Flippening" is usually used to refer to an event where a coin overtakes Bitcoin as the biggest one in terms of market capitalization, where all the others are measured against it. Bitcoin is currently the benchmark and the flagbearer among cryptocurrencies, and the best-known Flippening is the one where Ethereum takes over.
Top 10 coins by market capitalization: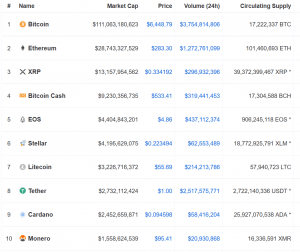 In this case, the Flippening on BCH refers to the event where a coin overtakes Bitcoin Cash, currently ranked fourth by market capitalization. The other Redditors joked that, "Let's be real, there is no question, it's going to be Tether," or "XMR [Monero] from outta nowhere." While MasterBaiterPro wrote that "Stellar should be the closest. In theory, EOS would be closer, but people will have a very hard time deciding which one is a bigger scam: EOS or BCH, thus no guarantee if EOS will ever surpass BCH."
However, the recent slump of bitcoin cash makes a Flippening on it an all too real possibility. "There are fewer users of Bitcoin Cash, fewer holders," Kim Grauer, senior economist at Chainalysis, a blockchain analysis company, said in a phone interview with Bloomberg.
Bitcoin, Bitcoin Cash Active Addresses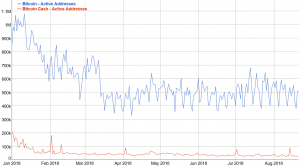 A review of payments received by the world's 17 largest crypto merchant processing services, found that bitcoin cash payments slumped by 65% to USD 3.7 million in May from a high of USD 10.5 million in March, according to the report. Meanwhile, bitcoin payments dropped by 25% to USD 60 million in the same period (however, it was USD 411 million in September of 2017.)
Also, after peaking in December, bitcoin cash's market cap has dropped by about 85% to USD 9.2 billion, making it less than 10% of Bitcoin's.
First forked in an attempt to help decrease fees and boost adoption, the current concentrated ownership of bitcoin cash is not helping matters, too. According to Chainalysis, about 56% of bitcoin cash is controlled by 67 wallets not located on exchanges. Also, two wallets hold between 10,000 (USD 5 million) and 100,000 BCH (USD 54 million). And chances are, the wealthiest holders are the ones sending a lot of the traffic to merchant services, according to the report.
Whether the current woes of bitcoin cash will be followed by a Flippening is still not obvious, but the ongoing market slump hasn't been easy on the competing altcoins either.