What You Might Learn from Coinbase Listings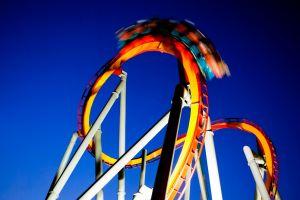 "Just a little bit of history repeating," as a famous song by Dame Shirley Bassey goes. And recent listings of crypto assets on the popular US-based exchange Coinbase Pro is a good example of this.
Once the exchange announced its intentions to list Cardano (ADA), Basic Attention Token (BAT), Stellar Lumens (XLM), Zcash (ZEC), and 0x (ZRX) back in July, the price of these coins went up, before going down again. Now, during the actual listing of BAT and ZRX, the market saw the same pattern - the prices of both coins increased sharply before going down again.
Now, let's take a closer look at the history of these listings.
Those who can remember back to July when Coinbase first announced its intention to add Basic Attention Token (BAT) to its exchange, possibly remembers what an amazing day in the market that was. On July 14, BAT rose roughly 30% on news that the popular fiat-to-crypto exchange was exploring the addition of BAT and other digital assets, although it stressed that the listing was not in any way guaranteed.
Please note that we are not guaranteeing the listing of any of these assets. We may list them with partial support, or only in specific jurisdictions. In particular, some assets may become available in other countries before the US.

— Coinbase (@coinbase) July 13, 2018
In the days that followed the announcement, however, the BAT market did not do so well. Following extremely volatile trading on the 23rd and 24th of July, BAT fell roughly 70% from peak to bottom between July 24 and September 12.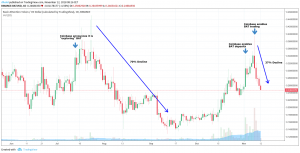 On November 2, Coinbase finally said that it would start accepting deposits of BAT tokens, with the intention of enabling trading in the BAT/USDC trading pair shortly. The announcement sent BAT surging once again, trading up by more than 30% before it fell back slightly.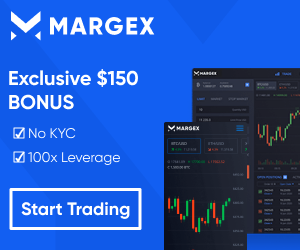 Then, on November 8, full trading was finally enabled for BAT on the Coinbase platform, and the market reacted by sending the token down roughly 35% over the next few days from its peak on Thursday.
And if you're wondering, pretty much the exact same thing happened with 0x (ZRX) and Ethereum Classic (ETC) (listed on both Coinbase Pro and Coinbase) as well, with both coins selling off after they were listed on Coinbase on October 16 and August 16, respectively.
Now, the question many hopeful traders are probably struggling with is why is BAT selling off so heavily following what was, after all, a positive news event.
"Buy the rumor, sell the news"
The truth is that crypto markets, just as other markets, are pretty efficient. It prices in news almost instantaneous, and therefore tend to sell off after a news event has happened, as too many short-term traders try to jump on the bandwagon. Essentially, this is the opposite of a "short-squeeze," the term used for the rapidly rising prices we tend to see when too many traders have positioned themselves for lower prices in a market.
In the days leading up to major news events, however, we tend to see the opposite happening, with prices rising in anticipation of the major announcement, exactly as was the case for BAT. This is consistent with the old saying from the stock market: "Buy the rumor, sell the news."
ADA, XLM, ZEC to follow?
A question many have now is how they should trade the other coins that Coinbase has said it is "exploring" – Cardano (ADA), Stellar (XLM), and Zcash (ZEC) – ahead of a potential listing.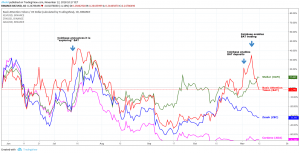 Although the picture gets a bit messier when accounting for all of the assets that Coinbase has said it is exploring, the overall trend still remains the same. As can be seen in the chart, all of the coins peaked back in July when Coinbase made its listing plans known to the public. Following that, however, they have all been trading lower until a bottom was reached in mid-September.
Since then, BAT, which Coinbase has now listed, rose the most among the assets. Meanwhile, the other assets have remained more or less flat since September.
However, it still remains to be seen whether those coins will continue to follow a similar pattern as BAT and 0x did following the announcements by Coinbase.