Weekly Crypto Market Sentiment Gains Trimmed By Correction on Monday
The market sentiment, in its fourth week of growth, finally broke the 5 sentscore barrier, but these gains were trimmed on Monday. The combined moving average 7-day market sentiment measure, sentscore, for the top 10 coins, was below 5 for weeks, and the last time we've seen it just above this score - at 5.08 - was on March 9, three days before the major crypto market crash.
It took it over a month, but the sentscore for the top 10 coins is now 5.27, compared to last week's 4.95, shows crypto market sentiment analysis service Omenics.
That's not all the good news the market sentiment brings today. Compared to a week ago, all but one coin - Bitcoin Cash (BCH) - are green, and the greenest of them all is Bitcoin (BTC), which is finally back in the positive zone, with a sentscore of 6.1. The last time we saw it here was on February 24. Most other coins are in the 5-6 range, while last week's losers BCH and EOS remain in the 4-5 range. Even so, EOS also saw a rise in its score this week, while BCH dropped further.
The scores in the last 24 hours paint a different picture though: all but three coins - BCH, Litecoin (LTC), and Binance Coin (BNB), respectively - are down, while BTC stands in the neutral zone with a score of 5.7.
Sentiment change among the top 10 coins in the past week*:
Interpreting the sentscore's scale:
- 0 to 2.5: very negative
- 2 to 3.9: somewhat negative zone
- 4 to 5.9: neutral zone
- 6 to 7.49: somewhat positive zone
- 7.5 to 10: very positive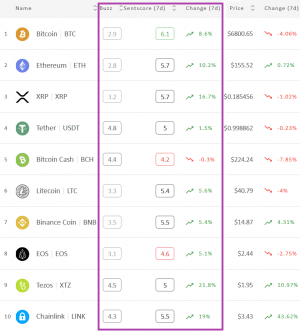 While there are plenty of winners this time around, the three that appreciated the most in the past week are: Tezos (XTZ), Chainlink (LINK), and XRP. Tezos has two positive scores, 6.3 in technicals and 6.1 in news, as well as two neutral ones, 4.8 in social and 4.6 in buzz, and it also has a negative score of 3.2 in fundamentals. LINK's highest scores are 6.9 in news, 6.5 in technicals, and 5 in social, while its lowest are 4.3 in buzz and 3.8 in fundamentals. Lastly, XRP has got 6.8 in news, 6.2 in social, and 5.5 in technicals, which is followed by 4.3 in fundamentals and 3.2 in buzz. Ethereum (ETH) should also be mentioned as the last coin that saw a double-digit rise, with just above 10%. Its scores are generally high, with 6.9/10 in news and 5.2-5.4 in social, fundamental and technicals, while it got only 2.8 in buzz.
Daily Bitcoin sentscore change in the past month: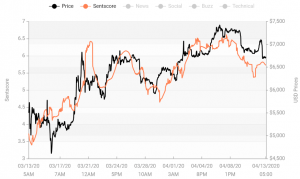 As for the losing coins this week, BCH stands alone, though it has a minor drop of 0.3%. It just recently went through its first halving. BCH's highest score is 5.1 in technicals. It's got 4.5, 4.2, and 4.1 in buzz, social, and news, respectively, while its lowest score is 3.2 in fundamentals.
Looking at the weekly performance of the coins outside the top 10 list that are rated by Omenics, the situation is also improved, as 14 out of the 29 have scores above 5, and only one is in the negative zone compared to five a week ago, this being Komodo (KMD).
___
* - Methodology:
Omenics measures the market sentiment by calculating the sentscore, which aggregates the sentiment from news, social media, technical analysis, viral trends, and coin fundamentals-based upon their proprietary algorithms.
As their website explains, "Omenics aggregates trending news articles and viral social media posts into an all-in-one data platform, where you can also analyze content sentiment," later adding, "Omenics combines the 2 sentiment indicators from news and social media with 3 additional verticals for technical analysis, coin fundamentals, and buzz, resulting in the sentscore which reports a general outlook for each coin." For now, they are rating 39 cryptocurrencies.
---