Wannabe 'Killers' Keep Coming For Ethereum. How Might It End?
Disclosure: Crypto is a high-risk asset class. This article is provided for informational purposes and does not constitute investment advice. By using this website, you agree to our terms and conditions. We may utilise affiliate links within our content, and receive commission.
Many so-called "Ethereum Killers" (EKs) plan major announcements in the coming quarters. How it might change the competitiive landscape? Co-founder of Placeholder, a New York venture firm that specializes in cryptoassets, Chris Burniske, weighed in.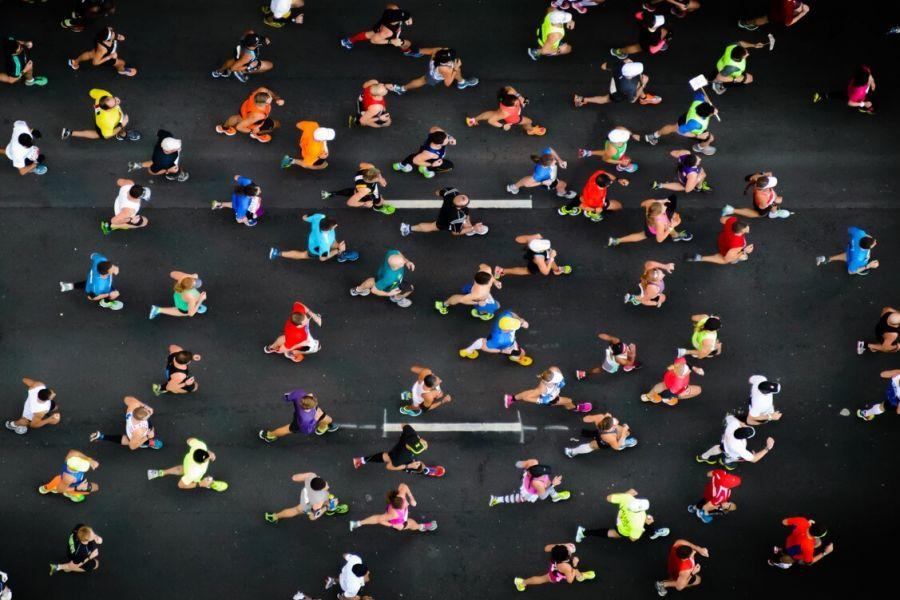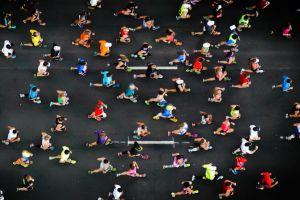 Major cryptocurrency exchange Binance, launched its own blockchain, Binance Chain, back in April, hosting its first project, Mithril (MITH), that moved from Ethereum (ETH) just a day later. A number of tokens followed, leaving the Ethereum blockchain. This is the type of action that some fear may spell Ethereum's demise. But Binance is far from being the only one to whom the Cryptoverse assigned the EK title. Many will remember that this list includes Tron, EOS, NEO, and Dothereum built atop Polkadot's technology – among numerous others.
Chris Burniske, discusses his expectations for asset prices and the prices of services offered by Ethereum Killers in his recent blog post. He says that "a high density" of EKs plan to launch their mainnets and release their assets to the crypto markets in the coming quarters. But it's important to observe and understand this transition of price discovery from the private to public markets, Burniske finds, given that "many EKs carry billion-dollar anticipated launch values," and that the behavior of the new EKs "will impact the development of the sideways market we're currently in, as well as the bull market to come."
He argues that:
the 2017 crypto bubble capitalized a lot of worthwhile experiments even if it was irrationally exuberant;
most of the EKs to face extreme downward pressure from their attempted listing prices, as has been the case with Algorand's ALGO and Hashgraph's HBAR, as most EKs set expectations too high in private markets, and are now attempting to maintain those valuations in a public market;
the most common means of evaluating cryptonetworks in relation is through their network values; for example, at the start of 2018, Ethereum had a network value higher than USD 130 billion, while un-launched but publicly traded EKs like Cardano and EOS were trading at USD 10-20 billion valuations and above;
ETH built liquidity slowly and mining created a cost floor;
independent of the number of stakeholders, the diversity of ETH's stakeholders is a defensible advantage:
for the last few years crypto has been stuck in a relatively high-cost innovation environment, but the EKs and Ethereum 2.0 may help it enter a lower-cost epoch.
The elements Burniske finds may weigh EKs down are:
continued wishful thinking for similar valuations as Ethereum due to "superior technology," without understanding what's supported Ethereum's network capitalization to date;
the market's potential intolerance of inflation, if EKs are unable to develop robust fee markets amongst their users;
the emerging game-theoretic nightmare of EKs deploying relatively undifferentiated systems in a short period of time, spreading developers and investors thin, Burniske says.
"It could get worse before it gets better, as many EKs come to market simultaneously, and supply outstrips demand in the near term," concludes Burniske, adding: "While I don't expect the EK shakeout to be fun, the public markets checking the private markets is by design, and in the name of optimal allocation of capital and labor. Sometimes a fire must run through the forest in order for saplings to grow again."
Eventful October
Meanwhile, at pixel time (16:15 UTC), ethereum trades at c. USD 163 and is up by 3% in the past 24 hours and down by more than 8% in the past week and by 15.6% in the past month.
Not so long ago, at the beginning of this month, ETH rallied, jumped above the USD 190 level, and reached its highest price this month on October 9th with USD 194. It's still not its highest price in the last 30 days, though, as that honor belongs to the USD 198 reached at the end of the (in)famous September rally when the downwards correction was already underway.
That being said, since that highest October price so far, ETH started dropping and, save for the standard fluctuations, hasn't stopped going down since. In the last week, we've seen it fall below USD 180, and fluctuating between USD 171 and USD 177. Its highest price in this period of time was USD 178 that was shortly held on October 17th. Its lowest price in a week was seen yesterday, when it dropped to USD 156.
ETH price chart: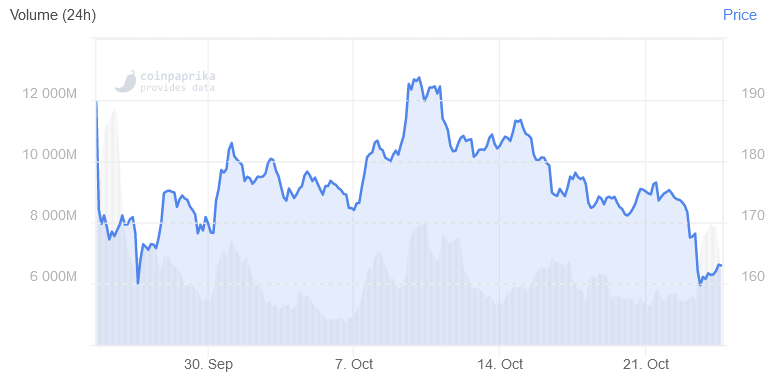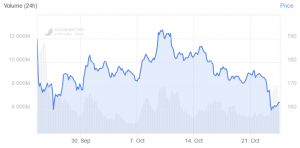 Three days ago, we've also looked at Ethereum's Sentscore and found that this market sentiment measure too had dropped by 3.1%, from the score 5/10 to 4.9. It fell further since to the score of 4.8.
Meanwhile, major crypto payments processor, BitPay, announced its support for ether back in September, but it confirmed two days ago that ETH support "has come to the BitPay app and BitPay merchants everywhere." However, the Cryptoverse has also seen many discussions about ETH 2.0 and it's an ongoing topic. Angela Walch, a Professor of Law at St. Mary's University School of Law in San Antonio, and a Research Fellow at the Centre for Blockchain Technologies at University College London, tweeted that it's "Very curious as to how plans to move to Eth 2.0 are factoring into ETH futures contract decision," adding "Seems like much of what is known about Ethereum changes fundamentally w/ shift to Eth 2.0, & there is a lot of uncertainty about what the transition will look like."
---