Ukraine Crypto Donations Near USD 54M Following Airdrop Announcement; Airdrop Canceled
Disclosure: Crypto is a high-risk asset class. This article is provided for informational purposes and does not constitute investment advice. By using this website, you agree to our terms and conditions. We may utilise affiliate links within our content, and receive commission.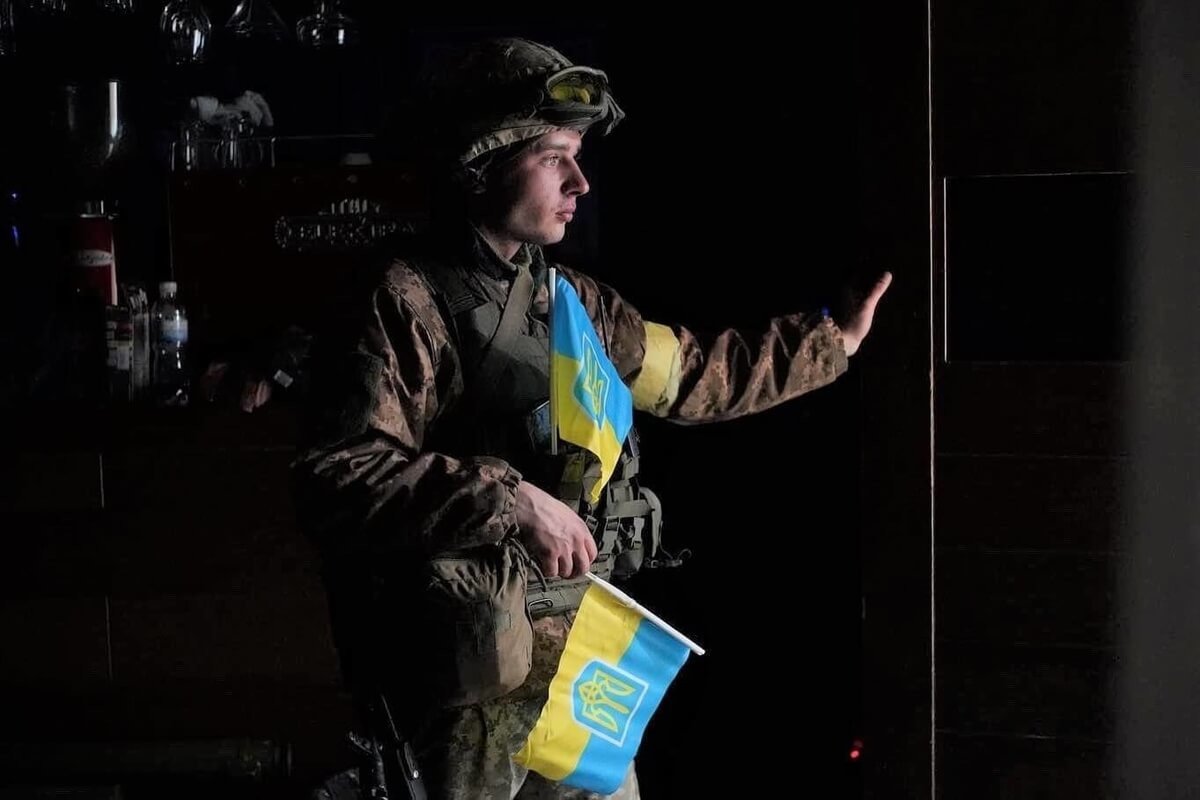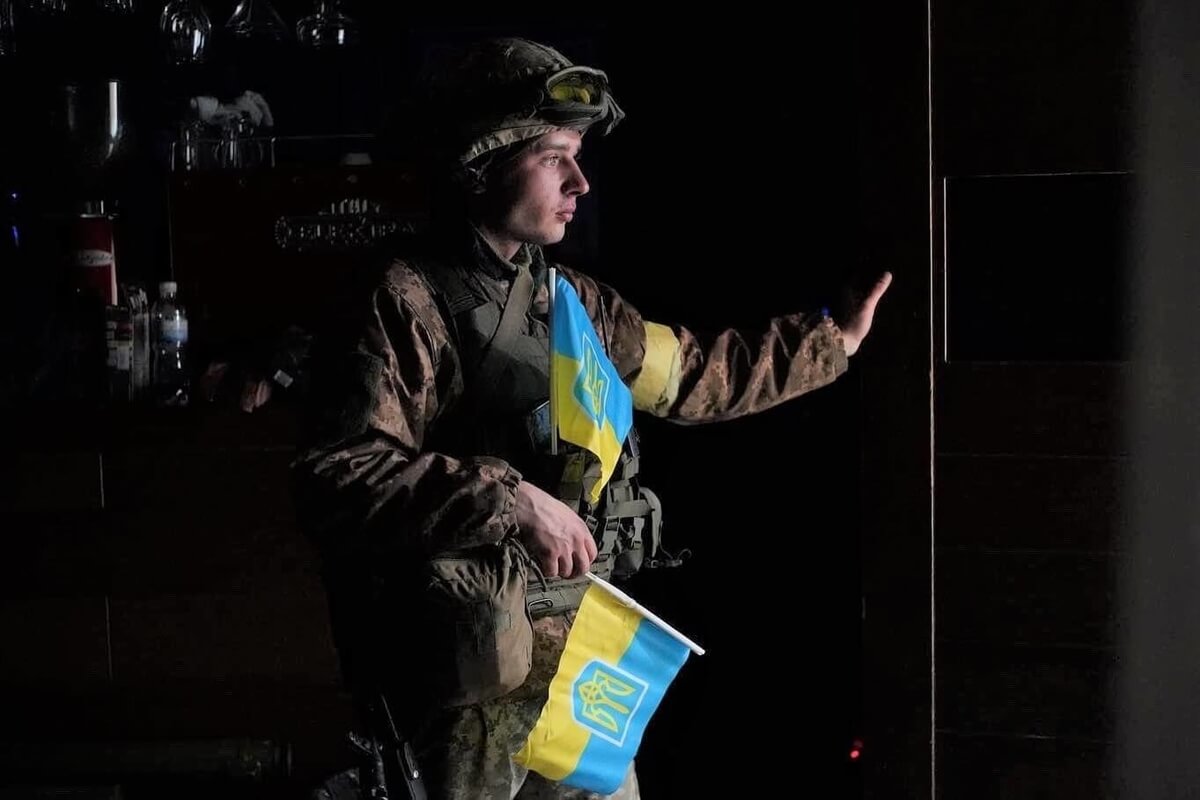 The Ukrainian government and non-profit organizations providing support to Ukrainians and the military have cumulatively raised nearly USD 53.5m worth of crypto assets, according to SlowMist AML, a blockchain security firm that tracks crypto donations sent to the government and four Ukrainian NGOs.
According to SlowMist, crypto addresses shared by Ukraine's official Twitter account have received the largest amount of donations, drawing USD 33.75m worth of digital assets so far.
'Come Back Alive' NGO is in second place with USD 9.4m raised.
UkraineDAO, a crowdfunding effort coordinated by members of PleasrDAO and in cooperation with the Russian art collective Pussy Riot and non-fungible token (NFT) studio Trippy Labs. is the third-biggest fundraiser, raising around USD 11m worth of crypto.
Other organizations and NGOs include 'Unchain.Fund' and 'AidForUkraine', which have also amassed high volumes of crypto donations, raising USD 2m and USD 1.5m, respectively, according to SlowMist.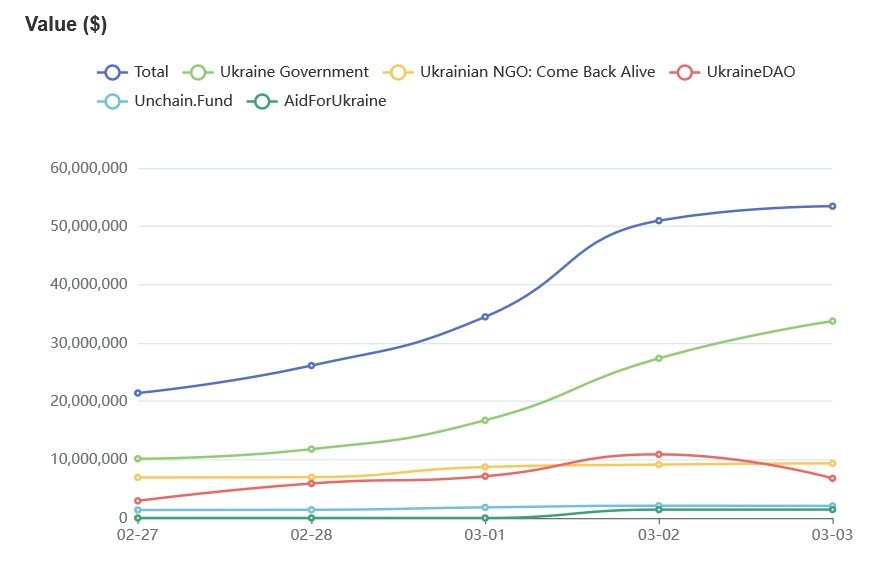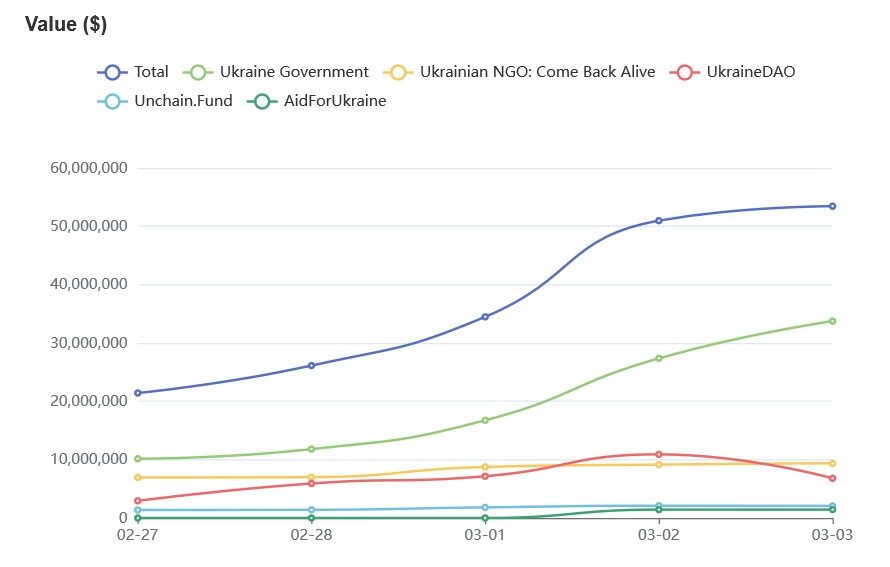 Notably, there has been a spike in donations after Ukraine teased an "airdrop" that is meant to "reward" crypto donors.
In the early hours of March 2, Ukraine's official Twitter account said that an airdrop has been "confirmed," and detailed that snapshots will be taken on March 3, at 18:00 Kyiv time, adding: "Reward to follow!"
Subsequently, thousands of small donations ranging from ETH 0.0001 to ETH 0.01 started flooding the Ethereum blockchain.
According to data from Dune Analytics, the number of unique wallets that donated crypto after the airdrop announcement has already exceeded the number of unique wallets that had donated prior to the announcement.
Some in the crypto space argued that the airdrop incentive might have helped further spread the word, implying that crypto users are not necessarily boosting their fundraising efforts for the yet-to-be-announced reward.
https://www.twitter.com/FabulousNFT/status/1499072735242342402
Nevertheless, the spike in donations has brought ethereum donations closer to bitcoin (BTC) donations. As per data accumulated by crypto research firm Elliptic, 33.3% of all crypto donations made to Ukraine are in BTC, while 32.6% are in ETH. Notably, polkadot (DOT) donations have also picked up steam, accounting for 14.7% of all crypto donations.
Meanwhile, Etherscan shows that 7bn of so-called Peaceful World (WORLD) tokens have been created on March 2, and sent to Ukraine's crypto donation address. Nothing has been confirmed yet, while it also might be a scam.
However, around noon today, UTC time, Ukraine's Minister of Digital Transformation Mikhail Fedorov stated that the airdrop has been canceled, as well as that there will be non-fungible tokens (NFTs) announced soon to support the Armed Forces.
After careful consideration we decided to cancel airdrop. Every day there are more and more people willing to help Ukraine to fight back the agression. Instead, we will announce NFTs to support Ukrainian Armed Forces soon. We DO NOT HAVE any plans to issue any fungible tokens

— Mykhailo Fedorov (@FedorovMykhailo) March 3, 2022
Furthermore, crypto lending platform Nexo (NEXO) announced that it would match 100% of all customer donations, up to USD 500,000, to help aid Ukraine. The encouragement comes after the platform donated USD 100,000 in crypto.
"The suffering in Ukraine has been profound, and we at Nexo are doing our part to bring some relief to those affected," Antoni Trenchev, co-founder and Managing Partner at Nexo, said. "We are harnessing the power of blockchain technology and its unique ability to help those who now need it most."
Meanwhile, after Fedorov announced that dogecoin (DOGE) donations are accepted too, the memecoin community also started raising funds for Ukraine.
Dogecoin founder Billy Markus revealed that he has sent some DOGE. "Dogecoin folks aren't usually rich and dogecoin itself is generally used for small transactions, but we are a caring and passionate bunch," he said.
As per data by Dogecoin blockchain explorer DogeChain, so far, DOGE 536,216 (USD 70,630) has been donated to Ukraine through 1,004 transactions.
__
Updated at 12:47 UTC with a statement by Mikhail Fedorov.
____
Learn more:
– Ukrainian Government Claims 'Airdrop' Will 'Reward' its Bitcoin & Crypto Donors
– Animoca Bans Russian Users; Revolut CEO Condemns War, Matches Donations

– Anonymous Reportedly Pledges to Pay Russian Soldiers USD 44K in Bitcoin per Surrendered Russian Tank
– 'Enormous Increase' in Ukraine Crypto Trading Volume, USD 47,000 Next Target for Bitcoin – Arcane

– Washington, Europe Vow to Target Russian Crypto Sanctions Evasion Efforts
– Polkadot's Gavin Wood Under Fire For Ukrainian DOT Donation Proposal
---