Traders Issue Warnings as Altcoins are Booming and Bitcoin Consolidates
Professional traders are reminding the new players in the crypto market to exercise caution while altcoins are booming and the world's number one crypto, bitcoin (BTC), still consolidates.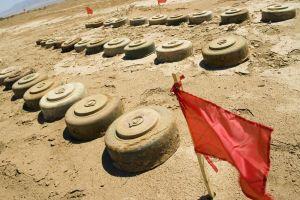 This is a warning that's sounded every alt season, and it was particularly loud during the last year's fast rise of decentralized finance (DeFi), resulting in a massive DeFi craze, like the one we're now seeing around non-fungible tokens (NFTs).
"To avoid big losses, you gotta be okay with taking small ones," said popular crypto trader Loma. "Most people are having their underwater positions saved [because] it's a bull market and prices inevitably be higher," Loma added, warning people not to confuse luck with skill. Especially, as billions in futures trading positions have already been liquidated this year.
Crypto-TA.nl founder Crypto Ed noted that most "noobish" technical analysis charts are praised "because just everything goes up. 2-3% moves are being celebrated till the next day when it is followed by a "dips are for buying" tweet."
There are those who are trying to get rich quickly, he added, and "that usually doesn't end well." Instead, Crypto Ed suggested, people should trade as it's a marathon, not a sprint.
Meanwhile, crypto trader Alex Krüger argued that some new crypto millionaires are "gonna lose it all when the bear strikes again. Have to keep that ego in line."
However, per QuantumEconomics.io founder Mati Greenspan, while taking caution is a must, "it seems in my mind silly for anyone with a bit of spare cash to not at least dabble in these markets [...] that have experienced hundreds or even thousands of percentage points in gains these last few weeks."
He also noted, that bitcoin's correlation with traditional asset classes has been falling lately, meaning that the crypto has been growing more useful as a means of achieving diversification.
10 best performing altcoins (among the top 100 coins by market capitalization) in the past seven days: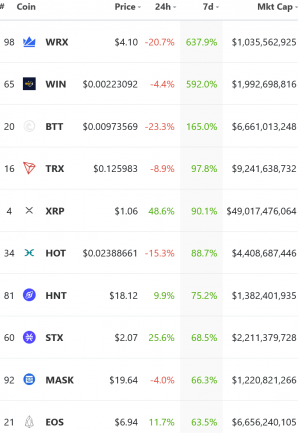 Among the top 10 specifically, all are green with XRP taking the lead over the last day, having risen around 50% and surpassing the USD 1 mark for the first time since March 2018.
Over the past week, XRP also leads the list with a 90% increase to its price, but other coins also saw significant jumps. Cardano (ADA) and bitcoin went up the least, 0.3% and 2%, respectively.
Speaking of bitcoin, as it tends to happen after BTC jumps up, it starts consolidating, and the funds start moving to altcoins.
Billions and trillions "everywhere"
Driven by the altcoin rally, the total market capitalization has surpassed USD 2trn, doubling in a matter of three months. Out of this, bitcoin's market capitalization is more than 1.1trn.
However, this measure is being often criticized, while Coin Metrics claims that even BTC's market capitalization might be overstated.
In either case, per crypto market data providers, now 100 tokens have a market capitalization of at least USD 1bn.
Bianco Research LLC President, Jim Bianco, noted that the total value of cryptoassets surpassing "the value of the US banking system" (he looked at S&P 500 Composite 1500 banks market value) has been driven by the altcoin rally this year, and particularly in the last few weeks. Bianco said that "another double and cryptos becomes larger than US Financial Companies (Banks + brokers, insurance, exch, fin cos, asset managers, etc.). 4x rise and Cryptos surpass the value of all global financial companies."
"Momentum and interest have begun to expand beyond bitcoin and ethereum," Paolo Ardoino, Chief Technology Officer at crypto exchange Bitfinex, told Reuters, adding that there will be "a surge of interest around other alternative assets," as they become more market-ready and as the industry matures further.
But there are also those who feel overwhelmed by the current situation, unable to catch a coin before it pumps, or selling it just before it does, and/or not being familiar with many of the coins currently pumping. "This market is either completely irrational or I'm getting old," wrote Redditor DDelphinus. "I'll go back to buying BTC / ETH and leave the shitcoins to the newer generation. Best of luck in this crazy market everyone!"
_____
Learn more:
- Bitcoin Market Changed 'Radically' & Volatility Decline Attracts Institutions
- MicroStrategy Spends Another USD 15M on Bitcoin
- Institutions & Retail Compete For Bitcoin - Whose Hands Are Stronger?
- Bitcoin to Be Worth Millions by 2023, ETH Above USD 2K by 2022 - Kraken CEO
- Inflation Is Here & Bitcoin Will Hit USD 115K 'Ahead of Target' – Pantera
___
(Updated at 11:51 UTC with a tweet by Nik Patel.)
---