Top 10 Biggest Crypto Gainers Today: SNX, FIL, MKR, RNDR, STX – Find Out More Here
Disclosure: Crypto is a high-risk asset class. This article is provided for informational purposes and does not constitute investment advice. By using this website, you agree to our terms and conditions. We may utilise affiliate links within our content, and receive commission.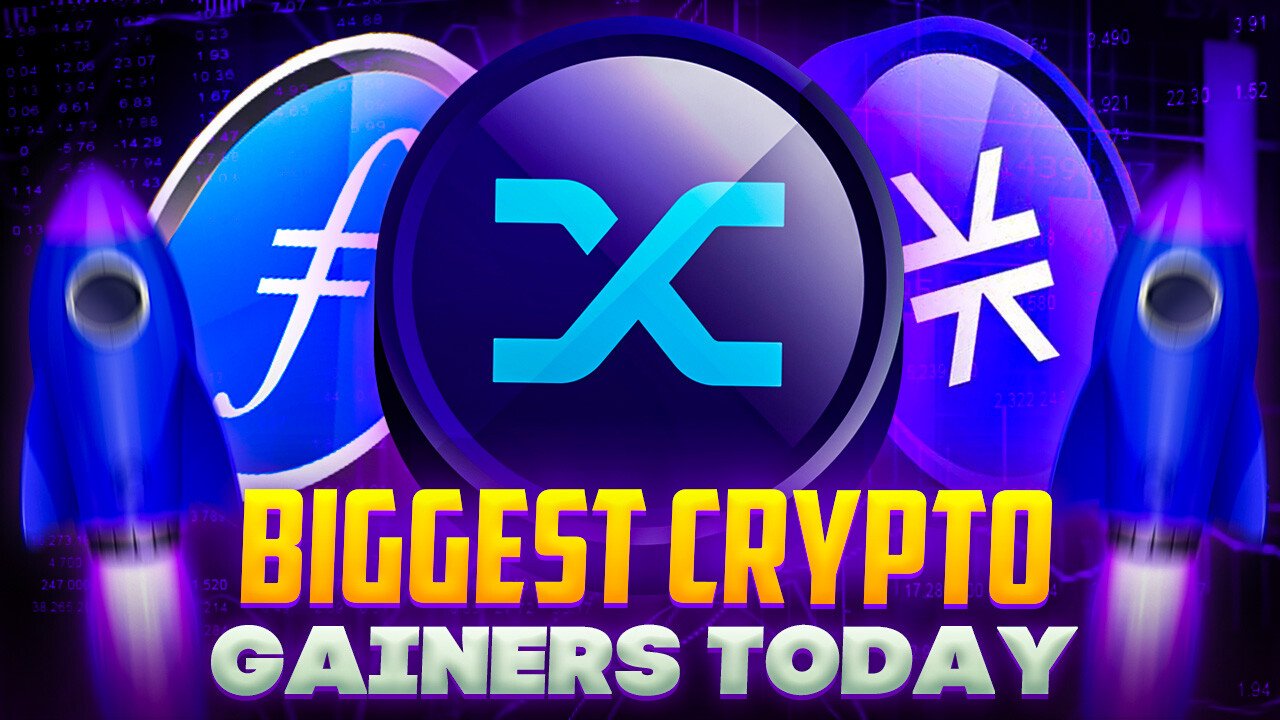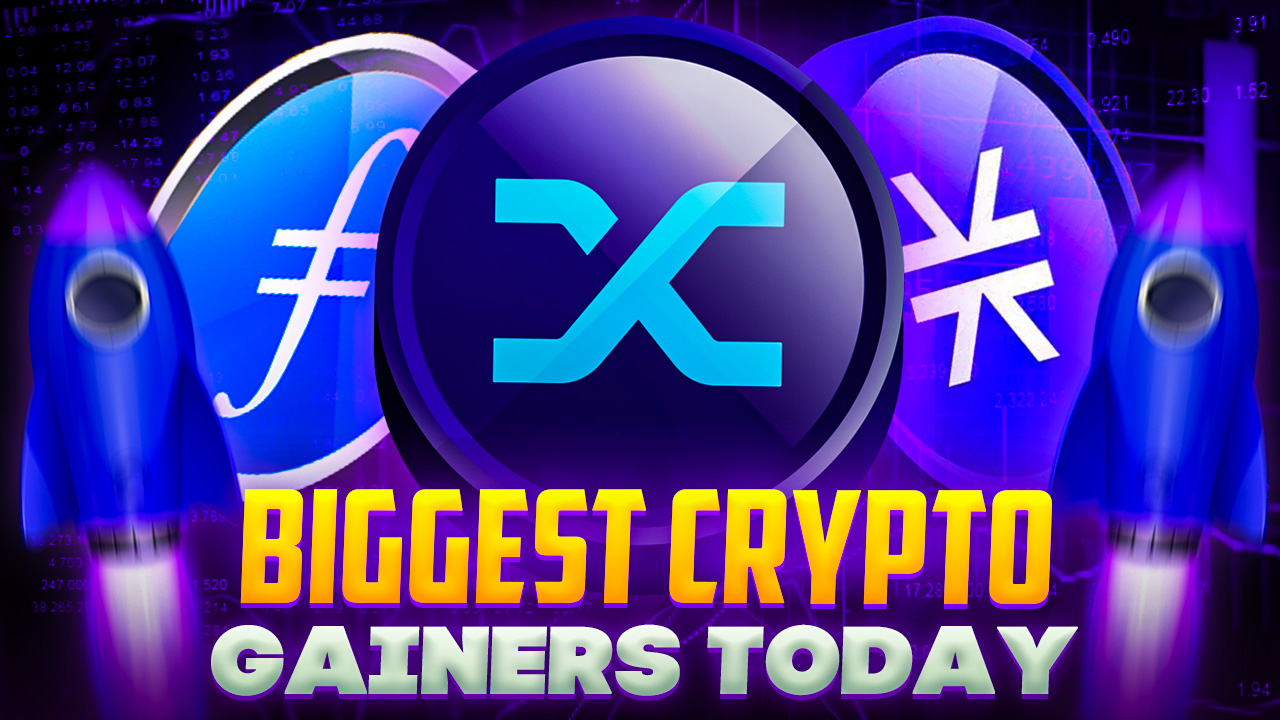 The cryptocurrency market has risen by 7.5% in the past 24 hours, with its total cap reaching $1.05 trillion after what had been a difficult weekend.
Indeed, the market's value had plunged to as low as $966 billion on Saturday, following the news of the collapse of Silicon Valley Bank.
While the similar collapse of Signature Bank (and not to mention of Silvergate Bank) has potentially now made it trickier for cryptocurrency firms to bank, the intervention of US regulators has steadied the market, helping it to recover from its losses.
And some coins have gained more than others, with this article compiling the top 10 biggest crypto gainers today.
Synthetix Network (SNX)
SNX is up by an impressive 30% in the past 24 hours, reaching $2.83.
However, it remains down by 8% in a week, although it has risen by 18% in the last 30 days.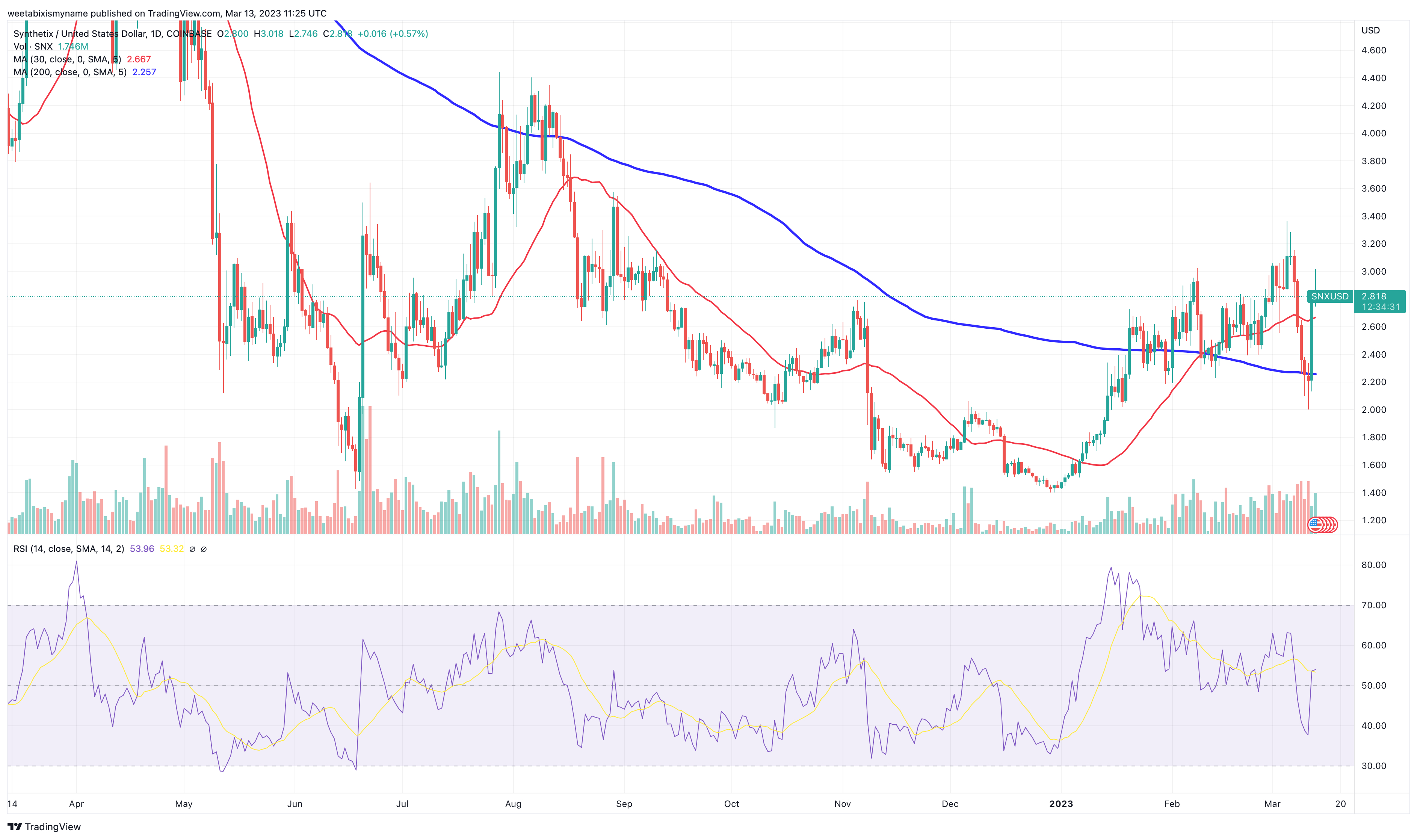 SNX's indicators reveal some very strong momentum, suggesting that its rally today could continue for some time yet.
Its relative strength index (purple) has jumped from under 40 to over 50 in the past day, while its 30-day moving average (red) has resumed rising further above its 200-day (blue).
Given just how strongly it has risen today, there's a good chance that the coin could return to its seven-day high of $3.24.
The Path to Synthetix V3

Synthetix V3 will be released in a phased rollout over the coming months. Features will become progressively available, and users will transition from the existing v2x system.

Let us explore each feature & mechanism in detail.

15/28

— Synthetix ⚔️ (@synthetix_io) March 10, 2023
Aside from today's market-wide recovery, SNX is being pushed up by the ongoing rollout of Synthetix V3, which promises to make the decentralized asset insurance protocol more efficient and interoperable.
Conflux (CFX)
CFX is also up by 30% in the past 24 hours, but remains down by 5% in the last seven days.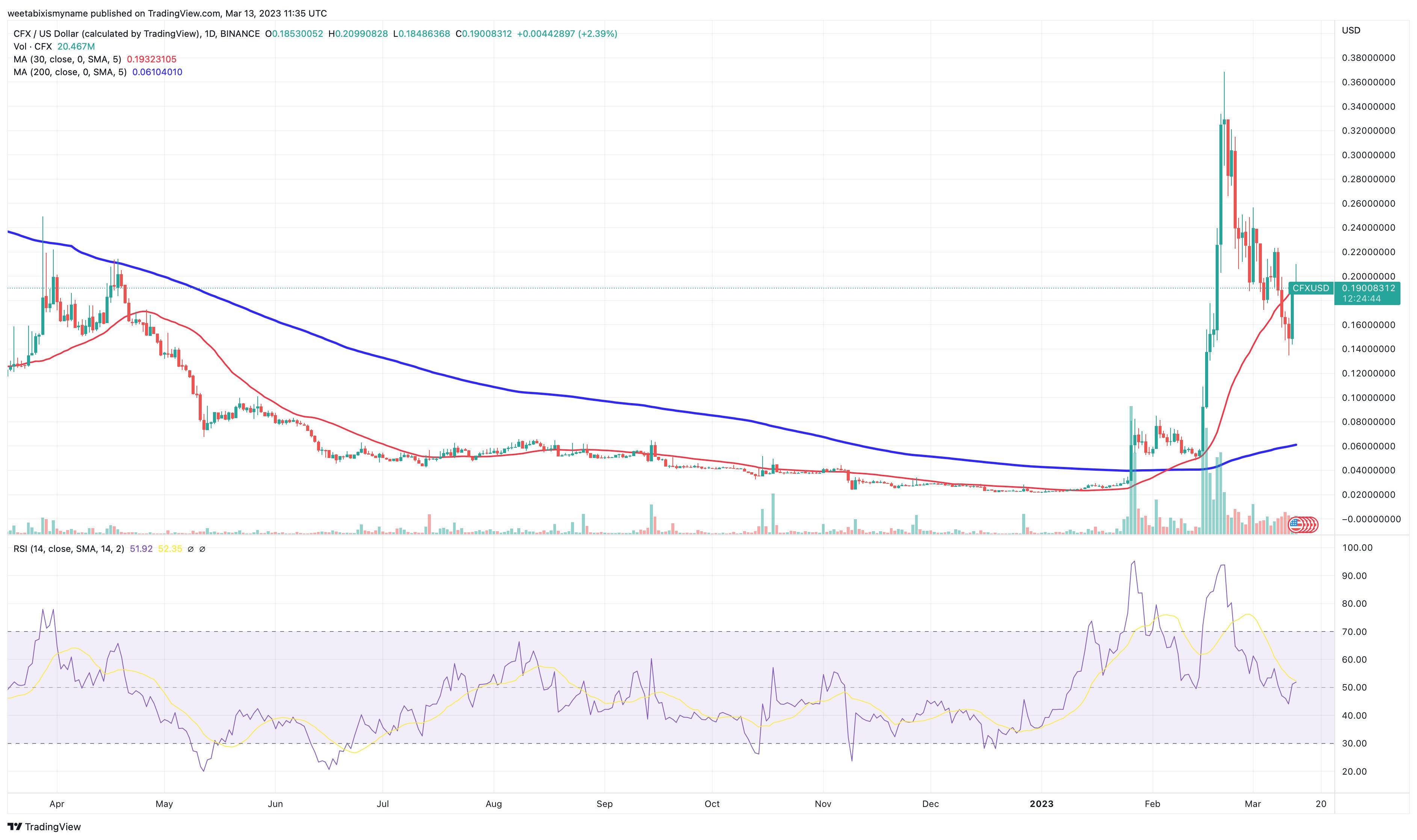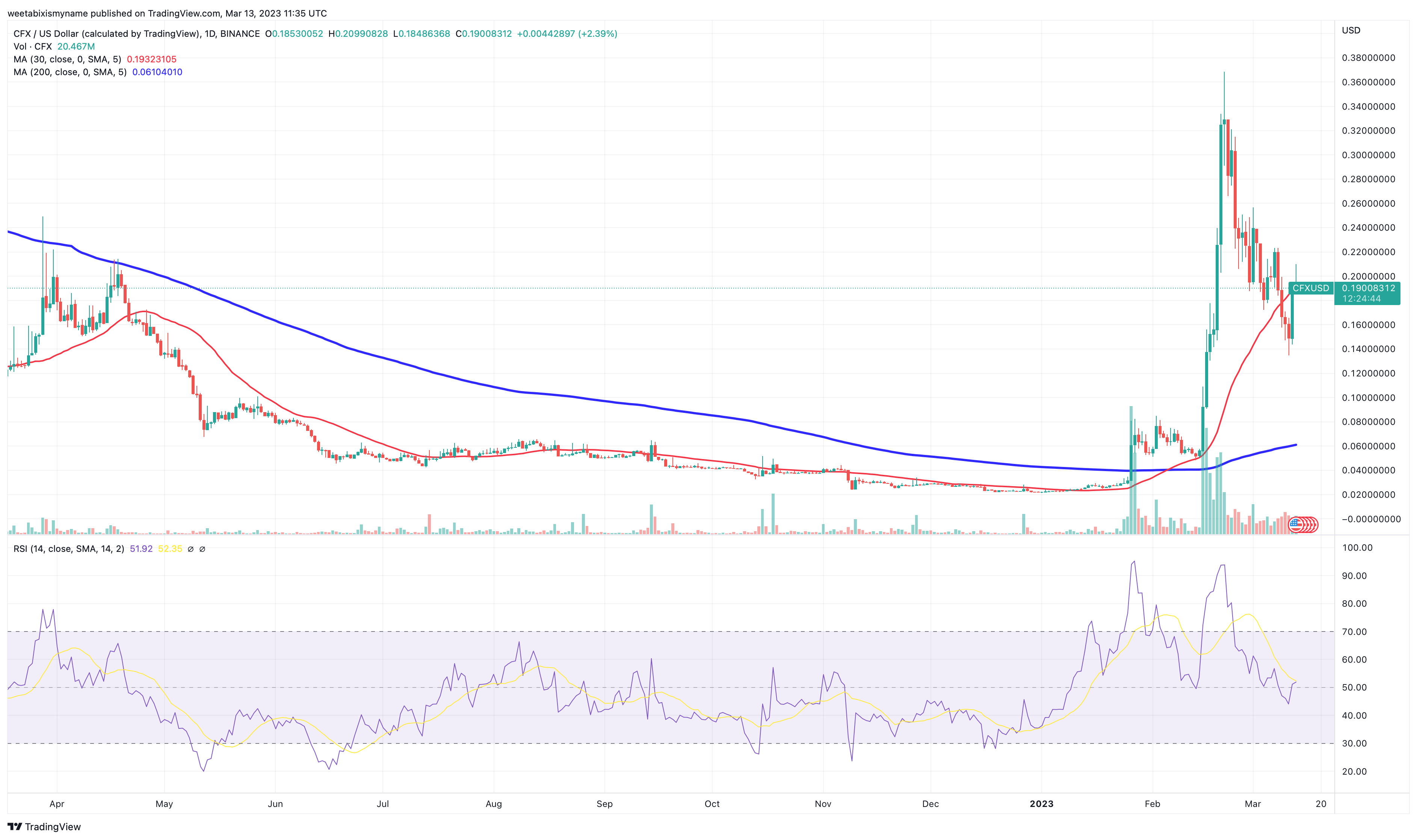 That said, at $0.189695, the coin has rallied by a massive 233% in the past month, making it one of the best-performing coins during this period.
Its indicators suggest that it could continue its recent rallies, with its RSI beginning to rise again after declining in the past few days.
Likewise, its 30-day moving average shows no sign of stopping its steep ascent beyond its 200-day, even if a correction is likely to happen sooner or later.
CFX is the native token of Conflux, a layer-one network that claims to be China's only government-approved blockchain.
🎉Excited to announce our #partnership with @Conflux_Network!

Conflux Network is PoW/PoS hybrid blockchain without barriers that enables creators, communities, and markets to connect across borders and protocols 🌐

Stay tuned 🔥#ReadON #Web3 pic.twitter.com/Ud8v9liOzu

— ReadON (💙,🧡) (@ReadOnMe3) March 9, 2023
Conflux has been announcing a steady stream of new partnerships in the past few weeks, helping to expand awareness of its network and boost demand for CFX.
Maker (MKR)
At $876.92, MKR is up by 26% in the past 24 hours, although last week's selloff means it's still down by 7.5% in the last seven days.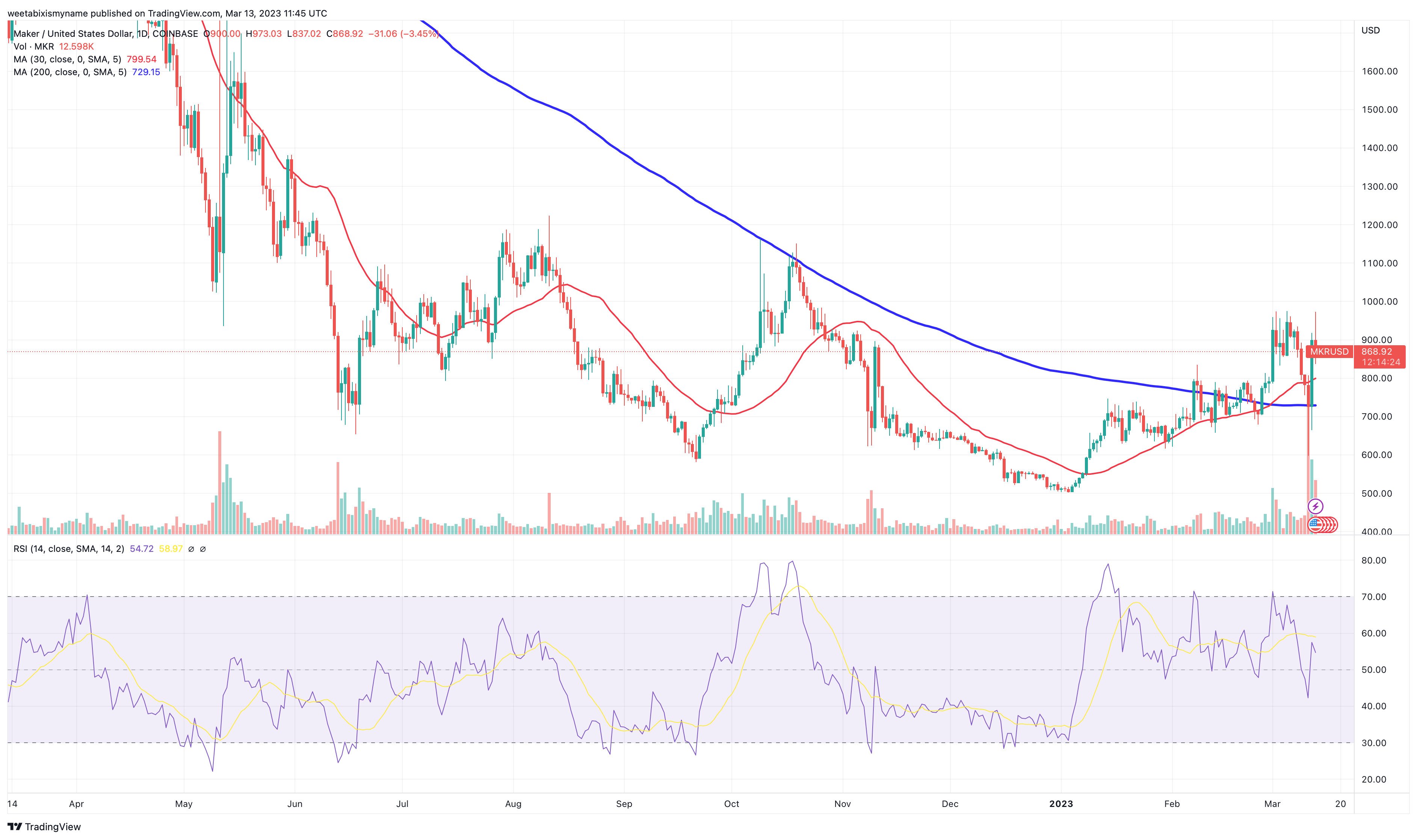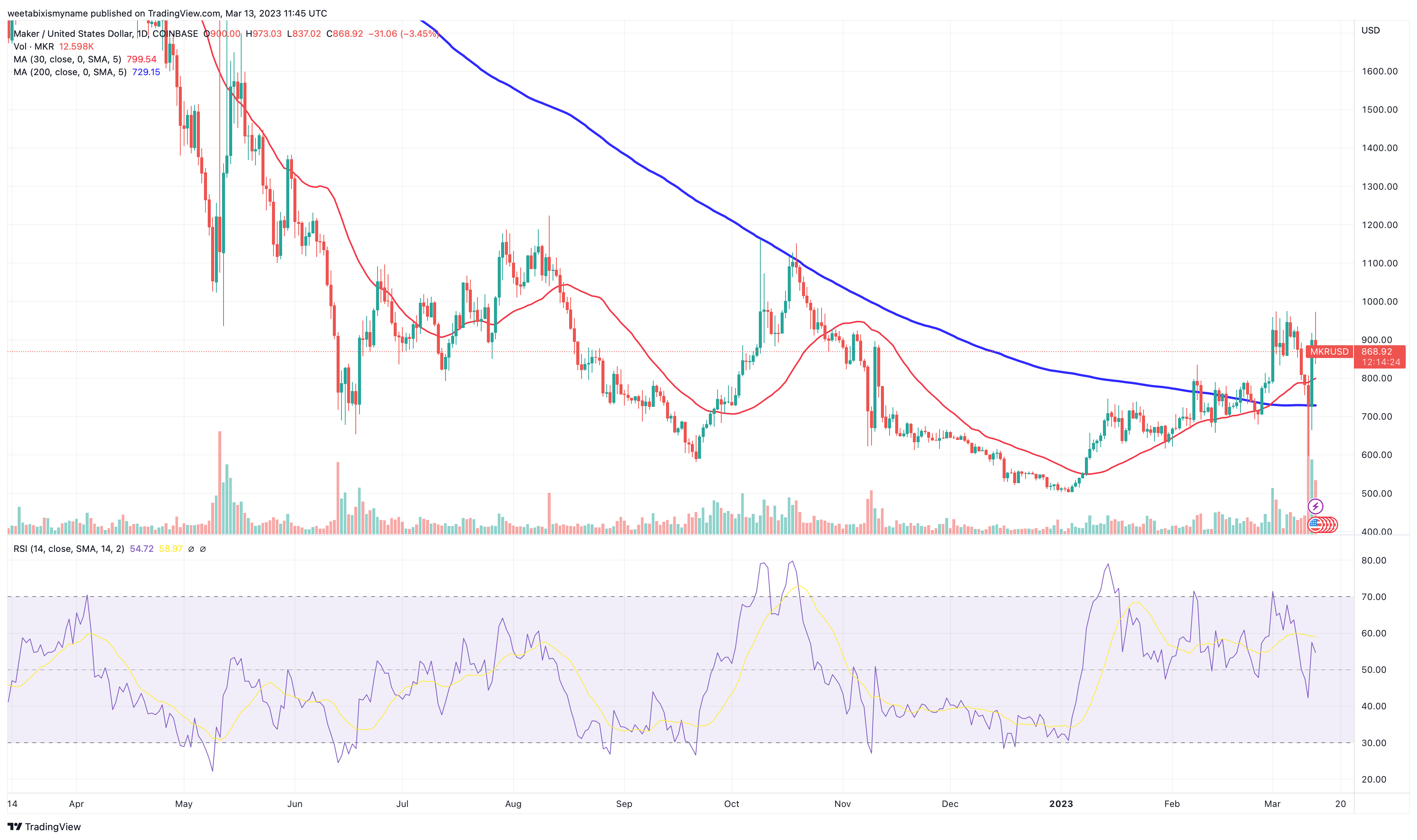 MKR is also up by 13% in a fortnight and by 23% in the last 30 days, with the coin also having gained by 70% since the start of 2023.
Its indicators suggest that it still has more space left to rise, with its RSI jumping up to nearly 60 from 40 a few days ago.
At the same time, its 30-day moving average overtook its 200-day at the start of March, and looks like it could continue rising higher, along with MKR's price.
A big resistance level for MKR at the moment lies somewhere around $910 or $920, so if it can convincingly break through this level, its rally may continue for a while yet.
MKR is the governance token of MakerDAO, which oversees the Dai algorithmic stablecoin.
A friendly reminder that 46 percent of $DAI is generated by $USDC.$MKR pic.twitter.com/BAcyMsdbfW

— Cryptolicious 🌋🔊 (@Cryptolicious9) March 11, 2023
It's worth poining out that Dai has been affected by concerns surrounding fellow stablecoin USDC, which Dai uses as collateral.
Optimism (OP)
OP has risen by 23% in the past 24 hours, with its current price of $2.31 also representing a 5% drop in a week.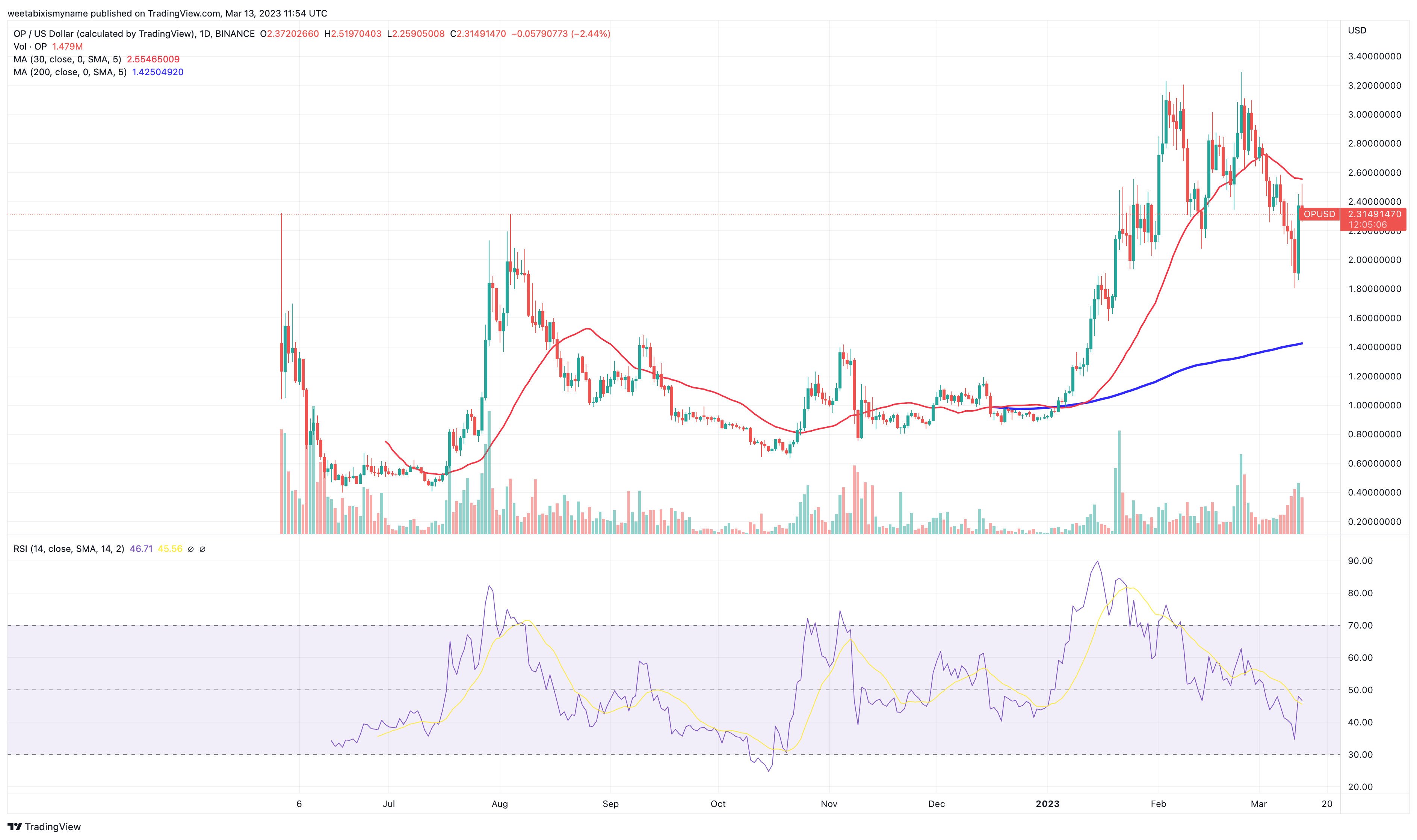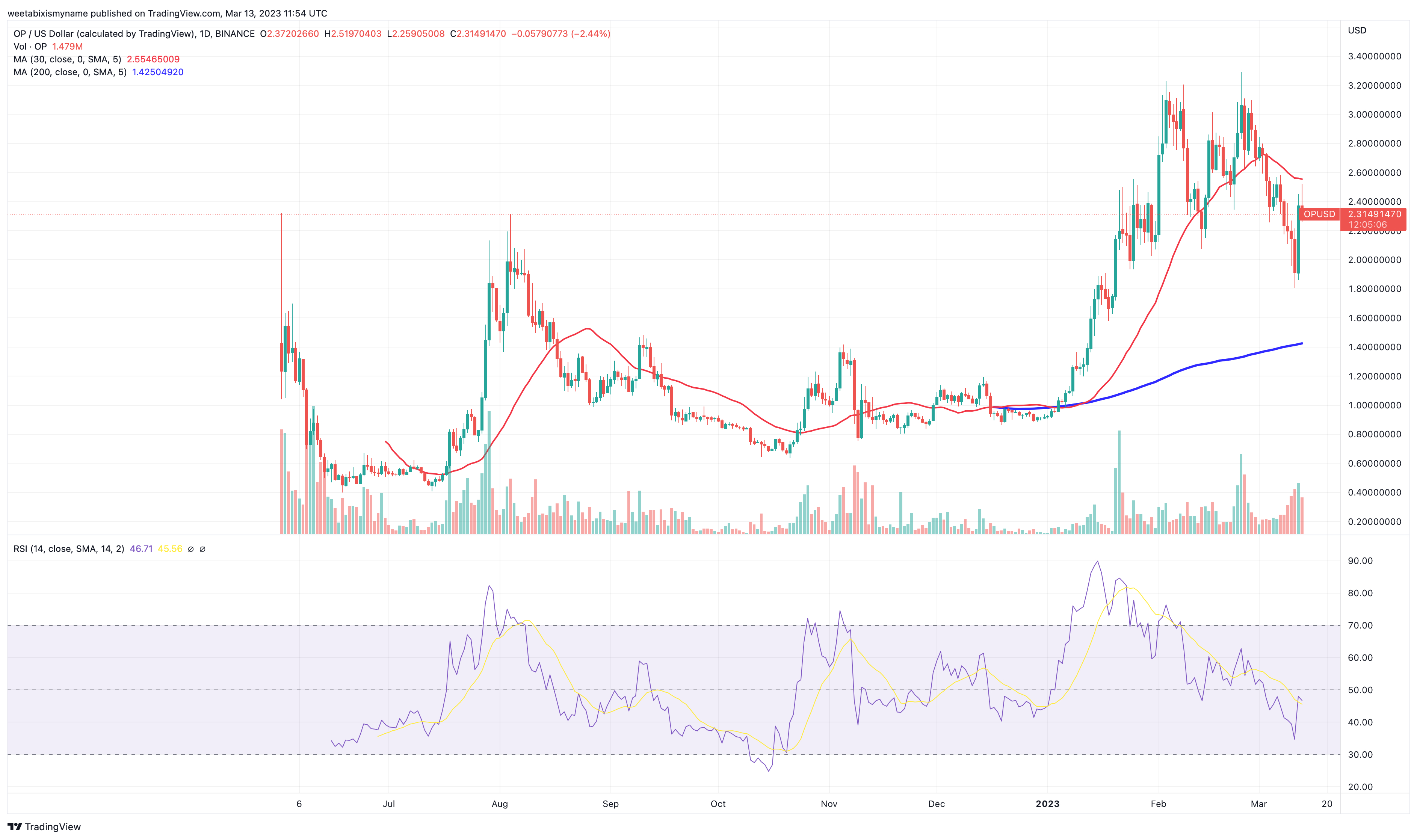 OP has also declined by 23% in a fortnight and by 4% in the last 30 days, although the coin is up by 151% since the start of the year.
The main reason why OP has been doing well this year is because Coinbase announced its own layer-two network, Base, last month, with this network using Optimism's development stack.
Everybody is talking about Optimism right now.

Coinbase just announced they're launching a new L2 blockchain called "Base" built on the $OP stack.

In this thread, we'll look at

1⃣ What Optimism is
2⃣ Why $OP is a top choice for DeFi
3⃣ DeFi protocols with huge potential

🧵/23 pic.twitter.com/s9DDYpQWIv

— Route 2 FI (@Route2FI) February 23, 2023
In fact, Coinbase will be joining the Optimism ecosystem as its second core developer, creating the sense that Optimism itself could witness some very significant growth this year.
Love Hate Inu
Love Hate Inu is a meme token that utilizes blockchain technology for a secure and transparent voting system.
It offers real utility in allowing users to vote on issues that matter, providing a platform for community engagement and decision-making.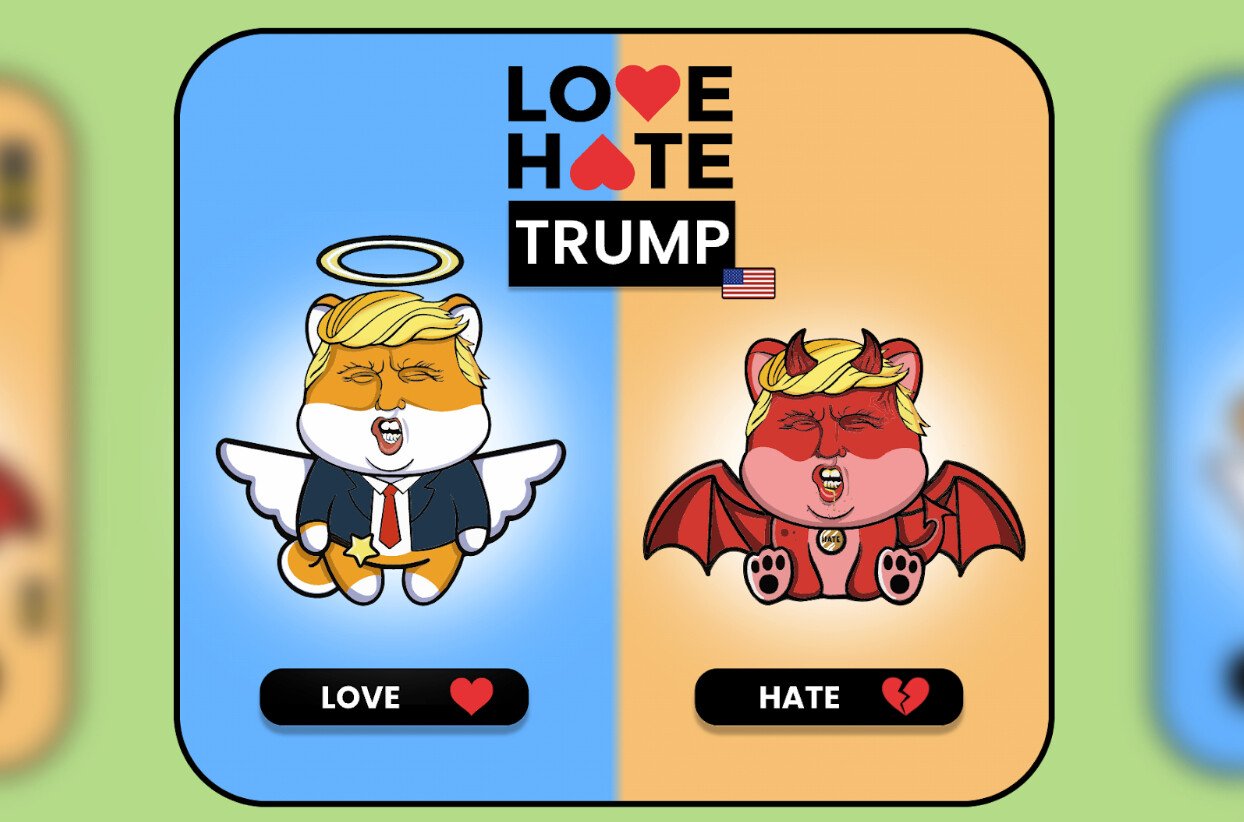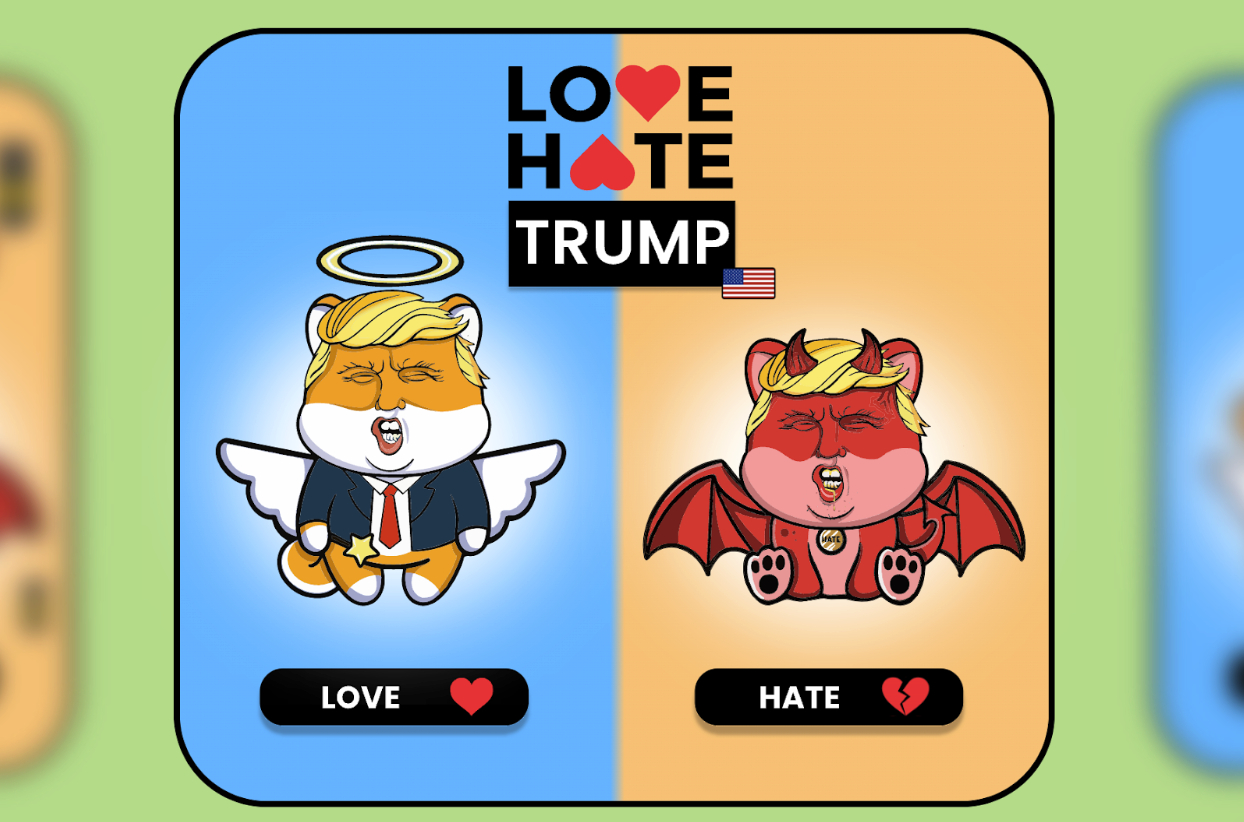 The presale has already raised $400,000 in just a few days, making it one of the fastest-growing cryptocurrencies on the market today.
Fight Out (FGHT)
Fight Out is revolutionizing metaverses with a unique gaming platform that incentivizes users to compete and win in various contest modes.
The key to success on this platform is a user's avatar attributes, which can be improved through real-life training using the Fight Out app.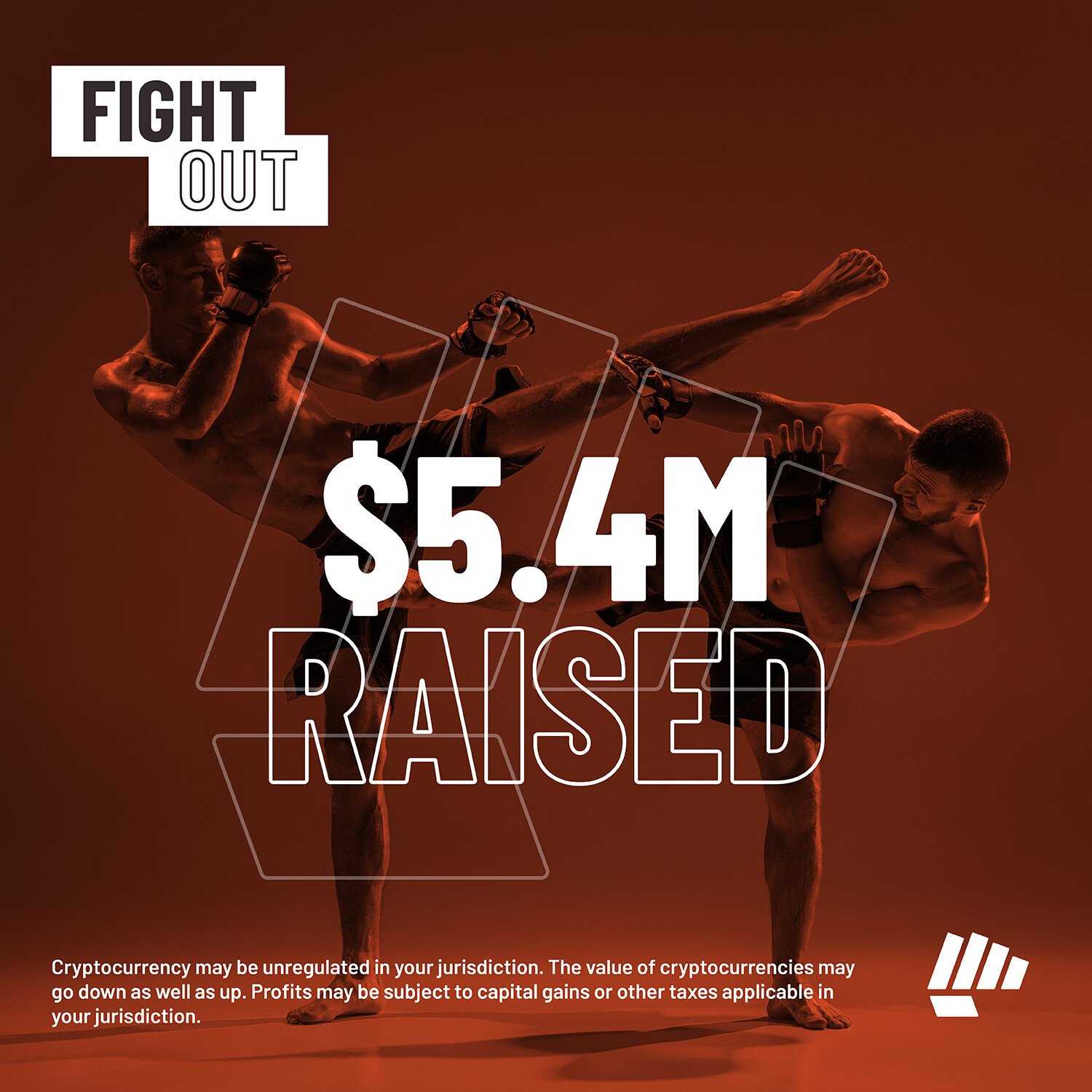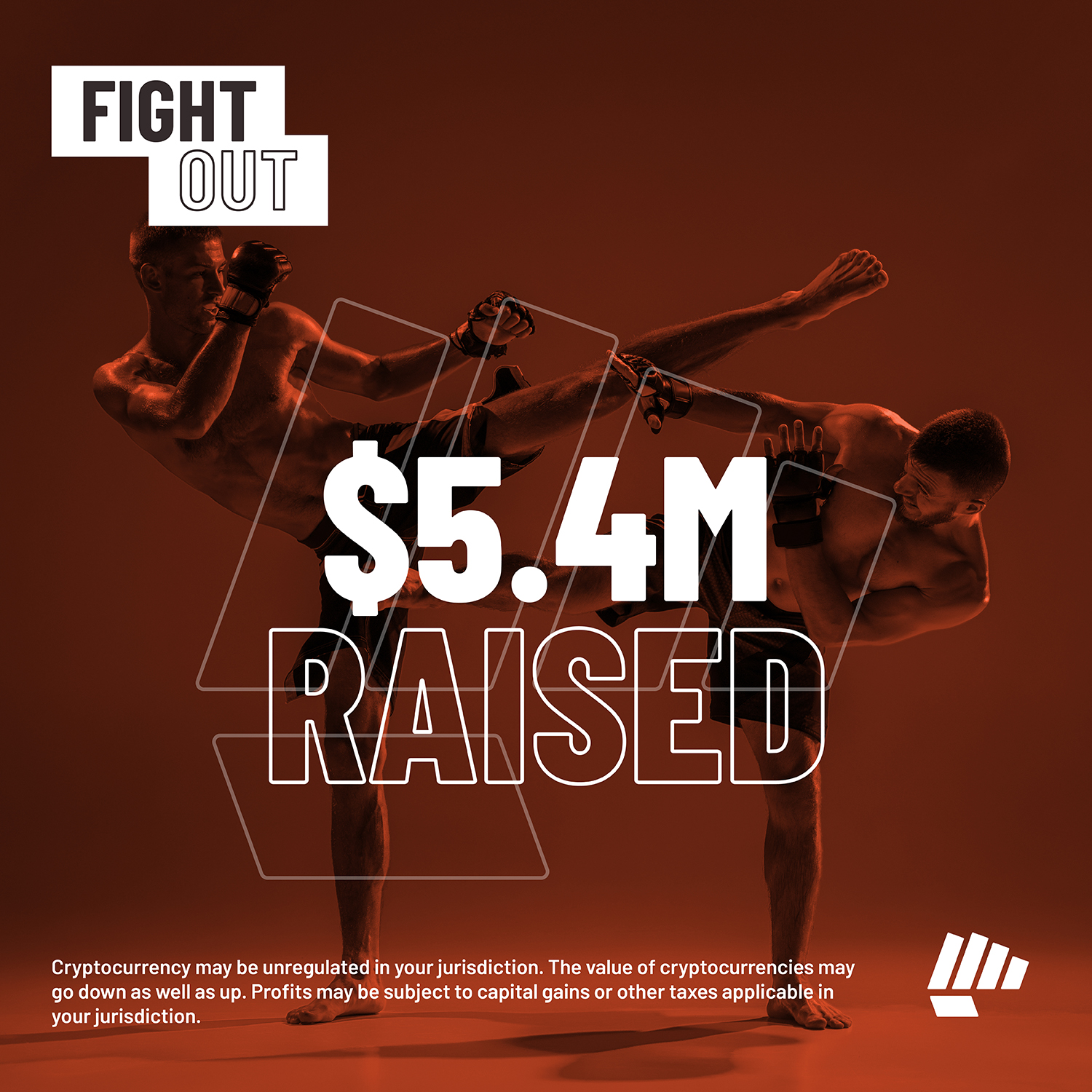 The platform not only enhances the gaming experience but also allows users to earn rewards for their skills.
By incorporating the elements of real-life training and rewards, Fight Out provides an immersive gaming experience while promoting a healthy lifestyle.
The Fight Out presale has just surpassed $5.4 million in just a few weeks, catching the attention of both crypto investors and fitness enthusiasts worldwide.
Filecoin (FIL)
At $5.80, FIL has risen by 18% in the past 24 hours, despite being down by 5% in the past week.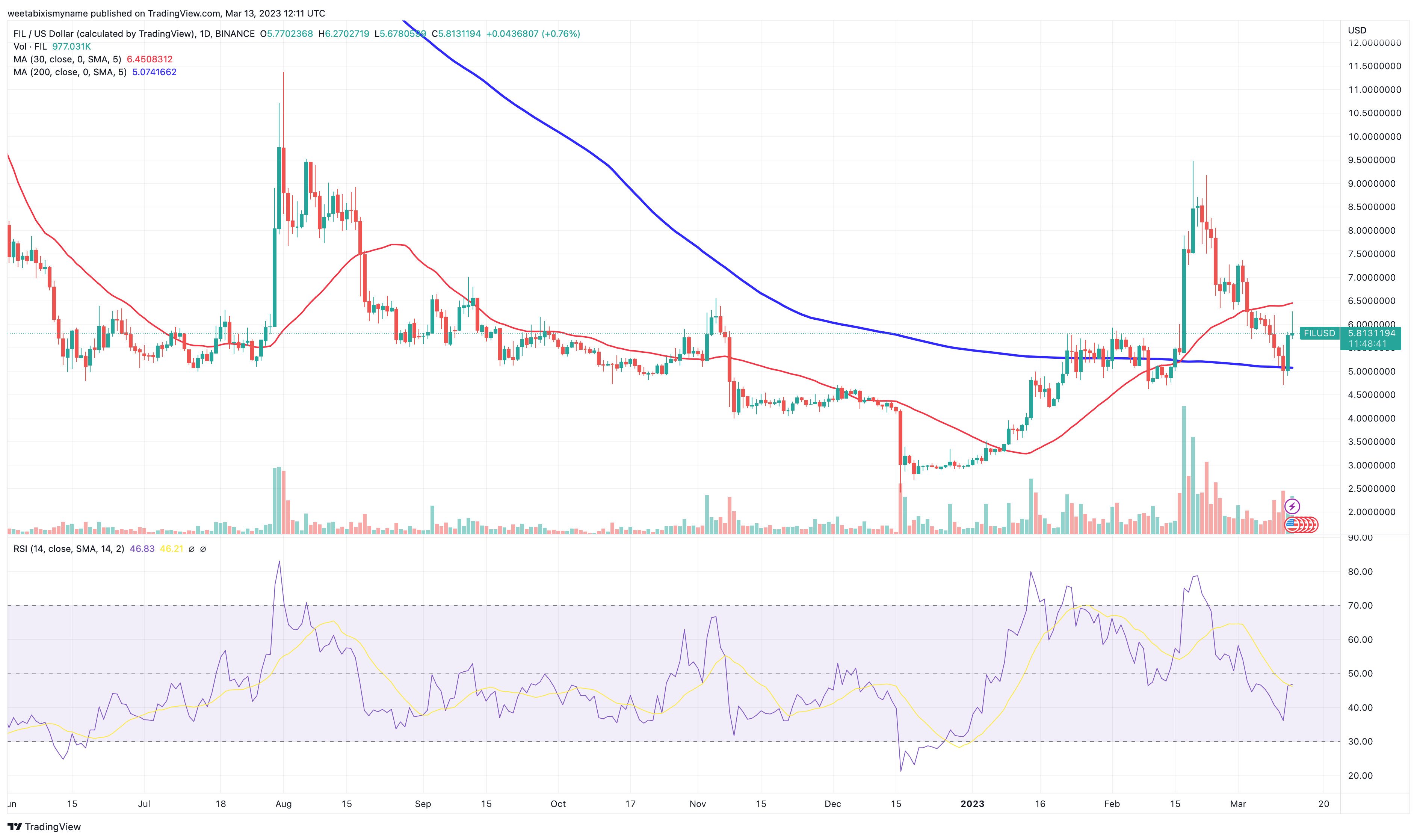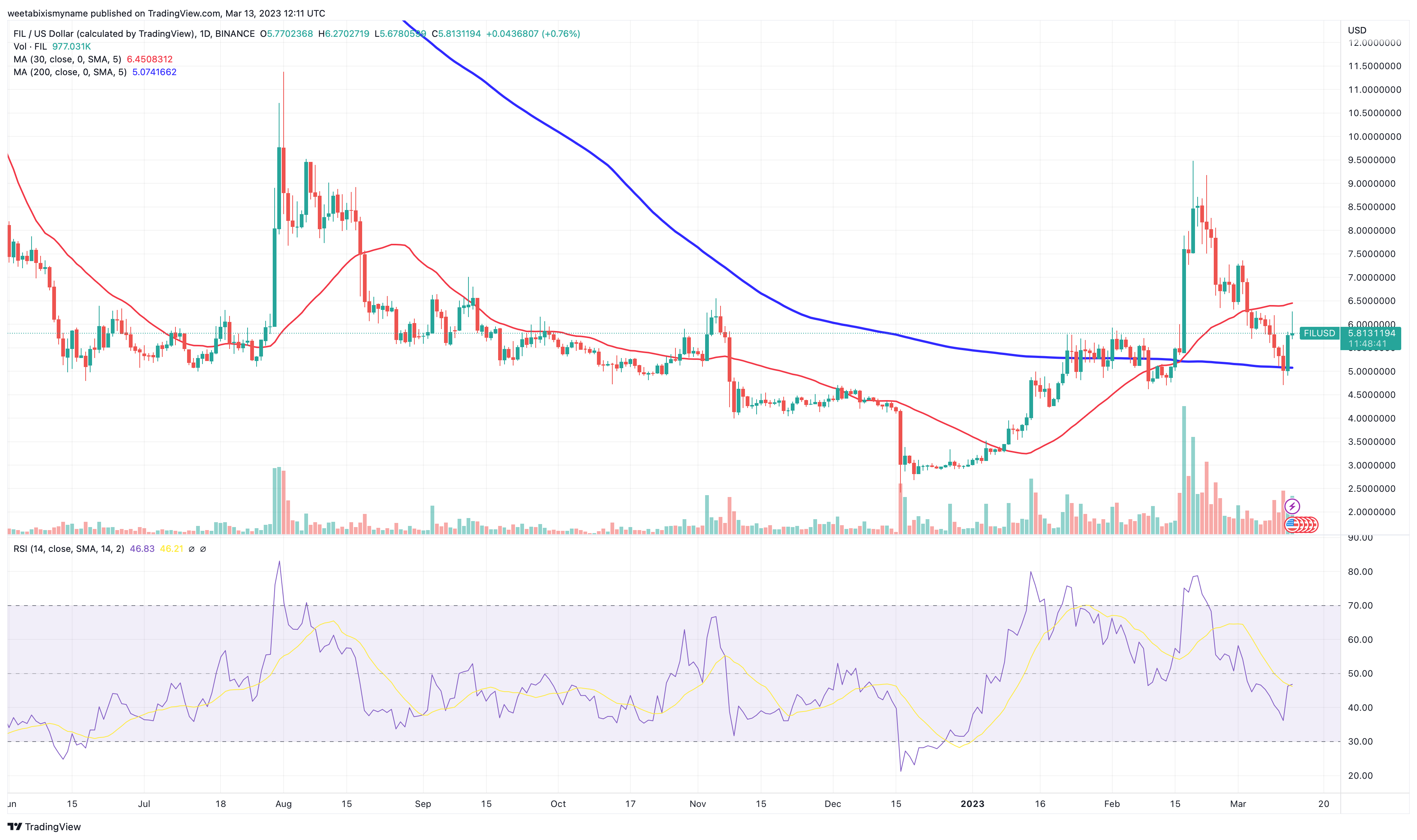 However, FIL is still up by 19% in the last 30 days, and with the coin's price yet to rise above its 30-day average, there's still plenty of scope for it to continue to rise before becoming overbought.
Lido DAO (LDO)
LDO is up by 17.5% in the past 24 hours, with its price of $2.48 also representing a gain of 160% since the beginning of the year.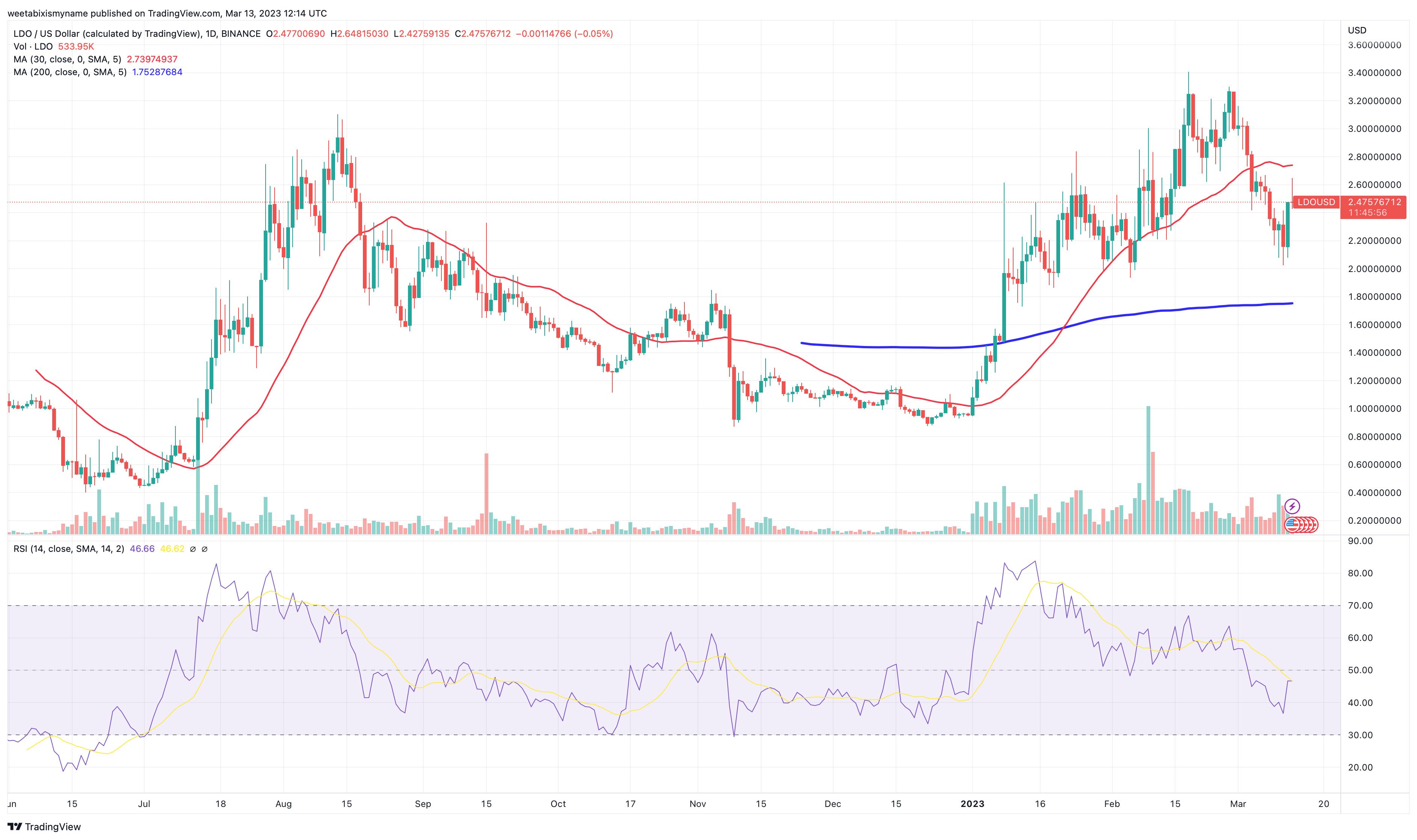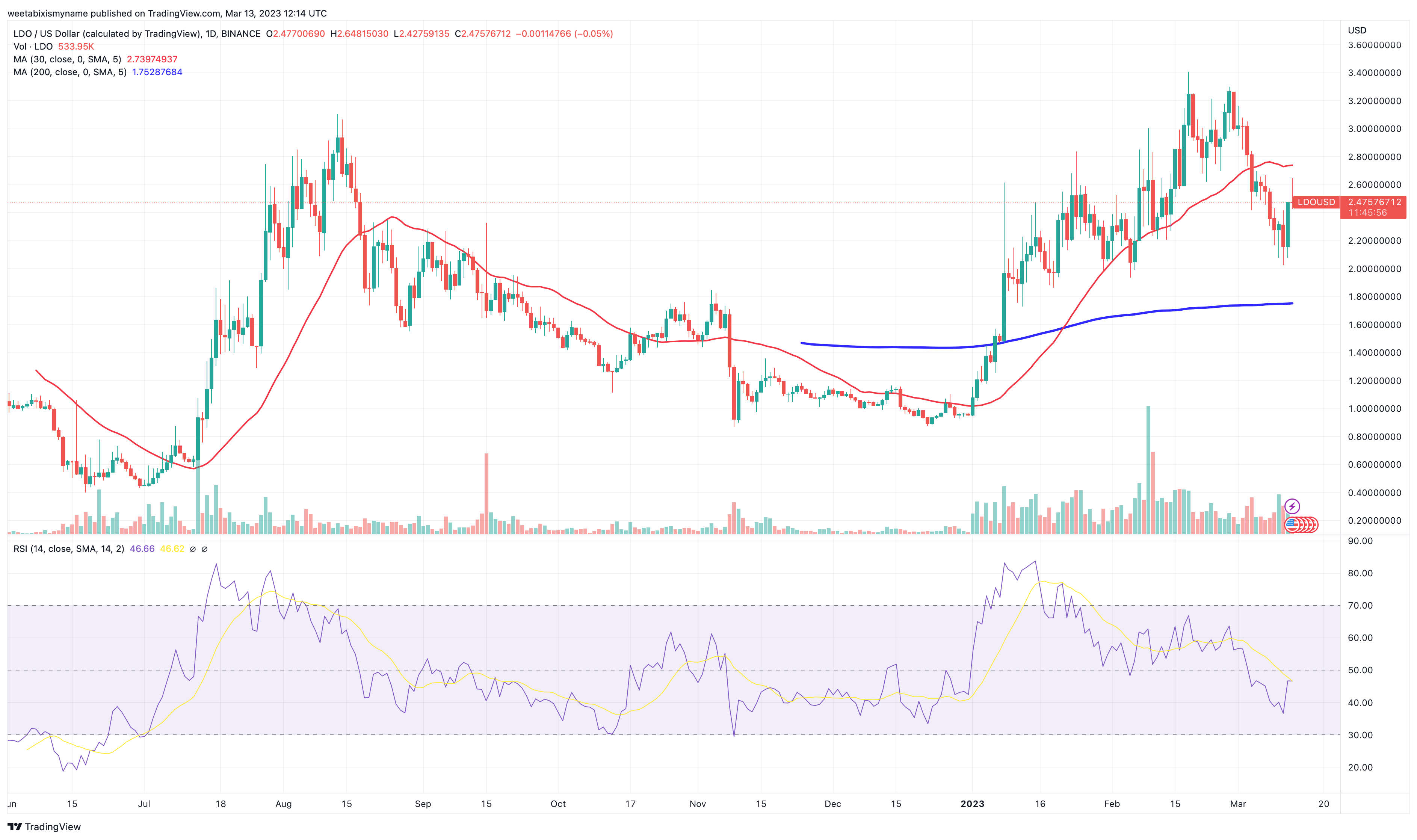 The native token of staking platform Lido Finance, LDO's RSI has begun recovering after being in an oversold position, meaning that it has the potential to continue rallying today.
The Graph (GRT)
At $0.132583, GRT has risen by 17% in the last 24 hours, although it remains down by 6% in a week and by 20% in the past month.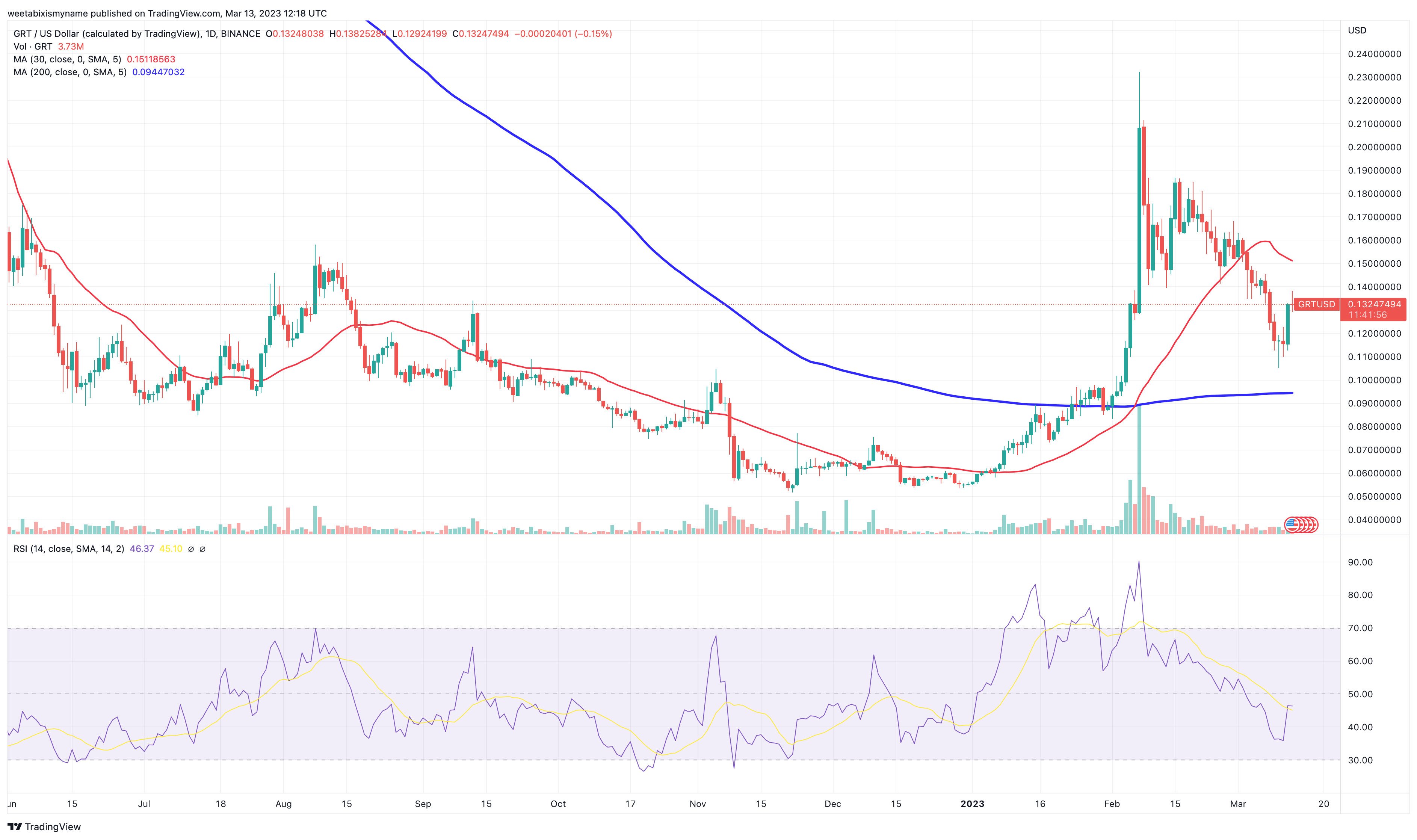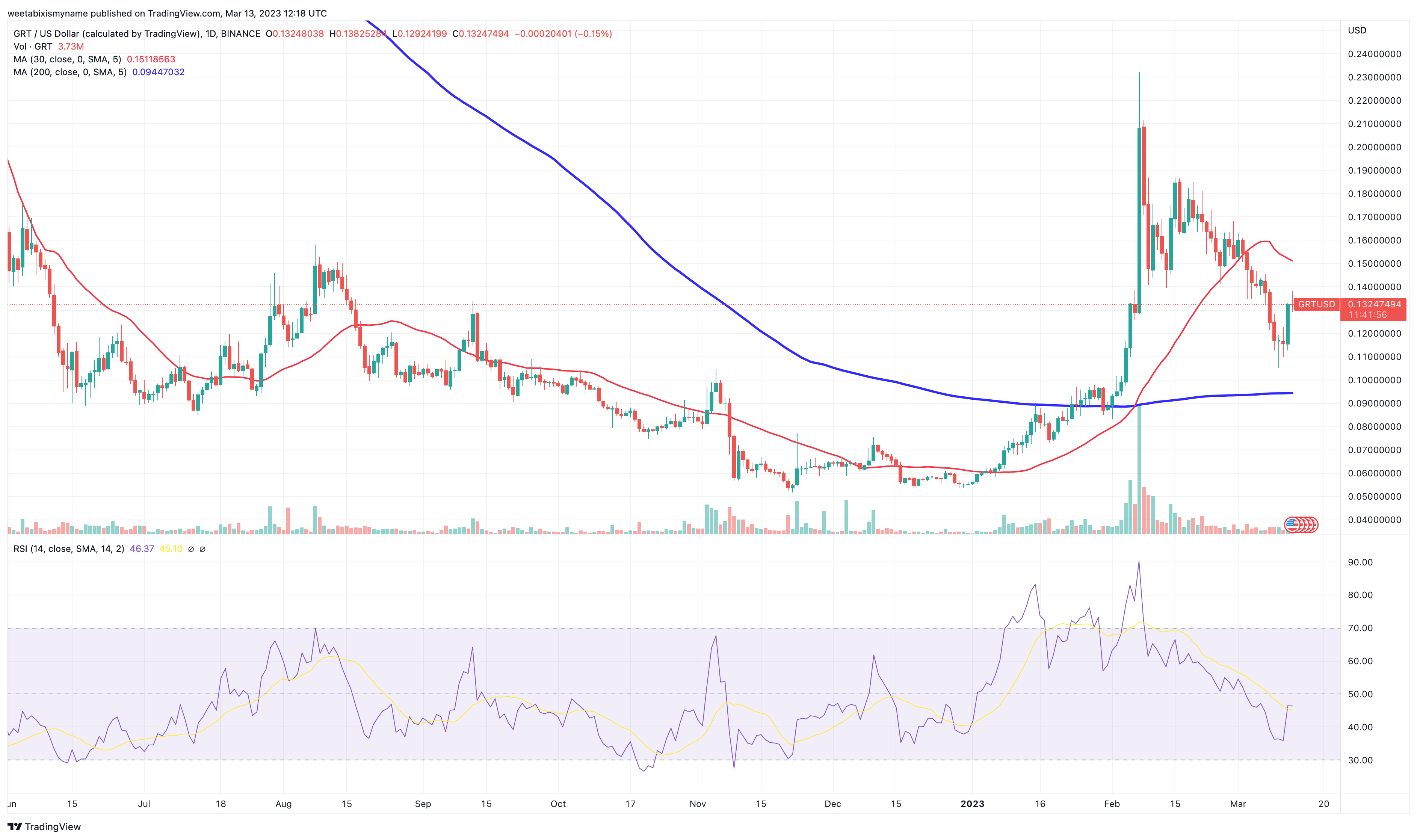 A decentralized network for indexing and accessing public blockchain data, the Graph has witnessed growing usage this year, with its clients including Messari, Lido Finance and Sushi (formerly SushiSwap).
ImmutableX (IMX)
At $0.912447, IMX has gained by 15% in a day, while it's down by 13% in the last week, as well as by 5% in the last 30 days.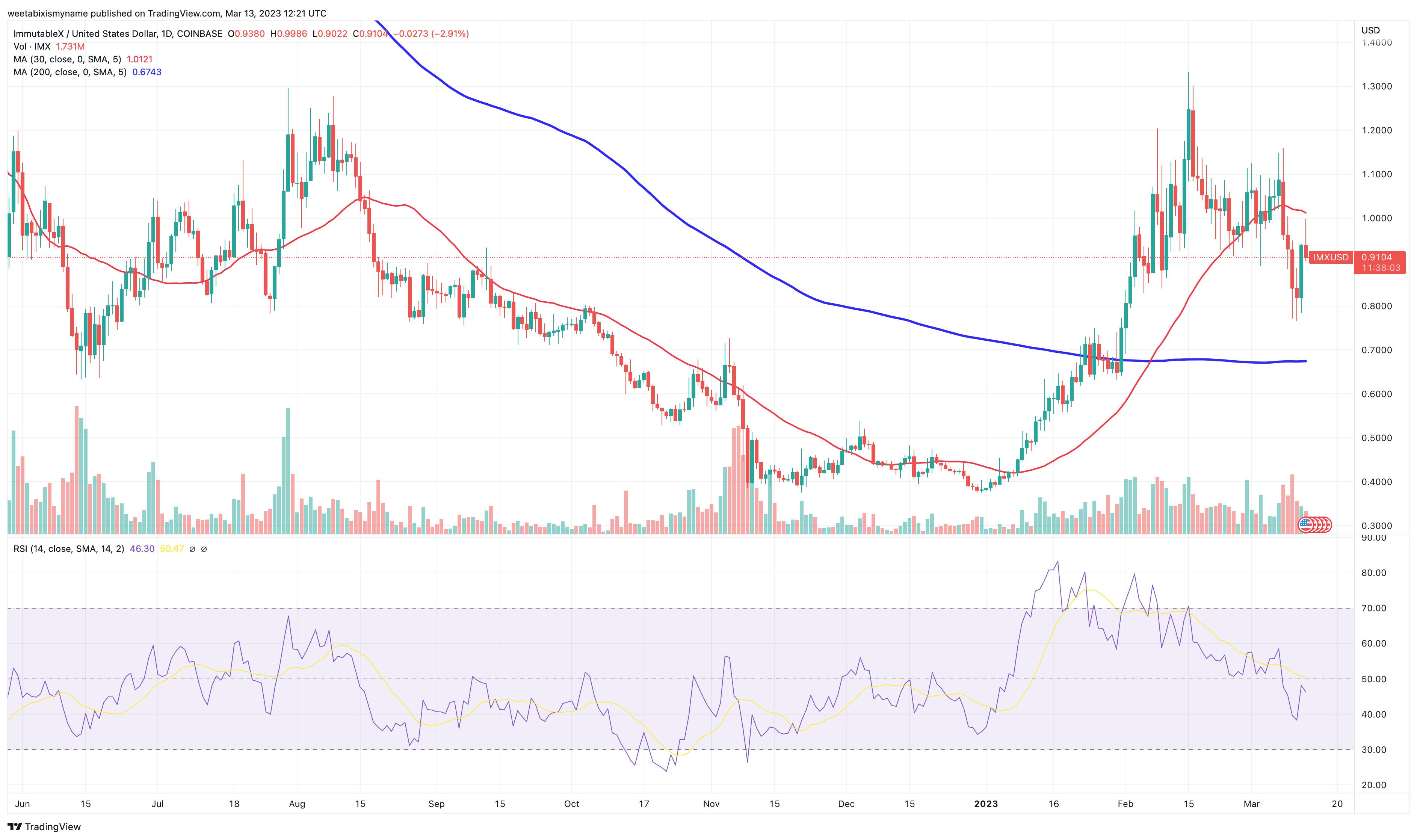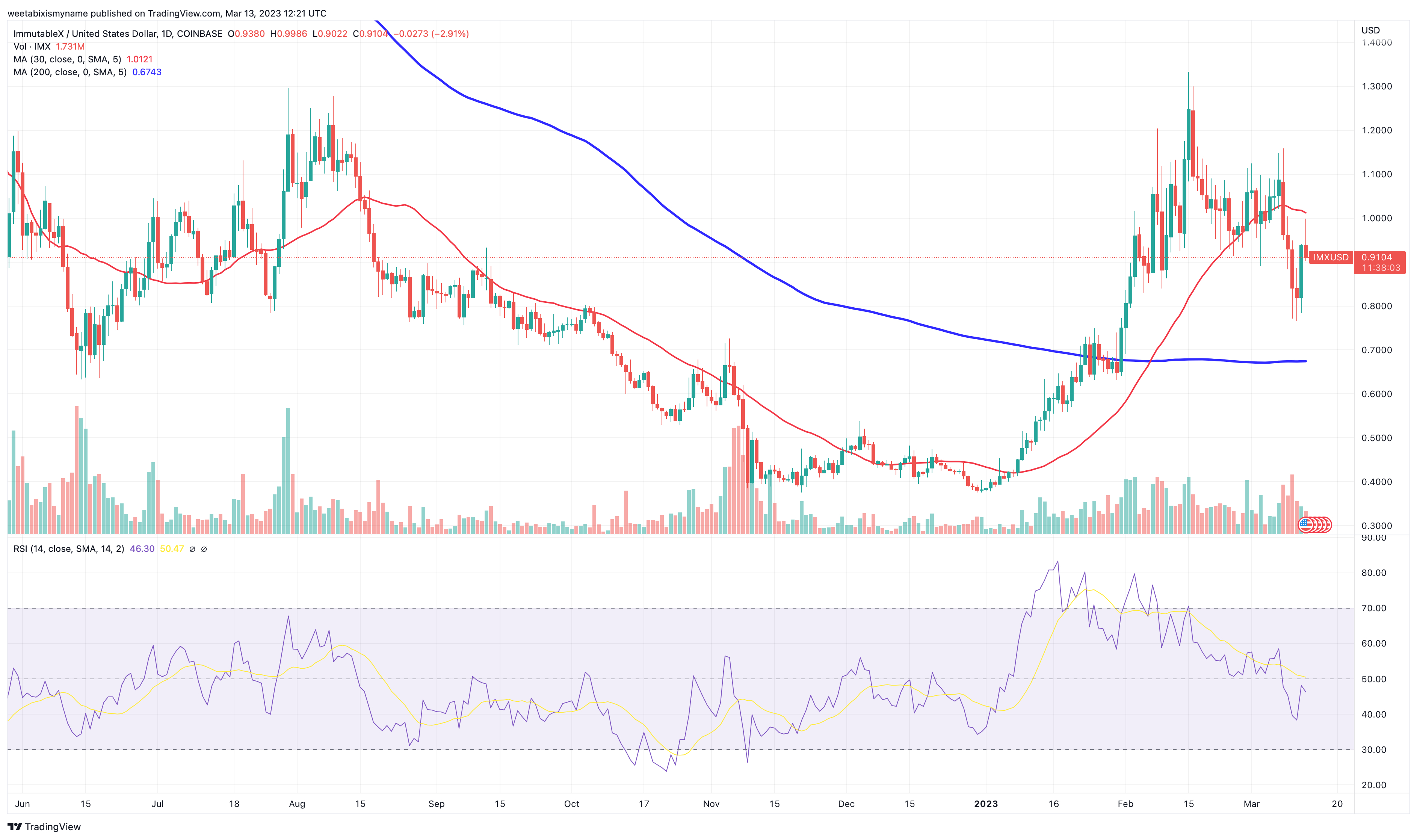 With its price still below its 30-day moving average, there's a very real chance that IMX's rally today may continue for at least a few more days before running out of momentum.
---