This Chart Shows Where True Bitcoin Believers Live
Volume on the peer-to-peer Bitcoin exchange LocalBitcoins shows that developed market volume is tracking price, while emerging market volume has stabilized and keeps growing without regard to price. This would imply that developed markets are speculating, while emerging markets use Bitcoin for utility, according to investment firm Passport Capital.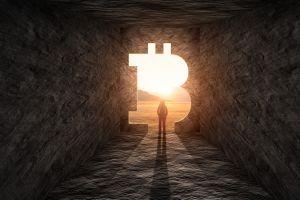 Although volume in both markets spiked in December 2017 when Bitcoin reached its all-time high of almost USD 20,000, in subsequent times, they followed vastly different directions. Bitcoin volume in developed markets kept falling until it reached a low not seen since January 2016, and then started climbing again, partially in time with the recent market rally. Meanwhile, volume in emerging markets fell much less and has stayed in the same bounds since the middle of the first half of 2018 - and the more time went by, the more it stabilized.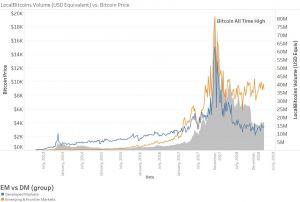 The data implies that traders from developed markets are speculating on the price and trying to make money off market volatility, while traders in emerging markets are using Bitcoin for utility. Part of the reason might be the fact that developed markets have no need for Bitcoin as a payments system due to a relatively stable fiat currency in place (USD, EUR, JPY, etc.), while emerging markets usually have a more volatile fiat currency, so they tend to try and evade using it, opting for alternative payment methods wherever they can.
One such example - and the most commonly cited one - is Venezuela, where hyperinflation hit 80,000% in 2018, rendering the bolivar close to worthless. Venezuelans have been increasingly turning to the use of cryptocurrencies throughout the country's socio-economical and political crisis, and the motivations behind this were part of the debate between American economist Nouriel Roubini and smart contract platform Ethereum co-founder Vitalik Buterin at the Deconomy Conference in Seoul on Thursday.
Roubini, for example, maintains that the adoption of cryptocurrencies in Venezuela is an exception and shouldn't be seen as the inception of a hard and fast rule. Buterin disagrees: in his opinion, Venezuela's case was "more to do with cryptocurrencies than fighting inflation. It's about looking for alternative means of protecting one's assets."
Venezuelan Bolívar to US Dollar Rates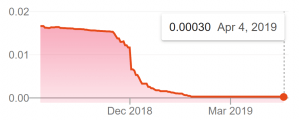 "Nouriel's main point of 'trust the system' falls apart the moment you take these 'exceptional' events into account. For they aren't as exceptional as mainstream economists claim. We have a war every 50 years. Families migrate every 100. Finance collapses every 10," reacted Cornell professor Emin Gün Sirer in a tweet.
And while Venezuela's hyperinflation is certainly currently unparalleled in the world, many countries - the vast majority of them, if not all, belonging to emerging markets - face similar issues due to weak economies, corrupt governments, or even stifling sanctions. In that case, a decentralized, electronic, peer-to-peer payments system is certainly a better option than what they currently have in place, in spite of the former's volatility - in some cases, this volatility is negligible compared to the alternative, and even with volatility and regulatory uncertainty surrounding digital assets, the choice becomes one for the lesser of two evils.
Meanwhile, people in the emerging markets, such as Africa and Asia are actually starting to use cryptocurrencies for transactions, Magdalena Golebiewska, head of Eastern Europe region at Luno, a Bitcoin company boasting two million global accounts, previously told Cryptonews.com. According to her, it is estimated that in 2025 up to 50% of global population will live in the emerging markets.
However, the sharp dip that developed market volume experienced on LocalBitcoins does not necessarily have to be completely attributed to speculations - developed markets usually have much better access to centralized cryptocurrency exchanges that remove the dangers of peer-to-peer trading. However, there is no definitive data to separate the two motives.
---