Tezos, Chainlink Trim Gains After Rallying Over 20% In a Week
With the broader crypto market once again seeing optimistic trading in the past seven days, the two popular altcoins tezos (XTZ) and chainlink (LINK) shine for investors, with each recording gains of more than 20% over the past two weeks.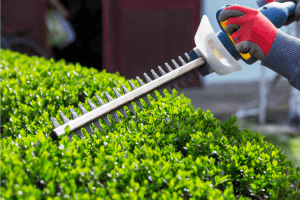 As the market is correcting its gains today, as of press time on Wednesday (11:47 UTC), XTZ was down 3% over the past 24 hours, while posting a weekly gain of 25%, trading at USD 1.99. Meanwhile, LINK remained unchanged in a day (USD 2.81) and was up 24% in a week.
With regards to tezos, ranked as the 10th most valuable cryptoasset by market capitalization, the surge in price appears to have occurred without any major news drivers behind it. From a charting standpoint, however, it's clear that the asset has some catching up to do to get back to its highs from late February when the coin had just concluded a month-long parabolic rally. Further, the coin also managed to break through an area of resistance at the USD 1.75 level, which now offers support to the downside.
In addition, it's also worth noting that XTZ is still far from seeing a death cross – a crossing of the 50 and 200-day moving average lines – appear in its chart, as has already happened in litecoin (LTC) and bitcoin (BTC), to name some.
The price moves over the past week also come after the Tezos Foundation in late March announced that it had made a USD 25 million payment to settle a lawsuit outside of court with participants in the coin's 2017 initial coin offering (ICO).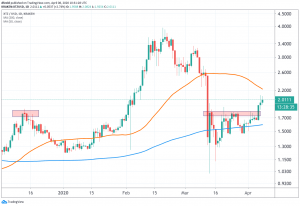 Moving over to chainlink, the chart offers a similar setup as tezos, with the 50 and 200-day moving average lines still indicating an uptrend. Further, since the low of USD 1.36 reached after the market crash on March 12, LINK has now risen more than 100%.
Despite the strong rebound, however, chainlink still has a long way to go to get back to the levels it was trading at before the crash, north of the USD 4.5 level, which would require another 65% rise in price.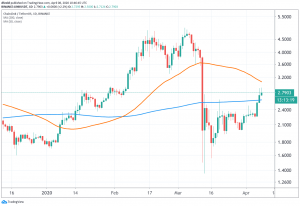 Chainlink's strong performance also comes after crypto analytics provider Santiment released a report on Monday where LINK was described as an asset with "some room to make up for on the upside," given its network growth.
---