Some Central Bankers Show Interest in Bitcoin; Inflation Fears Mount
Disclosure: Crypto is a high-risk asset class. This article is provided for informational purposes and does not constitute investment advice. By using this website, you agree to our terms and conditions. We may utilise affiliate links within our content, and receive commission.
A survey of 30 central banks brought somewhat surprising results as some bankers showed signs of openness to cryptoassets such as bitcoin (BTC). Also, central bankers are becoming more concerned about inflation.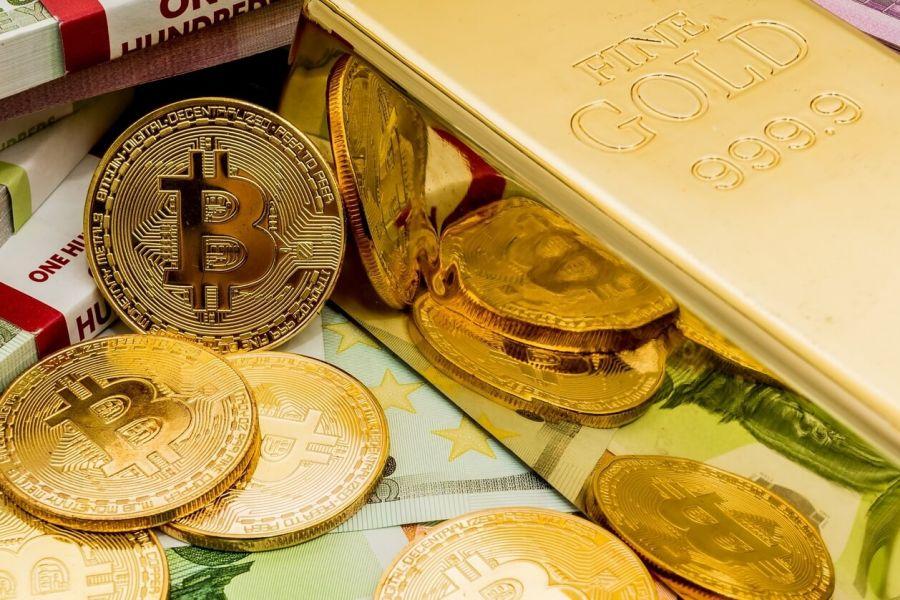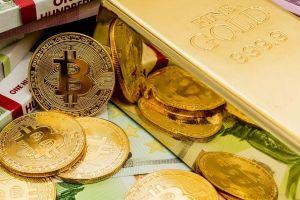 First, 14% of the respondents said that central bank digital currencies (CBDCs) would increase pressure on these banks to invest in crypto, while 83% of the participants replied that the learning process of investing and managing this new asset class itself could be valuable for the institution they represent, according to this year's annual survey of unspecified central bankers by Swiss investment bank UBS.
"28% of participants see benefits coming from cryptocurrencies as an uncorrelated asset, and a further 11% would consider it as an alternative to gold," the report added.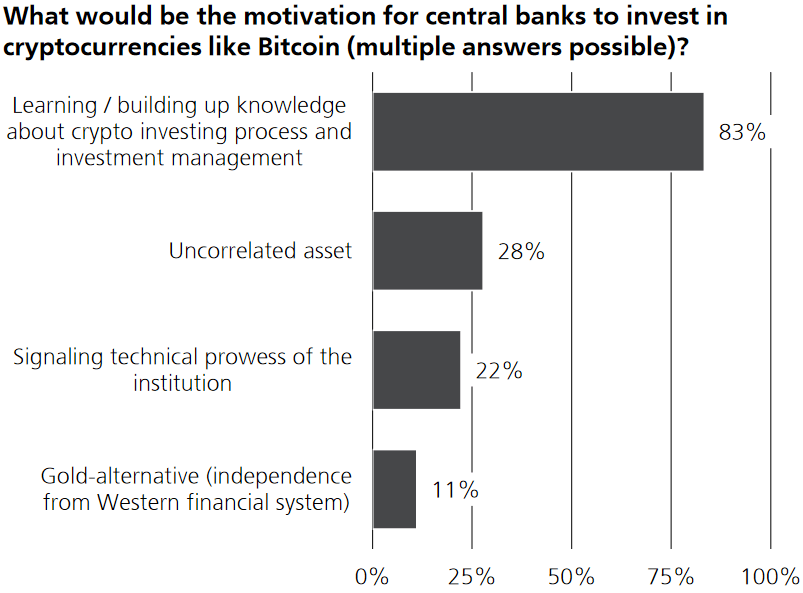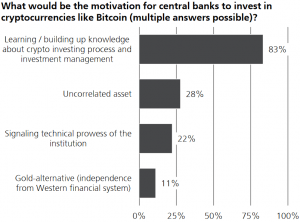 "When I hear central bankers state that they don't see much role for cryptocurrencies as a store of value over gold, it shows a complete lack of understanding," Joshua Scigala, Co-Founder of crypto finance project TheStandard.io, said in an emailed comment. "Now imagine that you as a saver have the option of earning a 6% to 12% annual yield by utilizing the decentralized financial market, or you can stick with the legacy central banking system and pay a 1% negative interest rate! What would you choose?"
Meanwhile, 46% of the respondents said that, in their opinion, bitcoin and other cryptoassets will not be displaced by CBDCs, while 33% presented the opposite view, and 21% had no opinion on this.
In either case, about 40% of surveyed central banks expect a wholesale CBDC to be launched within the coming three years. Some 46% of the participants confirmed their central bank was already involved in CBDC pilot projects, or was expected to do so in the next 1 to 3 years.
The majority of participants declare they "are not yet able to make predictions if reserves will be invested in CBDCs issued by other central banks in the foreseeable future," UBS said, adding that "57% of participants see no meaningful impact for the reserve management at their institution, while 24% indicate that there might be an impact on their back-office operations."
"Bitcoin as a foreign currency reserve cannot be publicly supported by any central bank for one simple reason; that it is not controlled by any nation state," Luke Sully, CEO at treasury technology specialist Ledgermatic, said in an emailed comment. According to him, BTC and gold can be viewed as safe haven assets in economic downturns, both as hedges against inflation and government influence that cash has.
Also, per the survey, more than 60% of respondents do not believe that the launch of CBDC will lead to a diminished role of the USD and more than 50% do not know yet what will be the impact of a digital yuan on the internationalization of the Chinese currency.
"Central bankers, unsurprisingly, are talking their book. The reality is that Bitcoin went from zero to official legal tender in just 12 years. The number of users doubles every year, and adoption is where the internet was in 1997. Will central bankers out-innovate Bitcoin? That's the question people need to ask themselves," according to Edan Yago, a contributor at Bitcoin-based DeFi protocol Sovryn.
___
Other key findings of the survey:
Macro and Economic concerns: Failure to end the pandemic is the main concern (79%), followed by soaring debt levels (71%) and fear of inflation (57%). Inflation was not mentioned at all in last year's survey.
Macro and Financial Concerns: Lower/Negative yields in fixed income markets is mentioned by 86% of respondents, in line with the survey results of the last three years. Rising interest rates & inflation is mentioned by 64% of surveyed institutions, a dramatic increase from only 6% in the previous year. 67% of participants expect the US Federal Reserve to raise interest rates in 2023.
Strategic Asset Allocation: The "secular" trend towards more diversification of reserves across asset classes has continued during the pandemic. Equities is an eligible asset class for over 40% of central banks and Emerging Market Debt experienced a surge in eligibility (54%). 21% of participant banks consider investing in illiquid asset classes like real estate and infrastructure. A shift towards assets that protect against inflation is also visible in 2021.
Currencies: The RMB continues its "marathon" of becoming a key reserve currency with the average long-term target allocation to the Chinese currency increasing to 5.7%. Reduced USD demand during the year and rising demand for euro-denominated assets.
Sustainability: 19% of participants considered adding sustainability as a fourth reserve management objective. 31% indicated that they have recently moved or considered to move from traditional to ESG benchmarks.
____
Learn more:
– Central Banks Step Up Bitcoin, Stablecoin Bashing Efforts Amid CBDC Plans
– Russia's Foreign Minister: Crypto Will Inevitably Play Role in Int'l Trade
– Imagine Bitcoin as a Reserve Asset. What Then?
– El Salvador Will Be a Serious Test for Bitcoin's Layer-2 Networks
___
(Updated at 13:44 UTC with additional comments.)
---