Solana and Its Proof of History
In our Quick Reviews series we introduce initial coin offering projects that might inspire you to do your own research and decide whether an idea and its development is worth your investment. It's Not an Endorsement.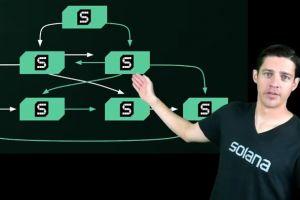 Today we are looking at Solana.
What problem(s) does it target?
Solana is a high-performance blockchain looking to become the fastest in the world, theoretically able to achieve an upper bound of 710,000 transactions per second on a 1GB network without data partitioning.
In comparison, Bitcoin can process less than 10 transactions per second, and Ethereum less than 25, while the Visa payment network can handle 65,000 transactions per second. Although Ethereum is working on improving their transaction speed by implementing Sharding (splitting the entire state of the network into a bunch of partitions called shards), Solana promises not to do that either (since they say without data partitioning), but will instead use Proof of History (PoH) consensus: a proof for verifying order and passage of time between events. The purpose of PoH is used to encode the trustless passage of time into a ledger.
Who are the team members?
The CEO, CTO and head of engineering of the team have all worked at Qualcomm, a leading multinational telecommunications equipment company producing wireless telecom products. The others also boast plenty of experience: their COO has 10 years experience in product management and finance, their head of Data Science / Token Economics has a PhD from Columbia University, having studied particle physics, and head of marketing has spent 10 years at Google.
At what stage is the project?
It has passed the initial testnet and whitepaper production, and their testnet 2.0 and public demo is set for June 2018.
What are the main future milestones in their roadmap?
For September 2018, they have planned a public beta, the mainnet launch is set for Q4 of 2018, partnerships and token distribution should happen in the first quarter of 2019.
Fundraising status:
The team has not yet announced token metrics and token sale dates. The only thing we know is that token will be released in Q1 2019, after mainnet launches.
Most important partnerships?
In May the startup announced it's partnership with GlobalID, a developer of global ID "identity" registered on a phone, and an investment company Yaka Labs (led by "friend of Solana, former Ripple CRO Greg Kidd") to deliver portable, private, secure identity for individual and group interactions and payments at scale. Solana promises to announce partnerships in decentralized exchanges, ads, marketplaces, and others "as they come".
How large is their community?
Their Telegram channel has more than 22,000 members, while Twitter - over 3,000, and almost 600 readers on their subreddit. . Most of their discussions are focused on the technical sides of the project, asking about and debating the restrictions of such an endeavour.
What are other similar projects?
DFINITY, Kadena, Plasma, Thunder.
---