Silver Linings Abound as Constitution DAO Falls Short in USD 47M Sotheby's Bid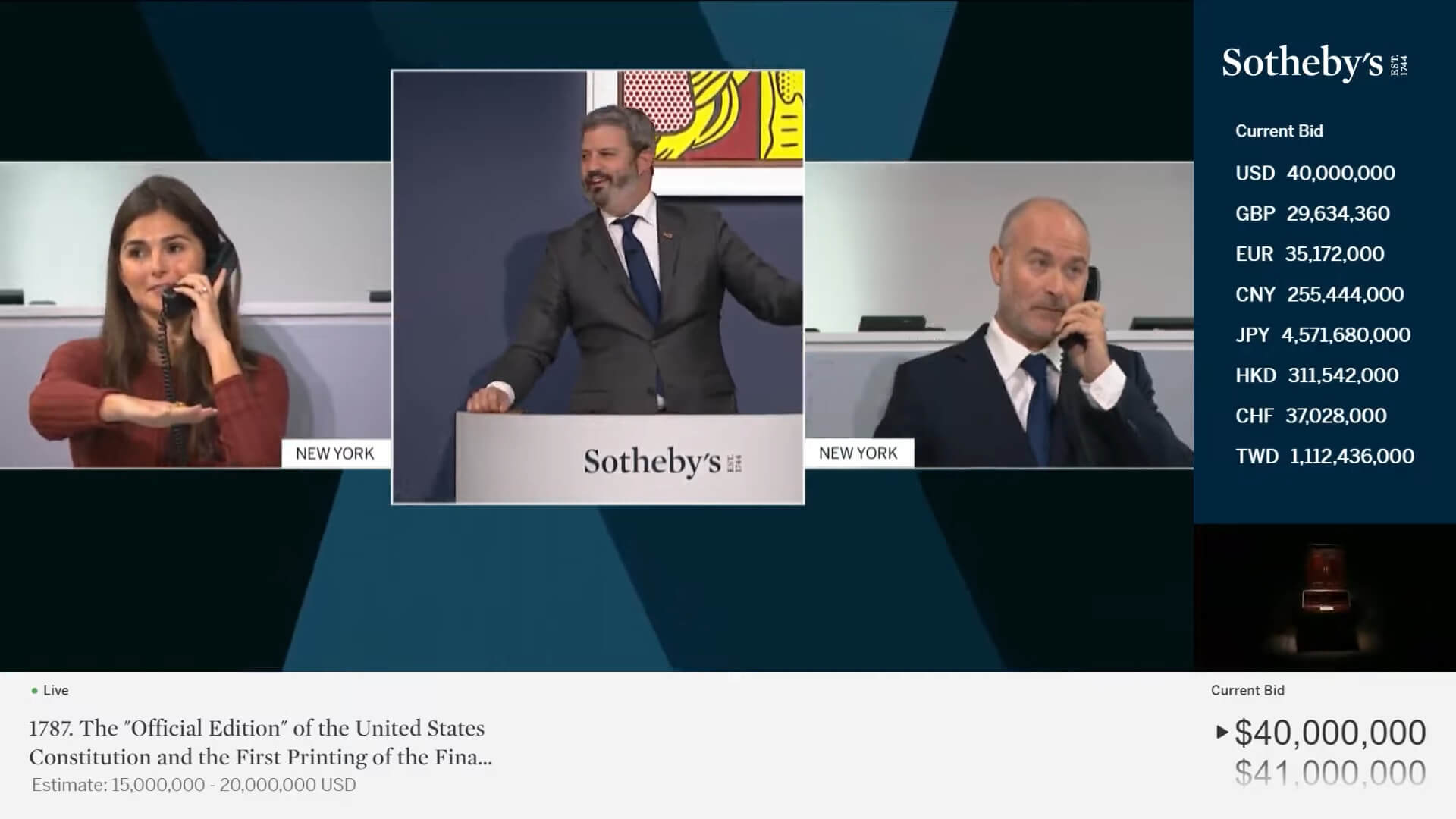 An audacious attempt to buy one of the few surviving copies of the United States Constitution by a decentralized autonomous organization (DAO) fell short of what would have been a dramatic victory for the crypto space – losing out in an auction at Sotheby's.
Regardless, there was plenty of positivity for the DAO, which became known as Constitution DAO, and raised over USD 47m worth of ethereum (ETH) in the space of around a week, per Juicebox data. In a statement published on Twitter, the DAO's masterminds wrote that "while this wasn't the outcome we hoped for, we still made history tonight."
They wrote that the attempt was "the largest crowdfund for a physical object that we are aware of" in "crypto or fiat."
Furthermore, they pointed out that "Sotheby's has never worked with a DAO community before," and claimed that it had "educated an entire cohort of people around the world – from museum curators and art directors to our grandmothers."
They claimed that a large range of non-crypto folk had been "asking us what ETH is when they read about us in the news."
The masterminds added that 17,437 donors had contributed funds, with a "median donation size of USD 206.26." Crucially, they noted, a "significant percentage of these donations came from wallets that were initialized for the first time."
However, most of these wallet holders will now be going home empty-handed – although the DAO promised to refund participants their "pro rata amount, effectively minus gas fees" through the Juicebox platform, adding that "more details about this" would be forthcoming.
The masterminds also wrote that they had "memed" the attempt "into reality," and won acclaim from major players in the space.
The digital artist Beeple called the attempt a "valiant effort" and commented:
"I think this is the beginning of something big."
_____
Watch the auction below (starts at around 9:50):

____
Reactions:

____
Learn more:
- With Over USD 40M Raised, DAO is On the Cusp of Buying a Copy of US Constitution
- Sotheby's Bored Ape NFT Auction Attracts Nearly USD 20M In Bids

- How Wu-Tang Clan's USD 4M Album Reflects Crypto Ethos
- This Is How DAOs Are Taking A Greater Role in the DeFi and NFT Sectors

- Why DAOs Matter for Digital Art
- Why DAOs & Token-based Governance is a Fantasy
---