Senator Elizabeth Warren Keeps Crypto FUD Fighters Busy Again
Popular US Democratic Senator Elizabeth Warren commented on crypto and central bank digital currencies (CBDCs) again, immediately mobilizing crypto advocates.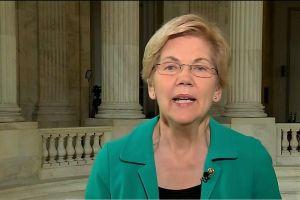 This time, the senator argued that "we have a lot of problems in our financial system right now," one of them being large banks controlling and putting at risks a large part of the economy.
"The question we have to ask is look at the design of crypto to see where it may be better but also to see where it may inject its own risks into the system," she said. Crypto's overall interaction with the financial system needs to be taken into consideration.
Still talking about crypto, Warren argued that she doesn't want to see "big guys" residing in the shadows doing pump-and-dumps and defrauding people.
On crypto regulation, Warren told CNBC that it's not the only question. "The question is how it's aimed. Who takes advantage of there being no rules? It's the big guys. Who wins when there's no cop on the beat? It's the big guys," she said, adding that she wants regulations put in place before "a lot of people have been wiped out."
She also said that "digital currency" is "very interesting," noting "an enormous failure by the big banks to reach consumers all across the country," particularly unbanked and underbanked.
Per Warren, "digital currency" and central bank digital currency (CBDC) "may be an answer there," stating that the costs are "extraordinarily low" for transactions.
As for taxes, whatever assets one has, they should be taxed annually, for those who have more than USD 50m in assets, she added.
The Cryptoverse, however, criticized the senator - again, as she had just recently made a number of statements on bitcoin (BTC) which the crypto proponents found to be incorrect.
Maya Zehavi, a blockchain-focused entrepreneur and Founding Board Member of the Israeli Blockchain Industry Forum, said that she tends to agree with Warren's philosophy, but added that she's "flabbergasted [Warren] doesn't see how current CBDC designs just cement the TBTF [too big to fail] financial oligarchy & stampedes on innovation/competition."
Also, on Monday, Warren sent a letter to Treasury Secretary Janet Yellen calling for tougher regulation of the crypto sector. Galaxy Digital's Mike Novogratz criticized her stance on cryptocurrencies, saying that "you really don't seem so progressive to me."
He argued that Warren "keep[s] going after crypto where saving and money transfer is a fraction of banks," while "banks charged USD 12bn in overdraft fees, a fortune in [ATM] fees, a fortune in checking account fees."
Per Novogratz, decentralized finance (DeFi) is more transparent than banks and brings with it a number of benefits for consumers.
____
Learn more:
- Bitcoin Shows Resilience Amid Global Political Pushback
- 'Knives Coming Out' As Cryptoverse Responds To BTC FUD By US Senator
- IMF Says Making Bitcoin a National Currency is an 'Inadvisable Shortcut'
- China Releases e-CNY Whitepaper, Says Cryptos Have No Value & Pose Risks
- 'Facts' That We 'Know' About Crypto are 'Wrong' - Senate Hearing Witness
- World's Biggest Listed Hedge Fund Firm Chief Makes Bitcoin Noob Mistakes Too
---