Pre-crash Data: Number of Addresses with 1 Bitcoin Hit All-Time High
Disclosure: Crypto is a high-risk asset class. This article is provided for informational purposes and does not constitute investment advice. By using this website, you agree to our terms and conditions. We may utilise affiliate links within our content, and receive commission.
The Cryptoverse had welcomed another all-time high – that of, let's call them, wholecoinddresses (addresses with at least 1 bitcoin).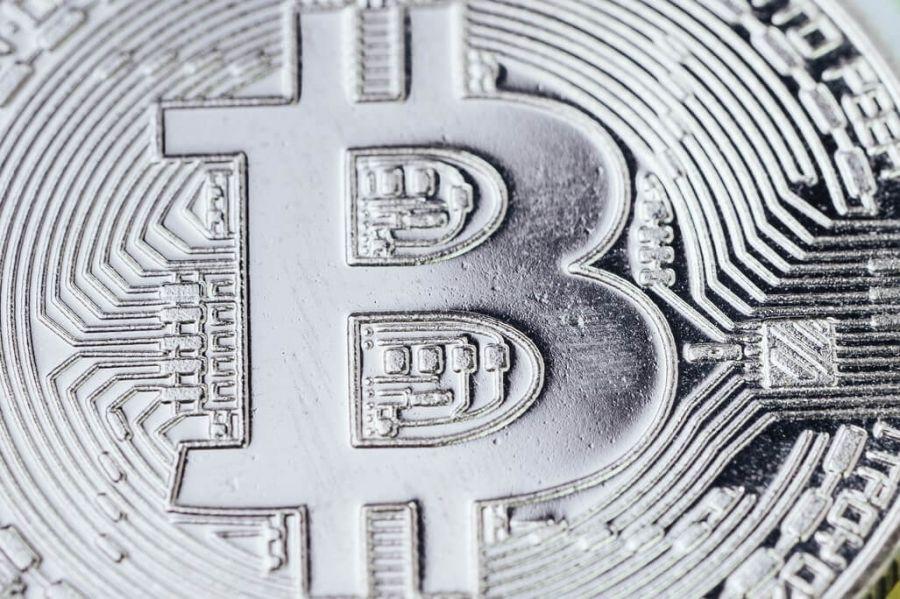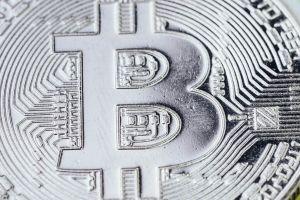 The number of investors holding 1 Bitcoin (BTC) or more, known as wholecoiners, seems to be on the rise recently. Though we can't be sure how many investors in total that is, crypto market researcher Glassnode has announced yesterday that the number of addresses holding at least one whole BTC has reached another all-time high: 795,630. This is 330 addresses more than two days ago when the previous all-time high of 795,300 addresses has been recorded.
It's also important to note that all the information here has been recorded prior to the market crash today.
The rise in the number of these addresses in the past ten years of the coin's existence is evident, and with just a couple of noticeable large jumps in an otherwise gradual upwards trajectory:
January 26, 2016: 526,128 addresses (the price of bitcoin was just USD 393)
December 27, 2017: 717,159 addresses (BTC price: USD 15,621).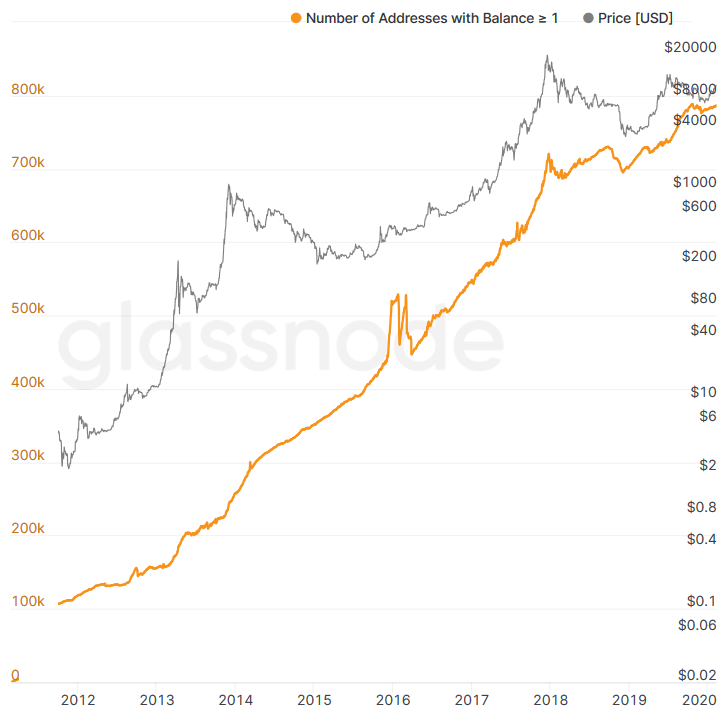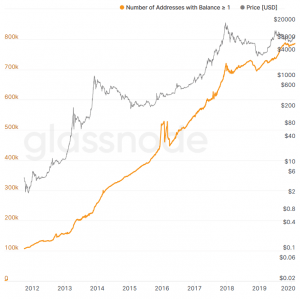 Zooming in to observe the beginning of this year, the data available for the period between January 1 and February 11 shows a sharp rise in the number of addresses, culminating on January 19 with 783,829. Another rise has begun shortly afterward on January 26.
Meanwhile, Glassnode shows that addresses below BTC 1 have also seen their numbers growing. The last available data in February tells us that there were 7.8 million addresses with BTC 0.01 or more, and 2.8 million with BTC 0.1 or more.
The situation is somewhat different in the 'heavier' categories and the rise in their numbers much slower. There were 154,211 of addresses with BTC 10, with their increase stagnating somewhat for three years now. For comparison, in February 2017, c. 150,000 of such wallets have been observed, making this a rise of roughly 4,000 addresses in three years.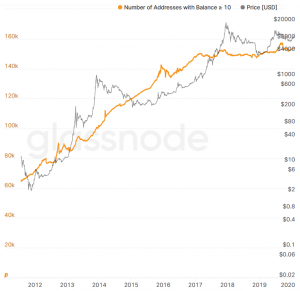 Interestingly, while the addresses with BTC 100 have been on the decline since their peak on March 1, 2017 – with 18,526 wallets at the time, but recording 16,238 addresses this February – the number of wallets holding BTC 1,000 and more has been rising since January 17, 2018, going from 1,619 to 2,162 this February. That is a 33.5% rise in two years.
Meanwhile, those holding BTC 10,000 and more have dropped 15.87% from their all-time high recorded on October 19, 2018 – 126 addresses to this February's 106.
Finally, it's interesting comparing BTC to the number two coin by market capitalization, and Glassnode shows that Ethereum too has been hitting all-time highs in the 1 ETH category, following a sharp rise in early 2017. Unsurprisingly, given the large difference in price, there are more addresses with ETH 1 than those with BTC 1 – 990,269 vs 787,057 on February 11.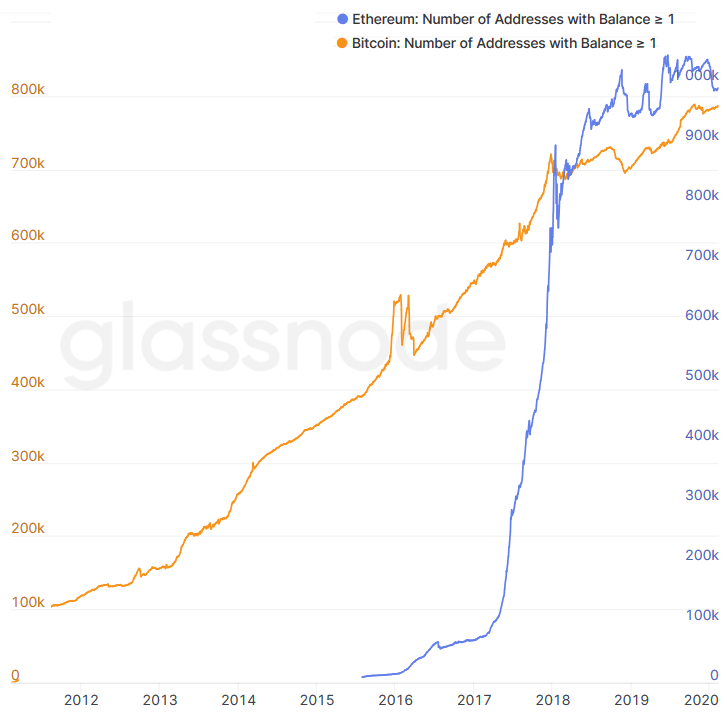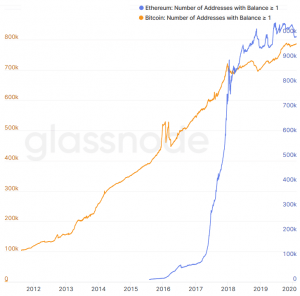 In the meantime, the market has experienced a major crash today, with BTC going below USD 6,000, and altcoins bleeding even more.
---